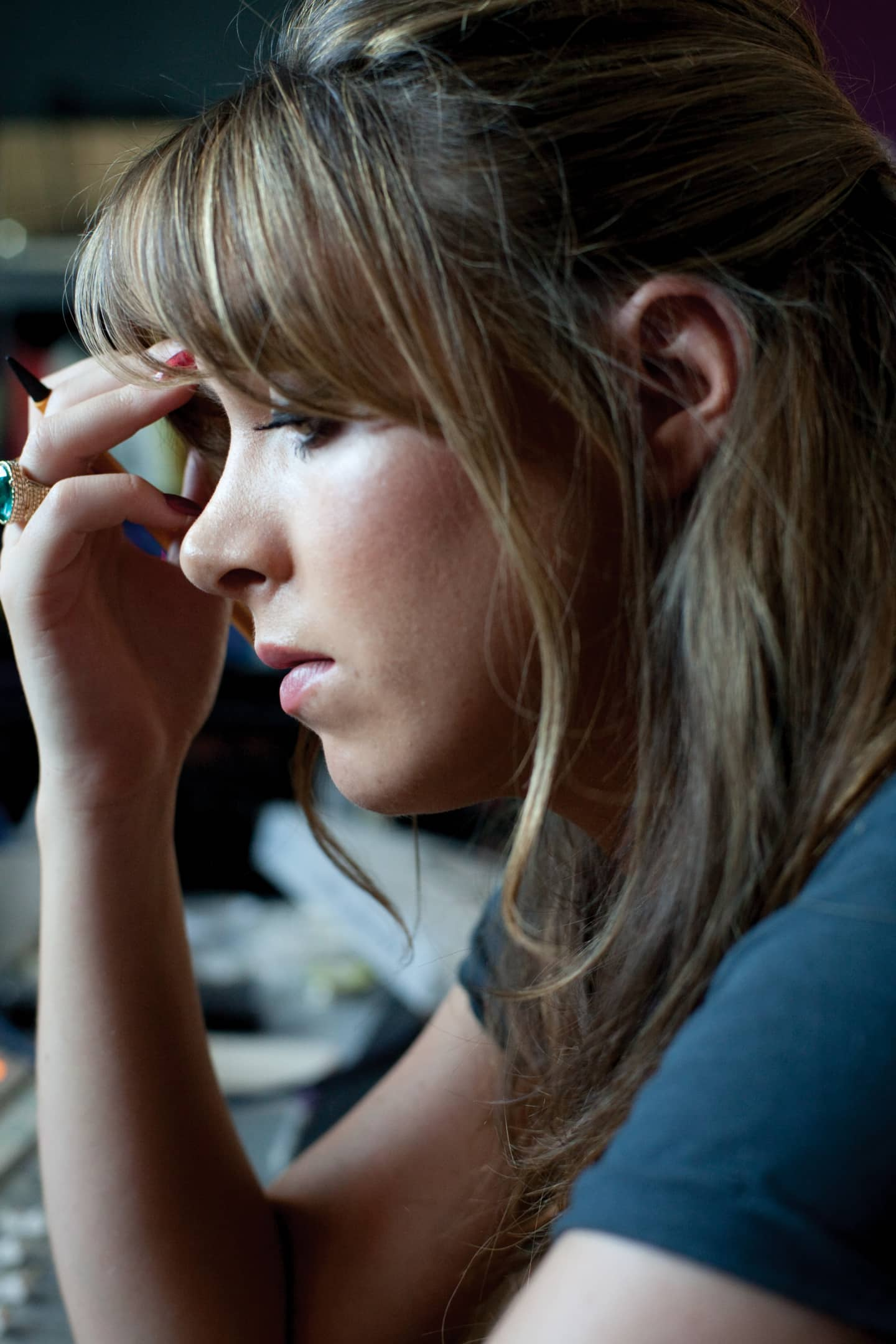 GEN F: Clare Maguire
The London singer/songwriter gets herself back up on her feet. Read her FADER magazine profile, featuring her first interview in two years.
From the magazine: ISSUE 88, October/November 2013
"FECK OFF" is spelled out across seven painted mugs in a recent Instagram photo taken in Clare Maguire's London flat. "I've been drinking a lot of tea lately," the 26-year-old singer/songwriter says, twice, during her first interview in two years. It's also been two years since the release of her major label debut, Light After Dark, and two years since Maguire walked out on her contract and into rehab.
Her origin story is almost too good to be true: furious when a high school teacher said he doubted her chances at a music career, Maguire dropped out and moved from West Midlands to London to give it a go. That decision soon paid off, as the million-plus plays accumulating on her Myspace page led to meetings with the likes of Jay Z and Rick Rubin, the latter whom she admired, not for his pioneering hip-hop work, but for his albums with Johnny Cash. Through-out Maguire's childhood, her Irish grandparents' TV had endlessly blared John Wayne movies and Dolly Parton concerts, she remembers, and she'd fallen in love with the gospel and blues of Sister Rosetta Tharpe and Howlin' Wolf. Oddly enough, the roots of American country music are hardwired in this British pop singer, though you might not hear that homespun power on Maguire's first album. Light After Dark shows flashes of brilliance, but it's overall an unconvincing and rootless attempt at polished pop from an artist who sounds uncomfortable in her own skin. "I just didn't really know myself," she says of that time, describing the insecurity that would increasingly fuel her drinking. "I thought the artists who succeeded were, like, perfect women. They looked great, they knew how to talk, they knew how to sing every note perfectly, and I thought that to please people I had to become this flawless super woman… I think as an addict you feel like a failure everyday."
Clare Maguire
"Paper Thin"
After the album was released, Maguire received treatment for alcoholism and spent a year "just sort of living." She moved closer to verdant Battersea Park; she got a mini-dachshund. In the time since, her look has noticeably brightened: gone is the black-and-pale banshee style she sported for her first album, and in its place are cheerful brown bangs and summer dresses June Carter would've admired. Recently, she's also been tiptoeing back into music. Starting this summer, Maguire has been posting demos to SoundCloud once a month, spare refinements on her earlier sound. Unlike Light After Dark, the tracks have all been penned in her bedroom by the singer alone, then produced in a nearby studio on her own dime. Mostly backed by just a piano, her voice sounds stronger than ever, alternating between a desperate shake that evokes Antony Hegerty and a Cher-like bellow that for the first time sounds aware of how triumph feels. "Rehab was the best thing for my writing," she says. "You can't lie in there. You have to say it how it is. Now I think the most powerful thing you can be as a female artist is flawed, because people are flawed."
Lyrically, Maguire uses these new songs to take past moments of collapse in her hands, turning them over and over, balling them up to finally toss aside. The softly fingerpicked "Slightly Sober," for example, scratches at the scab of her sobriety: Sleeping on the tube/ Mouth wide open, I'm falling into you/ Maybe in the morning we can just pretend nothing ever happened/ And do it all again/ It feels so nice to forget everything. The plan is to self-release the material as an EP this winter, working toward an album early next year on Universal, where she's still signed. One of the most moving songs she has shared is a cover of Joni Mitchell's "The Last Time I Saw Richard," a rendition Maguire seems to direct at herself and her own potential to make raw, full-bodied music. Over solo piano, she raises her voice and, sounding a bit like a waterfall paused, stretches out the line, When are you going to get yourself back up on your feet? Seems to be right about now.
From The Collection:
GEN F