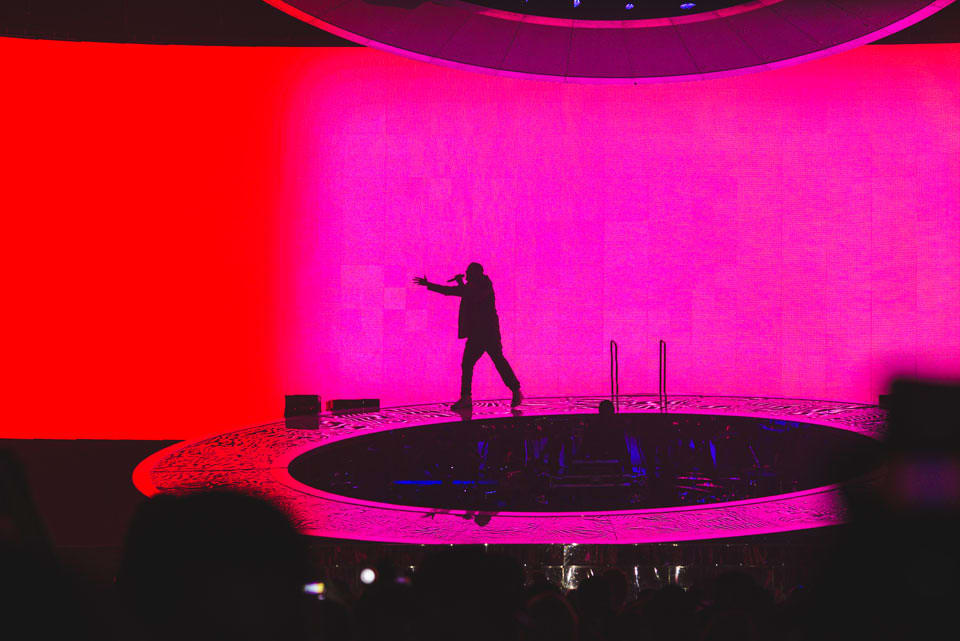 Live: Drake at Barclays Center
"We're all agreeing that tonight is my birthday party," Drake said onstage last night at Barclays Center, telling more than asking. He celebrated his 27th with guests, sharing his stage—a Broadway-quality, seemingly vagina-inspired bi-level renovation of the portals in TLC's "No Scrubs" video—with A$AP Rocky and the rest of the Mob, Busta Rhymes (who did "Put Your Hands Where My Eyes Can See"), Jhené Aiko and Future. (A tweet from Justin Bieber's manager made it seem like Canada's two princes might converge in Brooklyn, too, but that didn't happen.) Drake's arms, somehow at once solid and doughy, were visible in his Calvin Klein-designed stage outfit, a set of well-tailored nurse scrubs with the sleeves cut off and elastic ankles. Up close, the clothes looked putty gray, but out in the high seats, they glowed silver. Across some two hours, he ran through the entirety of September's Nothing Was the Same. Drake's a big star with lots of hits—so many that older crowd-pleasers like "Over" weren't even performed, but relegated to a mid-performance DJ set, for which the crowd, which brought together couples, parents, crop-topped teens and children, nevertheless shrieked. But at no moment did he seem more adored than the 20-plus minute stretch in which he hovered over the audience in a lucite doughnut, complimenting individual audience members over the instrumental for "305 to My City." "I'm not the type to stay in my own zone," he said as he climbed the ramp, launching into the parade of praise he's experimented with in earlier tours. Between call outs—"I see you in the jean shirt blowing kisses at me," "Those are the nicest legs I've seen since I've been in New York"—he barely stopped to breathe. If there is a case for Drake's flow, his unflappable presence, this is it. The night ended with "Started from the Bottom" and "All Me," with nearly 20,000 people wailing: Cause myself just told myself: "You're the motherfucking man, you don't need no help." You come to a Drake concert to love Drake, but also to "make some noise for yourself."
Earlier in the night, OVO-signee PARTYNEXTDOOR played songs from his debut mixtape in complete darkness. Future performed an energetic opening set on a tiny sliver of stage, running from old hits to new ones with DJ Esco, his partner since his strip club days, at his side. Newly engaged, he dryly solicited the "single ladies" in the room; more charmingly, he pronounced "Barclays" like "Barkleys." He played to the crowd directly in front of him, seemingly unaware of the people filing into the arena's upper echelons, until "Turn on the Lights." The lights dimmed and phones blinked. "They got a lot of love for me, it's only right they do that," said Future. Still, songs like "Chosen One" beg for a full arena, not the half-full one Future opened for, and I'd like to see him take more ownership of the newer songs he's written and gifted to others, like "Bugatti" and "I Wanna Be With You." He performed those as snippets, but if Future had let them play out and marched around the stage just grinning, as Drake did later when he brought Future out to do an enormous rendition of "Sh!t," I think people would have happily cheered him on. Miguel's set, which followed Future's, was a flash of talent, leather tassels and disgustingly chiseled abs. To be a rock star, he's practiced and practiced; in comparison, Future's performance seemed small. But I like that when Future performs, it feels as if he may as well be in the audience, just any guy singing along. That connection to the crowd is crucial—Drake had to build a floating doughnut to make sure his stays strong.