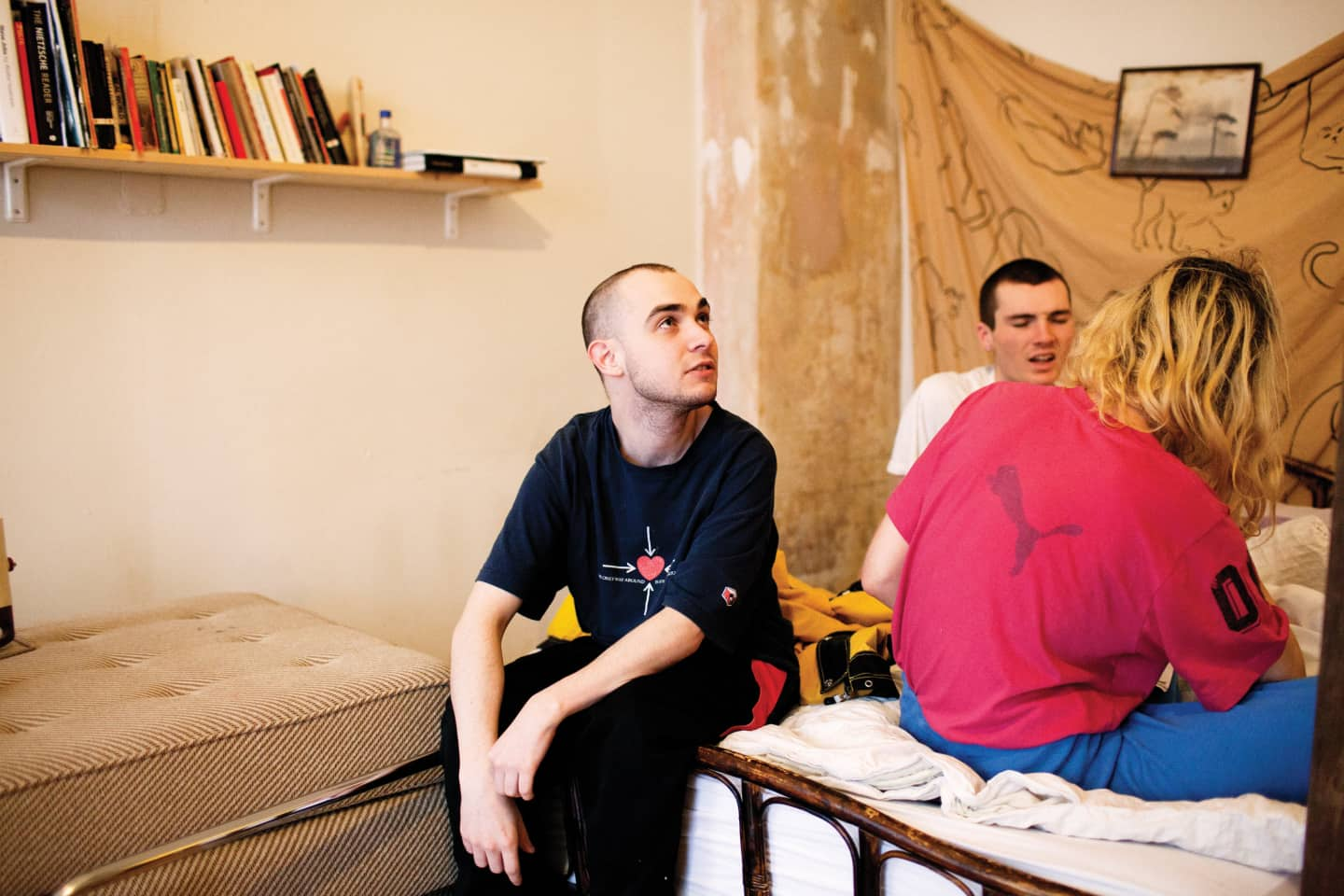 GEN F: Dan Bodan
From the magazine: Deep thoughts on the dance floor with one of the more exciting DFA signees in recent memory, Berlin's Dan Bodan.
From the magazine: ISSUE 90, Feb/March 2014
About a minute into Dan Bodan's debut single "Anonymous," overtop a spare beat that sounds like street sweepers and rattling old coins, the singer drifts in and begins moaning, sounding like the ghost of one of Bertolt Brecht's characters. You'd be forgiven for thinking the ballad was some 1920s mix of cabaret and poetry, but listen closely to the lyrics and you'll hear something a little more contemporary: the story of the lonely life of a computer hacker. "When I was young, I would like hack into porn websites," the Canadian musician says over the phone from his adopted home in Berlin. "But this song's about what it would be like to be a true hacker. You know, breaking into your girlfriend's email account and finding out she's fucking someone else, finding out the world is way more fucked up than you thought." Though at times Bodan's hushed, haunted moods conjure up the Berlin of nearly a hundred years past, he's a modern man writing songs about the weird things that make up life at this very moment.
Even with the internet on his brain, 28-year-old Bodan owns one naturally old-fashioned tool: his voice. Born in the very cold prairies of Edmonton, he took classical singing lessons as a kid, learned the Alexander technique of controlled breathing and even sang in a couple of operas, including the gold standard, Carmen. "I kind of thought it was lame," he says, laughing. Bodan moved to Montreal with his family, milled around the city's noise community, then after a semester abroad in Europe, ended up in Berlin, home to all-weekend clubs and cheap rents—his first apartment, he says, cost just 50 euros a month. He's remained there for seven years, experimenting with music and making a living off of live performances. "When you're used to not working that much," he says, "it's kind of hard to move."
Dan Bodan
"Hunger Games Prod. Physical Therapy and Ville Haimalla of Renaissance Man"
As if by osmosis, Bodan's years hanging out at Berlin's cutting-edge dance spots have guided his music to match his songwriting's digital-era subject matter. While he continues work on his first EP, for the longstanding New York label DFA, he's had his far-out producer friends DJ Richard and Gobby remix "Anonymous" into, respectively, a bleak house track and a spastic industrial song, seemingly inspired by a dentist's drill. "I don't live my life like a singer/songwriter," Bodan says. "I just don't know any producers who produce indie rock." On his second single, "Hunger Games," producers Physical Therapy and Renaissance Man set a glittering drum & bass instrumental against his vulnerable lyrics, written while he was simultaneously dealing with the death of a friend and untangling himself from an "abusive relationship" with his boyfriend. "The song used to be much more melancholy," he says, "but when I was in the studio, we changed it, added a major modulation so that it goes up at the end. There needs to be some optimism in dance music." With his vocals on "Hunger Games" reverbed almost into sighs, he sings. I know your under armor's strong and I'll nail you down a thousand whispers/ Standing on the brink of love and my fists feel just like tender kisses. Who's to say that deep thoughts can't fit as easily on dance beats as they do on acoustic guitar? "If I'm Bob Dylan," Bodan says, "I'm a 21st century version who doesn't wear a Bob Dylan outfit. We have to deal with things differently. Our surroundings aren't made of cotton, they're made of fiberglass."