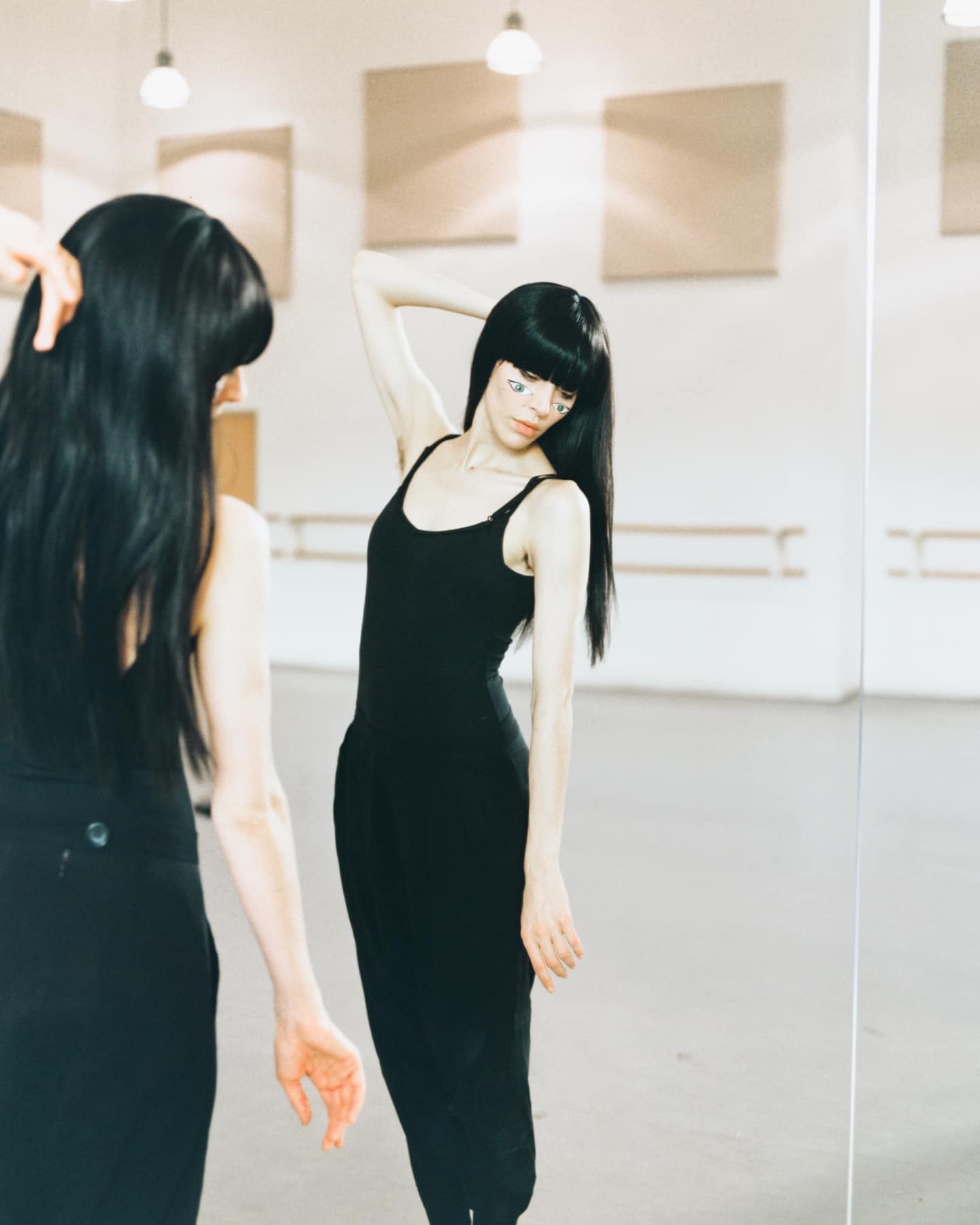 GEN F: Ramona Lisa
On her solo debut Arcadia, Caroline Polachek proves that she's woman enough for two.
From the magazine: ISSUE 91, April/May 2014
Ramona Lisa is not Caroline Polachek. Or at least that's not how Polachek, best known as the frontwoman of Chairlift, sees it. "Ramona is a character that sprang from the songs I made," she says. "She belongs to a different world." The Brooklyn musician made her name with the angular synth-pop duo, but for her debut solo album, Arcadia, she needed a new persona. "I've done everything with Chairlift from an androgynous, non-gendered point of view," she says of her six-year collaboration with Patrick Wimbley, whom she considers like a brother. "What makes Ramona's world specific is a sort of femininity that I've never gotten into before."
Arcadia was recorded on Polachek's laptop during a period of upheaval, as she bounced on and off tour between Montreal, New York and a picturesque Medici villa in Rome. Its sketches became like portable spaces that Polachek could retreat into whenever she needed a break from reality. "There was no one else mediating it," she says. "It's the most personal record I've ever made, yet at the same time, it was created in a digital non-space." The production is heady and atmospheric, layering organ chords and panflutes, faux nature sounds found on her computer and field recordings of hissing pipes and flying pigeons. It sounds wide-open and strange, like a cyborg's take on pastoral music, and in fact, that was part of the point. "It's exciting to live in a time when vocals don't sound human half of the time," Polachek says. "I was going after the idea of what the 2014 equivalent of a shepherdess singing in a field would sound like. What's the contemporary equivalent of that character?"
The album's 11 airy tracks weave into one another, seamlessly floating in and out of the listener's consciousness as Polachek explores the tumult, angst and bittersweet resolve of love—both returned and unrequited. "I wanted the music to feel like thinking," she says. "Sometimes your thoughts come together in an organized way, and sometimes they fall apart naturally." With "Izzit True What They Tell Me," which recounts all-night conversations with a boy, and "Dominic," which wades through the emotional undercurrent of going separate ways in a pale morning after, Polachek draws you near with an intimacy that feels like second-skin.
Ramona Lisa
"Backwards and Upwards"
Even before Arcadia was released, her newly discovered feminine touch opened new doors for her career. One of the rough tracks she penned, which her friends deemed "too sexy and too R&B," ended up on Beyoncé's self-titled album as "No Angel," thanks in part to Polachek's Terrible Records labelmate, Solange. The writhing, femme-fatale anthem finds Beyoncé trying out a new persona, too: I'm not the girl you thought you knew and thought you wanted/ Underneath the pretty face is something complicated, she coos over a saturated boom-bap, accented with the same buzzy synths that we hear throughout Arcadia. "I didn't actually talk with Beyoncé until after the record came out," Polachek remembers. "I thanked her for taking a risk on an out-of-the-box collaborator. She said, 'I didn't take any risks, that shit was hot! And besides, now the most gangster song on the record was produced by a woman.'" Polachek's exploration of female identity may come from a wholly personal place, but her song's placement on a number-one album shows there's a big audience for her new approach to songwriting.
Ramona Lisa is only a character, but Polachek says making the album has left her with a resolve that's all too real. These days, she's busy organizing a series of one-woman shows, replete with dance routines, monochromatic costumes and wig changes. As for Chairlift, she says Arcadia has become a palate cleanser that's strengthened her connection to the band. "By separating my ideas into two different projects, both of them got stronger," she says. That's an inspiring message: from recording in borrowed bedrooms to unwittingly penning a jam for a mega-star, the past year of stepping out as Ramona Lisa has opened new worlds for Polachek without causing her to lose herself in the process.
From The Collection:
GEN F