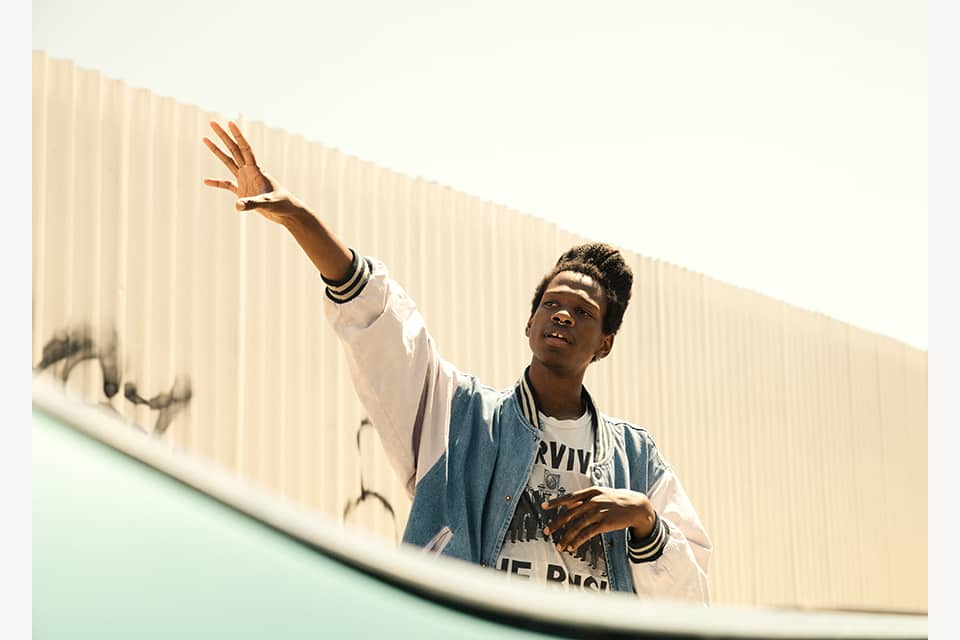 Shamir Is Las Vegas' New Disco Prince
The teenage singer makes eclectic dance music that's cooler than The Strip.
Shamir Bailey, a rail-thin teenager with a pierced septum and a rockabilly tuft of black hair, was voted Best Dressed in high school. "I'd wear, like, parachute pants, or I might come to school in a dashiki," he says over the phone from his mom's place in a dull, dusty Nevada suburb 20 minutes north of the Las Vegas Strip. "Everybody kind of knew me for that, like, 'Oh, what is Shamir going to wear today?'" A year after graduation, he's started making pop music that—like his eclectic high school wardrobe—brings together a little bit of everything: retro club music, soul-stirring gospel and even the woebegone vibes of country and folk. When listening to the Northtown EP, Bailey's impressively expansive five-track debut, you might find yourself wondering why his senior superlative wasn't Most Likely to Succeed.

Speaking with him, though, you start to get the idea that his musical potential wasn't always obvious to those around him. At age 8, after he sang Vivian Green's "Rollercoaster of Emotion" in a talent show for his second-grade class, his mother's initial advice was "not to quit [his] day job." Although she eventually changed her tune (she bought him an acoustic guitar and a copy of Guitar for Dummies, and he began writing songs, too), over the years Bailey still faced varying degrees of criticism from vocal coaches and choir instructors who were confused by his bewitchingly androgynous voice. "True story," he says, "the choir teacher at my high school was so mean to me. He was like, 'Why do you sound like that?'" By 10th grade, a mildly discouraged Bailey retreated to less vocal-focused songwriting and started recording casually sung pop songs with his friend Christina under the band name Anorexia. But last year, when he e-mailed a couple of unselfconscious pop song demos to Brooklyn-based producer and GODMODE labelhead Nick Sylvester, it was Bailey's polarizing voice that stuck out most.
Sylvester swiftly decided to amend GODMODE's rule of exclusively working with New York artists and flew Bailey out to make an EP, on which his idiosyncratic vocals would live front-and-center. "I'm a singer," Bailey says assuredly. "It feels good to sing sing again, to use my full range, to do vocal acrobatics." Though he had a little experience producing beats (he built the demo track for Northtown's infectiously funky lead single, "If It Wasn't True," on a hand-me-down Dr. Groove), it was Sylvester that properly introduced him to dance music, which until then he'd only associated with generic sounding brostep that DJs played in Vegas. "When I first e-mailed [Nick] he was like, 'Oh you must listen to a lot of house music,'" Bailey remembers. "And I'm like, 'What's house music?'" So Sylvester gave him an education at the same time as producing the record himself, using a palate of disco, Chicago house-inspired rhythms and, in places, the kind of scraggly, industrial-ish textures that GODMODE typically boasts. Paired with Bailey's shrill but sturdy pipes, the songs on Northtown are raw, reflexively danceable and alive with Bailey's personality and style.
Bailey is inherently a funny dude; in pictures, he always seems to be hiding a smirk. His Twitter bio lists him as a "skinny fat ass" and he sometimes performs stand-up comedy, with routines about the perils of occasionally being confused for a woman (one anecdote involves him struggling to get into a gas station bathroom because the attendant gave him the key to the ladies room). In the music video for "If It Wasn't True," he hangs in a swanky hotel room on The Strip, dons a fake beard made of soap bubbles and twerks in the bathroom; it looks more like a goofball sleepover than your typical debauched, what-happens-in-Vegas rager. Despite the dancefloor-ready grooves that permeate Northtown, Bailey says he's not much of an actual partier, and he never has been. "Outside of dressing crazy and doing music, I was kind of a loner," he says of his recent high school days. "Even though I know how to talk to people, I'm still very introverted." The opening line of the EP is I'm sitting on a couch feeling alone.
That introversion only really becomes obvious on the EP's final two songs. "I'll Never Be Able To Love" is a deeply touching, belted-out gospel ballad about withholding emotions, and the curveball bonus track is an entirely acoustic cover of country singer Lindi Ortega's teary-eyed yarn "Lived and Died Alone," on which Bailey quivers with a lived-in loneliness. The way in which that type of tenderness exists alongside jagged, spinning-disco ball production is what makes Northtown so arresting and also a little sad; it's like getting all dressed up for a glitzy party before deciding, at the last second, you'd much rather stay home.
From The Collection:
GEN F