Porter Robinson Conquered EDM, and Now He Wants More
With his debut album, Worlds, Porter Robinson aims to make his towering dance music more than just a spectacle.
From the magazine: ISSUE 93, August/Sept 2014.
Getting to The Strip from the Las Vegas airport requires a left turn, more or less. Exits to casinos curl up and away from the main drag in disorienting curves, their guardrails like tracks of a roller coaster. There's a pyramid, a castle, an Eiffel tower, a monument of a Harley-Davidson plowing through a building. The image of a millionaire DJ, blown-up six stories tall, hangs off the side of the MGM Grand, while a smaller sign nearby suggests other entertainment: "EXPERIENCE THE BLAST: SHOOT A MACHINE GUN." Inside the massive casinos and the shopping malls that adjoin them, A/Cs hum overtime, unnaturally preserving whatever's wandered into the desert. The heat outside, like everything here, feels both obscenely fake and uncomfortably real. When I line up for a taxi, I'm followed by two women wearing only thongs and glittery star stickers over their nipples. I tell the driver to take me to Whole Foods. "Damn, that's nice," he says. "Whole Foods?" I ask. "No, fuck Whole Foods," he says. "Those are some nice titties." The backseat TV plays a candid camera show with a skit called "Spank Prank," which features a woman walking down the street while being repeatedly slapped on the ass. A billboard by the road advertises a vasectomy.
For the towering dance music Porter Robinson has been producing over the past few years, this is home. Robinson made his name in EDM as a teenager, not simply topping Beatport charts but crashing the store's servers with his mob of supporters. He's opened for the few super-DJs more popular than he—Skrillex, Deadmau5, Tiësto—and holds a monthly residency at the Marquee, America's highest-grossing club, where he's set to perform tonight. Getting myself on the guest list, though, took a surprising amount of managerial convincing. Despite obligations like the DJ residency, at 22, Robinson is defining himself largely in opposition to EDM and, implicitly, the self-destructive YOLOing that comes with it.
Porter Robinson
"Sad Machine"
Growing up in Chapel Hill, North Carolina, his childhood was fairly ordinary: wholly suburban and many parts digital. His dad's an attorney, and his mom has alternated between staying at home and working in schools. Robinson competed in debate, and he still speaks in articulate, full paragraphs that project confidence and consideration. In conversation, he's prone to reference things like changes in YouTube's comment algorithms. Apart from touring, he still spends most of his time in Chapel Hill, living with his parents, two younger brothers and their dogs. He's got an older brother, too, and describes their childhood using one of the most adorable video game analogies possible: "Our first console was the Sega Genesis. He played as Sonic; I played as Tails"—the sidekick.
It was video games that got Porter Robinson making music in the first place. Scarcely an interview with him passes without reference to Dance Dance Revolution, the landmark rhythm game with a floor mat for a controller, where players use their dancing feet to trigger buttons in time to a soundtrack of high-energy, melody-driven, Japanese-made Eurodance. "DDR was the reason I started writing music at all," he tells me, and everyone. He began producing at 12 and set about posting his music to a message board called DDR Freak. Online, Robinson gravitated toward a "very socially awkward, really harsh mentor," whom he declines to name. Thanks in part to their relationship, as an early teen, Robinson was drawn to the niche genre "hands up," a faster, even higher-energy variation of Eurodance that was inspired by rhythm games. "Hands up is very cheesy, very happy," he explains. "It's the least pretentious, least stylish music ever, but with a big, big premium on detail. If you challenge any producer to make it, they'd be like, 'Pfft, this is stupid—it has a simple four-on-the-floor beat, easy melody.' But whatever they'd attempt to make, if you put it next to one of Rob Mayth's records, would just sound so shitty." The hands up scene has since faded, but, in the late aughts, the German Mayth was one of its most adept producers, with an ear for simple gestures that register as huge pop moments. His attention to precision, however trite and inartistic his sound may seem to the uninitiated, left an indelible mark on Robinson. "I devoted three, maybe four, years to just copying this guy's music," he says. "I was spending, without exaggeration, 400 or 500 hours trying to replicate his kick drum." But emulation ultimately left Robinson unfulfilled, a realization that would take years and the arrival of fame to finally sink in.
"EDM is fine, and party music is necessary and will exist forever, but this is what I need to be doing."
In 2010, after broadening his style to embrace the more commercial electro, Robinson released "Say My Name," a song with a combative, bassface-inducing chorus that presaged the coming tide of American dubstep and verses of lush trance that harken back to hands up. Distributed by a small German label, the song was Robinson's first hit, reaching #1 on Beatport's Electro House charts. The next year, he told the blog The New Philadelphia, "My original goal was to get into the Top 100. I listened to every song in the Top 100 every day. I knew them all—this is where the gods reside." Today, perhaps as a function of finding greater success, he downplays his early ambition, describing selling music as though it were a game itself: "It takes, like, 50 sales to get into the Electro Top 100," he says. "And to get to the top, it takes, like, two or three thousand. I didn't consider that some crazy career aspiration because I didn't think there was any career in it."
Soon, though, there was a career. Robinson was a senior in high school when, on the strength of "Say My Name," he began to field email requests for gigs across the country. The first DJ set he ever attended was his own, flying out with his father to Santa Cruz, CA. "Every Monday," he remembers, "our math teacher would ask about our weekend, and I would be like, 'I did a show in Denver, then I went to San Luis Obispo…'" With his parents' blessing, he deferred enrollment to the University of North Carolina, Chapel Hill, instead experiencing campus life in flashes as he toured with Tiësto's Club Life College Invasion. In a whirlwind 2011, Robinson was tapped to remix Lady Gaga and became the first artist released by Skrillex's record label, OWSLA. When Skrillex and Tiësto both tweeted a link to his debut EP, Spitfire, Beatport's servers went down, only brightening his rising star. "It took me a long time to realize the amount of momentum the EDM scene was gaining," Robinson says. "Two years earlier, I wouldn't have been able to do that. Every time I took a step forward, there was nowhere to put my foot down until the last second—it was being created in front of me."
* * *
Somehow, making my way from my hotel to the Marquee, located inside the twin-towered, 61-story Cosmopolitan hotel and casino, I've ended up on a sidewalk-less road that pulls into a tunnel for valets. A black bird squawks with a sound like the two beeps of a car door locking. I nibble on my pen as a substitute for a cigarette, which as a nonsmoker in Vegas I've begun to instinctively crave. Walking down a row of luxury cars, I find an entrance, and the Cosmopolitan avails itself like most buildings here: you have to walk past card tables to get anywhere that's not card tables. The Marquee is on the hotel's second floor, and from the escalator, I spot a young woman resting on a bench below. The man behind me yells down, "No yawning!"
Robinson and I are set to meet soon in a private lounge, but first, I make my way through the club to find a drink. The decor is velvet-meets-vampire; mostly, though, the space gives off the vibe of one simply designed to be mobbed. An opening DJ plays nondescript house music to a nondescript crowd on the cusp of their 30s. The dance floor is already full, though still comfortable, surrounded by rings of bottle-service tables staffed by waitresses in artfully torn black lace. Table reservations here are said to cost as much as $10,000. The Marquee is titanic, a little under one-and-a-half acres, part of which spreads through an opening in the back wall and across an outdoor pool deck, which hosts rows of cabanas, hot tubs and a few Blackjack tables where dealers sport bikinis. With the venue's upscale-casual dress code, there are no pasty-wearing guests, though the ceaseless wind outside flips up a few short dresses. Pants do feel gratuitous, and, within minutes of being outdoors again, I'm sweating.
Robinson's nearly there, and after a minute or two in security-guarded limbo, I'm allowed up to the lounge, which is called the Library and does, in fact, boast shelves of books. There's a contemplative fireplace, a large clock with a stained-glass face and leather armchairs in blood-red. When Porter arrives, he sits down and jokes, "The only thing this table needs is a rose… Oh wait, here's one!" He wears dark clothes with odd cuts: a swooping T-shirt collar like it's been methodically pulled-on for years, vaguely drop-crotch pants and high-top Adidas Y-3s by the Japanese fashion designer Yohji Yamamoto. Robinson's hair is short on the sides and a few inches longer on top, windswept and, if he so desires, able to be pulled into a top bun. His style is hard to place and clearly sourced online; the impression is of someone who cares a lot about how he looks but might change it all before long.
Over the past few weeks, Robinson has been rolling out the first few singles of his debut album, Worlds. Accompanying the new material have been a few interviews, which have offered pull-quotes far juicier than ones about the label bidding war won by Astralwerks. "EDM is entertainment, not art," he told NME, sacrilegiously. To Australia's inthemix, he said: "By trying to incorporate DJ-friendly and dance-friendly elements into my music, I was often compromising and making songs worse." His DJing, which he's flown to Vegas to do, and I've flown to Vegas to witness, is naturally the first thing we talk about. "There's so much shit that I'm doing today that I'm super, super proud of," he tells me, "and this is one of the things that I'm less proud of." Raising his arms like he's on a cross, he says, "This is the most feigned posture in dance music, and there's so many of these Top 100 DJs that go up there and play this music that I don't think that they care for at all because it brings in paychecks. It seriously goes back to the very, very basic idea of being a sellout."
Pot calling the kettle, for sure. This isn't lost on Robinson, though, whose increasingly critical relationship with his own DJing seems to be getting unhealthy at best. "Last year, I literally had like four or five full-blown anxiety attacks onstage," he tells me. "When I was in Australia, that's when it was at its worst. I was yelling at fans, 'Dance music is terrible!' I fully fucking freaked out. I was playing these songs, and people were dancing, and they were watching me, and I remember feeling, 'These people, their fucking week is this. They spent money on these tickets. They're excited to see me, and they think I stand for all these things.' I would play these songs I don't like that much, and they'd do well, and then I was trying to play this Chrome Sparks record that I thought was so good, and it didn't go off. I tried a few more times, playing other songs I thought were better and more to my taste, and I remember Aaron, my manager, and Dan, my tour manager, coming onstage like, 'Dude, just get through the hour. It's going to be okay. Remember, you're doing this shit so you can do what you love.'"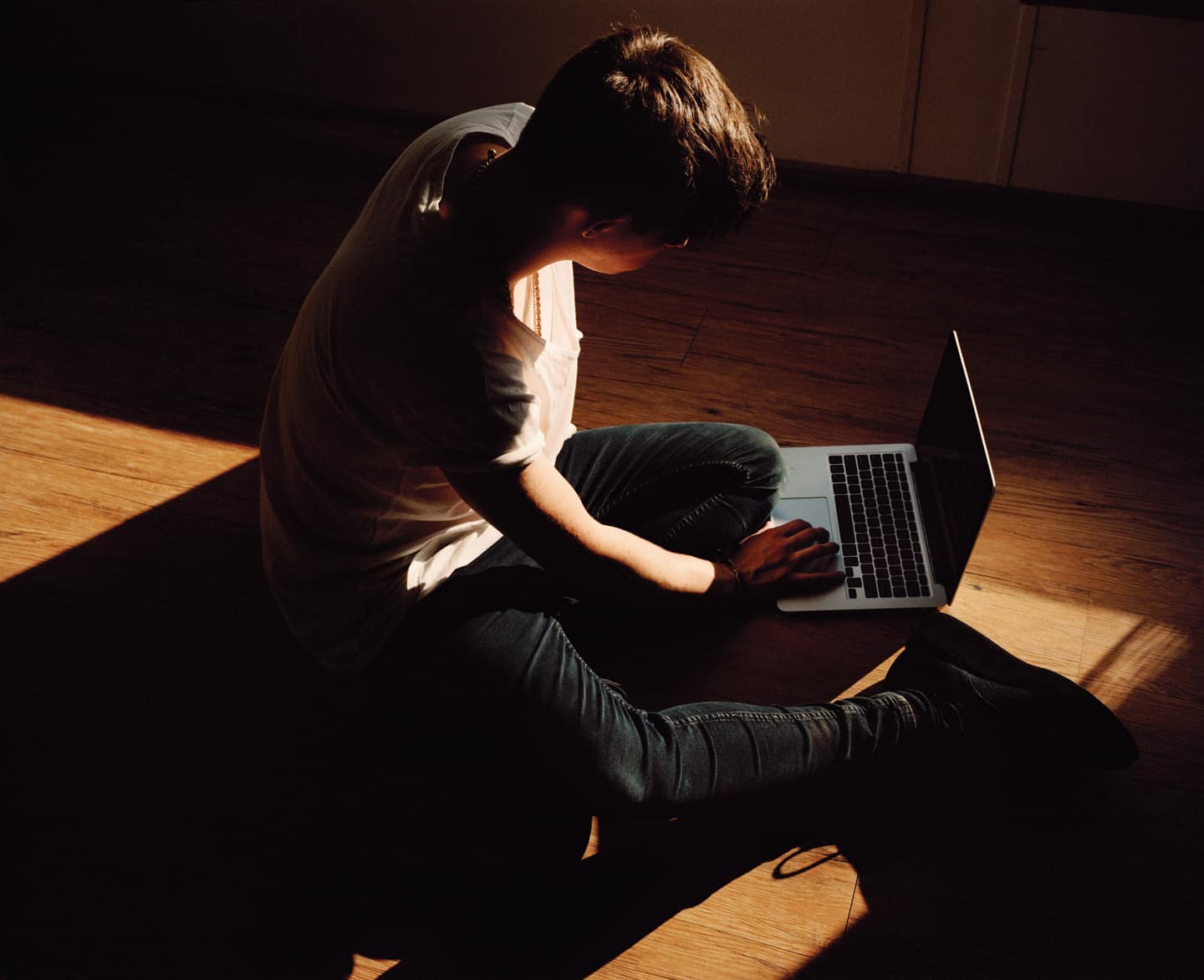 The idea for Worlds was born in 2012 with a track called "Language." "It was a departure for me from the material I had been doing, which was a very heavy, bass-aggressive sound," he says, describing older songs like the aptly titled "100% in the Bitch." "I remember being very nervous about how people would feel about something a bit more sensitive from me." "Language" was instantly his most moving production, a progressive house anthem with a sentimental bridge sung by Heather Bright and a rapturous chorus. Its lead synth line was drawn from essentially two chords and made propulsive by simple chord inversion; Rob Mayth would surely approve. "Not only did people accept it," Robinson says, "but it was the biggest thing I'd done. Once I found myself a platform, it had me thinking, 'What if I've been going about this totally wrong, and what if I could do something way, way better?'"
Worlds, then, is not simply the debut album of an EDM prodigy, but a prodigy's attempt at a personal corrective to the genre. There are gestures throughout to artists who've used dance elements to do things besides make dance music: Ratatat's pitch-sliding synths, M83's whispered monologues, Justice's harshly distressed bass, Daft Punk's liquid guitars. With clubbish kicks and snares and monumental build-ups before ecstatic crashes, Worlds is surely the work of someone who knows how to make popular dance music. Still, just as often, agony and ecstasy settle into moments of serenity, as the songs' tensions resolve into atmospheric synth versions of post-rock. In DJ-unfriendly intros and outros, digital harps, e-pianos and bells make for tender but decidedly artificial-sounding scenes, better suited for knitting or fishing in Hyrule than drunkenly calling for more Cristal. The album is big and it's pretty, a woefully rare combination in EDM, or anywhere.
For boundary-pushing electronic music, the technical experimentation on Worlds is refreshingly easy to explain. On "Sad Machine," Robinson duets with Vocaloid, a virtual synthesizer that recreates the human singing voice. What clearer way to dramatize the very act of making electronic music? Robinson's own slightly pitchy delivery only makes the juxtaposition more endearing—in the face of his digital creation, he's the one that's flawed. Another highlight, "Flicker," chops up Japanese speech sampled from translation software into a sort of cut-and-paste rap; the source material, Robinson says, was a list of ideas for song titles, words he likes and snippets of poetry. The main line, which repeats throughout the song, means "I'm just trying to find what's important."
What's important to Robinson is what's important to many artists: for his work to be recognized and for it to have personal meaning. In an interview at Australia's Future Music Festival, he once said, "To me, a lot of my idols, like Kanye and Daft Punk—the way they were able to make their other, most awesome endeavors work was by being a massive success on the radio." Robinson's version of radio play has been the EDM festival, and he still wants to be recognized on that scale. "I want my music to be really big," he tells me. "I have no interest in DIY Brooklyn; I don't want to be a small indie band. Zero percent do I want to be a 'future bass' artist at all. I want to do this in front of a lot of people." He dreams of having a show like the one captured on Daft Punk's Live 2007, teasing snippets of his past hits to uproarious applause.
For that adulation to be truly satisfying to Robinson, though, his music must incorporate more of himself. "All the stuff that I'm referencing on Worlds has big, big personal meaning to me," he says, and video games are undoubtedly at the core. Beyond DDR, he describes the thrill of navigating the sprawling domains of online role-playing games like Star Wars Galaxies and City of Heroes: "I love universes that really, really insist upon themselves," he says. "Star Wars Galaxies didn't ever explain itself to you. It was horribly broken; it was glitchy in several significant ways. It was just this vast, expansive, beautiful universe with all these crazy idiosyncrasies." Such is life, and such is Worlds. Role-playing games might also help explain why Robinson's music makes so much sense in Las Vegas, even as his heart moves elsewhere. As we grow up, the fantasies of childhood—to escape suburbia or wherever your bedroom was—grow up, too, finding new life in places like The Strip, this hyper-manicured oasis in the desert where you've got no job, no kids, and everyone dresses nice.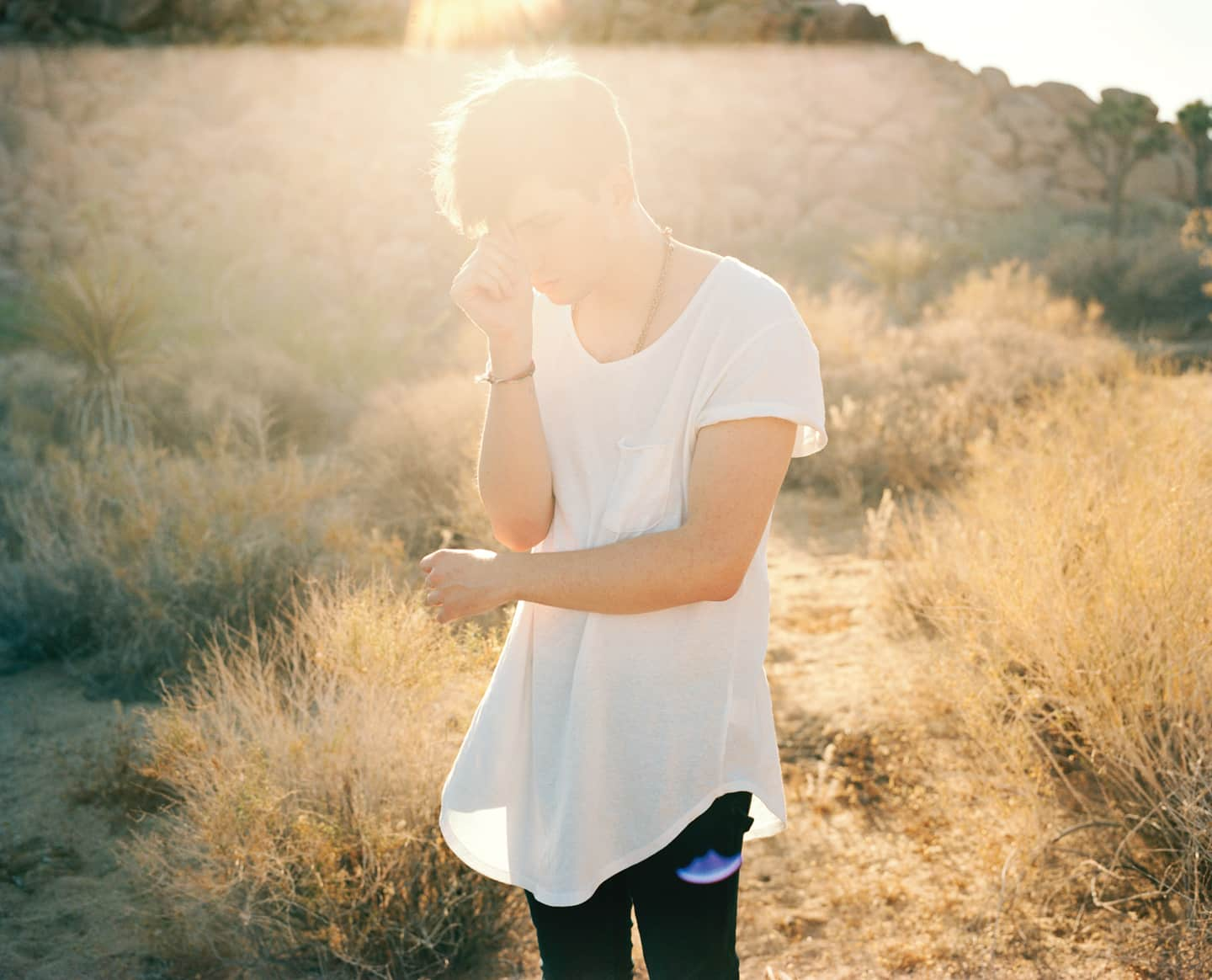 * * *
One hundred glow sticks hover over the dance floor as Robinson takes the stage. At our table, Belvedere vodka pours from an enormous bottle that's also illuminated. Robinson's manager, to my side, says that his rider requests no go-go dancers, but at the Marquee there's apparently an exception. One story above Robinson, unattainable on a narrow ledge, they parade in bikinis and blonde bobs. He lifts a single finger into the air for his customary first track, an edit he's made of M83's "Echoes of Mine." Every song he plays, he's remastered or remixed in some way. His stage manner is confident and unfazed, betraying none of the dissatisfaction he says he feels about DJing. Often he mouths the words, and while he might not crucify himself in the lamented DJ pose, he sure raises his arms in a manner that comes close, not that anyone here would fault him but himself. Fans in surgical masks printed with an emoticon that Robinson has made his trademark—【=◈︿◈=】—gesture for me to snap their picture and flash delirious peace signs. In the Marquee, pounding drinks becomes a reflex; yelling comes across as a whisper. Someone taps me from below, and I look down at a man raising his hand for a high five. "I'm about to take some molly!" he shouts over the thrum.
Robinson spins with the wisest trick of any producer-turned-DJ: he climaxes with his own tracks. Throughout the night, he plays three songs from Worlds, and they tower over everything else. An official remix of Worlds' "Lionhearted," by the trance producer Arty, adds a snare roll to the track's preexisting crescendo, a club edit so simple it almost rebuts the idea that Robinson's new music has really changed. Certainly most of what he DJs tonight sounds a lot like EDM—whipping chaos that funnels into moments of distilled insanity—but his new songs seem somehow louder, fuller. By the time Robinson finally unloads his massive "Language," he's charmingly DJed a half-hour past his set's scheduled end. Confetti rightly flies.
Toward the end of the night, though, every new drop's another punch to absorb. Dance music at this volume is dissociating, and the writing in my notebook has long become illegible. Lots of what I scribble reads as more depressed than I usually feel. As a function of note-taking, I'm set apart from the single, indistinguishable being of the crowd, which bounces and throbs with mad abandon. Between flashes of light and my slackening jaw, I drunkenly try to explain to someone how listening to this music is like fighting a tide. EDM pushes you to a breaking point, and there's something thrilling and desperate about that. It's past four o'clock, and I can't see… Is Porter on anymore? You reach a point… Good night. ☺︎
* * *
The next morning, I'm sitting by the pool. A buxom mother sunbathes while her son and daughter swim. Sighing wind blows over the terrace, picking up at times so it blocks out the din of the city below. There's underlying tenseness to these moments of calm, and I'm reminded of a song on Worlds. "Fellow Feeling" contains a hideously aggressive section of melody-less bass and beat—precisely what Robinson says he's been moving away from. Before long, though, programming glitches knock the rhythm off-kilter into stuttering noise until the system crashes out altogether. After a jarring pause, a voice whispers, as if from a bomb shelter: "This ugliness, this cruelty, this repulsiveness, it will die out," it says, dramatizing Robinson's frustrations with the type of beat he's just made. "And now, I cry for all that is beautiful." Strings swell up and stir—music, classically defined—but the orchestra is interrupted, increasingly, by urgent zaps like power lines snapping while the roof caves in. Suddenly, the monstrous beat returns, merging now with the strings, so they shriek together in the album's most visceral passage. In a way, Robinson's given in, and in another, he's reclaimed something. The drive toward ecstasy and obliteration cannot be denied, it seems, but at least beauty has inserted itself.
A few hours from now, Robinson will be leaving Las Vegas again. The Strip and its parties will churn on. Beside me at the pool, an older couple orders mimosas from a roving cocktail waitress. A man pulls himself from the water, dries off, and stretches a T-shirt over his thick chest and arms. In fluorescent type, his shirt reads: "I'm getting shitfaced, fucked, hammered, stoned, drunk, & laid tonight."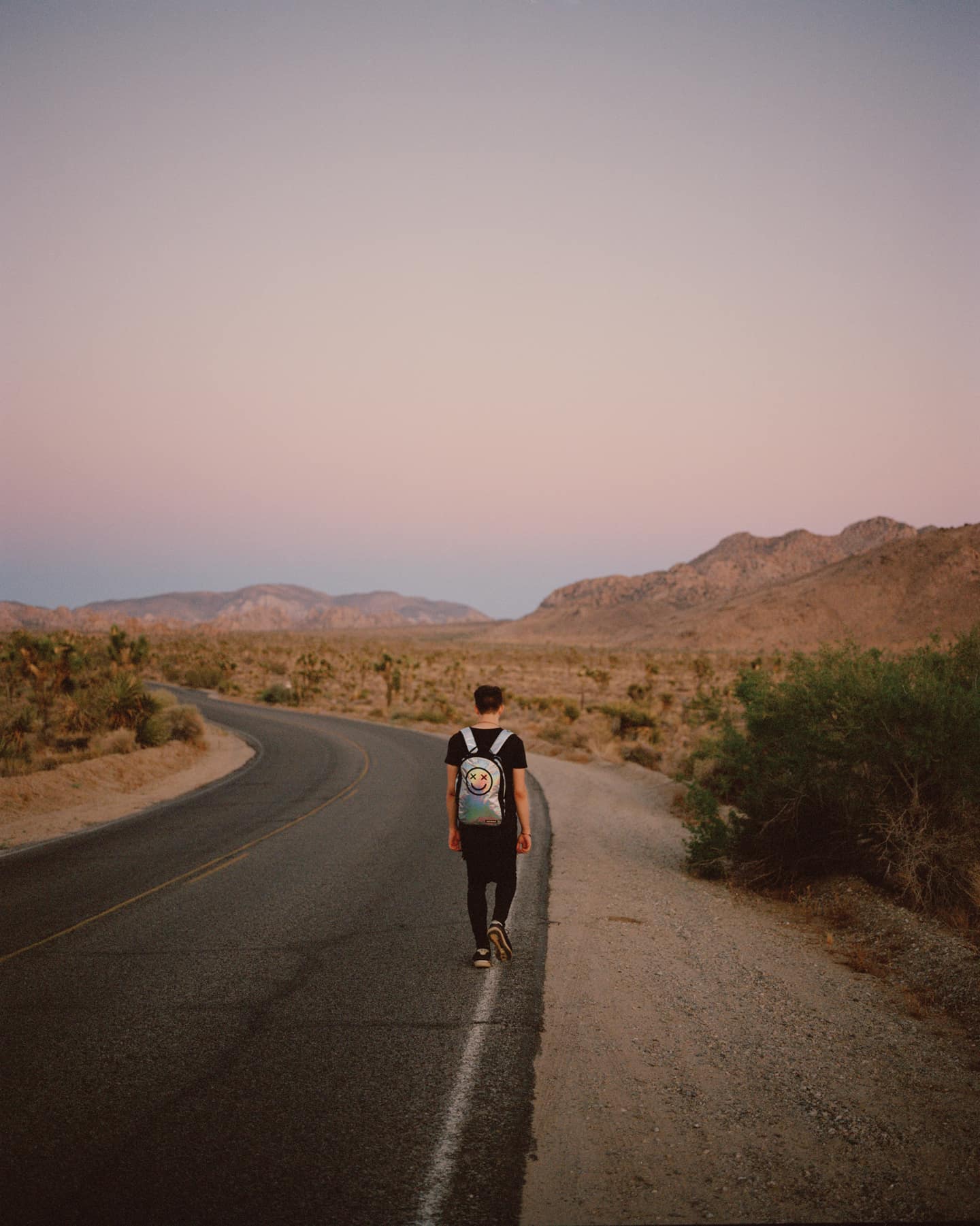 Porter Robinson
" Sad Machine"