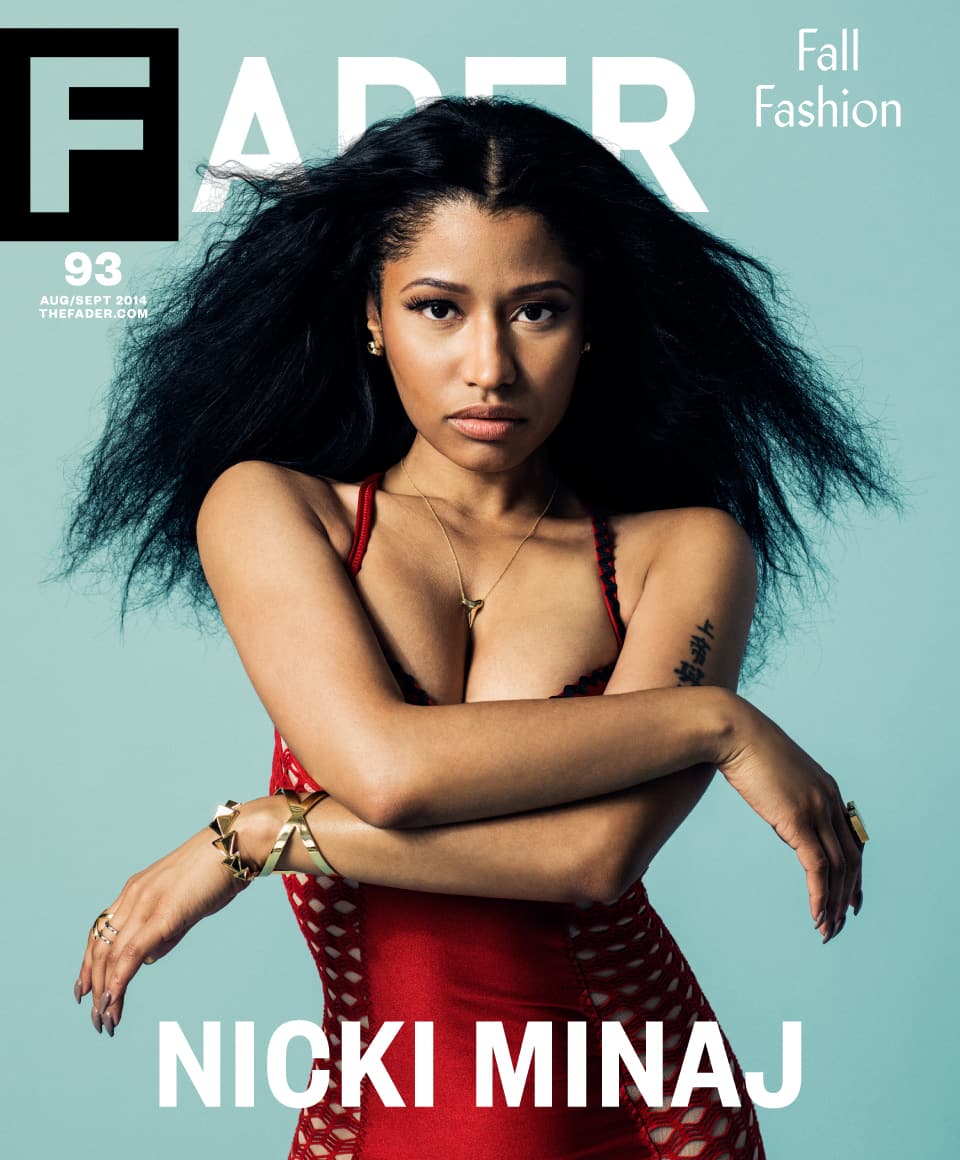 Cover Story: Nicki Minaj
Earth's best rapper talks family, fame and black women in pop culture.
From the magazine: ISSUE 93, on stands August 26th and up for preorder now.
Nicki Minaj's trademark cackle echoes across the room, bouncing off the glass walls and 20-foot ceiling of a giant photo studio on Sunset Boulevard. Her voice dips into a booming, deep register: "MontAAAAAna!" she menaces, like a father who's just discovered contraband in his son's bedroom. Then the song plays again—French Montana's Nicki-featuring dancehall single "Freaks" is blasting from the speakers on repeat.
Flesh-and-blood Nicki is much more subdued than her recorded self, splayed wordlessly across a leather couch. Between takes, she's uncharacteristically reclined, her tiny bare feet dislodged from a pair of pointy heels. We're at the tail end of a long photo shoot, during which she's been shuttling back and forth between the set and an adjacent dressing room. When the final walk back to the set comes, it's pure theater: sauntering in a red leather bra and a skintight black skirt, she's aided by a procession of helpers tidying small details. The swarm includes a handful of stylists from her glam team, her right-hand man (and rumored longtime boyfriend) Safaree Samuels and a videographer taping the scene from the front.
Nicki keeps her personal video cameras rolling often these days; at 31, she's entering a phase she'll want documented for the archives. With two platinum albums under her belt, she's already mythologizing her in-progress third, The Pink Print, describing it as "the blueprint for female rappers to come." The album's set to feature hit-makers like Dr. Luke, Ester Dean, Boi-1da and Detail, and she'd like to get Rihanna in the mix. Drake will contribute, too, though "he's unpredictable," she says. And of course, she assures me, "The rhymes will be tight." Nicki is one of the world's biggest stars, but there's a lingering sense among her followers that her career will be incomplete until she releases a classic rap album. Meanwhile, she's got even bigger plans.
After the photo shoot wraps, Nicki changes from her body-squeezing getup into pink velour sweatpants and a cotton T-shirt—the kind with pesky black hanger straps that won't stay hidden. Giant bowls of almonds and dried cranberries—the same essentials she requests in My Time Now, MTV's 2010 documentary about her—wait on a nearby coffee table, and on a flatscreen TV, the World Cup plays on mute. Even after a long day, Nicki's small frame contains endless playful energy. As she sinks into a couch next to Samuels and a propped-open MacBook Pro with pink keys, she seems perpetually on the cusp of winking devilishly or blowing a kiss, still exuding the kind of impish glamour she did seven years ago as a shit-talking upstart from Queens.
That was a time when she'd proudly refer to herself as Nicki Minaj, aka sit-on-your-favorite-rapper-face, and spit direct digs like Dang, Lil Mama, you is such a loser. At first glance, early Nicki was a tough New York sexpot in the mold of Lil' Kim, but her verses were more acrobatic and her wordplay more complex. She backed up her outsized personality and flair for drama with a stylistic range that was just as unpredictable. Within a few years of her first mixtape, Playtime Is Over, she was broadcasting her charisma across the industry, solidly establishing herself in Lil Wayne's Young Money camp and lighting up songs alongside artists like Robin Thicke, Rihanna, Christina Aguilera and Kanye West. So let me get this straight/ Wait, I'm the rookie?/ But my features and my shows 10 times your pay?/ 50K for a verse/ No album out!, she maniacally announced in her benchmark verse on West's "Monster." A collaboration with Nicki is both a surefire hit and a gamble—to this day, she often dwarfs the artist she's featured alongside.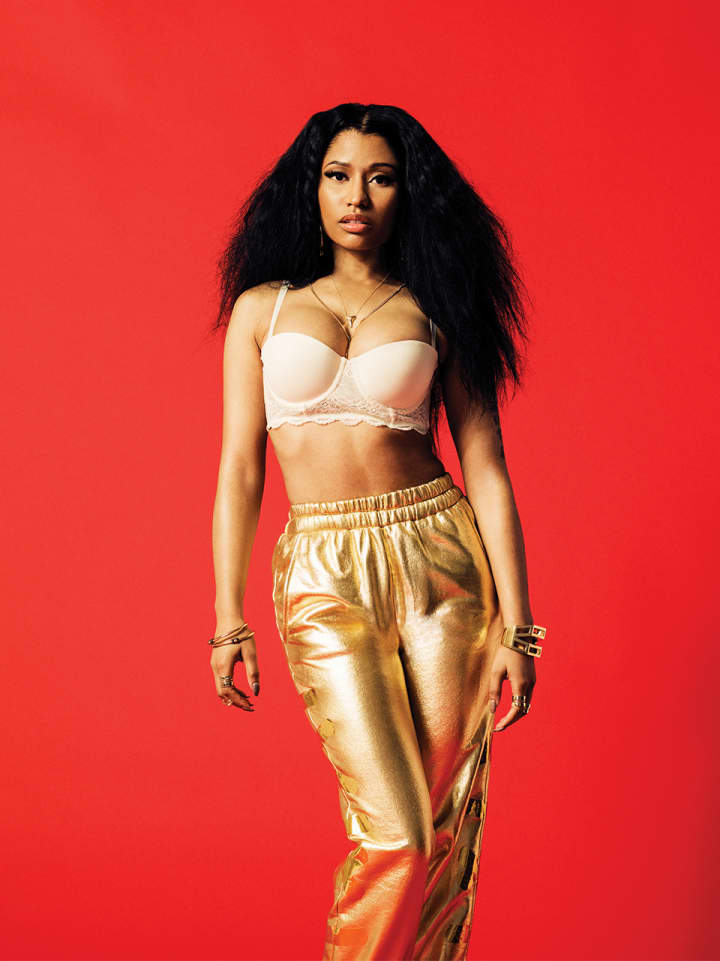 In person, Nicki is more decorous. When she answers my questions, she takes long, contemplative pauses. "I think early on in my career, I was… I was… just a little bit crazy," she says, lightly smacking her chewing gum. "I took everything personally. That's just not good, and it's not healthy." These days, she works hard to keep herself in check. "I think one of my best attributes now, as a businesswoman and an artist and a professional person, is being able to think before I speak," she adds. "I've learned that everything I think doesn't necessarily need to be stated."
But restraint for Nicki doesn't mean silence, and the world relishes her verbal pyrotechnics. Barely two days before our interview, she set off a small firestorm with a show-stealing speech at the BET Awards, where she was accepting her fifth consecutive trophy for Best Female Hip-Hop Artist. "What I want the world to know about Nicki Minaj is that when you hear Nicki Minaj spit, Nicki Minaj wrote it," she boldly announced. Giving the audience a knowingly mischievous hair flip, she added, "No, no, no—no shade," which was widely received as very direct and very potent shade, cast toward ghostwritten hip-hop bombshell Iggy Azalea.
By the time of our interview, Nicki has clearly spent some time thinking about the speech, and she's got her spiel prepared. "My point of saying what I said was that women need to have a perspective," she starts off. "If we're out here saying that we're so confident, and we're so this and so that, but we don't even trust ourselves to write down our own thoughts and spit it on a beat?" She's getting ignited, her volume picking up. "It just doesn't add up." Then she launches into a verbal love letter to The Miseducation of Lauryn Hill: "I knew those were Lauryn's words, and it made me fall in love with her mind." The morning after our interview, she repeats the sentiment in a series of tweets, which are immediately snapped up by blogs looking to package the incident as a feud.
Unfortunately, the Iggy Azalea business overshadowed a far more curious part of her BET acceptance speech, a disturbing aside about fame: "The other day, I really thought I was about to die… And I didn't call the ambulance, because I thought, 'Well, if I call the ambulance, it's going to be on TMZ,'" she said. "And it made me realize: I don't care what anybody gotta say. I'ma do me. I'ma do me." When I ask about the health scare that prompted her revelation, she dodges the question by responding in vague, broad strokes: "I was making a point to say that the business kills so many people and we don't even realize it," she says. "I can only imagine how many people in this business have died because they may not have wanted to… to be embarrassed publicly. We care so much about what the world thinks that we don't live, really." But what had happened to her? Had she fainted or had a panic attack? "I don't even want to talk about it," she says, avoiding eye contact.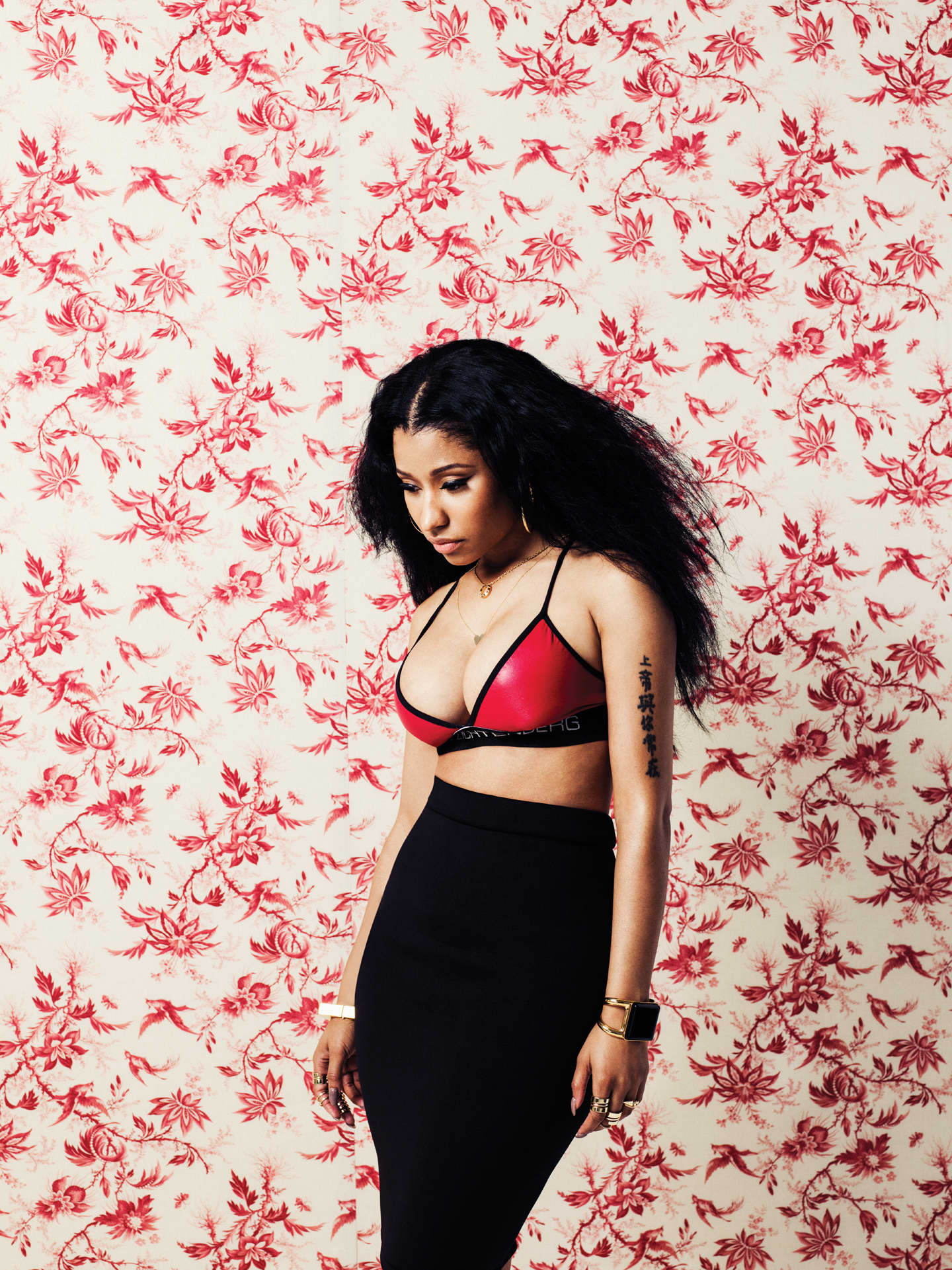 This is the first time in our meeting that she outright denies a line of conversation. The second comes later, when we're again discussing her personal life. Nicki regularly engages with the masses—she controls her own social media accounts and updates them almost constantly, presenting Instagram followers with half-nude selfies and responding playfully to fans on Twitter—but she's demure in other ways, and guards her private life closely. There are no photos of her holding questionable substances, no paparazzi shots of her in the back of a car during a scandalous tryst—nothing, as a matter of fact, that might alienate a corporation looking to partner. It's hard to imagine any hedonistic behavior that goes beyond a few sips from a bottle of Nicki Minaj-branded Myx Moscato drink. TMZ has only roped her into talking on camera once, by accusing her of not writing her raps. Her debauchery, her volatility, her theater: all appear to lie squarely within her art.
Asked if she's always taken pains to keep private, Nicki brusquely offers, "Yup." I mention that there are new tabloid rumors that she and Samuels were recently engaged, and she stares straight ahead for several moments, expressionless, as though she's trying to will the question away. During the shoot earlier, Samuels had Instagrammed a photo in which he was pictured lifting Nicki in the air, but he deleted it. Later, partitions were erected and cell phones banned from the set when she decided there were too many eyes on her. If they're a couple, they're good at hiding in plain sight.
"My pop music made me have to retell my story, my credibility as an MC. I never thought I would have to explain that."
Nicki finally breaks the tense silence, asking if I want some water and flashing me a playful grin. We roll into a much lighter conversation about why she loves Los Angeles, despite her reputation as a New York rapper. New York is an essential component of her rap career—"Southside Jamaica, Queens" rolls off her tongue easily and frequently, and she's been a key storyline at local station Hot 97's Summer Jam three years running—and she says she still places herself firmly in a New York rap lineage. But "LA makes me feel good inside," she says. "New York is too cold, too rainy, too compact. I ain't got time for all of that, child."
Much of Nicki's family still lives in New York, and she recently spent a week there shopping for homes for her older brother. She has a younger brother, too, who recently turned 16, and Nicki says that lately she's experienced bouts of guilt over leaving her siblings. Her younger brother was just a child when she signed with Young Money and left her mom's home. "One day he asked my mother, 'Do you ever think there'll come a time we all live in the same house again, and Onika will be back and she'll have her room, and I'll have my room?'" Nicki says. "And it just broke my heart." Before a tear can muck up any of her makeup, Samuels wordlessly pops up from the couch to nab her a tissue. As soon as the curtain of Nicki's private life cracks open, revealing the sacrifices she's made for her career, it's pulled back again. "I don't want to get emotional," she says, "I just miss them. Every time I talk about them, I get emotional."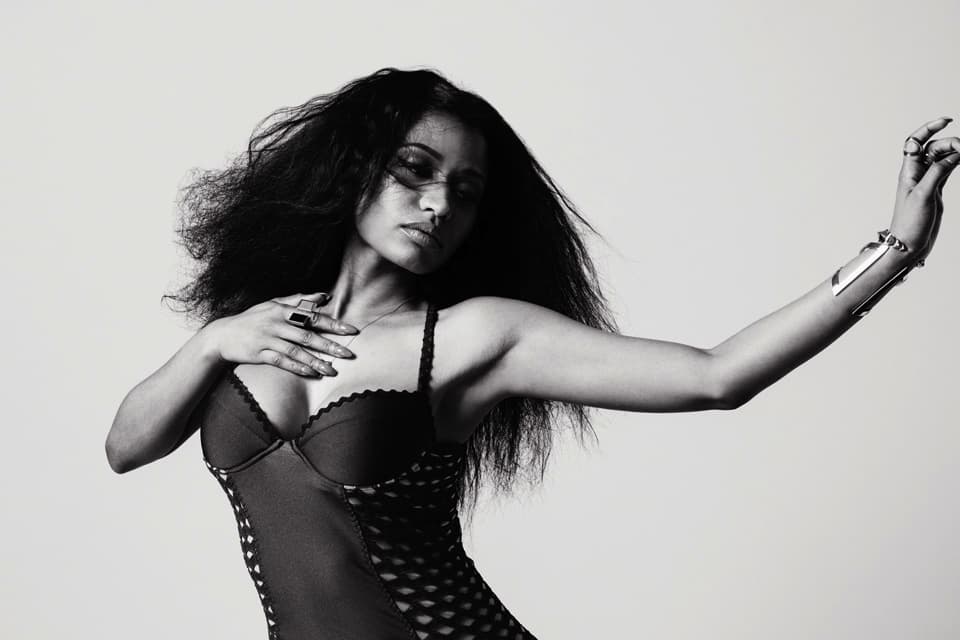 One of Nicki's favorite topics is Lil Wayne. When his name first comes up, she halts the conversation and summons the videographer. "I keep forgetting that I want to record my interviews," she says, gently commanding him. "Just be a fly on the wall and tape, please?" She asks me to remind her what she was saying about Wayne, which was that they're finishing their new albums in the same recording studio, and that their relationship has grown stronger in recent months. In the early days of her career, sometimes she'd text message him, and he'd respond with a comically disappointing one-word answer. "Now we can have conversations and enjoy each other," she says. "But I don't think I'll ever feel like he's my peer because of how much he's done for me. I'll always think of him like…" she pauses, grins and breathlessly bats her painted eyelashes like a starstruck teen. "Like the king." Years earlier, he'd noticed her on the budget hip-hop documentary series The Come Up DVD, sought her out and mentored her. "I give Wayne credit because he saw me and pretty much picked me out of a lineup, and he knew enough to run with Drake as well," she continues. "From early on, he was so generous with helping younger artists, and it paid off well for him."
The implied emphasis is on the word "paid," as Nicki's career now represents a windfall for Lil Wayne and Young Money. She has sold literal billions of songs, many of them to young women and gay men, achieving a degree of popularity that's unprecedented for someone with her kind of street-rap credentials. Nicki doesn't have a core fan base—she has many, which makes her one of the most uniquely successful artists working today. Still, only a few years ago, Minaj wasn't certain she would appeal to middle America. "I remember when I started doing mainstream stuff," she says, "and I was like, 'Oh my god, are they gonna like me, or are they not gonna like me?' At the beginning, I was very nervous."
Her transition into a bigger arena was a double-edged sword, though, and complicated her reputation as rap's most formidable rising star. She still fields a lot of concerned-dad sentiment from men in the industry who wish she would get back to her roots—even Samuels "hates" pop music, she says. And then there's Peter Rosenberg, the Hot 97 DJ who decried the "chicks waiting to hear 'Starships'" at the station's Summer Jam two years ago, prompting Nicki to pull out of the event altogether. Rosenberg has attempted to backtrack and contextualize those statements, but the effect of that day rippled outward. By boldly refusing to choose a single path, Nicki has become a central, if embattled, part of an ongoing conversation about today's blurry distinctions between popular hip-hop and just plain pop. "I felt like my pop music made me have to retell my story. My credibility as an MC—I never thought I would have to explain that," she says. "I thought it was so evident that I belonged here [in hip-hop]."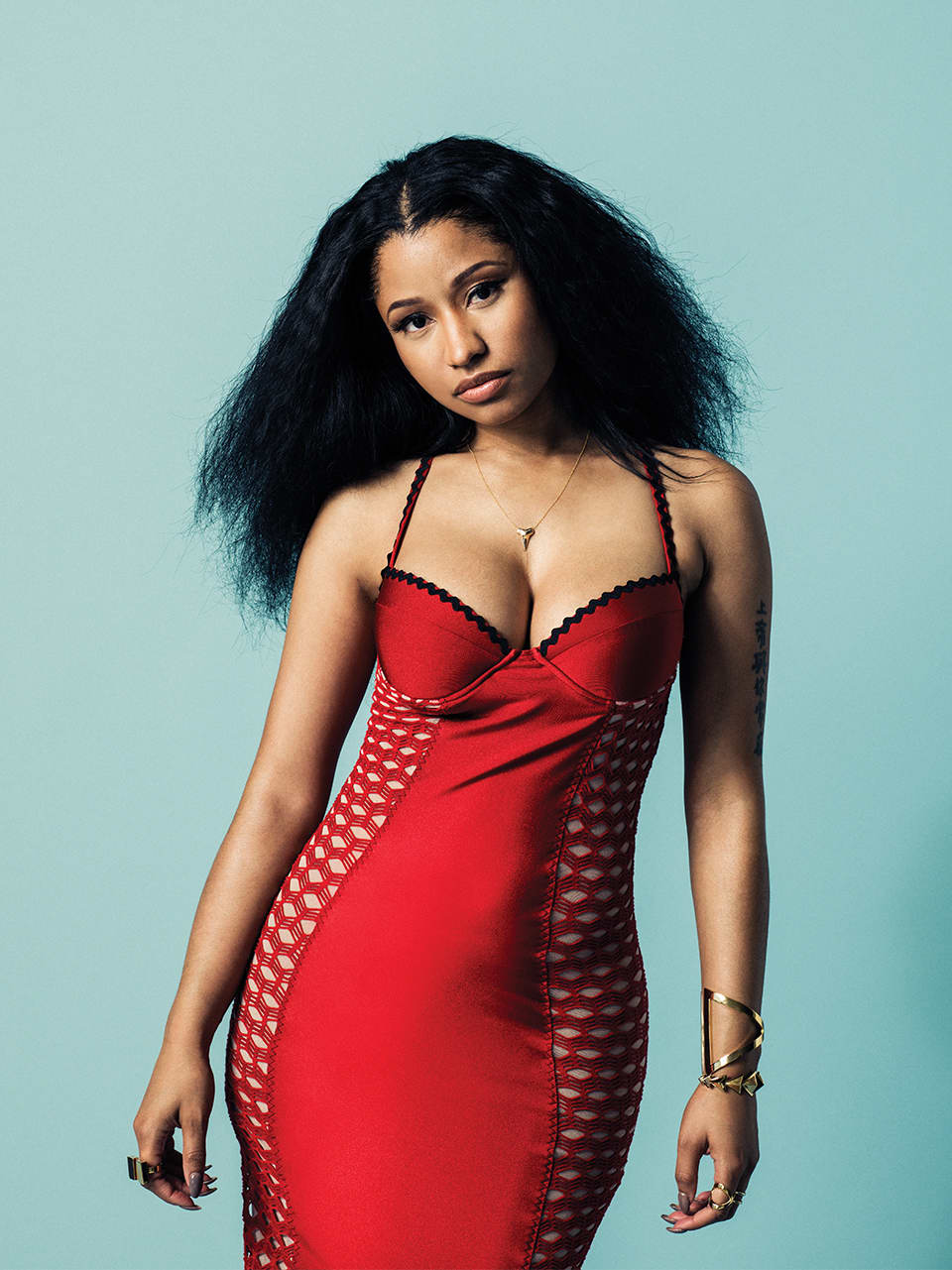 Leading up to The Pink Print, Nicki's been singlehandedly feeding the mainstream and energizing fans of emerging rap. By judiciously balancing her new, heartbroken radio-pop single "Pills N Potions" with remixes for street rappers like Young Thug and YG, she offers the best of both worlds, and might even succeed in merging them. Over the past two years, criticism of her pop music has played out in her self-presentation, too.
Just before the cartoonish, attention-demanding outfits that had become her signature began to limit her, she stripped them away, starting, roughly, with the 2012 video for "Beez in the Trap." Nicki's new pared-down aesthetic—black hair, sleek dresses, more natural makeup—has broadened her appeal. No longer a volatile outsider breaking into Ellen or American Idol, she increasingly comes off as a down-to-earth daytime-talk celeb. "Looking back now, I love that I was pushed to reinvent myself," she says, "because when I sit back and I really look, I need hip-hop, and hip-hop needs me."
Occasionally, Nicki says, fans will remind her of a freestyle she did long ago, and she'll revisit her early material. "And when I look back, I go, 'Damn, I was kinda good!'" I pull up a YouTube video of Ilana Glazer from Broad City dancing and lip-syncing to an old, random Nicki Minaj verse, and Nicki looks baffled. She and Samuels rise from the couch to get a closer listen so they can place its origin. They can't. "What the hell? I did so many verses around that time, and sometimes I really don't remember," she says. Turns out, it's a 2010 feature for a since-vanished rapper named Smiley; Pink push-up bra with my tits in/ I'm a rapper, singer, actor-slash-vixen, goes one particularly prescient bit. Nicki has floated the idea of doing a massive tour to perform strictly old mixtape tracks "for my diehard fans from five or six years ago," she says. "But it's hard. No matter what, you kind of need the people who know you from the mainstream to fill those venues." Nicki considered scaling down the venues, but "then my fans reminded me, 'We can't all fit in the club! We're going to be heartbroken. We're going to be fighting.'" At her level, fully returning to one's roots is a practical impossibility. Indeed, when she talks about her new album, it sounds like there'll be much more where "Pills N Potions" came from; Dr. Luke, the single's producer, is the name she mentions most often while discussing the record. For longtime fans of Nicki's sharp tongue and endless punchlines, you could say her crossover has been too successful.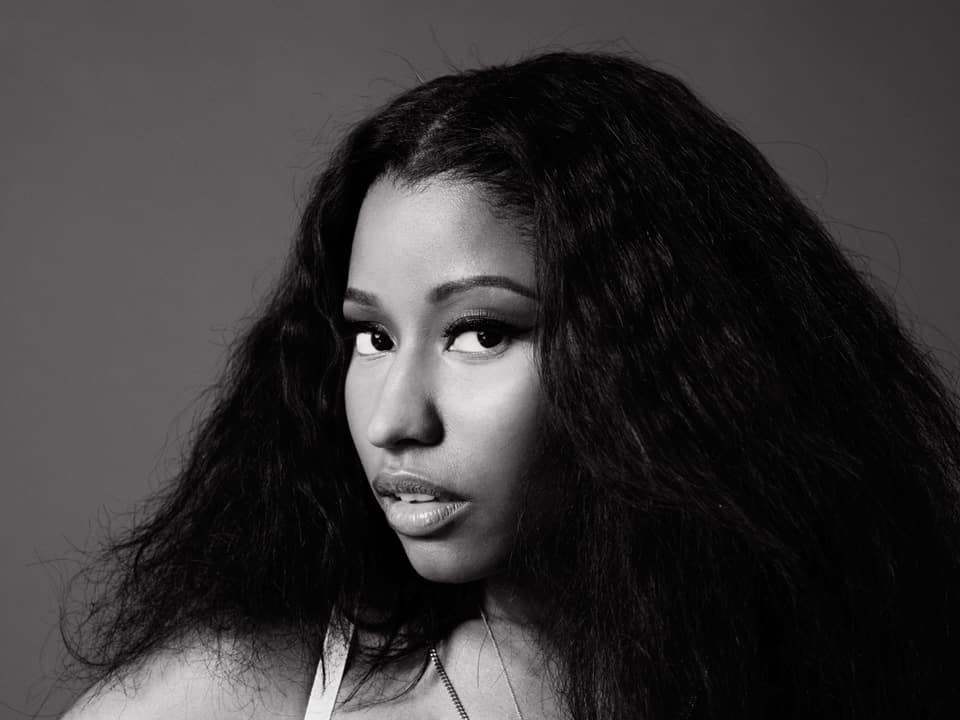 This spring, she made her blockbuster debut alongside Cameron Diaz in The Other Woman, a gig she characterizes as a minor side project rather than a breakout. "But I'm not going to say I'm not focused on acting," she says, "because I don't want a director to read this interview and think, 'Oh, she's not focused on acting.'" Nicki is an opportunist, like any good entrepreneur, constantly finding new ways to connect with her varied audiences, whether it's via music, campaigns for Moscato, K-Mart and MAC Cosmetics or bottles of perfume shaped like her bust. Her video for "Pills N Potions" displays a Pill speaker so prominently that it caused some to wonder whether the video was first and foremost a commercial for Beats by Dre.
The way she sees it, everything she does—even when it softens the impact of her underlying talent—ultimately serves a higher purpose: to achieve greater visibility for young black women in pop culture, plain and simple. When asked if she's ever considered dialing back on any of the extracurriculars, Nicki is firm. "Helllllll no," she says. Rap cannot contain her music, and neither can any one pursuit contain Nicki's ambition. "I've done things where people are like, 'Uhhhh,'" she says, making a theatrically perplexed face. "But every time I do a business venture or something that isn't the norm for a female rapper, I pat myself on the back. It's important that corporate America can see a young black woman being able to sell things outside of music." Then she mentions that she's planning a deal with the Home Shopping Network, and her eyes grow huge: "A female rapper! With HSN!"