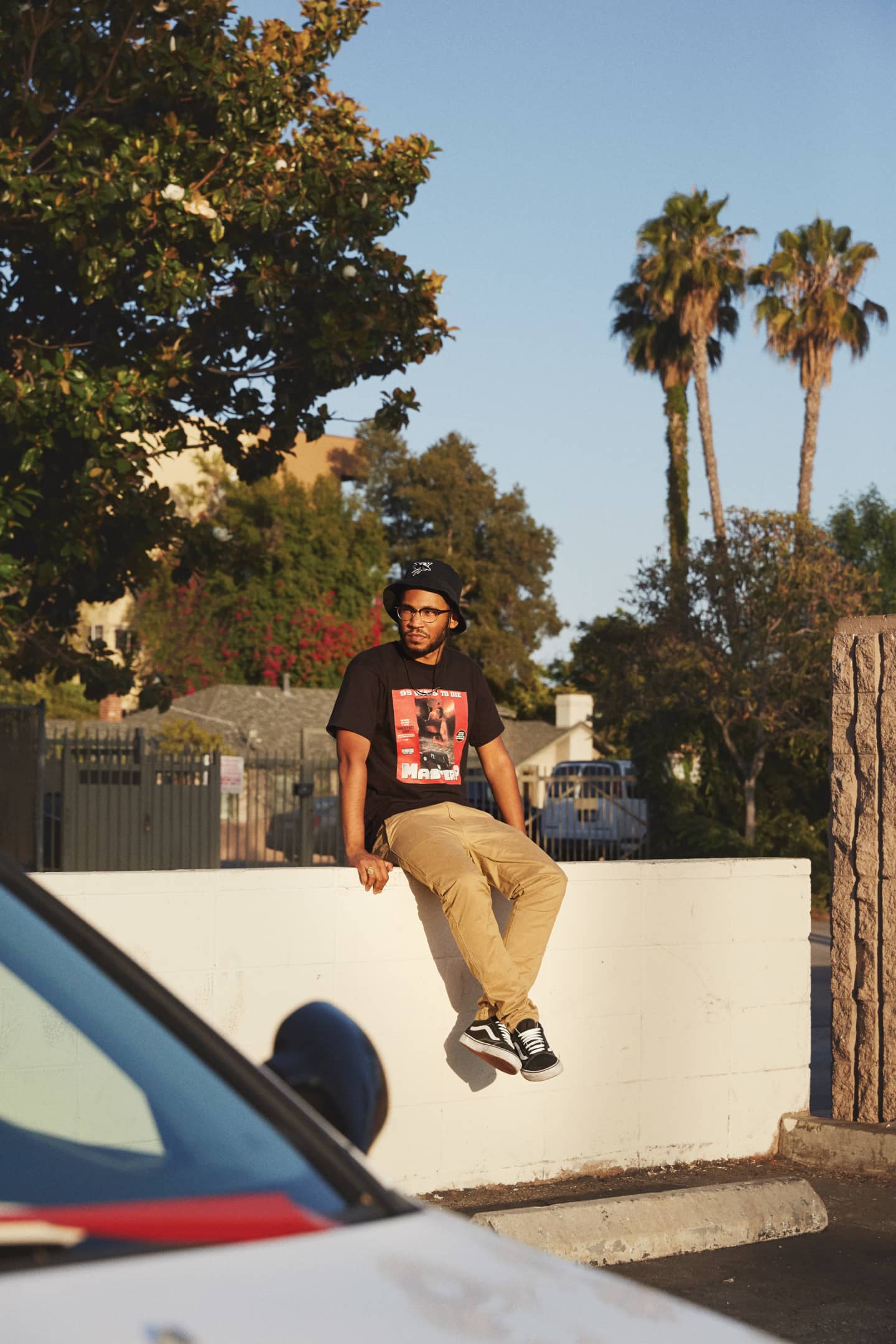 GEN F: Kaytranada's Globetrotting Dance Music
Haiti, Quebec, and a lot of dancing in between: the 22-year-old Montreal producer makes music that's at once global and placeless.
From the magazine: ISSUE 93, August/Sept 2014.
Somewhere, on a long-lost hard drive in a house in suburban Montreal, there are crude recordings of Kaytranada and his little brother, Louis-Philippe, freestyling over 50 Cent's "Candy Shop." "I didn't understand any of it," Kaytranada remembers, a smile skewing his French-accented English. "I just wanted to be an American rapper." Born Kevin Celestin in Haiti and raised in Saint-Hubert, Quebec, Kaytranda is only 22, but he already speaks wistfully of the years when creativity came without any pressure, and before music became work.
Kaytranada's teenaged rap exploits quickly gave way to beat-making, thanks to a cracked copy of Fruity Loops and a family piano purchased by his father. "Art and music were the only things I cared about," he says. Producing was better suited to the chronic shyness of his youth. "I didn't like to talk much, and you could say I was alone a lot. Music could be like its own world for me back in those days." The dance-friendly trademarks of his production now—gummy bass, larger-than-life hand claps and floating, feather-soft vocals—are rooted in personal history, too, harking back to the Haitian kompa, vodou and pop his dad played around the house, the trippy neo-soul favored by his older sister and the hip-hop he and his brother discovered online. At once global and placeless, Kaytranada's sound lives somewhere between it all.
Kaytranada
"Leave Me Alone (feat. Shay Lia)"
For years, he busied himself making DJ mixes and recording as many as two dozen beats a week, mostly for his own enjoyment. One of those cuts, in 2012, was an unauthorized remix of Janet Jackson's "If," which brought the '90s hit into the present by replacing Jimmy Jam and Terry Lewis' distorted guitars and dense instrumentation with a minimal but thumping bass groove. When the remix suddenly racked up thousands of SoundCloud plays in a matter of hours, it came as a total surprise. "I didn't expect all this love for one remix," Kaytranada says of his first taste of success. "I think I made way more amazing stuff than that." Despite his misgivings about it, the bootleg has since amassed millions of plays.
As Kaytranada's profile has increased, remixes have remained his calling card, with his ebullient club versions of deep cuts from Teedra Moses, Amerie and Missy Elliott breaking through on dance floors that tend to prefer Atlanta's syrupy strip-club anthems. Earlier this year, he reunited with his little brother for a hip-hop mixtape, recorded under the moniker The Celestics; this time, only Louis-Philippe raps, while Kaytranada sticks to the beats. But his greatest potential lies in his growing body of solo work. Instru-mental singles like 2013's "At All" and "Hilarity Duff" share the warm, bubbling quality of Kaytranada's remixes while proving he can sound even funkier by starting with a blank canvas. "Back in the day, it used to just be remixes, remixes, remixes," he says. "Now I just want to make original stuff. I'm gonna keep the bootlegs for myself."
On a forthcoming EP for XL Records, though, he's still figuring out how to actualize his vision for what he calls, simply, "uptempo R&B." Tentatively titled So Bad, a reference to how much Kaytranada says he wants to find success, the record is his biggest label look to date, set to feature appearances from Chicago rapper Vic Mensa and vocalists Reva DeVito and Shay Lia. Yet as he puts on the finishing touches, industry realities like deadlines, producer's block and abandoned collaborations are weighing harder than he'd expected, manifesting in nostalgia for the simpler times. "I was doing three beats a day cause I was so into it," he says, fresh off one European trip and days from starting another. "Now it's more difficult, because nothing really happens when you're touring." For an artist on the rise, though, booking too many shows is certainly a promising problem. "It's still so amazing," Kaytranada says of the nascent fame he both longed for and didn't expect. "I'm getting used to it."
From The Collection:
GEN F