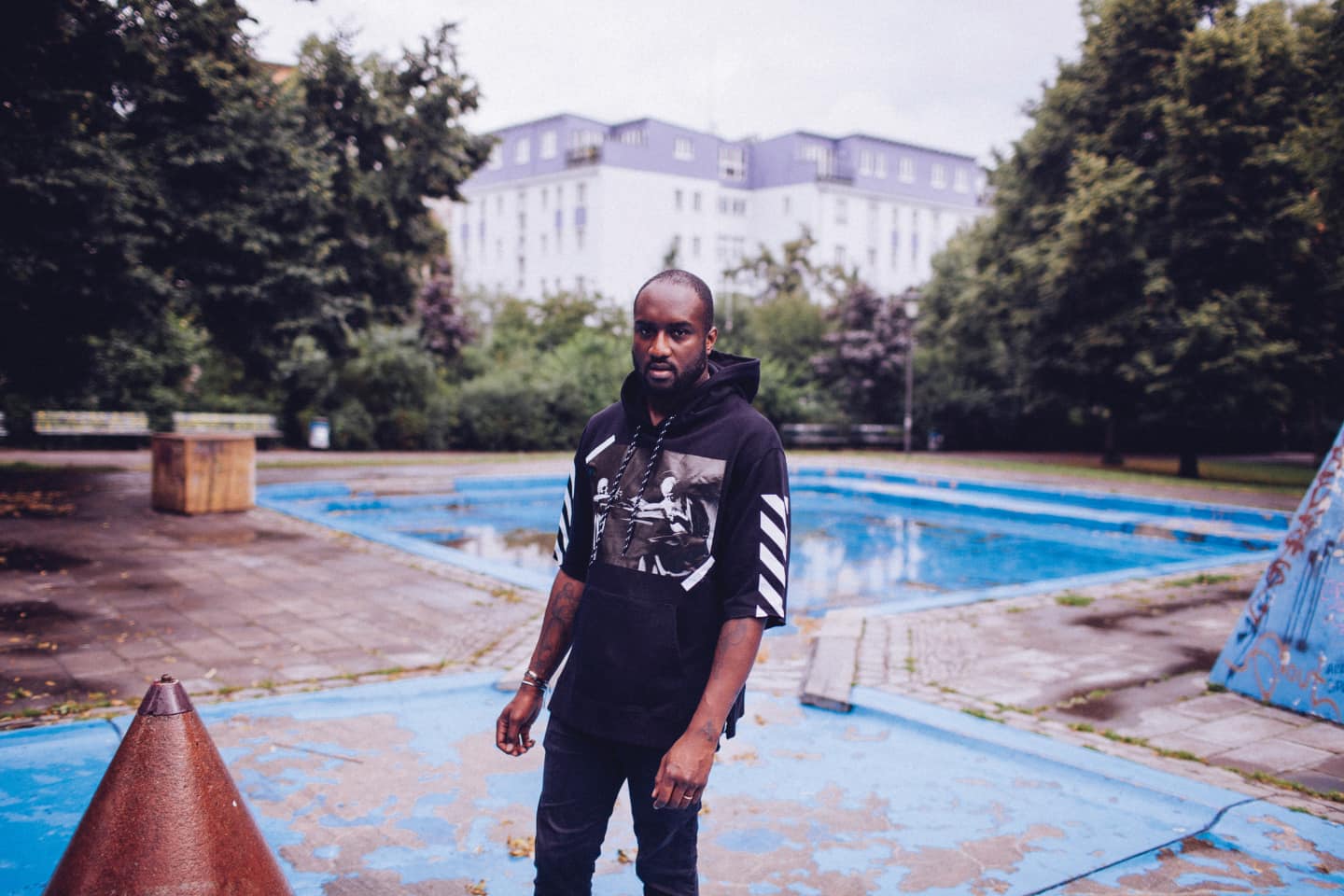 There are few figures in contemporary fashion more polarizing than Virgil Abloh. Emerging from the Chicago's rich streetwear scene in the mid-aughts, Abloh parlayed an architecture background and sharp eye for trends into a design assistant gig for Kanye West when the rapper was first dipping his toe into fashion. Since helping West launch his line, Abloh, now 33, has served as the invisible hand behind some of the rapper's mad scientist moments and the grandiose production of the Yeezus tour. He's also DJed around the world, opened a boutique called RSVP and launched three clothing lines: Been Trill, Pyrex and Off-White. His pieces boast a stark black-and-white palette, slimming silhouettes and bold logos splashed anywhere they can fit. Still, despite his achievements, some detractors call Abloh a hack, and accuse him of parlaying predictable trends and cool friends into an undeserved design career. Now, with the debut of Off-White's womenswear collection, titled "I Only Smoke When I Drink," this multi-hyphenate creative is more determined than ever to blur the lines between high and low, haute couture and hype beast—and prove that he deserves to leave his mark on fashion's blank canvas.
You paid tribute to the famous British fashion design professor Louise Wilson when she passed this Spring. Did you study under her? Kanye looks for the best in everything. We met with Louise Wilson maybe four or five years ago. It was very cool. So many greats have studied under her and we both admired that she taught so many of the world's best designers: Alexander McQueen, Riccardo Tisci, Phoebe Philo. We went to her to say, "We're into the art of fashion, should the both of us join school and study at Central St. Martins?"
Was she receptive to you guys? She looked at us crazy. We were looking for the quick answers and she was like, "There's nothing I can teach you here. The biggest thing that you could have even been taught is the fact that you didn't need." I was fortunate enough to get to know her, to be friends and be guided by her.
The names for your labels have all been subversive, borrowing references from rap or drug culture and sneaking that onto the runway. 100 percent. Basically, Off-White is a continuation of Pyrex. I just legally can't use the name "Pyrex" anymore [due to copyright issues]. Off-White is the color of a blank canvas as well as being a drug reference. It comes from being a student of what Aaron Bondaroff and Alife brought to streetwear culture: taking something that's not yours and flipping it, taking something that's high class and giving it a bit of low class edge. I take a garment that is fitted— made in Milan, cut and sewn— and then screen print on it like it's a Canal St. bootleg. Any graphic I put out, you'll be able to look at it and see that it's part hood, part Upper East Side.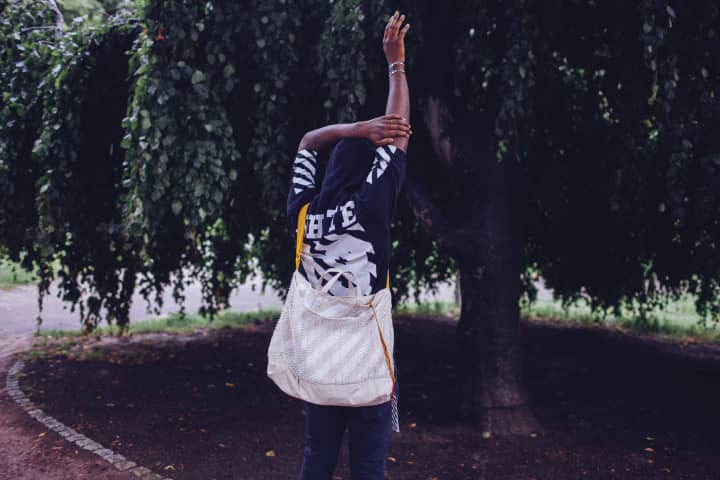 "Any graphic I put out, you'll be able to look at it and see that it's part hood, part Upper East Side."
How have your early, graphic-heavy designs informed the latest women's collection? It's about the girl who wears heels and dates that guy that wears streetwear and Vans. It's like a yin and a yang. I want Off-White to be a graphics-based brand. It's one of the hardest things for a designer to avoiding being, as the British say, naff. Some say it's a little bit tacky to put graphics over everything. So how do we make graphics chic? People don't understand it, and I'm comforted by that. My graphic design skills are superior to a lot of other things I can do; I use it as a part of my tool kit. It's informed by traveling just as much as the Internet. Whether it's the Mercer Lobby, or Cafe Select, or The Chateau in LA, XOYO in London or the Soho House here.
Those cultural landmarks occupy a very specific space. Are you aware that a large majority of the masses don't experience that, and aren't familiar with these references? If you sit and think about how many brands there are in the world, it's insane. There's so many stores. I'm constantly analyzing what my place is. It's the same concept as Zara vs. Balenciaga: the ideas go in one direction. I'm a fan of brands that are close to a creative director. Inherently, that brand is that person. These are people who can look at life, come up with an inspiration and then map product against it. Geniuses like Nigo, Pharrell, Kanye. When you feel that inspiration and it starts millions of trends. So it may look like I'm doing whatever, but I knew. I used to tell the kids in my shop, RSVP: "I'm gonna print across the bottom of shorts. I'm gonna screen print on Rugby flannels." It even felt wrong when I was doing it.
Yeah, and a lot of people felt it was wrong too. Yeah, exactly. I saw the Rugby store was going to close, and singlehandedly bought all the flannels from across the country. I made those flannels deadstock. And I just loved the reaction. People were wowed. People were like, "How are gonna charge $500 for a rugby marked up from $40?" and I'm like "You can't get that rugby anymore. The one that's $40 in the store, I bought it, now you can't get it!" That's intellectual to me. That's an art project. People were like "How are you gonna use Champion hoodies?" When you're hooping in gym class in the newest Jordans, you have to wear your gym uniform, which always had that Champion logo on the shorts and the shirt. It's just a nod to that.
If graphic design is your strength, are you getting help with other aspects? Sketching out silhouettes and tailoring fits? The silhouettes are all me, from sketching to fitting. I challenge myself. My background is in architecture, so it all comes down to a drawing. Back when skinny jeans were first getting made--those jeans are baggy compared to what kids are wearing now. The only denim brand that is super dead on is Ksubi. Jeans move with music, so I was like fuck, I got a brand, I'm gonna make that jean right now. The Off-White jean is long. It gets tight at the knee and then longer, and the seat of the pants has room—you could actually get in a cab. All those nuances are in the jean before I put the print on them. But some people will only see the graphic. For next season, all the graphics will be in watercolor instead of bold screen prints. It looks fucked up.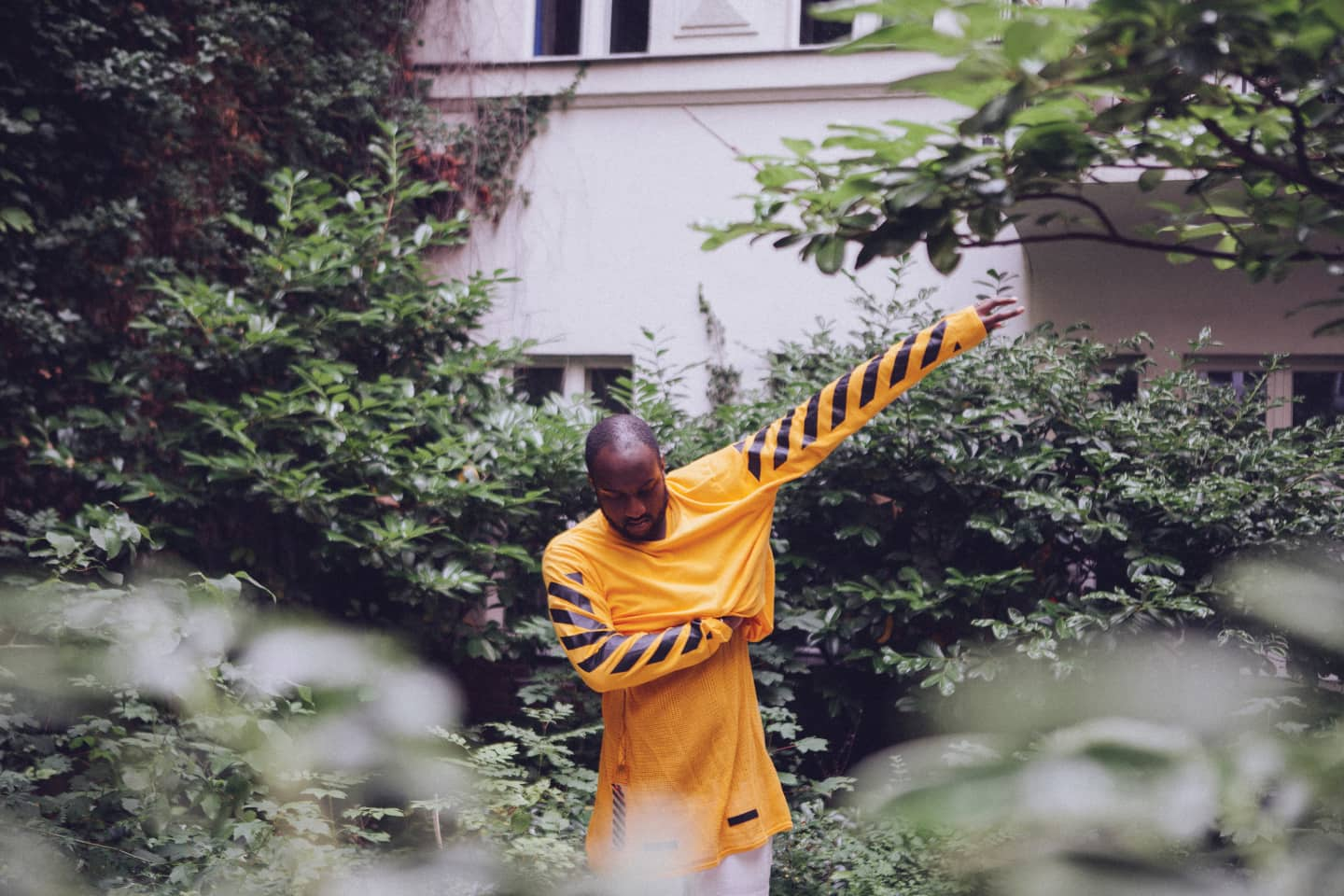 "If we don't push the boundaries and don't leave this in our legacy forever, then hip-hop will forever be where it is, and black kids will be where they're at."
You've been married for five years now. How has your wife been supportive throughout? She's the main inspiration. We've been together since I was in high school. We're all just mini-versions of ourselves. You grow up with all these ambitions when you're young, and you might not even get there. My parents are from Ghana in West Africa, so for starters I could have been a kid in a third-world country kicking a can right now. But instead, I have this vision and determination to do something. For the people who go through all those levels in your life with you, those are the ones who deserve to be there. Without a core family—for me, that's a huge box to check before going around the world and dedicating your life to design.
There's a Zane Lowe interview where Kanye mentions that infamous Paris Fashion Week photo. He says "If it wasn't for that Paris photo of Virgil, Don, and I, there would be no Givenchy in the hood." Is that recontextualizing important to you? The one thing to note is that I'm a student of Kanye West. We're just kids from Chicago that have an opinion. We want to be in a place to help bring what we grew up with to the forefront. This is the golden era for hip-hop to transform and lead into other realms. He said it best, I can't even add onto it.
The way trends funnel through hip-hop culture is so traceable. A photo gets taken here, and a year later, a style of clothing pops up everywhere. We just went to Cannes and did this panel with Steve Stoute and Ben Horowitz, who is like the godfather of the internet. They asked, "Why wasn't Mick Jagger selling leather pants?" Hip-hop was the first form of music that glorified how much shit cost and what name brand it was; it's the greatest vehicle to move products. Of course Beats being bought by Apple was going to happen in 2014. Dr. Dre made something that is bigger than the corporate world. We're from hip-hop, which is a subculture that has now transitioned into its adult phase. It's about knowing how to transition into other spheres— a different taste level— but still keep it real, so to speak.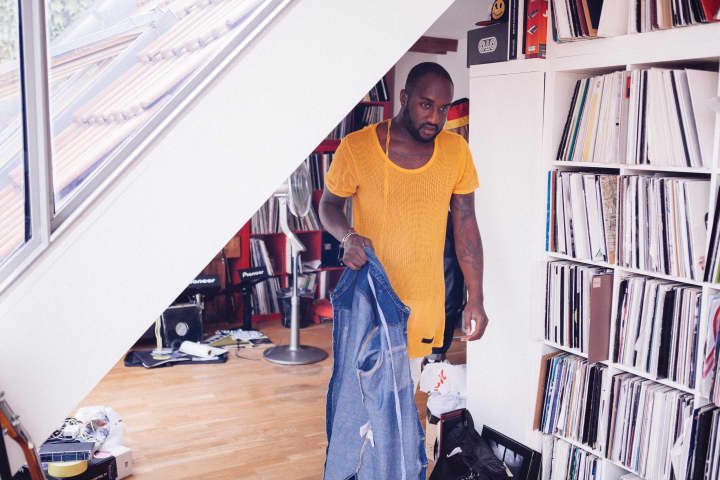 What's next for Off-White? Right now, I'm designing my first flagship retail store in Hong Kong, which will open in the fall. I can use my architecture dreams to build out the space how I see it. I'm also working on furniture. I'd do anything at the right time and I would also do things at the wrong time, if they felt right. I just don't want people to get it twisted about what really goes on in my head. You can look at it like, "Oh, he's this black hip-hop kid that looks like he should be playing basketball." I just love breaking down barriers and hitting people with the alley-oop when they think we're a stereotype.
Do you think that's the impression people have of you in the spaces where you work? I'm definitely not one of those pessimists, I just use it as internal motivation. People still have it twisted. We look at it like if we don't push the boundaries and don't leave this in our legacy forever then hip-hop will forever be where it is, and black kids will be where they're at. We look at it as a duty. It's just how we were born. We were born to do it. I don't give the slightest what people think, because I don't know where that came from. I resonate with the kids that get inspired. The negative doesn't hinder the left or the right for me. I look at kids that are like "You inspired me to do a clothing line." This is the age when hip-hop got weird—shit is going backwards. I'm inspired by Tyler, the Creator.
In what ways? He's part of a different generation. I'm younger than Jay Z and Kanye and older than Tyler. Tyler is younger than me and can span to Jay Z, while Kanye is really more like A Tribe Called Quest. But when you compare notes between the generations, we all like Wes Anderson films or some shit like that. You might get us all twisted, and think that we're all black kids or hip-hop kids, but the fact is that Tyler's sensibilities are super high artistically, and they're all off of just living. Basically what I'm saying is, there's a new black kid in town. These are visionary genius kids that come from what is considered a lower form of music, that have super high sensibilities, and have dedicated their career to not only being commercially good, but pushing a bigger agenda than just existing for the homies.
It provides options for a kid trying to figure out what to do. My guy Justin, who does a blog called JJJound, is the most tasteful person I know. He's the new GQ or Martha Stewart. I showed him Pyrex 23, and he wrote back to me and explained it as a classic hood motto. "You've either got a killer jump shot or you're good at selling rocks." That's the only way you're getting out of the hood. I'm subversively just crashing these things together unbeknownst. But that is a real mentality of the old world inner-city black kids, the birthplace of this culture that now can sell Coca-Cola and records. Now it's interjecting all that with taste.