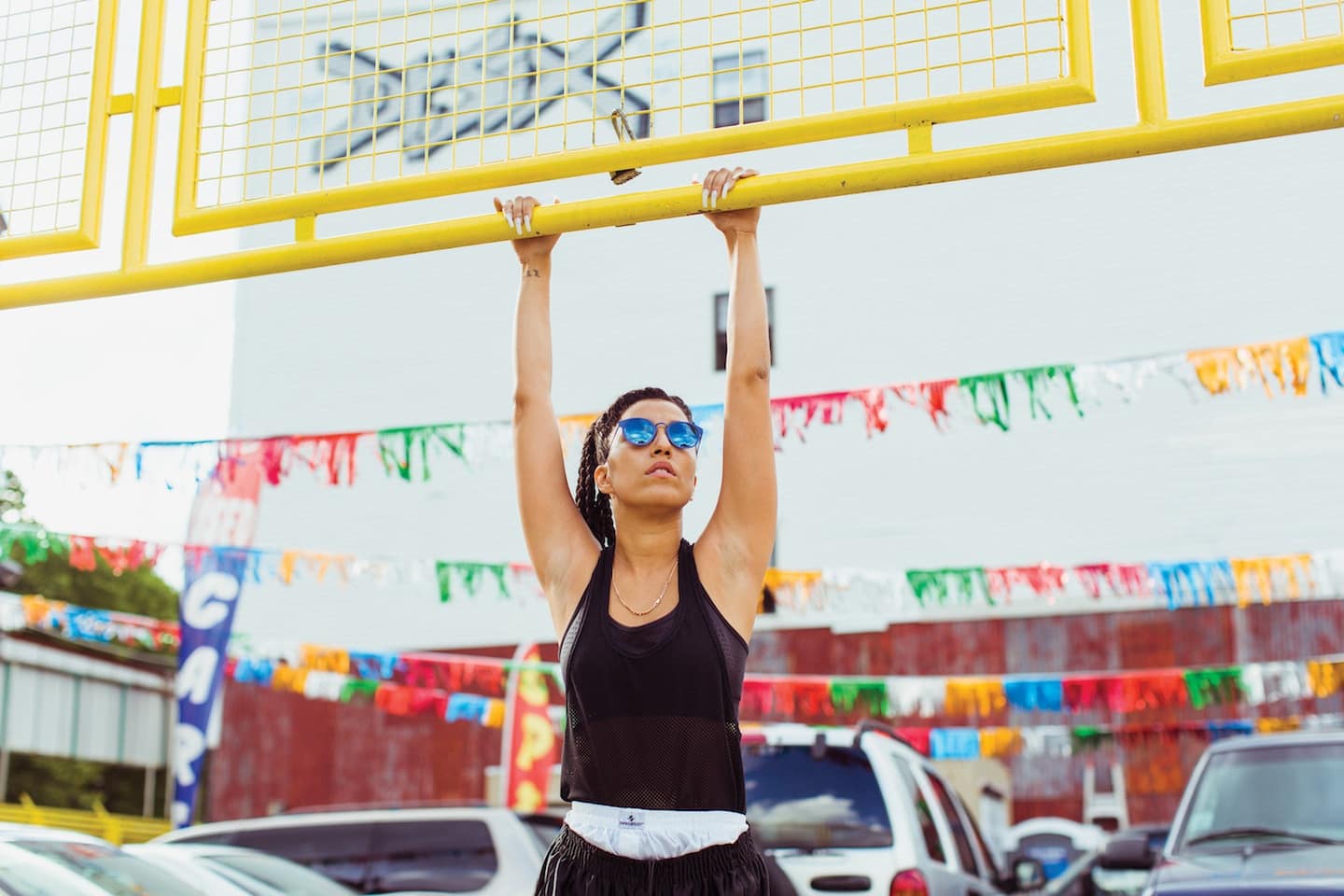 GEN F: Lafawndah Makes Sexy Tracks from the Whole World Over
The Brooklyn-based singer/producer is looking for friends in all the right places.
"The best thing happened to me today," singer and producer Lafawndah says one Sunday afternoon, walking down her Bed-Stuy, Brooklyn block in search of an iced coffee and a loosie. During a photo shoot that morning for Purple magazine, she had a chance encounter with Natasha Lyonne, the Orange Is the New Black star and beloved New York chatterbox. After some small talk, Lafawndah casually told Lyonne to reach out if she "ever needs a prison bitch" for the show. The two exchanged contact information. "She was like, 'So what aaare you? You're a professional aaactress?" she giddily recalls, mimicking Lyonne's nasal accent and fiddling with her long, black-and-blonde braids. "No," Lafawndah told her, "I'm just trying to hang out with the right girls, that's all."
Lafawndah and Brother Bruno
"Bladehall"
Lafawndah, who declines to give her real name, has a tendency to get pulled into the orbit of creative and powerful people. In 2006, shortly after moving to New York from Paris—where she grew up and studied art history, at La Sorbonne—she crossed paths with art world renegade Christian Haye and quickly took on an ambiguous role at his mythic Manhattan gallery, The Project. These days, her serendipitously accumulated supporters include Lionel Bensemoun, one of the nightlifebigwigs behind the Le Baron club franchise, and Red Bull Music Academy programming director Max Wolf. Her music—a sexy, minimal, free-form blend of dance and R&B—has a natural place in today's wave of downtown electronic acts. When she first moved to New York, she remembers "life-changing" raves hosted by the label Lit City Trax, and now she records with Kelela, L-Vis 1990 and Teengirl Fantasy.
It's easy to understand Lafawndah's social magnetism. She's strikingly warm and effusive, first greeting me at her apartment in nothing but a wispy robe—"I'm naked," she warns—before changing into an oversized white mesh top and basketball shorts. Later, on the street, she runs into a neighbor and gives him a heartfelt, maternal-looking embrace. Her music possesses a similarly open spirit. After a decade spent studying classical flute, she played drums in an all-girl band in Mexico City called Nidada, which she characterizes as tribal music with a rough-edged punk sensibility and a choir-like approach to vocals. She's carried that global ethos into her eponymous solo project, which offers a robust blend of different threads of dance music, woven together by her crystalline voice. Her debut EP, Chili, was recorded on the French-Caribbean island of Guadeloupe and prioritizes atmosphere and rhythm over melody, marrying delicate gauze and harsh dissonance. The title track, which uses a spare zouk beat and high-pitched vocals, is both urgent and delicate. Her music can feel homemade in the best possible way—it's unpretentious, inviting, a bit eerie at times.
Back in her apartment, Lafawndah plays me a new song recorded with Bruno Coviello, formerly of Light Asylum, which constructs a dancehall rhythm from new wave synths [listen above]. It's the poppiest song she's made yet. This makes her "highly uncomfortable," but she says her mom approves. Lafawndah has amassed a horde of trend-setting supporters, but her family still thinks she did her best work on a pop snippet she recorded for a 2012 Mango advertisement—"Singing a line I didn't write on music I didn't write," she says, then laughs. Lafawndah hardly seems the type to get hung up on the technicalities that divide art and commerce, work and play, friends and collaborators. She's just trying to hang out with the right girls.
From The Collection:
GEN F