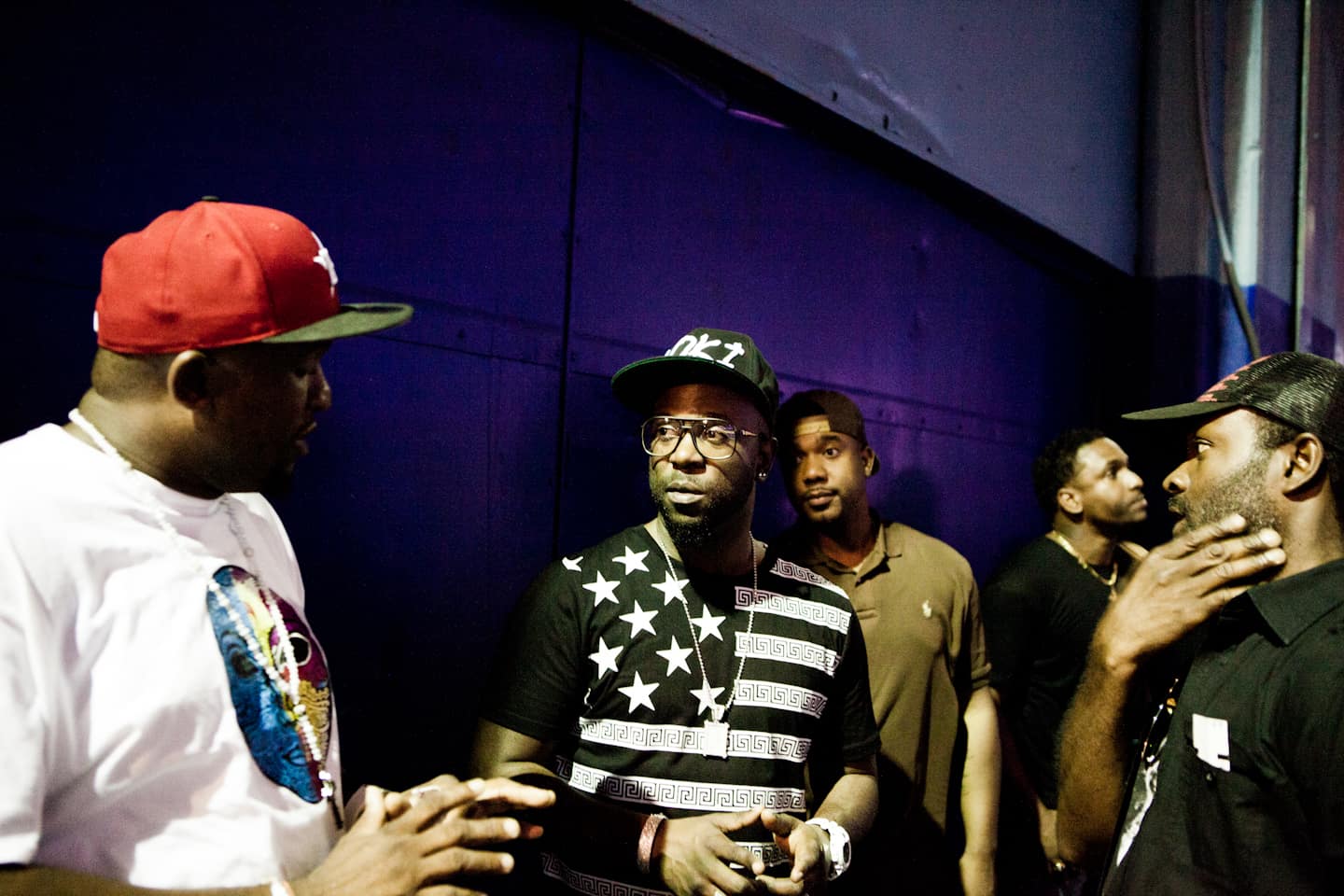 Rough Enough: Bunji Garlin Is Aggressively Expanding Soca's Borders
​The Trinidadian star on soca's evolution, finding new fans overseas and keeping it in the family.
Over the last year and a half, Trinidad's Bunji Garlin has become soca music's most visible ambassador. It's been a long time coming but also an unlikely development considering how coolly his rugged, dancehall-inspired approach to Trinidad and Tobago's homegrown music genre was received in his early years. But it's been a fact that's become undeniable since his "Differentology" made the jump last year from Trinidad Carnival to American and European radio stations like Hot 97 and Radio 1; a Grey's Anatomy montage scene; and sports arena PA systems. A few Fridays ago I heard a "Differentology" remix played in-between innings at the Mets' Citi Field, as girls with air guns rocketed t-shirts into the stands.
While soca's other mainstream moments——see Kevin Lyttle with "Turn Me On," Rupee with "Tempted To Touch" and The Baha Men with "Who Let The Dogs Out"—fizzled out after one anomalous hit, Bunji has assembled an honest-to-goodness-run. "Carnival Tabanca," a summer 2013 release about longing for Carnival after the festivities are over, followed "Differentology" onto Hot 97 (a development buoyed largely by listener requests) while "Truck On D Road" continues to pick up steam thanks to a new, Carnival-set video (below), and a remix featuring A$AP Ferg. With the arrival of his RCA Records LP, Differentology, earlier this month, Bunji became the first soca artist to release a full-length album through a major label since 2004.
Given his ascension and his deep history in NYC (Massive B/Hot 97 reggae DJs Bobby Konders and Jabba were early supporters, as were a small army of local Trini selectors), Bunji will naturally be an ubiquitous presence as New York's Carnival Week kicks into gear. He appeared at VP Records' Carnival Gold boat ride last night (where FADER photographer Alex Welsh grabbed these shots), and will be at Hot 97's On Da Reggae Tip show this Friday, Mister Cee's 5 Alarm Blaze show at Stage 48 on Sunday night, and on Power 105 jock DJ Norie's truck during Monday's Labor Day parade. In-between, he makes a detour to Texas for Mad Decent Block Party dates in San Antonio and Dallas, on Saturday and Sunday. The jam-packed schedule is nothing unusual in soca, where artists have been known to perform over a dozen times a week in the run-up to Carnival.
With Bunji at all times is his wife, Fay-Ann Lyons, Trinidad's most visible female soca artist. (She's currently working on her debut full-length, with producers including Boi1Da and Jillionaire). In contrast to Bunji, Fay-Ann comes from soca royalty. Her father is Austin "Super Blue" Lyons, the father of the "jump and wave" style of soca that's dominated Caribbean carnivals for much of the last three decades. Married since 2006, Bunji and Fay-Ann almost always travel together, often with their five-year-old daughter, Syri, in tow. That's how I encountered them on Monday, as they returned to the Crown Plaza Hotel in Queens after a taping for 106 & Park (Bunji performed "Truck On D Road" with guest A$AP Ferg on the BET show's Caribbean carnival special, which aired yesterday; Fay-Ann opened things up with "Catch Me.")
Huddled in the back seat of a black SUV in the hotel's parking lot with Syri napping in between them, Bunji and I spoke—with occasional commentary from Fay-Ann—about the evolution of soca; the influence of freestyle rap and dancehall clashes on Trinidadian music; and why performing in Oslo this month was a career highlight for the Soca Viking and his Vi-Queen.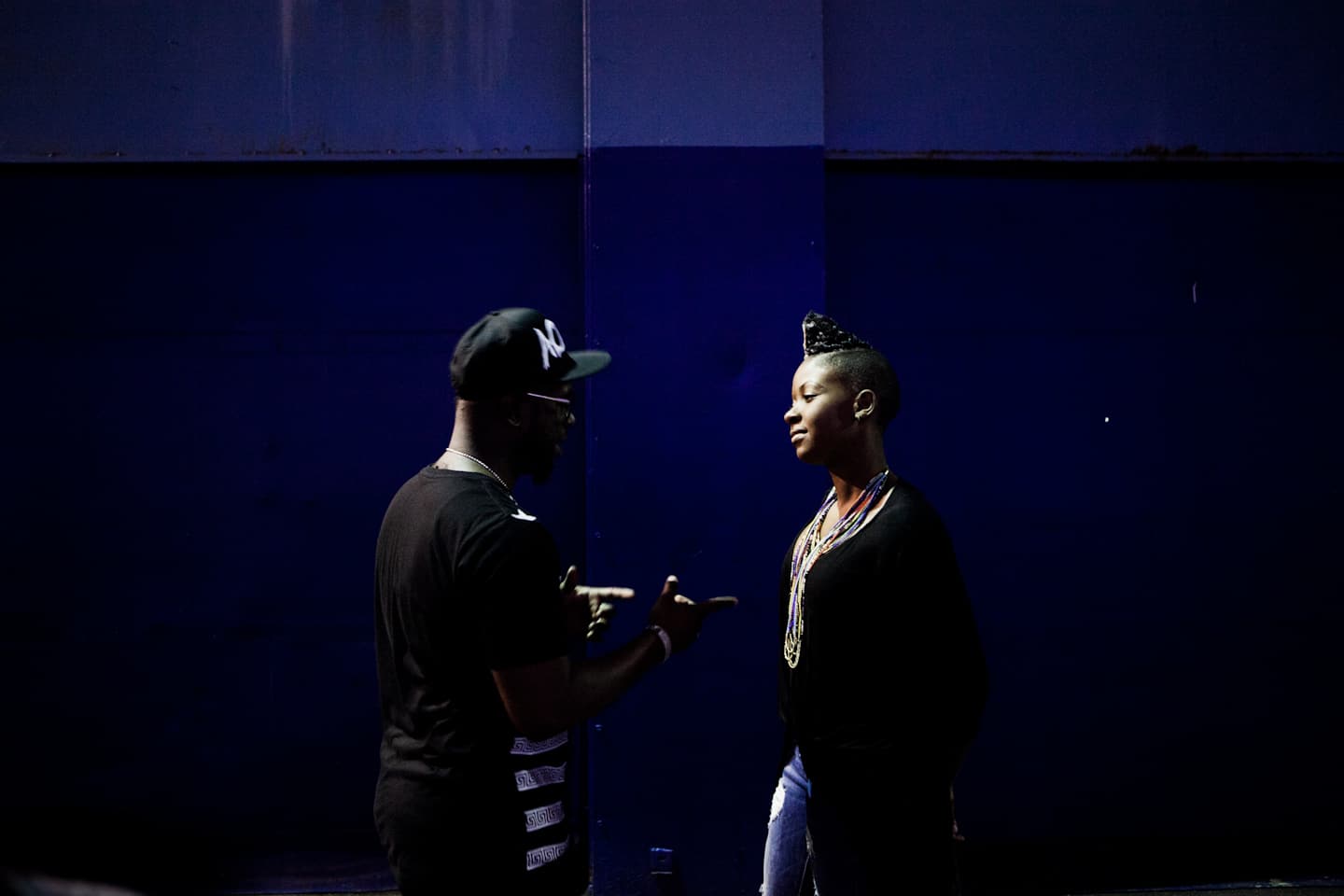 "We were on the road with all these celebs literally rollin' in our entourage, with no security. Girls was just winin' on Trinidad James, all ah dem."
Can you walk us through the schedule that you have as a soca artist at this time of year? You have Notting Hill in London and that runs right into Labor Day this week in NYC? Bunji Garlin: It's a busy time. It basically goes like that throughout the whole year for us soca artists. As soon as Carnival in Trinidad & Tobago is done [on Ash Wednesday], we go to Jamaica [Carnival], and then on to St. Lucia, St. Vincent, Antigua. Barbados Cropover, Caribana [in Toronto] and Antigua [Carnival] happens at the same time. And after Antigua, you have Grenada, and after Grenada you have Carnival Boston. You have Washington somewhere inside there. You also have Philadelphia, and Baltimore. And then after that of course we go to the U.K. Then back here for Labor Day. And then after Labor Day, it's just a little time before Miami Carnival. That is festival to festival, not counting in between that regular shows.
My understanding of soca was that it was always seasonal—new music is released in the time leading up to Carnival. But now it seems like you have songs coming out all year. Has a career in soca music changed? Bunji Garlin: It started changing about ten years ago, or more. There's no secret that it was almost like law that as soon as Ash Wednesday is here, all soca [and] calypso music must stop playing on Trinidad and Tobago radio. This is the home and the birthplace of this music! Over time, the mold started being broken. The audiences that started being involved in soca became younger. And by that happening, you had a longer period of people wanting to be involved in the music.
Because younger people have more time? Bunji Garlin: Not only more time, young people don't really care about too much rules and regulations. The younger generation decided that, "We would like to listen to this music when we want." And then, the demand on the [mas] band leaders to provide costumes to the patrons started becoming so large that they needed more time to make costumes. More people became involved because, if you have more costumes to make, you have to hire more people, and when you hire more people, more become aware: "Hey, band launchin' will be comin' soon" or "Costumes makin' now." It just made sense to bring your band launch in earlier. That in itself became a competition. If I launch my band in August, the competing band would like to launch their band in July. That started helping the music grow from earlier and now basically it's going all year-round. It's not the prominent music still yet, unless it is Carnival time, but it is playing way more now through the year than it was in the past.
Does that create more opportunity for you as artists to have this "seasonal" music be a full-time pursuit? Bunji Garlin: Now we are in a self-sustainable position. For the last six, seven years, there are many soca artists that didn't even have to leave home for more than once to travel abroad, and they were able to pay all their bills and do this and that. So, we are in a good place now. The main thing is actually setting up a proper industry that works properly, and is not just a hustle. Because we real good at being a hustle right now, it's just to take it to the next level.
It seemed like a big year for Trinidad Carnival. There's always a celebrity contingent, like Will Smith and Jada. But watching your video for "Truck On D Road," which just dropped, you've got A$AP Ferg, Trinidad James, Major Lazer—relevant people in music—on the road with you in Port of Spain. What's your anticipation for this coming year? Bunji Garlin: Every time these guests who come for the first time come back they always bring like four, five more people. And if you have that happening, then you have constant growth. I think it's gonna be not only healthy economic-wise, but also for the exposure of the culture, and of course the exchange.
Fay-Ann Lyons: This year there was more visibility. We were on the road [this year] with all these celebs literally rollin' in our entourage, with no security. In the past when people brought [celebrities], they swamped them with security. It made the Carnival look unsafe, like people was gonna do something to them. But this year, they were just on the street. Girls was just winin' on Trinidad James, all ah dem. He came the year before and was like, "Okay, security keeps everyone away." But this year, it was just us and the people. And the people felt like, "They actually came to be a part of us and our culture. They didn't come with the full entourage and security to keep us [away]." It was really cool to see. It showed a down to earth side for them and they kinda let their guard down.
"The way we grew, we developed our style on the streets. It was a rough environment, so automatically you would go to the music that represents that rough edge."
I notice that you two travel together. Any time I've seen you, I've seen Fay-Ann as well. Yet you're known for your own solo catalogs, not collaborations. How are you able to juggle that? Bunji Garlin: Well, we have solo careers together in the same space. It just works because we in the same genre, we are the front line singers in our own band, and when our season demands us to present ourselves, it is at the same time. Because when Carnival finish in Trinidad, automatically we have to go wherever the next Carnival is.
Were you admirers of each other beforehand? How did you meet? Bunji Garlin: [Laughs] We met backstage at a Carnival event—some brass festival, which is no more. Her dad introduced us to each other. I found out [Superblue] was a fan of mine, and that was big news for me, because I was probably number one fan of him, and he was like, "Fay, you need to meet this guy." He said, "Bunji, this is my daughter Fay-Ann Lyons." I didn't want it to look any kind of way, so I was just very brief, said "Nice to meet you," and I went. I didn't even see what she looked like or anything.
You came into soca music with a real dancehall-type energy. Was that your main interest in music growing up? Bunji Garlin: Well, actually, all music. While I was going to school, the prominent music was dancehall. At that time we used to call it "Dub." The soundsystems in the public transportation used to be loud, like a car-show soundsystem, and we go to school with that everyday so it was like a party on the vehicle. And by this playing in our heads all the time, I started gravitating towards that music.
The way we grew, we developed our style on the streets. It was a rough environment, so automatically you would go to the music that represents that rough edge. Because you want to say what you want to say if you're in a face off with someone. You don't want to tell them, "I would beat ya with a pillowcase." You wanna say something that will offend them. I just keep developin' that hard style, and it was then when I met these producers, and they said, "Take your style, what you developed on dancehall, and put it to soca. Jamaica has about a million artists that didn't even come out as yet, they ain't going to look across the waters to get you, they have talent [at] home. Use your own style and make something unique."
But it wasn't [that] unique because ragga soca was way before me anyway. Some of the prominent soca artists, like Iwer George, General Grant, Preacher, had done these songs. Even Yellowman had a song called "Calypso Reggae." I just decided to stick to that because that was where my strength was. But of course when the music started to change in 1999, someone needed to be blamed, so I got the blame. I was not the only artist doing ragga soca at that time. There was many others. But because I stood out the most, I was one of the youngest, and I probably impact the most, I was the target [of criticism]. But I took it, I fought back and here we are now.
And your first track ["Send Them Riddim Crazy"] had a hip-hop beat. Bunji Garlin: It was an adaptation from Aaliyah's "Are You That Somebody."
Bunji Garlin
"Freestyle on the Large Up Sessions"
Hearing you freestyle, it's clear hip-hop has impacted you in your presentation. Bunji Garlin: A lot of people in Trinidad and Tobago have that ability to freestyle. And it happened because we were basically somewhat fooled. I want to be careful with what I say. Growing up, we were looking at a lot of dancehall tapes—"Clash with Ninja Man and Supercat" and all that. And the way the clash was done, is not until in our later years we realized that some of these things are written and prepared for [the] clash. But when we first saw it, we thought, "Yo these men sick! These ting comin' off the top of they head!" Everyone in my era who had that skill, we would meet and we would just would invent our own clash, and from the very first song to the last, everything must be off the top of your head. In Trinidad, we have a set melody music called extempo, which the old Calypsonians use. It's one set melody and you have to go and go until someone just drops out. There's a set chorus line, a horn line, and you just go with the flow. And that freestyle ability, in our people, came from that.
Trinidadians are known to be harsh critics. "Differentology" was the biggest thing last year for soca, but then when the video came out, I looked on YouTube and there were a lot of unfavorable responses. What do you think people wanted or expected from you? Bunji Garlin: The way Trinidadians see things, compared to the rest of the world, is totally different. And if I start [to] view everything the way that the typical Trini would, then I have nowhere to go. So I immediately started viewing from a broader scope. Everyone is seasoned into having 14 girls behind a truck or a big speaker in short pants winin' upside down and on their back, and that's a great video for dem. That is not a great video for me. I ain't goin' down that road in no time. I remember a lot of people was pitching ideas for the "Differentology" video. And 99 percent was along that same line. And I'm like, "No way, man!"
The first time I saw "Pumped Up Kicks" by Foster the People I was like, "Yo, I appreciate this." It was just far left compared to the song. You have the song doin' this, you have the video doing that. It closed the circle. I got to understand art and culture from that aspect and that's why I approached the "Differentology" video the way I did. I knew a lot of people had different opinions. I couldn't care less about what they had to say, because not long after the video drop, this TV station in the Netherlands picked it up, and put it on primetime. And I was like, Hmmm...so which other video from Trinidad and Tobago that has the typical references and scenes ever made strides like this? None. Then I'm on the right track. And I cut. [Laughs]
What are your thoughts on the parodies of your songs that have come out in Trinidad? Specifically the ones with cows. Bunji Garlin: [Laughs] They were parodies, so it's not something to take serious. Somebody else might have been flippin' like, "Why you doin' this so?!" In my opinion what they did was just push the song more. There are some people that will never take anything serious, so if you could get them, while they're having fun, to be part of your thing, all well and good.
Groovy soca is very close in sound to EDM now. Is soca losing its identity? Bunji Garlin: I think what is happening is new branches are growing from soca, as has always been since calypso. Because remember soca was a variant [of calypso] and off of that, many different versions come. This EDM soca is just a new branch coming off again, and eventually it'll go to something else because we also had different music that came out of calypso that is not prominent right now, like rapso. I think it's just at the forefront now until a different version of soca takes the forefront again. But in all of that, the base root soca always stands firm.
Fay-Ann Lyons: Always.
Of all the different places you've been able to take "Differentology" and soca in the last year, which impressed you the most? Bunji Garlin: For me, the moment— over 106 & Park or the Soul Train Awards—was two weeks ago when Fay and I went to Oslo, Norway. It was the first time that music of that ilk was featured in Norway. It was a special moment for me because we were in a place where we were constantly told by our own people that this music will never see the light. And not only performing to people that didn't know the music—a lot of people who were there actually travel to Trinidad and Tobago every year for Carnival. That just brought it all together. We have a movement where we are known as the Asylum Vikings, and the name came about because of our aggressive [approach] to soca. It's not a timid movement. And of course performing in Norway, and to see that some of the Norwegians there were like "Yeah! Vikings!" ready with the movement, that said to me that our music continues to grow, and we will continue to go places where they say that we can't.
How do you think the travelling you've done will impact your music that you're making going forward? Do you think your music is becoming more international? Bunji Garlin: Yes… and no. I am doing what I always did. I guess a lot of the world [is] now seein' that I've been doin' this for a long time, but because of the way I see the world now, I am able to add new stuff to what I do and just put a different spin on it, and make you believe that it is something fresh, when it is actually something that you was accustomed to all of the time.