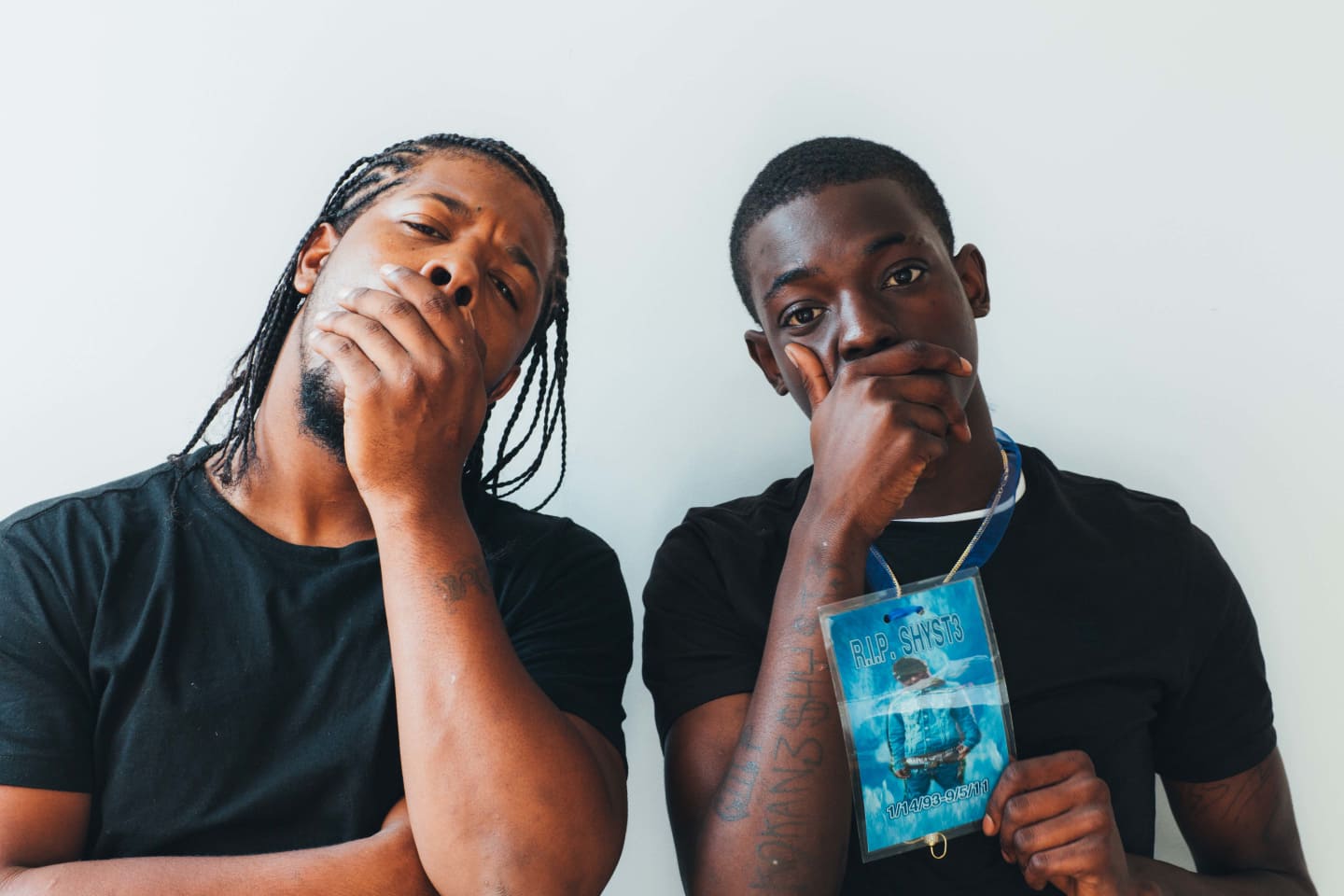 The sirens and snares that soundtrack Bobby Shmurda's "Hot Nigga" echoed from cars and iPhones across the country this summer, racking up millions of streams online and steadily rising on Billboard thanks to a hearty push from his new record label, Epic. But it wasn't long ago that Bobby and his GS9 clan were regular kids in Brooklyn, shitting away days chasing girls, disobeying parents and surviving close-call scraps. As part of our Sell Off series leading up to Labor Day, we invited Bobby Shmurda and Rowdy Rebel to talk about growing up in a notorious stretch of East Flatbush, known as the 90s, one of the most culturally dense West Indian hoods in the country, and to premiere his "Hot Nigga" mega remix, featuring some of the biggest names in reggae giving their blessing to his song and dance.
So you dropped this reggae remix just in time for Labor Day. Do you go to the parade? BOBBY: We used to go. We went last year, I never missed one yet. It's crazy, ass shakin' everywhere, titties. The music, the food, different cultures all bring out different food.
Bobby, you're Jamaican, and Rowdy you're Haitian? ROWDY: Oh shit [laughs], I be moving like a Haitian too much!
Nah, but you were shouting out your zoes on the mixtape right? BOBBY: The majority of our friends are Haitian, some are Guyanese, Bajan. ROWDY: I'm Bajan. My moms from Barbados and my pops is Jamaican. BOBBY: My pops is from Jamaican and my moms is from here.
Do y'all go out to Jouvert the night before? ROWDY: Nah, I don't usually go to Jouvert. It be too hot. BOBBY: Jouvert is always something hectic. Something always happens. Something crazy. Either somebody else lose somebody--we lost somebody on Jouvert before, Shyste [holds up photo around his neck]. Two, three jouverts ago. It's wild man, it's a jungle. It used to be fun when you was young, that's the shit you want to get into. ROWDY: Then you have people coming up, being fake role models, kids listening to people doing wild, crazy stuff.
Y'all made a record about Shyste on the tape right? "Shyste Time." And shouted him out on "Hot Nigga." BOBBY: Yeah, Shyste Time. We tryna drop that video on September 5th, that's the day he died. We grew up together. That was a everyday nigga. I wake up, he right there, like, "Yo, move over!"
Shyste, is that where the Shmurda and Shmoney slang came from? The "Sh"? BOBBY: Shmurda, shmoney, that's just like a name for a warrior. ROWDY: I mean, I don't know where it really came from, it just came from being out. It's just lingo. BOBBY: Like swavey. We put Sh in front of everything. "Shhh." "Sound swavey." "What everybody skrillin for?" Just the homies' lingo. ROWDY: The 90s makes a lot of lingo. We creative niggas. Trendsetters. Don't think for a second you'll see Bobby dressing like nobody else.
I didn't see anybody out of New York repping G-Star like that before y'all. BOBBY: I used to be a Polo head 'til I seen everybody wearing it. Then I was like, let me get on my Raw shit. Now niggas know me for the Raw, so if anybody steal it, they know who did it man! [Bangs on table] They know who started it!
The 90s is really a tight knit hood. You either know somebody over there, or you're not going over there. And dudes that live over there don't leave. BOBBY: Yeah, you not going nowhere else. A lot of people don't like us. They try to catch us by ourselves. The hood, they love us. But outside the hood, niggas talk shit. ROWDY: They see you, they don't do nothing. BOBBY: That's why I feel like we not normal, because I see how everybody thinks. Young minded. They talk what they don't know about and try to judge a book by its cover. That's what really be killin' me. They think cause of dancing… ROWDY: They think it's a gimmick. Like we won't pop up on your block!
The dance took off first, that's how a lot of people caught wind of you. But dancing is huge in West Indian culture. BOBBY: I got a lot of talent man. A lot of hood niggas don't be having talent. We be outside, we dance, we rap, we do all that. We just ourselves. A lot of people scared to be themselves. Nobody can't say they don't dance. When nobody home, you in your mirror, if you want to dance inside, you better dance outside. You letting another nigga tell you you can't dance? That's what make me think you pussy, if you don't want to dance now 'cause the next man is here.
And if you're out on the Parkway at the parade, with a chick, you gotta know what you're doing. BOBBY: Man, exactly, yo, where we come from, we Jamaican, we used to think something was wrong with you if you ain't like to dance. If we all in the party, and I see you standing up somewhere, I'm like, "All this ass all around here?" I'm on everything moving! Especially our teen years? We used to be at dances like "I got twenty for the night, I got twenty girls!" Brooklyn, we get all the Jamaican songs first. Cause we're like linked with Jamaica. Everybody coming straight out. Vybz, Popcaan, everybody. ROWDY: When that shit drop? "Pon di floor, ehhh eh eh eh errrr," We going, acting a fool. Whatever big tune in the club right now. "Gurl sit down pon it," I was just listening to that in the cab on the way here. Driver was Jamaican, he stopped to take a piss.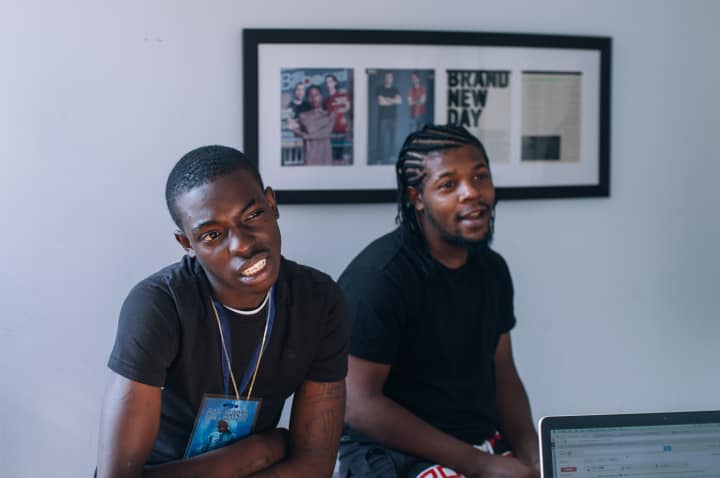 "Where we come from, we Jamaican, we used to think something was wrong with you if you ain't like to dance."
How much does your Caribbean background play into your music and style? BOBBY: Our neighborhood is all West Indians. Jamaicans and Haitians. So it comes out in how you act. ROWDY: Personalities too, like crackin' jokes. You may be playing around and switch like, "Move yuh bumboclaat." BOBBY: The lingo and everything. You hear it from your parents, your father and them talking, and then you pick it up. ROWDY: My pops sounds straight American, until he get mad. When he can't take it anymore he'll switch into Jamaican. "Chuh, mi wan just smack dis likkle pussy bwoy!" Pops is vicious. BOBBY: Sometimes I don't be knowing what the hell my pops be saying. His accent harsh, his shit broken up. ROWDY: That's a real yardman for you. He be killin' Bobby over the phone.
Your pops is locked up down south. How long has he been away? BOBBY: Since I was two months. He got a hundred and twenty years. I still talk to him all the time. I just sent him some money. He said he seen me on TMZ, he a celebrity on the boardwalk now. ROWDY: When we go visit pops that's gon' be dope. BOBBY: Yeah, he said "Mi see yuh pon TMZ! Ah my youte dat! Yeah man, mi a celebrity pon di ting now." Now he ain't gotta be hungry no more, he know a nigga got him. What he been through, we all been through that shit. That's why I feel we God selected. We call ourselves GS, God's selected. A lot of niggas like us that are dead or in jail. My pops is a prime example. I done did a lot of shit too. Niggas still out here living, I feel like I'm the chosen one.
How did this remix come together? You didn't go get a bunch of rappers, you got Popcaan and Junior Read. BOBBY: I gave it to the label, and they did what they did with it. They milking that shit. It's a reggae version, and a hip-hop version. It's more than French. Me and French got our own little remix. Then they got a next remix coming out.
Will you be at the parade this year? BOBBY: Nah, I got shows. I got shows all over man. I got like four different states that week. We tryna drop the video for "Shystie Time" around then.
I saw Drake brought you out to perform at his Drake vs. Wayne concert. BOBBY: Yeah man. That shit was epic. He performed "Trust Me," he said that's one of his favorite songs. He performed it in LA. ROWDY: He peeped man. I knew this was gonna happen a little bit, not to be cocky. But the feedback from the streets was so crazy. We were kind of like hood stars. We was getting a little fake attention. Now, I'm in LA, they like "That's Bobby, oh that's GS9." Chasing me. I used to wake up mad stressed man. Now? I'm just like, lookin' for my blunt.