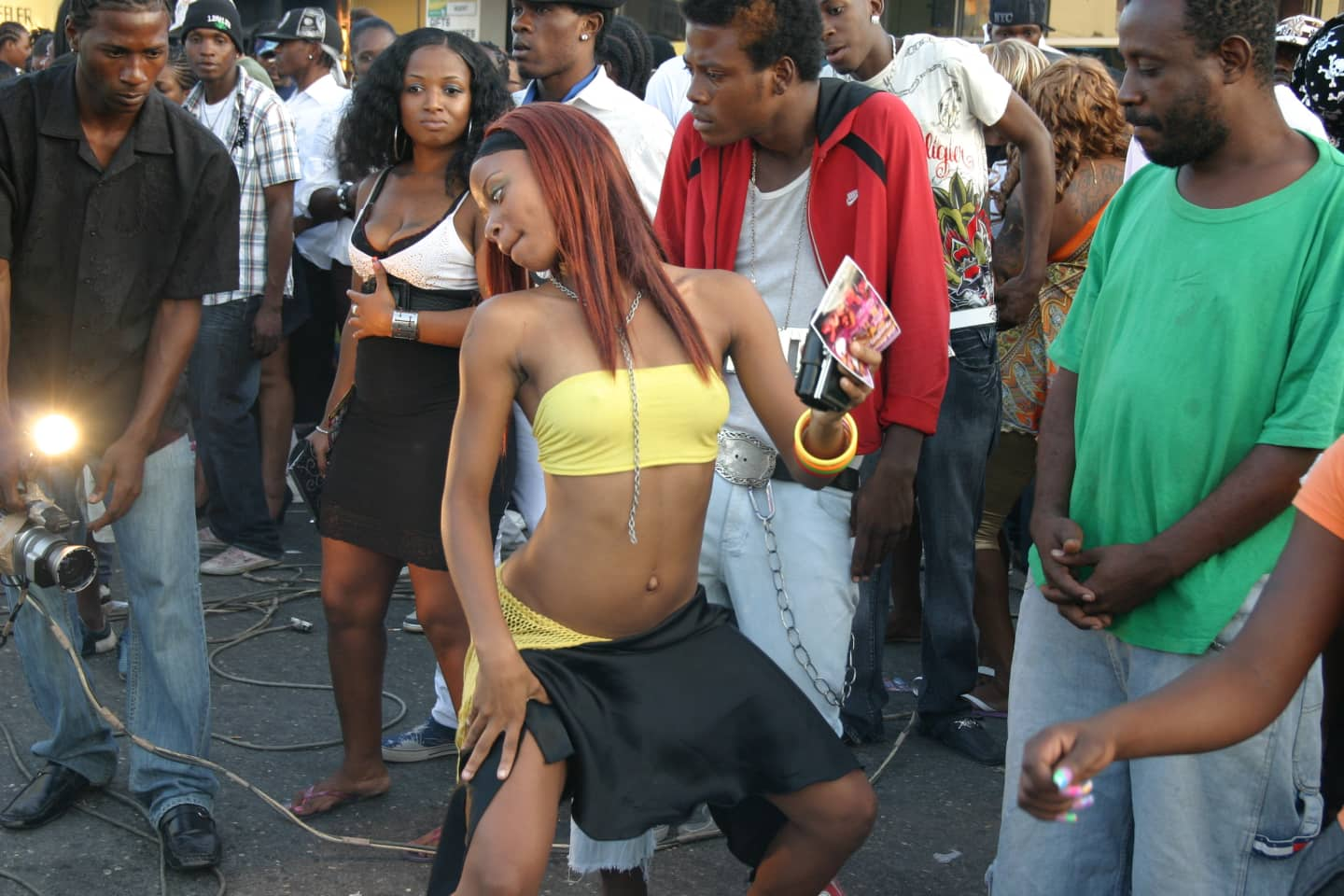 Video Light: How Jamaica's Women Find Sexual Empowerment in Dancehall
In this special essay for Sell Off week, The FADER explores how language and the body play crucial roles in redefining female sexuality in dancehall.
In the late aughts, a party trend emerged in street dances in Jamaica that followed a "uniform party" theme in which attendees—mostly between the ages of 17 and 25—would arrive in some exaggerated variation of a school uniform. I attended such a party in the summer of 2010 while hosting friends in Montego Bay who had come from overseas. We followed a local friend of mine to a small uniform party taking place in the bend of a road near downtown. My American friends, sticking out in their plain shorts and tees, stood by and enjoyed the music and even more so, the dancing. In the middle of the road, where the bravest ventured, dancers showed off their styles, dancing with one another or by themselves in highly playful and often sexual ways.
Midway through the night, a woman emerged from the top of the road, dressed down in a tank top and leggings, but clearly more experienced in the ways of body language than her younger counterparts. She entered the center confidently and began to perform, bending and gyrating and taking on overzealous young men who misleadingly believed they could conquer her. Much to one of my American friends' dismay, this commanding mystery woman began to call him out to challenge her, to see if he could "manage" it, or in more literal terms, satisfy her sexual desire through dance.
The theme of satisfying a woman, or the question of whether a man can satisfy her, is a long standing storyline in dancehall music: "Female entertainers like Spice, or Lady Saw have used sex as a kind of power stick," says Ebony G. Patterson, a visual artist who draws on the sexual and gender contradictions of dancehall in her art forms. "If you think about [Beenie Man's] song 'Nuff Gyal,' to be a man you have to have enough women, and in order to have these women you have to be able to service them—and not just give them money, but to satisfy them sexually," continues Patterson. "If you're not able to do that then you are a wutless bwoy." Patterson is referring to the song "Wutless Bwoy" by the often irritable and culturally pervasive deejay Bounty Killer. In the song, Bounty Killer relays the stories told by local women about a man deemed to be worthless for his inability to pleasure the women he lays with. Action—such as the dance moves used by the mystery woman who challenged my American friend—as well as language, lyrics or otherwise, can publicly unveil a man's sexual shortcomings. Women in the dancehall are distinctly aware of their ability to disempower a man in the heat of the moment on the dancefloor and these challenges are commonplace.
However, to challenge a man's sexual prowess doesn't come without animosity from the socially conservative. "Slackness" is a term that is widely used in Jamaica to pass judgement on this type of behaviour from women. "In Jamaican culture, 'slackness' definitely has negative connotations of sexual looseness," says Jamaican literary scholar Carolyn Cooper. "It's largely sexual, and it means improper behavior, particularly for women who are supposed to still accept the fundamentalist Christian values of Jamaican society. Women should be nurturing and, yes, sexual, but not in an overt way." In this way, slackness, or behaviour that is considered slack, poses a challenge to the patriarchal paradigm. "I think what is interesting about dancehall is that it is a space where that kind of 'slackness' is celebrated," Cooper continues. "Women claim their sexuality and dance in ways that some would consider not respectable."
An empowered female sexuality in dancehall emerged at a time when American pop music was also exploring its own sexual identity. As Madonna's "Justify My Love" delved into female empowerment through sexual ownership over one's body and its desires, Jamaican dancehall artist Lady Saw was celebrating her own sexuality and challenging conventional determinations of women as either virgin, mother or whore. While Madonna challenged this Judeo Christian dichotomy through religious imagery and lyrics in her "Justify My Love" video [I don't want to be your mother / I don't want to be your sister / I just want to be your lover], Lady Saw was asserting herself outside of the conservative family dynamic in "Wife and Sweetheart" [You are di wife / Me a the sweetheart / Me a deal with your husband, gyal, after dark].
"The flamboyantly exhibitionist DJ Lady Saw epitomizes the sexual liberation of many African Jamaican working-class women from airy-fairy Judeo-Christian definitions of appropriate female behaviour," wrote Cooper in Lady Saw Cuts Loose: Female Fertility Rituals in the Dancehall (Sound Clash: Jamaican Dancehall Culture At Large, 2004). Born Marion Hall, Lady Saw used her self-created dancehall persona to start a socially challenging conversation on the power of pleasure—specifically, female pleasure.
Bizarrely, despite the clear correlations to themes in American pop music that artists like Madonna were exploring, foreign critics deemed Lady Saw's explicit sexuality as exemplary of male misogyny in dancehall. Cooper discusses the contradictory assessments of the song, "Stab Out Mi Meat," by foreign critics such as American anthropologist Obiagele Lake who denounced Lady Saw as "one such songstress who plays herself and by association, all other women." In the song Lady Saw plays with dagger imagery, using Jamaican colloquial metaphors for tenderizing one's meat in food preparation [you have me siddung long time / me a starve] to allude to highly anticipatory orgasmic stimulation from vigorous sex. The dagger/holster and food/sex metaphor is commonly used in dancehall, just as Cooper notes, "conventional associations of orgasm and death" are commonly used in American pop music to arrive at a sexual metaphor.
Language is profoundly important in dancehall, just as much as the body—and arguably the cloth that covers or uncovers the body—is. The female deejay's lyrical prowess asserts her power over her own body and her right to experience sexual pleasure through the body. In Spice's "So Mi Like It," arguably one of the summer's catchiest dancehall songs, the artist talks in dance and bike riding metaphors about being on top during sex, a seemingly powerful sexual position [Yes a so mi like it / Bring yo buddy come yuh meck mi ride it / Ride it like a bike it / Cock up and sit down and wine it]. Buddy is a colloquial term for the penis and in "So Mi Like It," Spice invites pleasure by saying skin out mi pum pum, a graphic term for spreading your legs over your head in a V-shape during sex, a position that is also reenacted in the dance. There are contestations for giving the body away as well. A female deejay may write about using the temptation of the body and the sexual power of withholding to con a man who boasts too much about his own virility. This power play reminds the man of the weakness in his connectivity to his pelvis. In "Tekk Con," Macka Diamond responds to Vybz Kartel's sexually overpowering "Tek Buddy" with a manipulative twist [Tekk con bwoy / yuh tink me easy/ yuh tink you can get dis ya pussy easy / me tek you tings / an mi tek yuh money too / so tek con too, tek con too].
The mistranslations of dancehall lyrics by foreign critics are likely due to the loss of context in language and lack of reflection in their own popular culture developments. "They're fascinated with the culture, black people's culture," says Cooper. "They don't see it the way they see their own culture. It's always hyper sexualized, and exotic, but its the same kind of issues [in pop music]." The contrast between everyday life and the dancehall is—just like in American pop music—an example of musical theater where pushing the boundaries is more accepted. Spice, a ten-year veteran in the industry, has contributed some of the most lyrically explicit tracks in dancehall, including partnering with Vybz Kartel on the notorious (and radio banned) "Ramping Shop." Spice aligns the criticism with misconceptions of dancehall's theater. "People don't know that dancehall is a place where you go to listen to hardcore music, yah dress sexy and yah just rude. I just got back from Sumfest and I was in a see-through kind of outfit, it was like I was naked. When I came out [on stage] people were basically applauding, they were like, 'Wow!'" Spice describes this type of dress—the decision to cloth or uncloth the body—as playing the part of an entertainer and emphasizes that dancehall is the safe place for this type of dressing, a space where clothing is a mechanism for expression.
The theatrical element of dancehall is epitomized in the "video light"—that moment in which the camera light lingers on a dancer or onlooker in the dancehall. A woman may catch the eye of a videographer or photographer, and the longer the camera lingers, the more visually commanding she becomes. The video light has the power to determine desirability. As Patterson explains, "One gets attention by one's appearance, and so the more outlandish one seems or looks, is the more likely one will get featured by the camera, featured for the video light." Cooper also picks up on the importance of attracting the "gaze" in the dancehall: "Women dress to please themselves and to attract attention. This doesn't mean that men have permission to touch. I don't view the provocative dress of women in the dancehall in a negative light. These women are intelligent. Why would you dress up in this way if you didn't want to be seen? You want to be in the video light. It's empowering!" In the 1997 film Dancehall Queen, the protagonist, a street vendor named Marcia, finds power in the dance through the video light. She catches the eye of the camera in her flamboyant outfit and goes on to conquer as the dancehall queen. Her power within the dancehall translates to the street where she goes on to become respected.
"What is interesting about dancehall is that it is a space where 'slackness' is celebrated."
It's not just women who are pushing the boundaries of sexual expression within the dancehall space. Vybz Kartel was not in any way the first to utilize slackness in his music, but the volume in which he created and the manner in which he aggressively expressed it arguably altered sexuality in dancehall. Fellatio was taboo prior to Kartel's exploration of it in his music because of its cultural associations with homosexuality. Few artists admitted that they received it prior to Kartel. In songs like "Freaky Gal," Kartel unabashedly celebrates receiving fellatio and the woman who gives it: Gal wah go down, you me love, love, love / Every time me fuck, my cocky get suck. However, as Patterson reminds us, a double standard still remains in the public sphere: "More (male) entertainers started to come out and sing more openly about what they like and what they don't like and what they want and what the girls do, but [they say] 'I not returning it.'" However, what happens behind closed doors may be pushing the envelope as exemplified through female artists like Tiana who responded to Kartel's "Freaky Gal" with her own "Freaky Man" track about receiving oral sex from her partner: Di tip a yuh tongue wild like tsunami / Nuh worry baby mi nah tell nobody / Lick yuh lips dem come satisfy mi.
Where language still has battles to fight in unpicking culturally constructed heteronormative behaviors, dance has the power to push through. It can wage complicated hegemonic conversations without saying a single word—remember my friend and the dancing woman? Never is that more apparent than in the dance known as "daggering." A vigorous movement involving the thrusting of a man's pelvis to a woman's, it has been widely typified in global conversations as an example of exaggerated exchanges of sex in dancehall. Interestingly, however, the dance inserted new exchanges of sexual power between men and women. While a woman may not be the dagger-er because she does not own a "dagger," there are exceptions to the situation. "There have been instances where a woman grabs the man to dagger him, but the way she has pulled him in, it is a seemingly masculine thing to do," recalls Patterson. "The idea of you thrusting a man could be seen as emasculating, but it depends on who the partner is. If it is a man who is sure of his power, and isn't shy because his male friends are seeing this woman handle him a certain way, he may very well take it back to her." Through such unspoken negotiations of when to touch and when not to touch, the dance continues to be a space in which conversations about sexual power dynamics flow freely.
Saturday nights, near the Crossroads Bus Terminal in Kingston, the sounds of the popular street party named Container Satdazs thump heavily off the walls of the Gee Wee Car Park. On occasion, the deejay will invite women from the crowd to "wine pon head top" to receive a free bottle of Magnum, a local tonic wine advertised widely in dancehall and branded as a sexual stimulant. While in the starkness of the daylight, this place may seem like an unremarkable parking lot, at night it becomes a myriad of sounds, textures and movement—the Gee Wee Car Park becomes a playground for women. As the ladies step into place and buss a "wine," the DJ shouts, "Big up my ladies who know it nah the clothes make you look good, a you make the clothes look good." It is in this momentary spectacle, a temporary escape from mundanity, that women are empowered by their defiant sensuality.