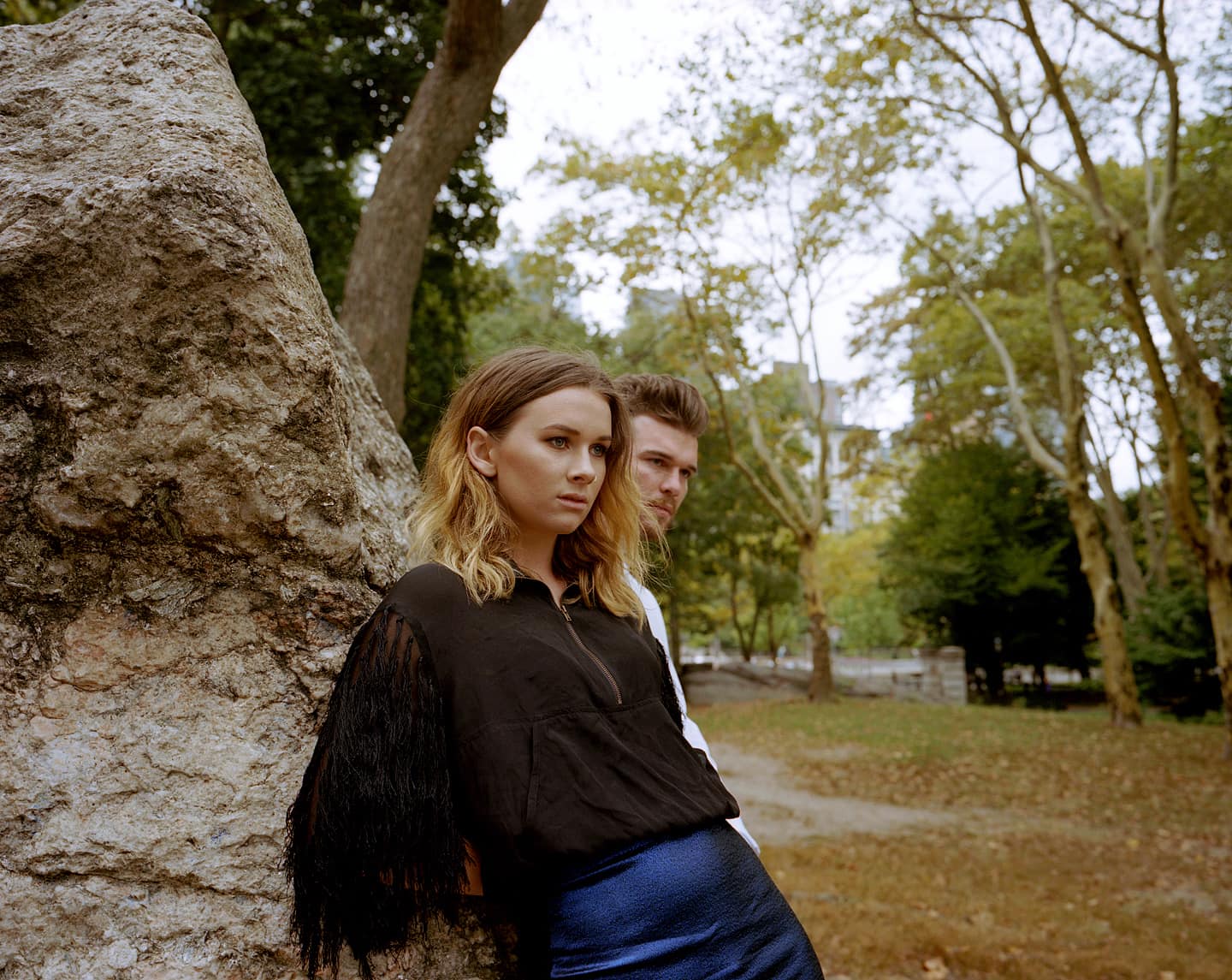 GEN F: Broods' Pop Is Literally Homegrown
The New Zealand siblings bring their relatable, resonant pop stateside this month on a tour with Sam Smith.
The goal for Georgia and Caleb Nott, the pair of Kiwi siblings that make up Broods, is making what they term "relatable pop." They aim to be emotionally accessible in a music climate that, according to Georgia, "seems to stick to the themes of—at the moment, it seems to be big booties." Not that there's anything wrong with that. For her part, the duo's 19-year-old lead singer spent her early teens listening to "heaps of Rihanna" and early-2000s hip-hop and R&B; for nights out with girlfriends, she made a pre-game ritual of blasting Spice Girls' "Wannabe." You might not pick up on these influences, however, while listening to their debut album, Evergreen, out October 7th on Capitol. There's is an LP full of booming and—it has to be said—brooding songs resulting from the fact that the two of them are, in the words of Georgia, "quite aggressive with emotion." The closest the Notts get to a club banger is "L.A.F." which stands for "loose as fuck" and, according to Caleb, 21, recounts "getting wasted back in your hometown."
Home truly seems to be where the heart is for these two. Much like the sisters of Haim, with whom Broods have toured, the Notts grew up playing music with their parents. Georgia describes a photo of her two younger sisters and parents performing onstage together as "so adorable I just wanted to cry." "We've got a really good foundation there," she says of their family and life back home in New Zealand. She sings about it, too: It's where my heart was made/ And my feet will always land, she belts on "Mother & Father." "It's quite reassuring when you're putting yourself into a quite risky situation, knowing that you've got absolutely everything you'd need back home if all of it fell apart," Georgia says. "It means that you don't feel so terrified about putting yourself into a terrifying situation."
While most of their friends are still in college and "kind of in their party zone," Georgia and Caleb have taken a dive into music, bringing on a sped-up maturing process that acts as the core of most of their material. The best example is probably the aforementioned "Mother & Father," their most straight-to-the-heart song: Ever since I left my mother, it's much harder to know/ How to live my own life and how to make my own home/ I don't want to wake up lonely, I don't want to just be fine. Caleb, who plays keys and shares songwriting duties, put it like this: "We write about our experiences." Of a past song, "Never Gonna Change," Georgia told FADER, "I was a little bit annoyed at life because I got dumped, so I had vent to the memo pad on my phone, and then Caleb and I made it into something cooler." Today, she adds: "We just write about things that are relevant to us."
The man who helped Broods synthesize their self-described "very heavy music" in Auckland was producer Joel Little, who also worked wonders on Lorde's debut album. The Notts speak very highly of him, with Georgia saying, "He's very underrated as a producer and as a mentor figure for up-and-coming artists." The pair's music is elegant, at once vulnerable and empowering—much like the music of recent FADER cover star Sam Smith, with whom they've just embarked on a stateside tour. "We didn't register that it was going to resonate with people that much," Caleb says. Suffice it to say Broods are over the moon about how far they've come—literally and figuratively—with the forever comfort of knowing home is just a plane ride away.
From The Collection:
GEN F