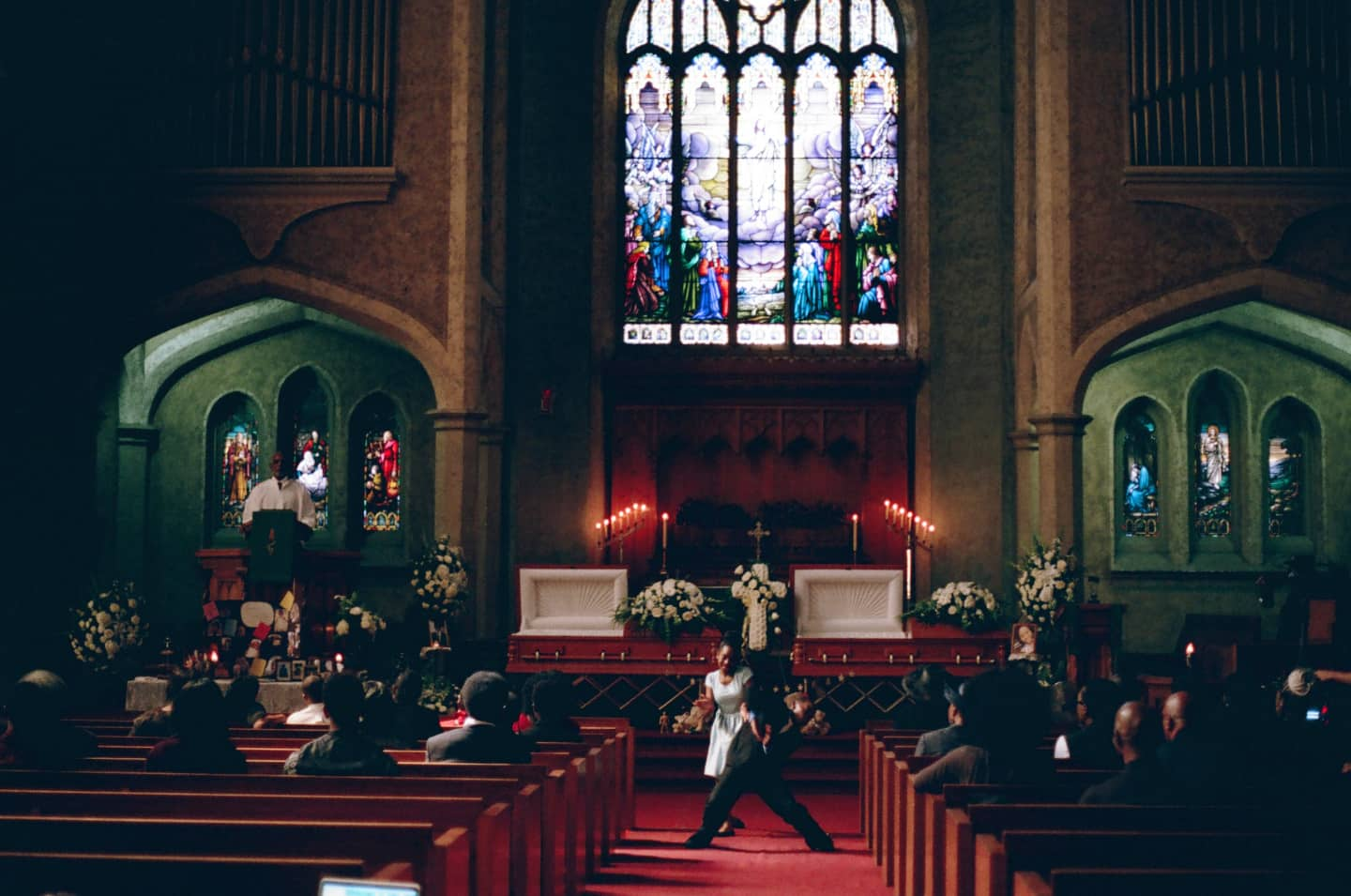 Behind the Scenes of Flying Lotus' "Never Catch Me" Video with Director Hiro Murai
A visionary directs the dancing dead, and makes one of this year's best videos. Plus, exclusive photos from the shoot.
Last week, FADER cover star Flying Lotus released the video for "Never Catch Me," the kinetic Kendrick Lamar-featuring song from his new album, You're Dead. It follows two children as they emerge from coffins at their own funeral service, blissfully dancing up the aisle as the grownups continue to grieve. They sprint unnoticed through hallways and a parking lot before eventually escaping into a hearse that they joyride into the setting sun. It's a powerful, beautiful and upsetting video, and it's probably one of the best that's been released this year.
"Never Catch Me" was directed by Hiro Murai, who like Flying Lotus calls Los Angeles his home. He's best known for his work with new vanguard rap acts like Earl Sweatshirt and Shabazz Palaces or indie rockers including St. Vincent and Cults, as well as his multiple collaborations with Childish Gambino. He also created the visuals for Frank Ocean's Grammy performance of "Forest Gump." Murai's videos often incorporate elements of horror and science fiction, knocking the perspective of the world askew, but not enough to make it unrelatable. Giant frogs line the streets, but they don't really bother anybody. Creatures may be abducting humans, but that just means a smart kid can take as many melted popsicles from a convenience store as he wants. "Never Catch Me" comes at the end of an intense five-month run for Murai. It was filmed over two days at a church in Koreatown and a funeral home in Inglewood. For it, he worked with the choreographer team Keone and Mari to develop routines that combined lindy hop references with the theatrical qualities of modern dance. "The original idea was to do something extremely joyful that felt like a catharsis compared to the setting," Murai explained. In this interview he describes how the "Never Catch Me" video came to be and how he dealt with the concept of death during the making of it.
Did you come up with the concept for "Never Catch Me" or was it from Flying Lotus? He was looking for an idea and I guess they were having some trouble. His original idea was about a black boy who was late to his own funeral, so it kind of had a Tom Sawyer thing happening. I really liked that as a seed because the entire album is about death, but the song has a childlike taunting quality to it. I took that idea and wrote it to be a dance piece with two kids.

Did Flying Lotus know you from your videos with Earl Sweatshirt? He knew my stuff with Earl, but I also worked with him once before. I did a short film with Donald Glover for one of his Childish Gambino projects, and Flying Lotus was an actor in it. I met him there and we've talked about doing something since then, but this was the first one that really stuck.
When you came up with your concept for "Never Catch Me," did you develop a whole backstory to explain what's going on? I don't think it's explicit, but I definitely have a version of what it is in my head. It isn't absolutely necessary to know it when watching the video, it's more just about me knowing so I can make decisions based on that.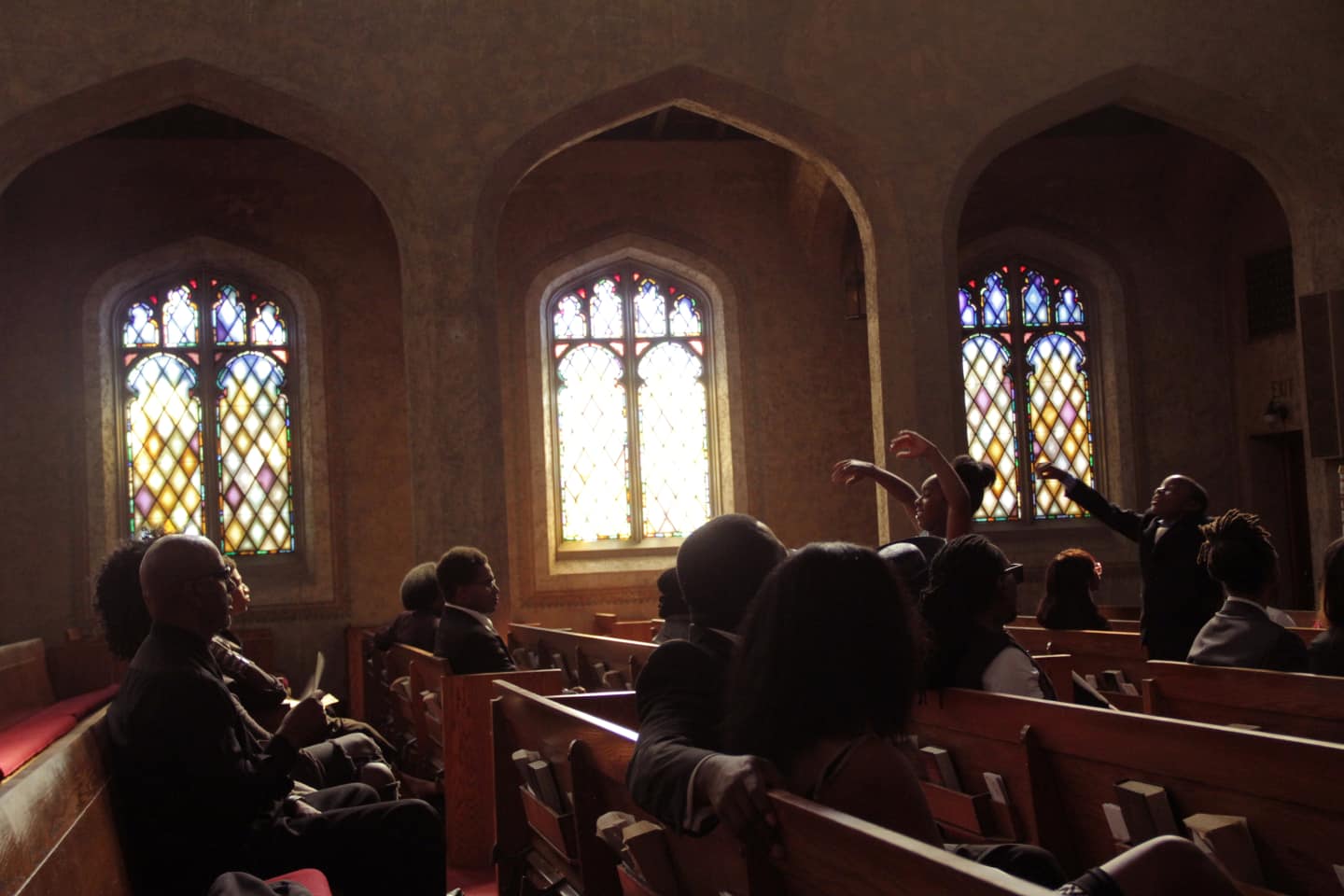 "It was weird for the kids' parents. As soon as they got there and they saw them in coffins, they immediately started breaking down and crying."
What was the atmosphere on set like? It's an incredibly heavy concept, but it's got a very joyous component to it. The crew was the same crew I've used for many years, so they're very comfortable with the weird situations that I've put them in. It was weird for the kids' parents. They were very supportive of the project, but it was a very visceral thing seeing their kids in coffins. As soon as they got there and they saw them in coffins and they saw the photos lined up on the table, they immediately started breaking down and crying, which is a very strange way to start a shoot day. But obviously I totally understand it, I'm sure it's a crazy thing to witness.
How did you guys react to that or deal with it? The kids were surprisingly nonchalant about it, because they're 13 or 14 and they don't have the same kind of weight about death that adults do. They kept saying that the coffins smelled funny or that they were bored in the coffins. That definitely lifted the mood a little bit. It was very much a microcosm of the video's concept itself—the kids didn't look at death the same way as their parents did.
How did you cast the kids? It was kind of a Hail Mary casting. We were very low on time, so we did a bunch of auditions and we found Will right away, but we couldn't find a girl. Then we found Angel two hours before rehearsals, and she was in San Diego, so we had to put her on a train and get her up here immediately. Rehearsals happened the day before the shoot, so it was a very tight schedule.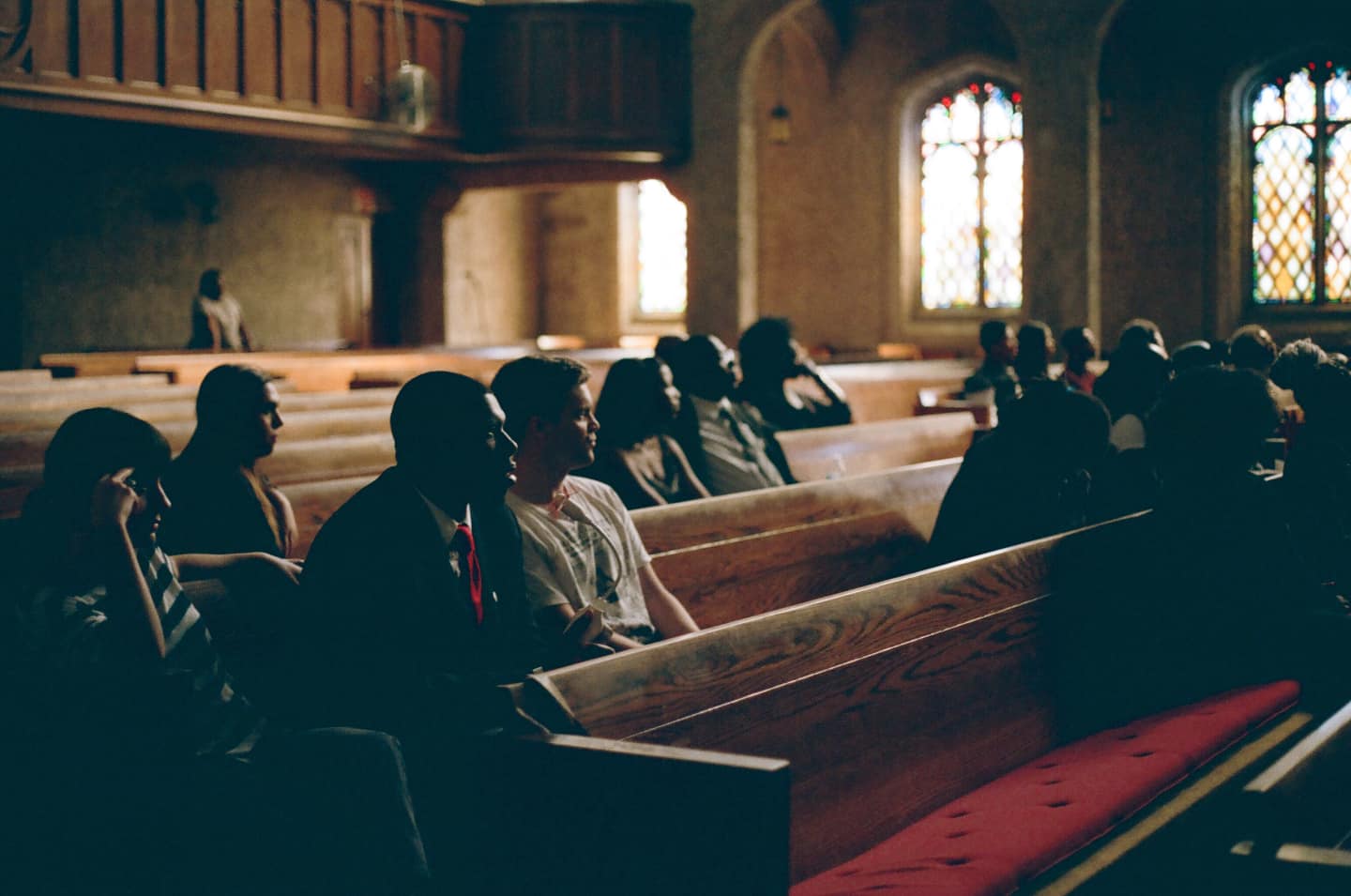 Was this your first time working with a choreographer on a project? I actually just worked with Ryan Heffington on a video for Chet Faker a couple months ago. I've worked with choreographers here and there but I've been doing it a little more recently. Part of it is that I can't dance and I'm living vicariously through the dancers.
Do you look at something like "Never Catch Me" as a short film, or is it still a music video? I look at it as a music video. There is a story there, but I really like music videos—they can be so many different things. Some people draw a line between music videos and short films, looking down on music videos as a format, but there's so much potential in music videos.
Watching all your videos, you do have this current where the supernatural or magic is part of every day life. Is that a subject you've wanted to explore or does it just come naturally through your ideas? I don't consciously think it's something I'm interested in putting in videos, it's just like daydreaming—the idea of something supernatural happening in the context of something really mundane. I have a fixation with dreams. Dreams have that quality where when you're in it, you completely buy the reality of it and the textures feel like real life, but then they'll be one thing or a circumstance where it removes you from it being real. That feeling of wavering between reality and supernatural has always been really interesting to me.

Have you taken things directly from your dreams and put them into videos? I think so. I'm one of those people who keep a dream journal. I don't really remember specifically, but I'm sure there have been times where they've naturally ended up in a video or two.
When you were coming up with the concept for "Never Catch Me," were you thinking about how to differentiate it from the Kendrick Lamar video for "Bitch Don't Kill My Vibe," which also features a funeral in a big church? To be honest, it wasn't really on my mind. If anything, I was conscious of FlyLo's last video for Until the Quiet Comes, which was one of my favorite videos that came out that year. I really didn't want to do FlyLo an injustice by making a shitty video, and also that video has a component of death and dance, so we didn't want to cover the same terrain or territory. That video was definitely more on my mind when making this video than the Kendrick video.