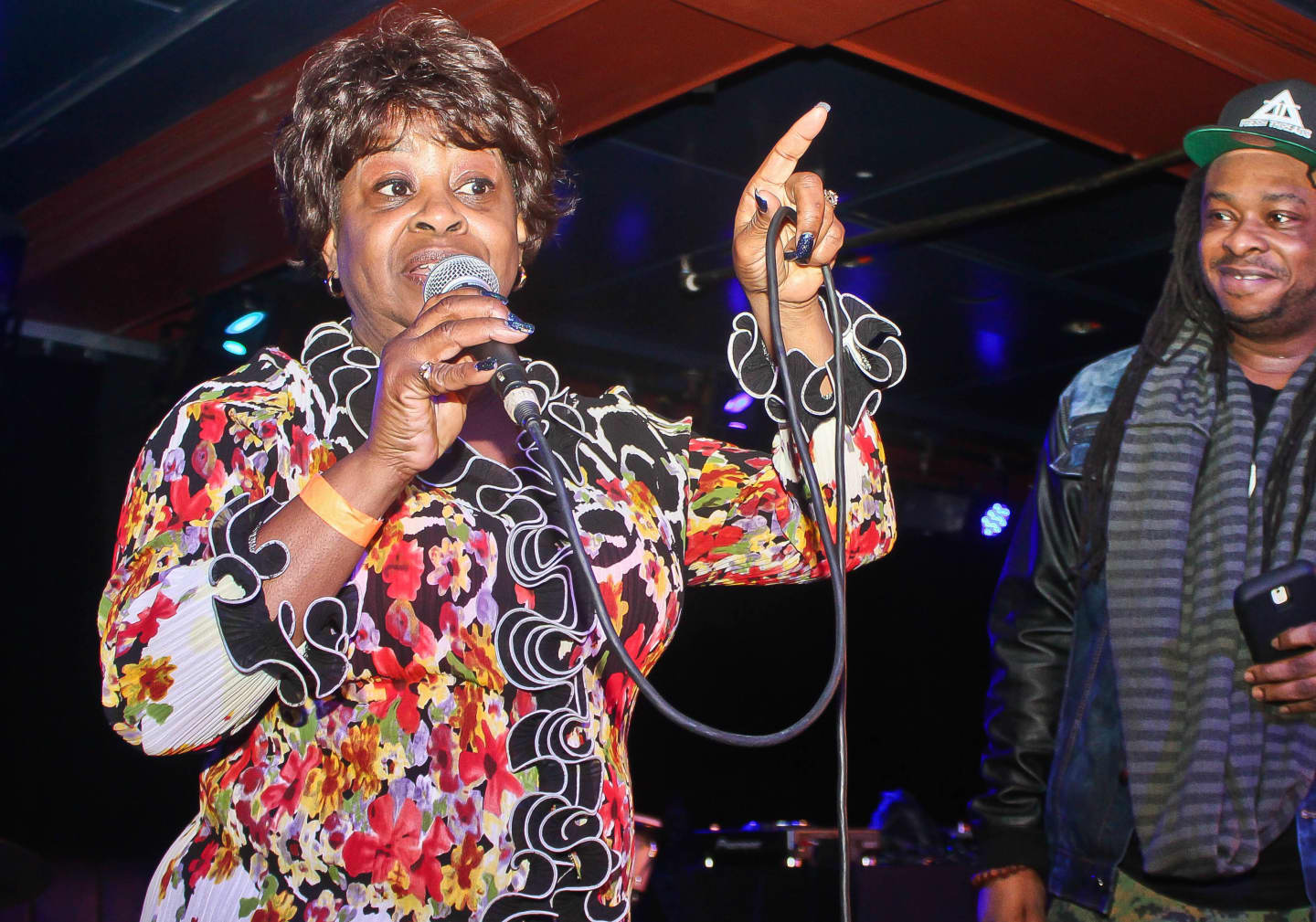 Life Lessons From J Dilla's Mom, Hip-Hop's "Ma Dukes"
J-Dilla's mother Maureen Yancey speaks on Detroit then and now, why she's never been all that into Motown, and the state of the culture she helped raise.
From Voletta Wallace to Janice Combs to the late Dr. Donda West, matriarchs hang tough in hip-hop. Maureen "Ma Dukes" Yancey is one of the most prominent among their ranks. The Detroit native is best known as the mother of late super-producer J Dilla, a pioneering spirit who continues to influence today's beatmakers even in death: Kanye West, The xx, and countless other game-changers cite his overwhelming discography as direct inspiration. In the eight years since her son's passing, Ma Dukes has become an indelible presence in hip-hop culture and a public persona in her own right. After successfully waged a public battle for control of her son's estate, she's has spearheaded a handful of ventures, including the release of a definitive Dilla box-set, the launch of a record label and foundation, and an annual "Dilla Day" tribute concert.

Splitting her time between Detroit and Washington, D.C., Maureen Yancey has fashioned herself into a music executive dedicated to preserving and reimagining Dilla's vast legacy, and music that carries his spirit. But she's also a remarkable woman in her own right, with a history that's all hers. In a conversation excerpted below, The FADER spoke with the ebullient Ma Dukes about Detroit then and now, why she's never been all that into Motown, and the state of the culture she helped raise.
Mos Def ft. Talib Kweli (Prod. J Dilla)
"History"
Detroit has been very central to your story and to Dilla's story. How far back do your family's roots in the city go? Over 100 years now. My mom was born and raised in Detroit, and so was I. Prior to that, my grandmother was from Georgia. She and her family migrated to the Detroit area. My grandfather met her in Detroit. He was from Maryland and he came to Detroit when he was 14, hopping a train. For the life of me, I can't imagine wanting to break off and go that far at 14, but it was a different time. He became a skilled mason worker and did that until retirement.

What was your childhood like? Do you have any specific memories of those years? I remember catching the trolley on the street with my grandmother as a young child. I remember the early Motown days, when we would stand outside in the freezing winter snow and ice trying to get in to see a Motown Revue with tears in our eyes. No child wants to be out in the freezing snow! And it wasn't my taste in music. The Temptations, the Supremes—that kind of pop music was played every day, all day. Whenever you weren't at work, you relaxed by having a good meal and listening to music. I remember the Victrola and putting on records and winding it up. We had strong arms.
You weren't interested in the Motown pop tunes of that era? What was more your style? Opera and classical, that was my joy. In first grade, I chose music instead of art as an elective. My aunt was the music teacher, although at the time I had no idea she was related to me. I loved singing and glee club; we'd sing for different community events in the city and events like graduation. She was very formal in conducting glee club and was not popular among the students, but I loved it. She took a liking to me, and once I found out that she was related to my sisters and brothers, I began to realize why she spent extra time with me. Before concerts, I'd get a chance to go and spend a weekend with her. Coming from a poor family and getting a chance to go and stay at this marvelous brick home, it was a new experience for me. I learned to do arias and I began to love opera. It was something that I enjoyed so much that in my teen years, I began to go on on my own. I had one friend in high school that loved it too and of course we didn't tell anybody. But we would sneak off to different places and see live performances.
Your brothers and sisters didn't share your tastes? Of course not! I was the only one in the family. I was the black sheep. They'd take my albums that I'd been gifted and play flying saucers with them. Whenever my mom wasn't home, they'd get a hold of them and play. And I'm screaming and crying and trying to catch them before they hit the wall.
Your late husband, Beverly Yancey, was a musician too. How did you guys meet? Actually, we met over the phone. I went out with my mom and my aunt as a young adult and I met this young woman and we were at her home playing Christmas music. After a few drinks, everyone wanted to hear me sing, kind of like how you get your kids to entertain you. They wanted me to sing some Aretha Franklin, so I did. And she says, 'Could you do that one more time over the phone for a friend of mine who's in the music business?' So I did. He called her later that night and told her that he wanted me to come downtown and audition for an event he had coming up. I wasn't entertaining the idea of singing or doing anything. I was just going for the experience. I was happy with my job at Internal Revenue; I could count on that cheque and I was alright. And that's how I met him. Sometimes when it's something you're not looking for, it's at the door waiting.
"I need to inspire parents to listen to their children, and realize that what they think is nothing could turn out to be something great."
What was your family life like before Dilla's success? What kind of ambitions did you have for yourself? We spent a lot of time in church. I've always been wrapped up in church and children. My whole life has revolved around children. I ended up taking care of my own children and taking care of other people's children to help them out in pinches. So eventually I ended up doing daycare. I chose to retire from the government and be a full-time mom, and I would tutor my kids at home during the day. I taught them to read at home before they went to school formally. I've always been the kind of parent that didn't just let my children play with anyone that lived in the area; they were never ever able to go to other people's homes to play. Dilla was 17 before he could go to the store across the light by himself.
You must have witnessed a lot of changes in Detroit in the time between your childhood and grandchildren. The city has changed drastically. I think when I was very young, there were a lot of homes that still had grandparents or other relatives in them. A lot of the homes were built big because there were a lot of family members living together. You had aunts and uncles and grandparents that were involved in raising children. I think only in the past 15 years has it been as bad as it's become. We have two generations of lost children who didn't have the parenting, because [the parents] were involved with drugs. It's two generations that I'm aware of that went straight to hell as far as the family unit. You have to really struggle to keep the family together and the bulk of that has fallen on the heads of single women.
"When I wake up in the morning, one of the first things I do is play some Dilla music. It makes me feel warm inside."
Since Dilla's passing, you've become the very public face of his legacy. How has that impacted your personal identity? Geez, it's been wonderful. It's been an upward climb. I feel like I'm soaring, especially with the people that are surrounding me and that work with me. I love waking up and having a great breakfast. The sun is shining inside—I don't care what it's like outside, every day is a beautiful day inside. And actually I live hip hop. I've embraced the culture because I love it, truly love it. Of course, we don't all realize that it's more than just the music, it's a culture. It's a story being told and it's lives being lived. Music is universal; you don't have to speak a certain language to understand what you get from music. Beethoven and Bach had nothing different than what we have, but our experiences in life are different so we embody with those same keys and notes what we feel and what we give others and how we share our lives.
Who are some hip-hop artists that you connect with? [Laughs] I plead the fifth and say Dilla. When I wake up in the morning, one of the first things I do is play some Dilla music. It makes me feel warm inside. It makes me smile bigger. I'm at the happiest point in my entire life now. And I think that what I'm doing is necessary, because I need to inspire other parents to listen to their children, and to realize that what they think is nothing could turn out to be something great. The example is where Dilla is now, being inducted to the Smithsonian's National Museum of African American History and Culture. This is the highlight of my life and I feel like it's my charge to continue to lift him up. Not just Dilla but also hip-hop culture, because it's not what people think. It's not just gangsta rapping. That's a misconception with my generation. They're robbing themselves of enlightenment by not listening. You can't teach what you don't know and you can't lead where you don't go. And I'm supposed to be a leader in this hip-hop thing.

A few years ago you were diagnosed with Lupus, the same illness that took your son. How is your health now? My health is phenomenal right now. I'm just so happy. I think happiness is the key. I've learned to eat right. I'm doing organic shopping now and I cook organic. I walk every day here in D.C.. Now in Detroit, nah, you not gonna catch me out walking! The excitement in my heart is big and I'm just happy being involved. There's always a campaign or community involvement that touches me, and I'm there with them because the youth are the future. And you don't turn your back on the future.