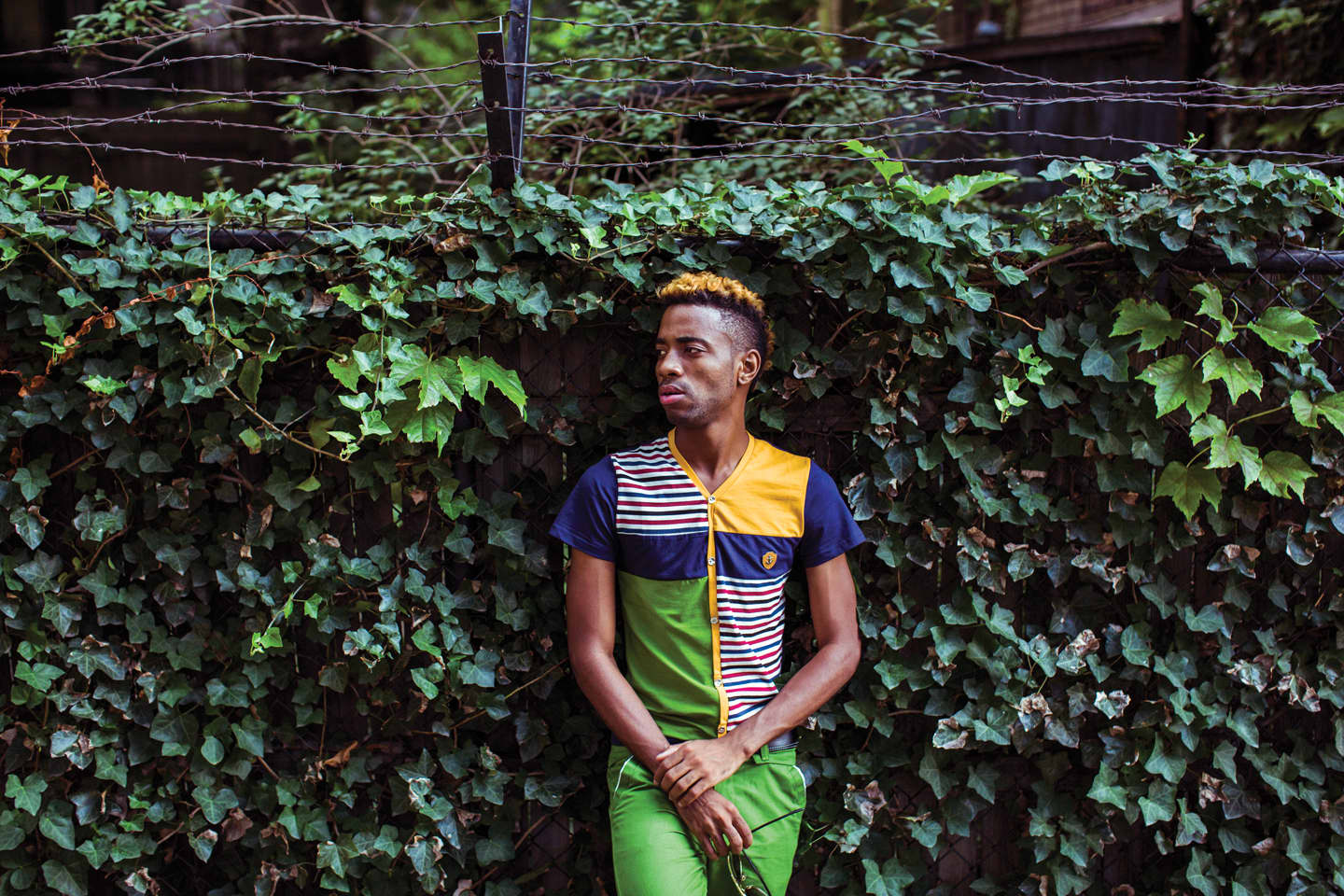 QQ wasn't Jamaica's first child star. "Dennis Brown had the record for the youngest hit at first, at 11 years old," he tells me with a grin on a sticky New York afternoon about a week before an appearance at the West Indian Day Parade. "But then I broke it."
Now 20, the singer was a household name in Jamaica by the age of 9, thanks to his roots reggae ballad "Poverty," a mouth-of-babes anthem that topped charts there for four weeks with its straightforward lyrics delivered in pipsqueak pitch. Certain friend you know dem no real/ Dem only friend with you when dem want a meal, QQ observed. "I grew up in Kingston, in a neighborhood called Maverly," he says. "Some call it War-verly—a rough garrison. After I did 'Poverty,' the kids loved me, but the style of music was older than them. So I thought, 'How do I connect with my age group?' Because they're growing with me." So, six years later, at 15, he followed up with a very different smash: "Stukie," a sizzling dancehall cut built on a tight waist wind. The song became a standard in DJ sets across the globe, and made it even more surreal for QQ on the island. Paparazzi staked out his school every morning, and Missy Elliott tried to bring him on tour with Beyoncé and Alicia Keys, though visa trouble thwarted her plans. "She showed me videos of her and Beyoncé doing the Stukie," he says of Missy. "If I knew social media would become this big, I would've kept those videos to show the world today."
"I brand myself as a Jamaican international entertainer, but I never say I'm reggae or dancehall. I don't have dreads. And I'm not a homophobe."
A decade later, QQ's voice has dropped and he's sprouted a few inches. Pockets of facial hair crack open his chin, and with his curly fade and blonde highlights, he's unrecognizable as the "Stukie" teen of years past. After taking time off from music to study in London—"Tidemill Academy. Green grass. I had friends from all over, Africans, Chinese, Trinidadian"—he's staged a major comeback with a loud new sound: the coy innuendo of his younger material has given way to the grinding, three-point-stance anthem "One Drop" and daggering call-to-arms "Jack Hammer." Managed by his father since a young age, he and his team have flooded selectors with new cuts and shot slick conceptual videos including send-ups of classrooms in Nigeria and marching bands in the States. "We went to 14 different parishes throughout Jamaica and gave out a thousand mixtapes at each," he remembers. "'One Drop' was on the front of the mix, the middle of the mix, the end of the mix. We dropped it at every bar and in every taxi."
His pop idols still seem to be watching close: the "One Drop" dance was subtly weaved into Beyoncé's choreography during her 2014 On the Run Tour. Like many child-turned-adult stars before him, though, he's faced some detractors. "There was a lot of negativity," QQ remembers. "'You'll never have another hit. You should've never come back to school.' Some people see how I dress, how I dance, and they even say I'm gay." It's a jarring admission considering Jamaica's longstanding tradition of homophobia, but QQ sees his career stretching beyond the country's borders, both physically and politically. "I brand myself as a Jamaican international entertainer, but I never say I'm reggae or dancehall," he says. "I don't have dreads. And I'm not a homophobe. If you're gay and you support my music, I respect you."
Dancehall's global relevance swings like a sine graph, with high peaks carried by the likes of Shabba Ranks, Shaggy and Sean Paul, whose names are then timestamped into the past. "It's on the brink of something big," QQ says of his own prospects. "You'll probably have a low-minded lowlife that'll say those type of artists sold out, but that man is on his grind. He's wanted this for years."
From The Collection:
GEN F