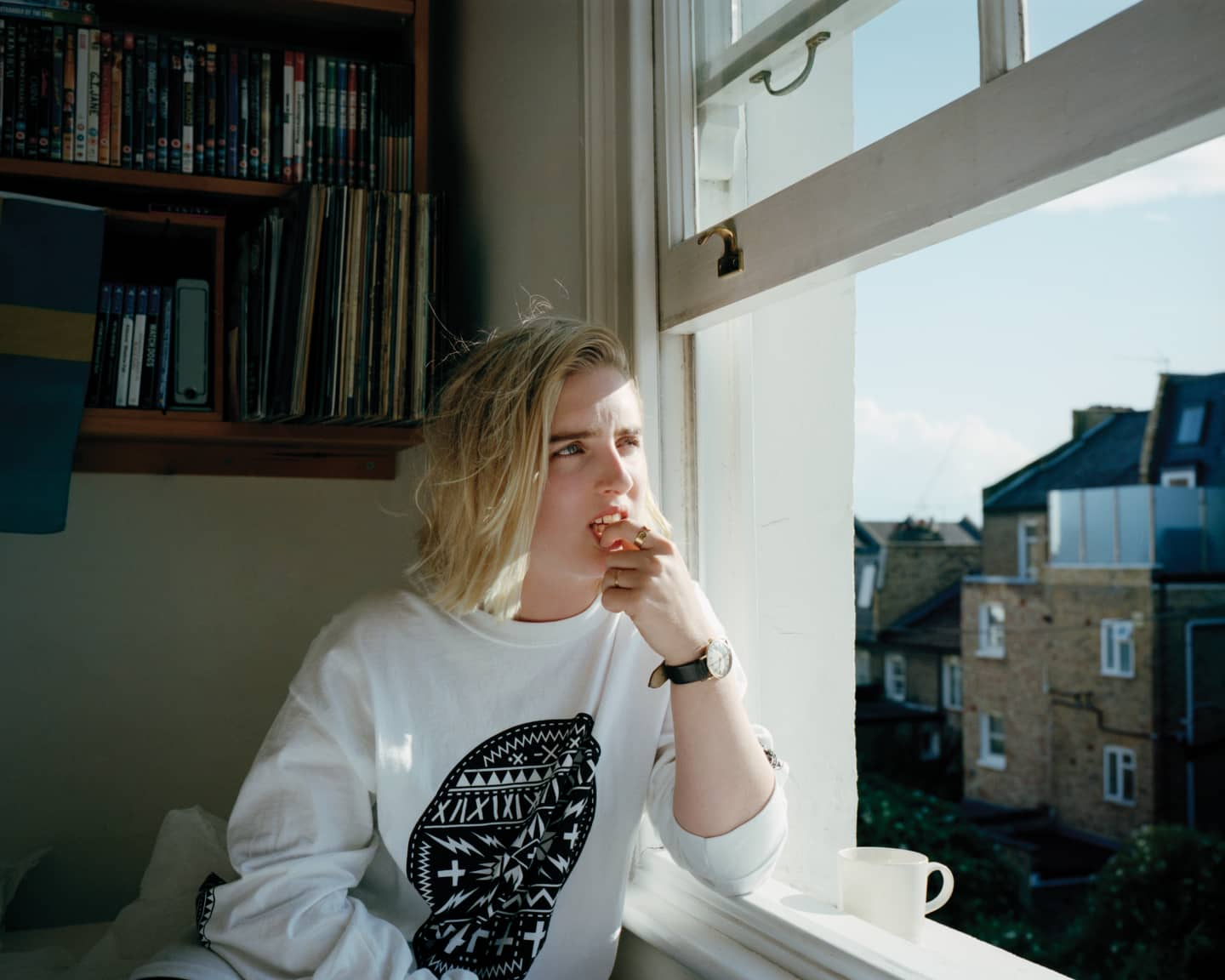 Meet Shura, Electro-Pop's Downy New Poster Girl
In this week's GEN F, Russian accents and emotional spaghetti junctions
Sitting in an east London café, between puffs on an electronic cigarette, 23-year-old singer and producer Shura is doing her best Russian accent. "Shura," she says, rolling the second syllable around in her mouth like a gobstopper. "It is very simple." The "it" in question is her debut single, "Touch," a gossamer pop confection of pitter-patter beats and languorous, xx-style guitar that crystallizes that moment at the end of a relationship when you're past the point of no return. The accent she's impersonating belongs to her mother, who prefers the lyrically convoluted acoustic confessionals Shura used to perform in dingy UK pubs as a teenager. "But she did call me back to tell me it gets better with every listen," she laughs. "So that's going on the front of my album!"
The somnolent, sensual allure of "Touch" makes sense when you meet its creator, a woman who spends most of our chat either wrapped up duvet-style in her oversized olive blazer or lying semi-prostrate on a coffee shop couch. When discussion turns to "the Chinese whispers of the blog world" that have bubbled up since "Touch" and its snog-heavy video emerged in February, though, she suddenly sits up. Yes, as has been reported, her mum is a glamorous Russian actress who turned down a role in a Bond film—"Her character would have died in it," she says, "and she didn't really want that"—but Shura spent most of her childhood under the graying skies of Manchester. (Her dad, a documentary filmmaker, is English.) While bloggers have foraged for signs of Russian influences in her music, Shura's adamant that the search is futile. "I'd really love to be able to say there are, because it's way more interesting, but I grew up on Elton John and Pink Floyd," she says.
In her early teens, influenced by her older brother's music collection, which included drum & bass noise merchants like Ed Rush & Optical, Shura started obsessing over how songs were produced. "As I got older, I'd study records and be like, 'How the fuck have they done that?'" she says, wide-eyed. Her songwriting, meanwhile, was influenced by six months spent in near-solitude in South America. "I'm a confessional songwriter," she says, "so it helped because I had time to think. It was also post-university, so I was like, 'Who the fuck am I?'" After returning to the UK, she began a short-lived collaboration with the producer Hiatus, before realizing she was relinquishing too much creative control. "I got kind of jealous," she says. "I really wanted to be able to do the production side of things, rather than just hand it over to someone else." Now, she shares production duties with Joel Pott, the former Athlete frontman, with whom she's formed "a little studio band." Finally, she can experiment with a synthy sonic precision of her own.
While "Touch" unpicks what Shura describes as "the spaghetti junction" of a relationship's tangled-up end, the song's equally delicate follow-up, "Just Once," finds her dreaming of traveling back to before things went wrong. "When you first meet someone you like, you can be whoever you present to them, and that's exciting," she smiles. "'Just Once' is about going back to that moment of starting again." It's telling that even in Shura's flights of sonic fancy she's anchored by a songwriter's gift for emotional cleansing. Perhaps her early days as an acoustic troubadour haven't left her after all. On her road to becoming electro-pop's sleepy new poster girl, at least that ought to keep her mum satisfied.
From The Collection:
GEN F