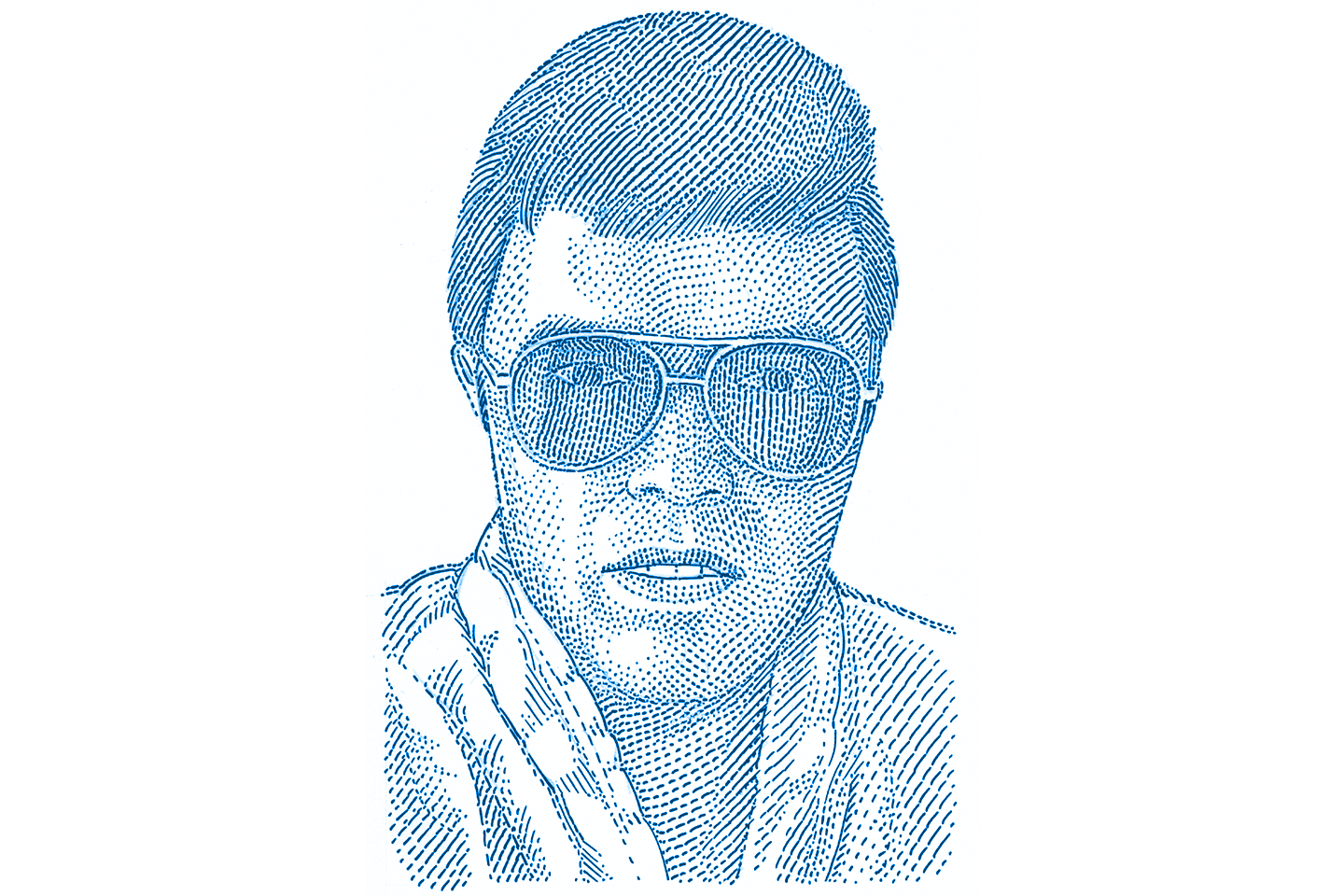 West Virginia's Weirdest Country Star Almost Ruined Scott McClanahan's Life
Little Jimmy Dickens was the state's biggest act. Here's how he affected one of FADER's favorite writers.
There's a plainspoken style to Scott McClanahan's prose that makes his words feel like things coming off a body. His books—like Hill William and Crapalachia—become whole people, and they put you in a headlock and whisper fucked-up things in your ear. Even if I'd never heard him do a reading, I think in my head I'd still hear his work in his voice, his cadence. The night I happened to see him, he'd driven to New York from West Virginia, where he was born and lives today, and brought along a boom box to play some musical accompaniment while he read. But then he stomped on it. He smashed a boom box to punctuate a sentence, and the lack of music after became something. That's the general effect of his writing: to look at what's crushed and deal. His next book, The Sarah Book, concerns his ex-wife. Here, he remembers an early sign of their troubles: she never liked his favorite country singer.
SCOTT MCCLANAHAN: I always thought Little Jimmy Dickens broke up my first marriage. It's true. I'd heard that the reasons for the end of any relationship were present in the first moments of meeting. There were behaviors, peccadilloes, things we learn to hate. Of course, I always knew that was a bunch of bullshit.
My first wife, Sarah, just didn't like Little Jimmy Dickens.
The first time I took her to my home in Rainelle, West Virginia, she thought there was something exotic about it. We saw a couple of creepy-looking mountain dudes scratching at their skin and another who was wearing a rattail. We saw a woman in a motorized wheelchair with a #3 flag on the back. I told Sarah that this was real-deal hillbilly shit, and you couldn't buy it in a store.
This wasn't Amsterdam, where she'd lived a few years earlier, and this wasn't Denver, Colorado, where she'd lived the year before, and this wasn't living with her stepfather, an Iranian businessman who practiced Sufism and drove a Mercedes Benz. I told her this was the center of the world—at least if you thought the center of the world involved teen pregnancy and prescription drug abuse.
Sarah just laughed.
But then, later that afternoon, I played her Little Jimmy Dickens for the first time, and she quit laughing.
WHO THE FUCK IS LITTLE JIMMY DICKENS
I tried explaining it to her as best as I could. I told her Little Jimmy was one of West Virginia's only country music stars. He was a member of the Grand Ole Opry who they called "Little Jimmy" because he was little and his name was Jimmy. He always performed with an oversized guitar and a tiny rhinestone suit, and he had a few novelty hits. There was one called "Take an Old Cold Tater and Wait." It was about holding a potato. There was another song called "Sleeping at the Foot of the Bed," which was a song about sleeping at the foot of the bed.

But my favorite was "May the Bird of Paradise Fly up Your Nose." It didn't make any sense and didn't try to make any sense. In the first verse, the narrator decides to help out a beggar by giving him a penny. Then the narrator loses his coat. The beggar finds it and returns it along with a $100 bill the narrator left in the pocket. Then the narrator tips the beggar a dime for returning the coat and the $100 dollar bill. The chorus is the insult the beggar shouts at the singer of our song: May the bird of paradise fly up your nose/ May an elephant caress you with his toes/ May your wife be plagued with runners in her hose/ May the bird of paradise fly up your nose.
I liked it because it was probably the worst chorus ever written. I told Sarah to imagine a song written by Antonin Artaud, and she would understand. It was a song that attacked the listener. It was a song not interested in telling you about the mind of the insane, but one that wanted to produce that state of mind in the listener. It was a spell, a fever, a curse.
"My god, I can't stand this shit," she said. "I don't care about your dumb reasons for liking it." I threw my hands up and told her that a woman who couldn't understand Little Jimmy Dickens was someone who couldn't understand me. I told her we could break up right then. Sarah just laughed like I was joking, but I wasn't. Then I played her his version of "Shopping for Dresses." It was a song about a man who had lost his wife years before, and he was still shopping for dresses. But at the end of the song he meets another woman who is shopping for pants, and who has lost her husband. Then I told Sarah how Little Jimmy Dickens met his wife.
HOW DID LITTLE JIMMY DICKENS MEET HIS WIFE
She was 16 years old, and her favorite singers were Elvis Presley and Little Jimmy Dickens. She sent him a picture of herself one time and told him she loved his voice. Then years passed. Time moved. The 16-year-old girl was a 40-year-old divorcée. She went to a show one night and went backstage. She met Little Jimmy Dickens and told him about the picture she sent all of those years before. Little Jimmy didn't say anything but went to his guitar case and pulled out the picture she sent him. And then he told her that he had been searching for her face in every town, in every crowd, in every place he passed through. And now he had found the face in the photo, and he was going to look at her for the rest of his life. They were married the next year and are still married now. It was crazy.

Sarah just shook her head and acted like she was going to gag. Then she laughed some more and we argued. She told me she didn't like Little Jimmy or songs that made you feel like you were losing your mind. She told me the music made her nervous and just reinforced every stereotype of the country genre. Then she laughed louder. So I started going through the reasons why she was wrong:
1. I told her that the last acceptable prejudice was class.
2. I told her when most people liked country music it meant they liked the Eagles or Gram Parsons or some shit like that. Little Jimmy Dickens was the "real" thing.
3. I told her people had forgotten about the labor movement and that people had died for an eight-hour day, health care, vacations, a five-day work week.
4. I told her that country music was just as much about postmodernism and artifice as Roxy Music was. It was a music from outer space full of men wearing sparkly suits and cowboy hats.
5. I told her about the Hawks Nest Tunnel disaster where 476 men died. They were digging a tunnel, and the men's lungs filled up with dust and they died from silicosis. Their bodies were buried, and the company tried to cover it up, and nobody gave a shit because the workers were poor. I told her the world was absurd and couldn't be understood.
Sarah just rolled her eyes and said, "What the fuck does that have to do with Little Jimmy Dickens?"

Nothing. That's how I felt inside seven years later, on my way to jump off the New River Gorge. Sarah and I were going through a divorce, and I had been living in my car. I sat around in the Walmart parking lot watching drug deals go down and girls getting in white cars and disappearing in back seats and then driving away. I was drinking gin out of water bottles and sleeping in my car and dreaming of bridges. Of course, for years I'd been imagining the drive there and listening to the radio and then parking the car. Then the walk to the bridge. The wind in my face. The mountain sky looking all purple and black. The faces of my children—Iris and Sam. My mother. My father. My grandma Ruby. And then whoooosh. The wind in my face and then falling. And oh, what a fall. The most beautiful fall of all.
So that night I popped an old mix CD into the CD player in my car, and I drove to the New River Gorge Bridge. Then Little Jimmy Dickens' "May the Bird of Paradise Fly up Your Nose" came on. I thought about how Sarah had always hated that song and said it sounded like a nervous breakdown. And then I thought about how I never told Sarah that I met Little Jimmy Dickens when I was 10 years old. He was playing a small county fair, and he signed a program for me afterward. My mother stood next to me and encouraged me to go up to him. "Go ahead, Scott. Go on." There were lights bouncing off the rhinestones of his suit. I looked up at his giant white cowboy hat and there was a tiny little handprint where he had taken off the hat and waved it at fans a thousand times. I said, "You really are small." Then I giggled. He opened up my program and told me that it's the small things that are the strongest. When I opened up the program later that night, I saw what he'd wrote: "Hello Friend. I'm glad we found one another. Little Jimmy Dickens." Even as a boy, I felt the madness coming off of him and attaching itself to me.
So I saw the bridge approaching. The night was crisp. "May the Bird of Paradise Fly up Your Nose" was playing. I stopped the car and got out. Nothing makes any sense, especially songs. I walked to the edge and then…

But it didn't really happen that way. I pulled into a gas station before I'd even got there and passed out in my car. I vomited outside my car somehow, but I don't remember it. When I woke up, there wasn't anything playing. The CD was broke and skipping. I wish I could say I started to laugh and remembered how I'd told Sarah once that "May the Bird of Paradise Fly up Your Nose" was my anthem. It was the only song of absurdity that confronted the absurdity of this life, and I wanted it played at my funeral. But I didn't even do that. I wish I could say that at that moment I was thinking about how we are searching for someone, and someones are searching for us. And sometimes this searching brings about our destruction. But I didn't even do that. I just wished that everyone I knew could listen to "May the Bird of Paradise Fly up Your Nose" and feel changed. I wanted them to sing the chorus and feel how it feels to lose their mind. So go ahead. Look it up and listen.
There are bridges waiting for you.