Finding inspiration in the fashion world can be a sticky thing. With the onslaught of images that the eye encounters on fashion blogs, Tumblr, and Instagram, it can be tricky to track the origins of creative stimuli. Whether intentionally or accidentally, here we count down five times that inspiration got too close for comfort and got called out for it in 2014.
1. Alexander Wang Comes For Sneaker Culture
Alexander Wang is the undisputed prince of cool-kid fashion, making his name off of grungy denim cut-offs, sleek little black dresses, and statement-making accessories. For his spring 2015 collection, Wang presented a high-end take on the hypebeast world of sneaker culture, showing dainty dresses and separates that took their cues from iconic kicks like Adidas' Stan Smith, Nike's Fly Knit and Air Jordan's iconic elephant print, a now-iconic grey and black pattern that debuted on the Jordan 3s. Shortly after Wang's presentation, the sneaker aficionados at High Snobiety sorted through the entire collection pairing up looks with each sneakers that spawned the design.

1. Alexander Wang Comes For Sneaker Culture
2. Olivier Rousteing Revisits Alexander McQueen
For Balmain's spring 2015 collection, Creative Director Olivier Rousteing sent an all-white pant suit with cut-out panels that recalled Alexander McQueen's 1997 couture collection for Givenchy. VFiles, with its massive archive of fashion photos, caught wind of the striking similarities and shared a side-by-side of the uncanny runway images.
2. Olivier Rousteing Revisits Alexander McQueen
3. Balmain Congratulates Their Biters
As the head of a storied Parisian fashion house, Rousteing himself was a prime target for knockoffs by mega retailer Zara, who is notorious for copying runway designs and supplying them to mass fashion market for less. In an interview with The Independent, Rousteing revealed that he didn't mind Zara's knock-offs that much. "I'm really happy that Balmain is copied – when I did my Miami collection and we did the black and white checks, I knew they would be in Zara and H&M," Rousteing told the UK-based publication.
3. Balmain Congratulates Their Biters
4. Virgil Abloh Really Hearts Raf Simons
Designer Virgil Abloh has long sung the praises of Raf Simons as his all-time fave, boasting of his personal Simons archive collection and volunteering himself as an intern for the Belgium-bred designer. Earlier this fall, fashion business blog The Fashion Law posited that Abloh's admiration might've run a little too deep, seeping into Off-White's spring 2015, manifesting itself in the form of similar Nebraska sweatshirts.
4. Virgil Abloh Really Hearts Raf Simons
5. Roberto Cavalli Is Not Here For Michael Kors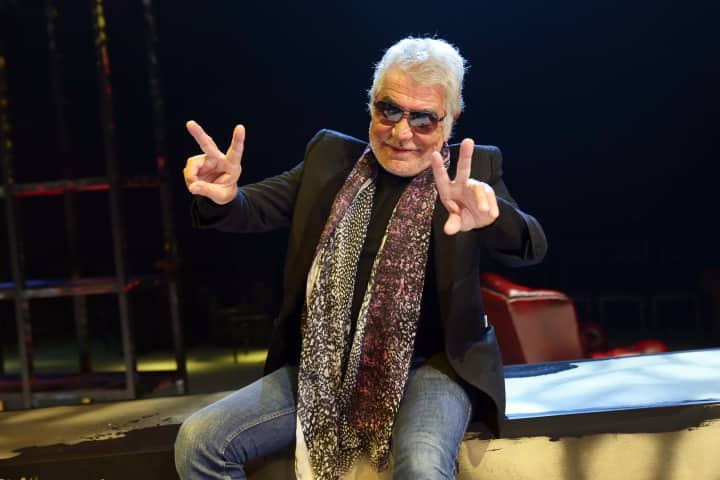 Apparently, calling out copycats isn't just for the kids in fashion. Elder statmentsman of design, Roberto Cavalli called out Michael Kors for his copying designs in an feature article in Haute Living magazine. "Mr. Michael Kors, he copies everything!" Cavalli told with the publication. "It's really a scandal and nobody has the courage to say anything. It's really not fair."
5. Roberto Cavalli Is Not Here For Michael Kors