Le1f Reports From Washington, D.C.'s Justice For All March
"The fight against inhumanity and injustice has become very united, and it's just as diverse as our communities, too."
On a hot August day in 1963, 250,000 people came together in Washington D.C. for the March on Washington for Jobs and Freedom, where Dr. Martin Luther King gave his "I Have A Dream" speech. The power of the 1963 march and the changes that occurred from it are undeniable. My mother attended the March of 1968, right after Dr. King had been assassinated. She was a child at the time, but she remembers the positive, eager mood that prevailed. It wasn't an angry or violent march, but a passionate one. Although there were some allies, she recalls an overwhelming majority of black people—and everyone had their own different reasons to be there. Some were there for employment rights, some for decent housing, others for voter rights—but overall, it was a movement for the equality of black people, particularly black men. While the March of 1968 wasn't about police brutality specifically, many at the time were concerned about how people were being treated when they fought for the equal rights of non-whites. There was a massive urgency for African-Americans to be treated fairly.
50 years later, you could still feel that urgency in Washington this past weekend. This past Saturday in Washington D.C., Al Sharpton and the National Action Network's "Justice For All" march led more than 10,000 people on a short walk to the Capitol. It was more of a rally than a march; chants of "No Justice, No Peace" and "I Can't Breathe" set a vibe that was generally spirited, rather than angry or hostile. Uniformed police generally kept their distance, staying on the sidelines with restless K-9s—far more offensive was the girl I saw who had stopped walking in the middle of the march to take pics of herself with her new selfie stick. Thankfully, there were only a few similar people in the crowd, people who seemingly didn't understand how to act at a march to end police brutality.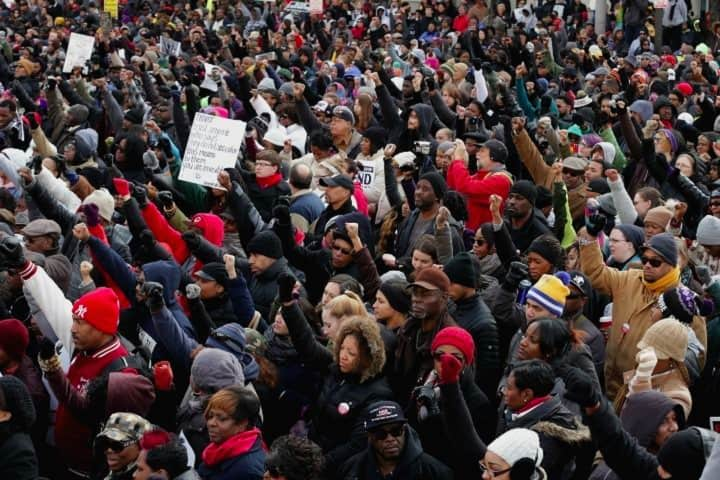 Most of the day, though, was truly inspirational. Al Sharpton noted that his goal was to open the floor to the youth, and many young activists were invited to speak. "Contradiction is as American as apple pie," Howard University's student body president, Leighton Watson, pointed out in his speech. He spoke of how our Constitution's writers and signees agreed that all citizens are equal under the law, yet some citizens were only three-fifths of a citizen. Our nation was built on these discriminations, and our society was built to empower solely white men and those whom they might favor. I most definitely believe these ridiculous Apartheid-level statistics about African-American arrests and jail times. The injustices we've been so riled up over are from a legacy of racism that has been departing as slowly as molasses.
Sadness swept over the massive crowd when members of the families of a dozen murdered unarmed victims took the stage—some well known, others not. It wet my eyes to hear their voices: Eric Garner's wife, Tamir Rice's mother, John Crawford's father—family members who showed up and said a few tear-jerking words for every article you've read these past few months. Amadou Diallo's mother was an especially poignant appearance, serving as a reminder that it's been 16 years since her son was shot. Since then, the African-American community had expected a change, a police reform, or at least a fair trial—not grand juries made up of the prosecutors' homies. "They said he had a wallet. 21 times, they shot him," she said. I remember being an angsty, black, half-African kid and hearing Amadou Diallo's story. I remember how the story resonated with me, and with my mother, and I remember the day when a cop pulled over my grandfather while he was slowly driving to church, even though a sports car obviously had done maybe 100mph right next to us. Days like that mentally prepared me for the behavior I should expect from police.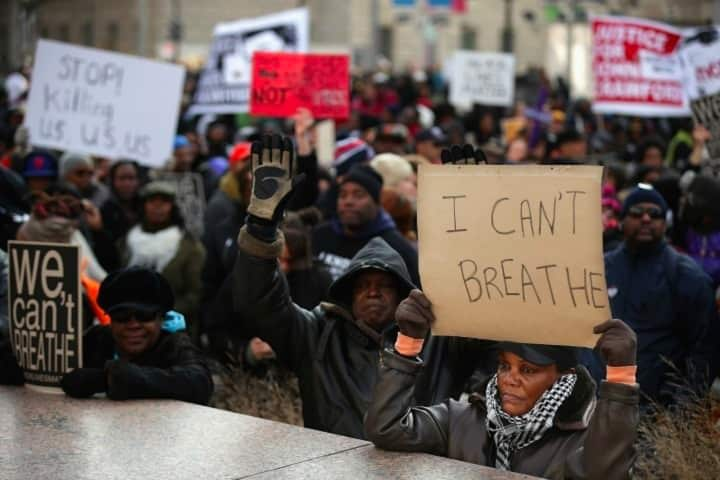 A few years ago, I found myself in the Lower East Side in handcuffs under the Williamsburg Bridge. Coincidentally, I'd been running late to an interview with The FADER, and had gotten into an argument with a cab driver who'd been taking me on a crazy route. I'd thrown $30 at him for his $20 fare, but next thing I knew, I was in handcuffs, explaining the story to three cops—two of them black men, the third a white guy—double checking that I had paid the cab. They didn't apologize; they just asked if I was really leaving a $10 tip. Alas, I'm still alive. I've learned to only expect that some cops will be racist or bigoted, or just plain annoying—as you can expect of people who have chosen a job of authority where there's possession of a gun involved. I've learned to anticipate that they will hate me because I'm a young dark skin guy in streetwear, and that they'll treat me as one would in a Hollywood blockbuster. As Americans, we're constantly surrounded by images of white and light-skinned Egyptian gods and dark-skinned villains and criminals. The stereotypes of 100 years ago have stained us socially, and unfortunately, life imitates art.
Art also imitates life. The march on Saturday was flanked with vendors selling #BlackLivesMatter T-shirts and black pride flags, as well as folks with their professional cameras, or GoPros and selfie sticks. None of these presences distracted or detracted, though, not even the Black Israelite counter-protesters that appeared early in the day—or the guy in the handmade Skittles medical face mask (whose look I'll probably be stealing), or the middle aged black guys selling boxes of Krispy Kreme minis. What did strike me the most was the march's true diversity. With only eight days of organization, the event attracted thousands of people from all walks of life: entire black families, white fathers who'd made cute signs for their infants to hold, Latinos who have also felt the wrath of police racism, old ladies in church hats, foreign tourists, and most importantly, school kids. What really brought me joy was the diverse group of private schoolers—half white, half black, one Asian—hopping a very unnecessary fence. My mother had been one of those kids squeezing to get upfront for the speeches, but she had been with my family, not all her friends from school. That's the difference between the 1960s and now: while the number of Americans willing to log off and participate in changing the world around them has decreased, the sort of people who care about these changes are way more varied.
Many speakers at the march in D.C. raised the point that the issue we now face is not just a race issue, but a human rights issue—and it seems that this generation really believes that. The corresponding protests in New York and elsewhere appeared to be just as diverse, and even foreigners from as far as Palestine and Hong Kong have shown support. For a few years, I'd been concerned that Facebook and Twitter had destroyed the teen activist spirit of physically showing up and showing yourself—we live in a time where you can just tweet for your cause, or dump ice over your head in a Vine to raise money. It's amazing, then, to see some political awareness in my generation and the one right behind me. It wasn't the million-man march that it should've been, but the march still showed how many different kinds of people are ready to demand progress. The fight against inhumanity and injustice has become very united, and it's just as diverse as our communities, too.
Lead photo: Chip Somodevilla/Getty Images