Behind every Artist To Watch are folks answering emails, chasing down rogue checks, and dreaming big possibilities for the musicians they rep. The spread of managers ranges from day-one homies to seasoned mentors, and everyone approaches the gig differently. While salivating over new music we're looking forward to in 2015, FADER asked a few of our favorite acts' managers to reflect on the past year, drop gems on the state of the industry, and tease what their team's got coming next.
Christian Clancy
Clients: Odd Future, Mac Miller, Solange Knowles
What are new observations/lessons you gained about the music industry from the last year? I don't even like the word "manager" anymore. Carries so much negative connotation. It's more about building brands as a partner now. Building multiple businesses that intersect under an artist's "parent company" umbrella. Most artists, or at least the ones I work with, don't live in one lane. It's less about immediate gratification. Some businesses thrive, some die, but they are all part of the same soil.
How has the role changed? Everything in media is at a tipping point. All of it. Print, TV, radio, film, record companies. All of these lanes are no longer completely controlled by gatekeepers. The internet pulled all their pants down. I think this will be good for art, because it put all the power back in the artists' hands. They aren't forced to play the middle anymore. The fans decide. The best will rise to the top and become curators for all other kinds of art that wouldn't have been seen or heard in the old system. Think about it: wouldn't you trust Solange as a cultural reference point more than what your currently being fed? Same for Tyler and Mac and Kilo Kish. They all have their own unique individual lanes that speak across multiple demographics in different ways, and it sticks because they are honest. The trick is to build a business around it that doesn't sacrifice any of the above.
Christian Clancy
Clients: Odd Future, Mac Miller, Solange Knowles
How has the role of a manager changed or evolved since you first started? When I first came into the game, I was more on the guerilla marketing shit. I'ma put it in your face. I still have the same tactic now, but now I've established a lot of good relationships with people that run the social networking sites, Fader, Complex. I look at that as the new streets now. Before, when I had Jeezy and Gucci, it was more street. Let me deal with these promoters in the city, these tastemakers, they're the ones people look up to in the city. Now it's more this network of blogs, a digital network that I've established so I can get that product out.
Were there any unique challenges you faced? Not really, because I took that tactic and applied it to this world. I move fast, and get the product out there. When I did guerilla marketing, I made it look very professional. If you walking and you picked up my poster, you couldn't tell the difference between mine and someone who was on a major. I made it look exactly, if not better, I was trying to outthink the next one.
What are you plans to win 2015? Strategizing this year, man, we got a lot of little secret things we gonna do, but we gon' put out a major album. Before, we put out the mixtapes, let the mixtapes circulate, put it on iTunes. Now this year we gonna give you the album. There's no difference: these mixtapes we put out are albums. We gave them to fans because of this streaming world we're in, but now we're bringing you back to buy it. It's like feeding the people. You feed them, and now you have them in. Now you sell them something, and if you're our real fan, you're loyal, you buy it. We've built a nice little loyal fanbase.
Is it a better time than ever to be an artist manager? Not sure it's the right question, perhaps a better question would be 'Is it a better time than ever to be an artist?' We don't exist without them and can't be successful without a demand being there for them to do what they do. I do think it's a great time to be an artist, especially in the world of 'experimental' music, which I guess is loosely where I'm placed. Sales are down overall, yes, but vinyl still thrives and the opportunities to play live or DJ are still very much there and financially rewarding. Also. the line between what is considered 'underground' and 'commercial' continues to be further blurred, creating really exciting opportunities for artists that can step up and capitalize. I feel a great sense of community between managers working in similar areas of music as I do, a lot of them are close friends and it's nice to know we're all pulling in the same direction, trying to get our artists music heard by as many people as possible.
What are some headaches you had last year that you learned from? Some people just won't get it, no matter how hard you try. It's cool though, just focus on the people who do.
Patrick Hanrahan
Client: Fatima Al Qadiri
How did you link with Dev? Dev and I first met at MoMA PS1 Warm Up in 2011. I was working for Warm Up, he was playing on this epic line up. He gave me his CD and told me not to tell anyone because his label would be mad he was giving merch out for free.
How do you plan to win 2015? We win every week. Meet us at Chelsea Piers open-play indoor soccer Mondays at 11AM and we will show you.
Imogene Strauss
Client: Dev Hynes
Pat Corcoran
Clients: Chance the Rapper, The Social Experiment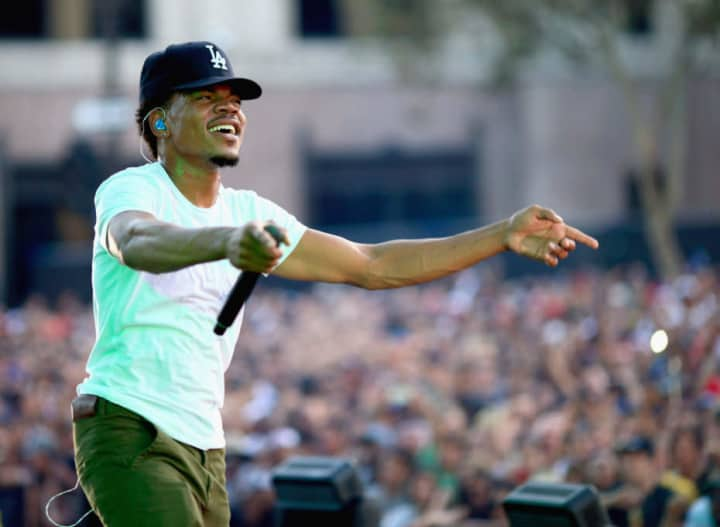 How did you link with Chance? I met Chance through working with the Kids These Days band in Chicago, they're all part of the Save Money collective. Chance was their buddy, and he started doing these listening parties they they all went to, and I went and supported him, they were amazing. He released 10 Day before I was initially involved, but I was a huge fan. A week later, I was at this radio station with another artist and I saw Chance and his dad. Me and his dad spoke, and we all had a good time. I got a call the next day from his dad like "Me and Chance want you to work with us." We met up the next day, and that was April in 2012. It's coming up on three years.
What were some key things you learned about management in 2014? Organization was huge. For Chance especially, being an artist without the support of the label, a lot of that weight falls on the team that surrounds him. We won't just take any opp. One good example of something we did this year, we told every festival throughout the entire year that they couldn't live stream our set. We're in the UK, Glastonbury, and the people are like "Everyone is doing these live streams." It's huge, album sales go up, it was a whole thing before our set started. We were the only people at Glastonbury who chose not to live stream. But we were saving all those live streams for Lollapalooza, which was our homecoming show. We pushed the Lolla live stream link really hard, and I found out a month after, they called us and said "You guys had the highest stream count out of anyone at the festival, with over three million streams." Which was greater than Eminem, Rihanna, Zedd, Skrillex, Outkast, which was incredible.
How is the role of artist management different today? I think managers are so much more creative nowadays. When labels had a lot of money, they were able to hire creatives and project managers and A&Rs, third party contributors that could make something hot, which they still do. But now, when you're a manager, a lot of the creativity, marketing, branding, social media, it comes down to how the manager and artist will do it together. It's not just making sure business affairs are in order and the record sounds good.
Pat Corcoran
Clients: Chance the Rapper, The Social Experiment
Mixed Management (Mason Klein, Ben Persky)
Clients: Baauer, Shlohmo, WeDidIt
How did you link with your artists? BEN: "All of us grew up in LA together. We're all 90's babies, and then we all moved to New York together. WeDidIt started [with] Nick and Shlohmo and their friends when they were seniors in high school. It was a collective, and a blog where they posted all the shit they love and making beats essentially. Mason and I were interning at Webster Hall, half of us were at the New School and half of us were at NYU and Henry was studying music. It just kind of happened like that and then started naturally." –Ben
What new insights did you gain about the industry from 2014? BEN: Realizing that patience is key. I've seen a lot of people do this, and we have also, where you do as much as you can: a press release, a video, a radio session, this thing, this thing. Whatever the fuck it is. You forget no one gives a shit unless there is good music. It's obvious with a comparison to an athlete. An athlete can do all the commercial work, but if you're not scoring and not successful on the field, no one gives a shit. You have to do what you're there for first, and the rest follows. That has been a big realization for us. We want to do all the things, and have so many fun ideas, all the artists are amazing and excited, but you realize you can't. You have to let the story unfold. You gotta be patient with a career. The music has to speak first. For example, this Baauer Red Bull documentary. [We] chatted about it, developed this idea, and Red Bull supported it. That is an example of something, if you're patient and find the right story, find a way to get people to support a vision you want to do.
What were some headaches you learned from last year? MASON: I think "Harlem Shake" is one big lesson because we got thrown into the deep end really early in our career. This is the moment where, you know, it's a big deal trying to navigate the space so that his voice is being used in the right way.
Mixed Management (Mason Klein, Ben Persky)
Clients: Baauer, Shlohmo, WeDidIt
How did you first connect with TDE? I don't know if you were aware, but Top [Dawg], that's my pops. It's all of us, just a organic situation. Everybody just naturally form together. Our whole management team the same, Top the oldest, he just the big dog.
What are some specific things about your artist that make him unique to work with? Q was the last one to the camp. If you ever played a NBA 2K, or a Madden, in Franchise mode where you act like the coach or the owner, you gotta draft a player. Some, their overall [rating] is 70, but the potential to grow is a C. And then you draft another one, and he may be a 50 overall, but his potential is a A. Q was that draft pick where his overall was low but his potential was so high. That's why he was able to jump up and catch up to everybody, he had those smarts to sit there and absorb everything and add it to his repertoire of music. Take pieces from Kendrick, Rock, Soul, and put that together. Q didn't plan on being a rapper, it fell in his lap and he happened to be great at it.
How do you guys plan to win 2015? Right now, it's all about Kendrick, off top. That's the main focus. Every year is to keep the integrity and grow our brand. Look to add artists as well. I got a couple cats that I'm working with in the cut, just building relationships, no one officially signed or anything. Isiaiah [Rashad] brought a kid with him by the name of Kembe, I've been helping him more so on some mentor type of deal. But it's about Kendrick right now. Going forward, Soul, Q, Jay Rock. Rock got some crazy music. Kendrick of course, but Rock is restructured. Wait till y'all hear Rock, it's a whole new level.
Moosa
Client: Schoolboy Q
How did you first hear DeJ? My partner, Tone, introduced me to DeJ's music about three years ago. I was dropping him off from a studio session. Before he got out the car, he told me that he had something he wanted me to hear. It was the record titled "My Life," off DeJ's 2012 mixtape Just Do It. From that moment, I knew how special she was. I downloaded her mixtape and listen to it nonstop for three straight months. During which time Tone and I had communicated with her through Twitter, got her phone number, and started to cultivate the relationship. The rest is history.
How do you plan to win in 2015? My life creed is balance. So for 2015, my plan will be a balanced approach of shows, great music, marketing, fan interaction and unique ideas to become a household name. Releasing quality visuals, lifestyle content pieces to show the fans what we go through on a daily basis outside of the shows and the glamour—the humanistic element of our day-to-day process. Overall our 2015 plan is to make sure people know who DeJ is as an artist and as a person.
Detroit Charlie
Client: DeJ Loaf
Joe Coghill
Clients: Rustie, Jacques Green, Nick Hook
How did you link with your artists? Happened very organically, I guess. I've known Rustie for years and used to hang out with him at his dad's house in Glasgow. People like Jacques Greene/Krystal Klear I met via booking them for a club night I used to run called Ballers Social Club. Koreless was a funny one, as I heard his music in a Ben Ufo mix and asked my ex-girlfriend's little brother if he was aware of it. He literally said "oh, he lives in town and I know him." So again, that was very personal way of meeting him. Nick Hook and SDC came much later on, but have always been like family, and when the opportunity came up to work together we took it.
How do you guys plan to win 2015? Firm believer in cultural relevance and making an artist more than just music and a funny twitter. More real world, shit like installations, art. I think that's the best way to cut through the noise of the ever-growing internet.
Joe Coghill
Clients: Rustie, Jacques Green, Nick Hook