Quarterbacks Are The Little Basement Band That Could
In this week's GEN F: ramshackle indie pop that just won't quit.
Since they started churning out cassettes full of creaky indie-pop as college kids in upstate New York, Quarterbacks have always been right on the edge of packing it in. Mostly, that's due to the usual set of reasons that threaten to kill any musical endeavor that starts within the geographically contained confines of undergraduate education: people finish school, get jobs, leave town. But something has kept frontman and chief songwriter Dean Engle glued to drummer Max Restaino and bassist Tom Christie—and the sleepy Hudson River Valley town of New Paltz—over the past half-decade. Even Engle doesn't quite know what it is. "There's something deranged about the way we've decided to keep making this music," he laughs. "We keep putting off our major responsibilities for one more year."
Over the phone from his home, the tall, bespectacled songwriter darts quickly between conversation topics, talking about his day jobs (substitute teacher, record store clerk) one second, and laughing about his old Star Wars-themed hardcore band (KEN GRIFFEY JUNIOR) the next. Engle has always had a unique knack for getting people's attention. While growing up in a suburban development in Poughkeepsie, he started playing his first impromptu shows at his local Borders bookstore; sometimes more than 80 people would turn up to watch. (Quarterbacks proper didn't start until years later, when Christie and Restaino joined up after Engle's college band with an ex-girlfriend dissolved.) Though Engle had never played in a band before, those early crowds exemplify the sort of fanaticism that his music tends to inspire. Now, following the release of 2014's hushed and solemn Quarterboy—with its standout rumination on lost love, "Center,"—Engle has more eyes on him than ever. "Every couple of months there's a show that's the biggest we've ever played," he says. "It's hard not to think, 'Well, I can't quit now."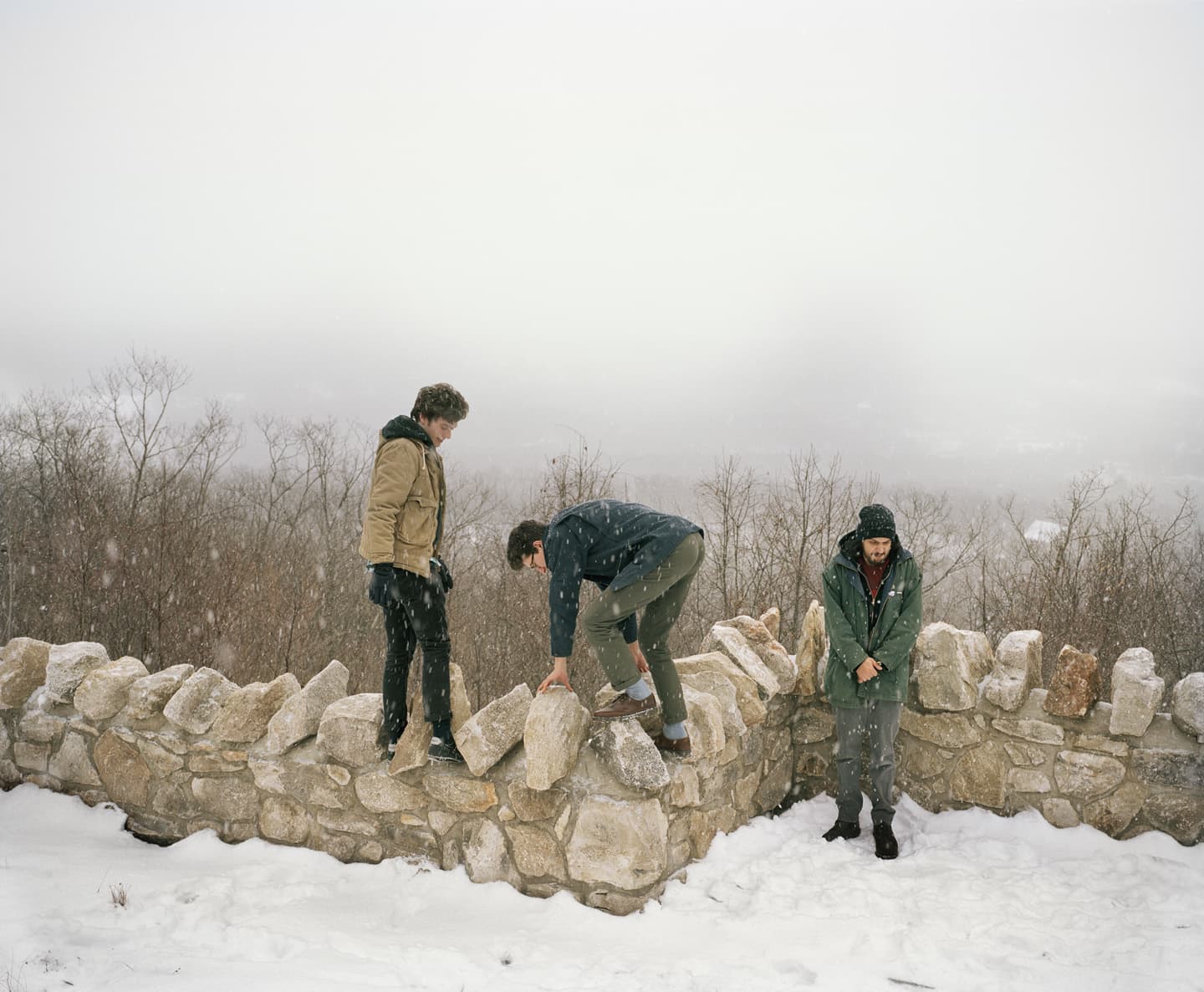 Many of the out-of-tune sing-alongs that make up Quarterbacks, the band's first proper vinyl release, have appeared in some form or another over the past couple years. Rerecorded for the album with some help from Swearin''s Kyle Gilbride, though, they've got the kind of lovesick urgency that keeps them sounding fresh. The instrumentals frequently go off the rails, and Engle's voice can quickly dip from a whisper to a wallowing whine; lines like the titular bleat of "Not In Luv"—I'm not in love with anyone, what's wrong with me?— sound sickly and sarcastic. Even for a record that's unapologetically indebted to the wide-eyed optimism of early twee bands like Tiger Trap and Henry's Dress, the songs are just as cynical as they are cloying, and the lyrics are crucially relatable in their first-person depictions of young love. "If what you're writing is true in your personal experience," he says, "then that's probably the easiest way to make it universal."
If that inward focus doesn't help garner him widespread acclaim, though, it probably wouldn't bother him too much. "20 years ago, this band would have released a 7-inch and then disappeared," he says matter-of-factly. "What's the goal of making music?" He trails off for a moment. "Honestly, the goal is just to keep playing together as long as possible," he says. "We're this little basement band that's played so many shows in lots of weird places. I feel like a real lucky boy."
From The Collection:
GEN F