Drake and Nas headlined Sprite's All Star Weekend concert last night at New York City's Irving Plaza, which fell in the middle of a whirlwind weekend that found storm clouds of ASW and New York Fashion Week perfectly coalescing, as well as Drake and Kanye West near-simultaneously shaking awake the rap world with new music and live appearances. The bill itself was an eye-grabber that had passerby stopping and gawking at Irving Plaza's marquee. "I'm so proud I get to open for Nas tonight," Drake said at the top of his set, the first of many nods he'd give to newly earned peers throughout the evening.
In the crowd, a group of NYU students clutched small Sprite-branded basketballs that were given out at the door; the tickets were a gift from their professor. When Drake appeared in a navy blue Yankee team jacket and launched into "Started From The Bottom," they shrieked and stomped their feet. Later, Drake hopped onto a stack of monitors at the side of the stage while his DJ played scraps of his early hits; after "Trophies" and "We Made It," Kanye burst out and spit a verse that opens in a very Drake-esque manner: They smile in my face, that's what I don't like. "Make some noise for the greatest human you will ever see in your motherfucking life," Drake said after exchanging daps and Yeezy 750 Boosts.
Later, between covers of 'Ye's "Only One" and the Rihanna/Kanye/Paul McCartney collab "FourFiveSeconds," Drake claimed that he'd used to make music like Slum Village; he then hummed a little of "Hold On, We're Going Home," and it was clear those days were over. His latest release, If You're Reading This It's Too Late, is a focused package of paranoid lullabies about being the best, not texting back, and pretending to like people you don't, and that social anxiety bled into the set: "Make some noise if you came here with your real friends and not your fake friends," he shouted to the crowd to ripping applause. Near the set's conclusion, iLoveMakonnen popped up to belt through "Tuesday," ending the heavy set on a bright note.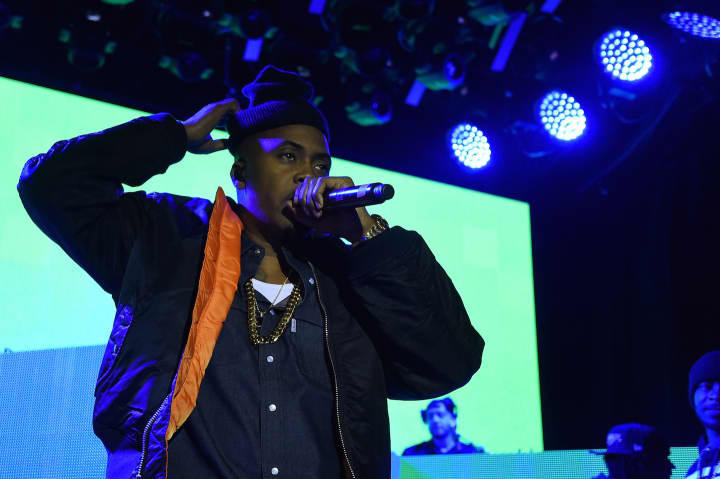 The aforementioned NYU students disappeared as Nas took the stage with a set that doubled down on last year's Illmatic 20th anniversary tour, which had some kids feeling hyped and others confused. "Shout out my lil nigga Drake, he's keeping this shit alive," Nas told the crowd, as he rapped through "Life's A Bitch" while a hypeman draped in Hood By Air swung a bottle of Hennessy. As a rapper whose icon status has become as marketable as Drake's perennial youth, it's significant that his generation of rap still funnels down into the cutting-edge styles of today's young lyricists that share a similar spirit, if not sound. ("If I could be any rapper, I would be Nas," Drake had said, a sentiment that Kanye's expressed numerous times as well.) Sometimes influence trumps impact, though: If You're Reading This is no Illmatic, but Drake's unending value to rap is that he doesn't imitate his influences so much as he does approach them as an artistic standard he strives to meet. The evening showed that Drake's slurred everyman woes have value to a new audience of rap fans, a crowd that may never connect again with the formative rappers who preceded him.
Lead image credit: Naomi Zeichner