From The FADER's editor-in-chief, to human rights advocate at Not On Our Watch with George Clooney, to prestigious political commentator and MSNBC host—Alex Wagner has had some really cool jobs. "It's an unlikely path, but the weird pieces fit together somehow," she tells The FADER over the phone from the set of Now With Alex Wagner, the political opinion program she's hosted since 2011. "You can find DNA that runs through all of it." In this edition of How I Live—a column that breaks down the day-to-day routines of our favorite artists and tastemakers—Wagner walks us through her busy existence: from getting camera-ready at work, to relaxing at home in Brooklyn's DUMBO neighborhood where she lives with her husband, former White House Chef Sam Kass, and their cat, Rooster.
"It's amazing how many different dresses you need for television. When I first started, it was a really steep curve to get to the point where I felt like I finally had enough clothes. I feel like I'm finally there. The clothes I wear for work are much more tight-fitting than my day-to-day; volume doesn't really work on TV. My personal style is much more, like, a gigantic Acne button-down than a tight sleeveless dress—but it is what it is.
I love Rachel Comey, Carven, COS, L'Agence. I'm still figuring out my personal style. I think we dress differently depending on what we're doing in our work and where we are in our lives. I definitely have a lot of boho Isabel Marant peasant dresses that are now not appropriate for me to be wearing. I think this stage of my life has focused and refined my tastes a lot—even in my off hours."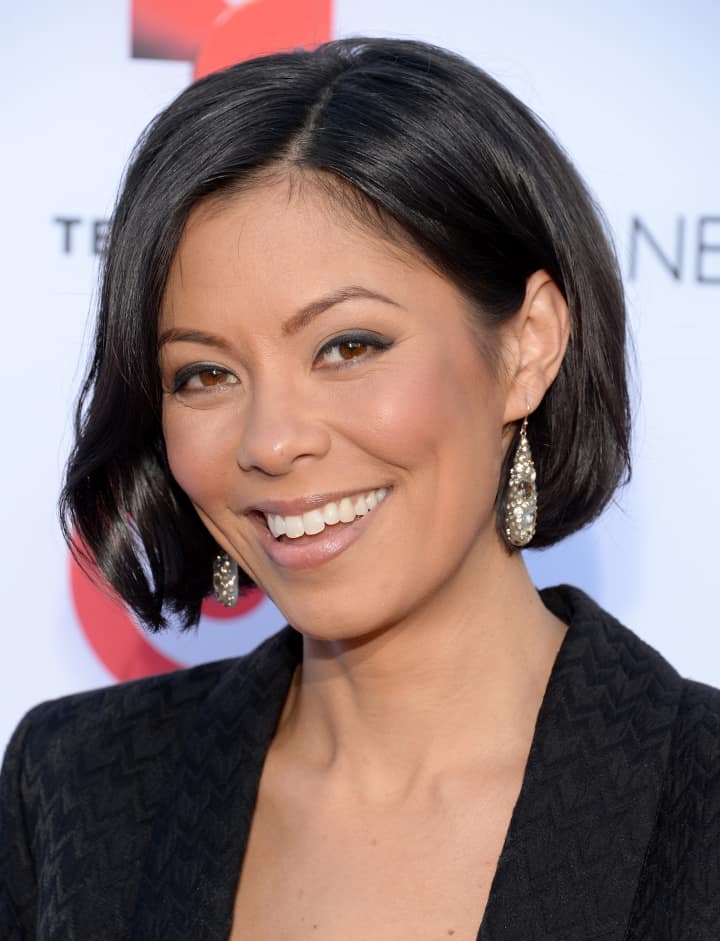 "There's so much work that goes into being TV-ready; I want to be really clear about that. I love news and I love journalism and I work with a lot of great people and we take our job very seriously, so being in front of the camera with a lot of under eye concealer—that part has always felt a bit unnatural and forced. Setting aside society, and what we expect women to look like, there are technical concerns when you're on TV. You have to have at least some kind of baseline coverage under the studio lights. It's not like normal makeup; it's like walking around with a wet coat of paint on your face.
In my off hours, I'm definitely not a product-driven person. I've always thought less was more. It's been a big shift between the person I am in my off-hours to an on-camera personality that wears quite a bit of makeup. I've definitely had the experience of running into a guest from the show on the street and they've been like, 'Are you Alex Wagner?' Yes, it's me—this is what I look like as a human. I say that to anybody that thinks women just kind of look like this, and that it's not a ton of work. It's a ton of work. I wish we were in a different place in society where it didn't have to be as much work. But it's a visual medium, or so they tell me."
"I use M.A.C. wipes to take off my TV makeup. They are probably not good for me—anything that can get off the layers of powder and makeup and concealer I have on with such facility cannot be good for your skin. After that, I put on moisturizer. I use Clarins Multi-Active Day Wrinkle Correction Cream religiously, for everything. When I get home, I'll wash my face again, get it all off, and then re-moisturize. Then I'll put on another serum, neck cream, eye cream—the whole thing."
"After our morning meeting with producers, I usually have some decaf coffee and then go down to get my hair blown out. I mean, not blown out everyday, but there's usually some kind of apparatus on my head. It's either a blow dryer or some rollers and a lot of Phytovolume Actif Volumizing Soray. It's like, one day I may actually cease to be a human and turn into a bottle of that spray. It's like my head is dripping with the stuff. Some people run on coffee, I run on Phytovolume Actif Volumizing Spray."
"I'm currently writing a book about ancestry, immigration, and American identity, so I've been reading those kind of non-fiction memoir books that catch fire to better understand why people like them. But if I'm listing the books I love, Wild is by no means a good representation. I'm rereading Donna Tart's The Secret History. I don't remember reading it the first time. I have a terrible, terrible memory—but it means I can reread my favorite books all over again every few months. I'm reading a lot right now: Behind the Beautiful Forevers by Katherine Boo, Karl Ove Knausgaard's memoir, Kim Gordon's Girl In A Band. I loved The Flamethrowers, which former FADER Editor in Chief Matthew Schnipper, or maybe it was Sam Hockley-Smith—got me into it. I feel like it's a very FADER-y book."
"I have a cat that I'm obsessed with. His name is Rooster and he's an orange Bengal. He is one of America's great cats. We found Rooster at a rescue organization, and within minutes it was obvious—that's our cat. He's only a year and old, but we celebrate his birthday at random points within the year. Any excuse just to give him a little extra love and, like, a little tiny piece of human food."
Makeup image via Getty Images. All other images courtesy of Alex Wagner.