Speedy Ortiz Is Boston's Best Band, But They Don't Care Unless It Helps Their Friends Too
Two days at home with the almost famous four-piece.
Speedy Ortiz don't have their own practice space. Tonight, they're using a friend of a friend's small rehearsal room inside Studio 52, a renovated warehouse with a series of long hallways that all look the same. The building is situated on a nondescript side street in Allston, the student-friendly Boston neighborhood where frontwoman Sadie Dupuis lives between tours. Though Speedy Ortiz has never explicitly been an "Allston band," they seem at home here, having spent years hanging around the neighborhood's fertile underground music scene, with its ever-evolving network of buzzy bands and basement venues. Their borrowed practice space is impossibly cramped with other people's gear: disassembled drums, tangled effects pedals, amps on top of amps on top of amps. It's not really soundproof, either; when Speedy's not playing, you can hear the barely muted noise of a generic-sounding hardcore band through the wall.
Dupuis, a petite 26-year-old, is attempting to mimic the sleepy synth melody that opens a new song called "The Graduates" using only her guitar. She's dressed in ripped tights and a black-and-white jersey dress with Rihanna on the front. Her nails are red, like Rihanna's hair in the picture. The band thinks the guitar sounds cool, but Dupuis isn't sure. They're rehearsing new tracks from their new sophomore full-length, Foil Deer, which will be released by Carpark Records near the end of April. The album features the most decadent, technically sophisticated rock recordings they've ever made and, as a result, its songs are much trickier to recreate on stage.

After the second or third run through of "Dot X," a slow-burner that Dupuis describes to me later as a "revenge fantasy," she stops playing, frowns, and says that something is missing. "Maybe it needs more distortion?" guitarist Devin McKnight suggests. He's tall, with a broad frame and a shock of dark hair; later on he tells me he played football in high school, which makes sense. He takes a hit of weed from a small glass pipe, exhales, and hands it to Darl Ferm, the band's bassist. At 24, Ferm—tonight dressed in a Celtics cap and a Freedom Trail tee, like he's moonlighting for Boston's board of tourism—is the band's youngest member. Dupuis shakes her head. "It's not a distortion issue; it's a texture issue." You can tell she wants to solve every small problem, but it's getting late, and they only have a few days before they fly to Texas for SXSW, where they're scheduled to play eight times. Mike Falcone, the band's messy-haired drummer, offers a temporary solution: "Let's just fit in as much weird stuff as we can."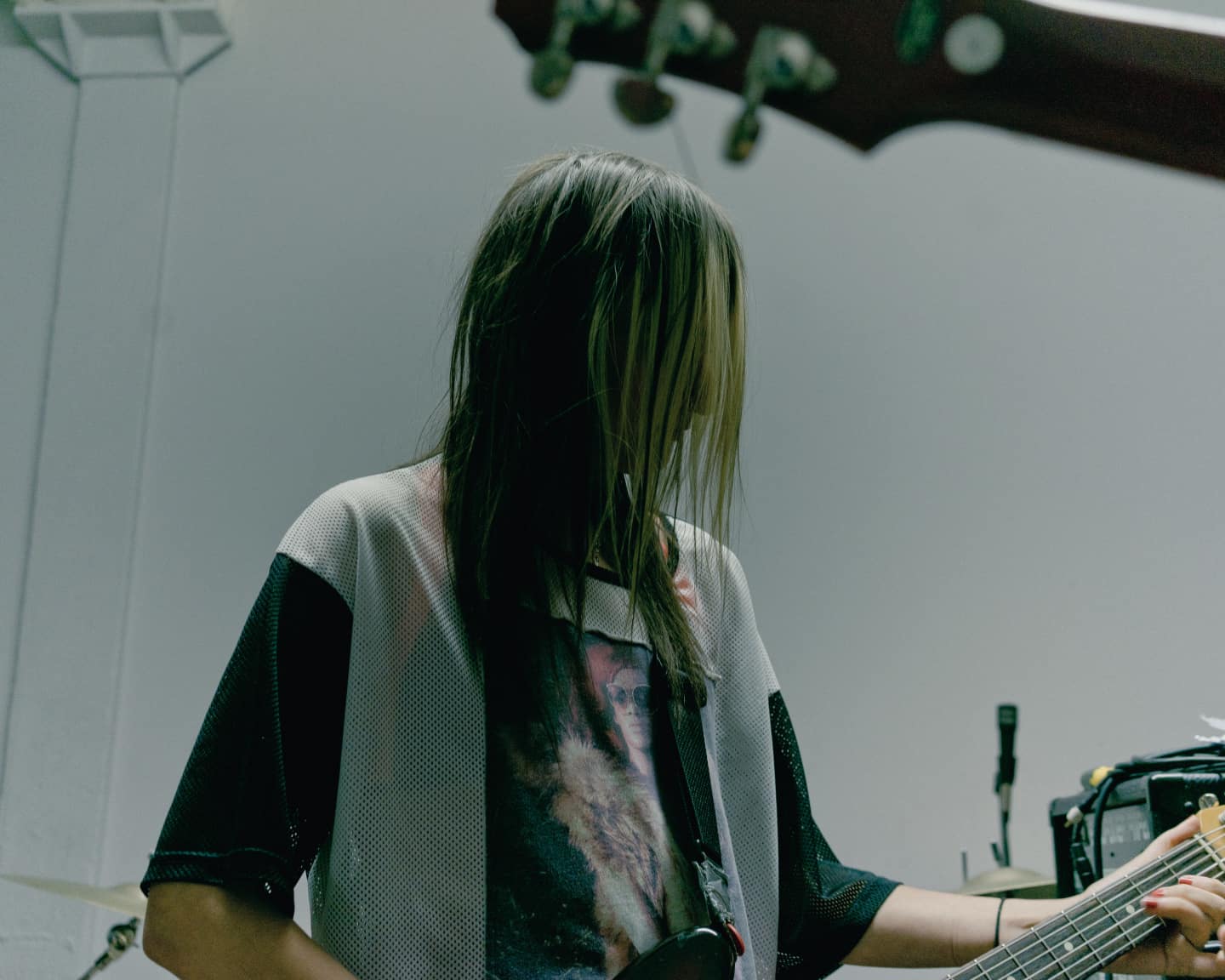 Later on, over drinks at an empty dive bar on the fringes of Allston's main drag, it becomes clear that all four of them are pleased with how Foil Deer turned out. "I'm not going to be able to articulate this process without insulting our previous records," says Dupuis, "but the songs are way more thought-out now." The entire band is crammed into a street-facing booth. Everyone's got a beer except Dupuis, who mostly quit drinking last year after getting really sick on tour. The party-themed music video for an older Speedy single, "Tiger Tank," was filmed in a run-down punk house a couple of blocks from here. "Our old songs were fine," Falcone says. His nose is pink from a late-winter cold. "But we tried something new."
Foil Deer was recorded over three weeks at Brooklyn's Rare Book Room with help from Nicolas Vernhes, who's probably best known for his work with Deerhunter. It feels wildly more labored-over than their 2013 debut, Major Arcana, which channeled Speedy's topsy-turvy energy into loud, structurally loose guitar-rock anthems that basically sounded like they were recorded live. Pretty much every review of Major Arcana was glowing, and they almost all mentioned slacker-rock staples like Liz Phair, Archers of Loaf, and Pavement. While those '90s-centric touchstones are still audible on Foil Deer, particularly in regards to Dupuis's next-level affinity for clever wordplay, the album's production cues and melodic sensibilities seem to come from less expected places; the sultry yeah yeah yeahs on "Puffer" feel rooted in mainstream R&B, for example. It's confrontational, and then it isn't.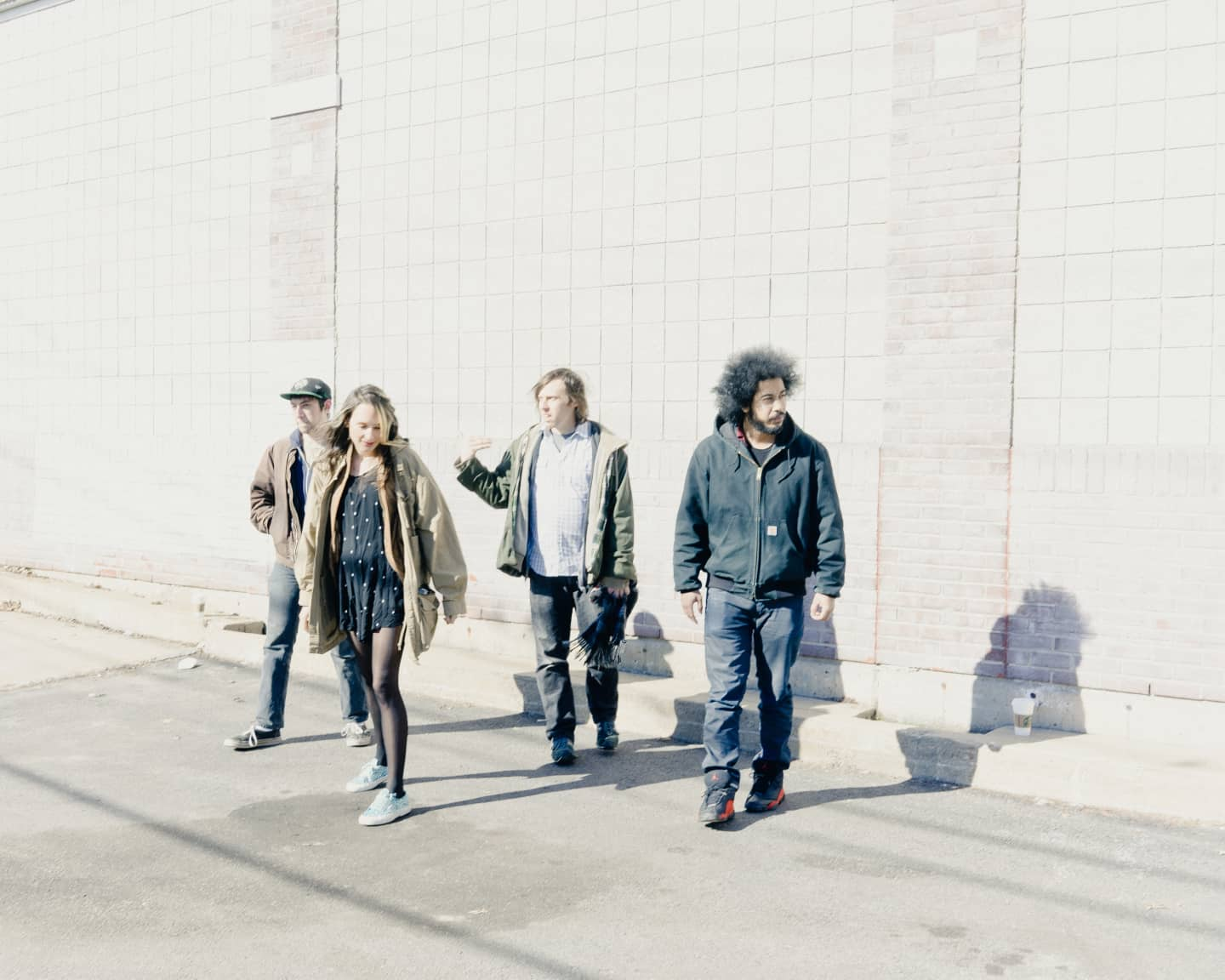 "It's cool when we get written about, but I'm always super psyched when I see that Pile gets a feature somewhere, or that Krill is on this festival lineup." —Sadie Dupuis
Speedy Ortiz songs are rarely easygoing, but its four members are exactly that. When all together, they talk about music constantly, from No Doubt's criminally underrated guitarist, to which song from Clipse's Lord Willin' they listen to most while on tour, to the time they dropped acid and watched Lauryn Hill at Bonnaroo. "I just felt really sad," Dupuis remembers. "I could tell she didn't want to be there." The morning after the bar, I ask Dupuis if she got a good night's sleep. "I stayed up late talking about Incubus on Twitter," she laughs, and doesn't seem worse for the wear.
Often, their music talk is insider gossip about the tight-knit community surrounding Exploding in Sound, a New York-via-Boston record label that released music by McKnight's old band, Grass Is Green; Falcone's old band, Ovlov; and pressed Speedy Ortiz's rough-edged debut EP, Sports, to vinyl. "That's our family," Falcone says. It's an extremely supportive crew, which is why when Dupuis needed a band to help play her songs back in the early days of the project, Falcone and Ferm volunteered straight away. While McKnight ran around the same circle, he—a Maryland-bred goofball who always looks sleepy—only started playing with Dupuis and the others last year, following the sudden departure of their original guitarist, Matt Robidoux, known for his spontaneous solos and frenetic live showmanship. When his name came up at the bar, no one had much to say. "It was a mutual uncoupling," Ferm said. Dupuis shrugged. "It just wasn't working out."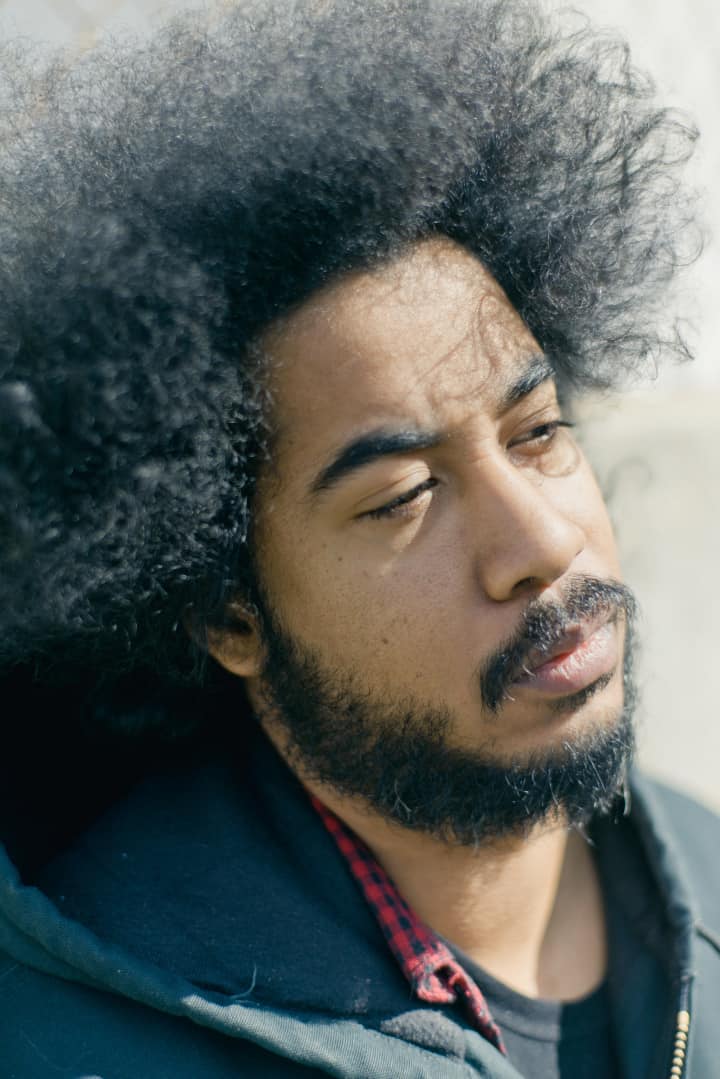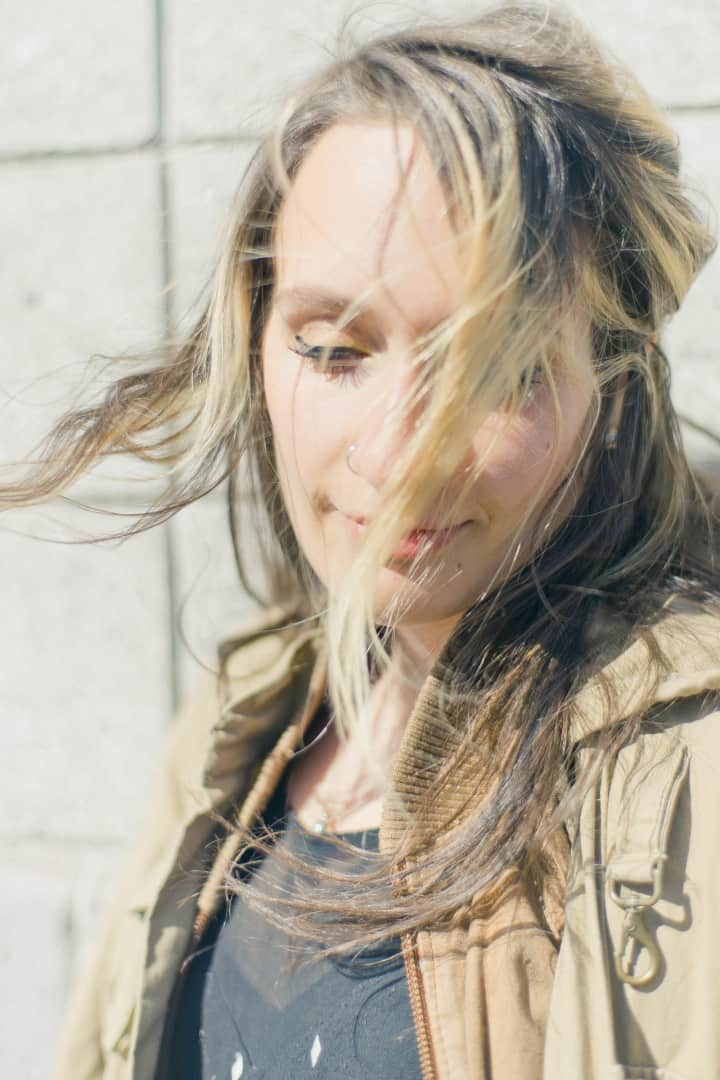 His name isn't mentioned again until later on, when Dupuis and I are chatting about Foil Deer's headstrong lead single, "Raising the Skate," with its catchy and confident chorus: I'm not bossy, I'm the boss/ Caller of the shots. Dupuis tells me it's about "taking charge of your life and casting out the bullshit," and I ask her if she's singing about anything specifically. "To me, it's super obvious," she says, and I realize she's talking about Robidoux. "When we're in a group together, it's a difficult subject to broach," she says of the falling out. "But it was really bad."

We're at her apartment now, a modern-looking two bedroom that she splits with Ellen Kempner, the dusky-voiced songwriter behind Palehound. A banner, strung up between a poster from a 2010 Pavement show and a Beetlejuice-inspired Menomena poster, says "BAD BITCHES ONLY" in soft pink block letters. "We were on tour with Stephen Malkmus' band, The Jicks, and me and Matt weren't getting along," she remembers. "There were these fights over nothing, and I'm not good at fighting. I don't like to, and it makes me shut down. To him, that meant I was being 'icy.' It got to the point where it was, like, either he's out of the band or I can't do it anymore."
At the time, Dupuis didn't really have anyone to confide in. When things got bad, she'd always call the same close friend: Dylan Baldi, frontman of Cleveland pop-punk band Cloud Nothings. "We ended up talking every day," she says. "At some point I was like, 'Oh, I actually kind of have major feelings for this person, and they talk to me everyday about their problems, too. 'The Graduates' was written about that: when you're crushing on your friend." While the song sounds like a nostalgic, pop-leaning ode to Dupuis' high school days, it's actually a vividly drawn metaphorical daydream. We were the French club dropouts, but we never got excused from class, she imagines on the opening line, a reference to her desire to drop out of the tour entirely when the situation got really rocky. The happy ending? It's six months later, and Baldi and Dupuis are dating. I ask if it's easier to write about falling in love, or falling out of it. "That's one of the luxuries of this being my day job," she says. "I try to write about everything."
Most of the songs on Foil Deer were written at Dupuis's mother's house in rural Connecticut, where she retreated last summer. While there, she ate healthy and tried to write multiple songs a day. Later, she'd send the best demos to Falcone, Ferm, and McKnight to help flesh them out where needed. "We had an extremely stressful year," she says. "The time off was really decompressing for all of us. I think I'd spent a lot of time putting up with toxicity and friendships and relationships. I basically cut everyone shitty out. There's no breakup songs on this album. Not romantic breakups, at least."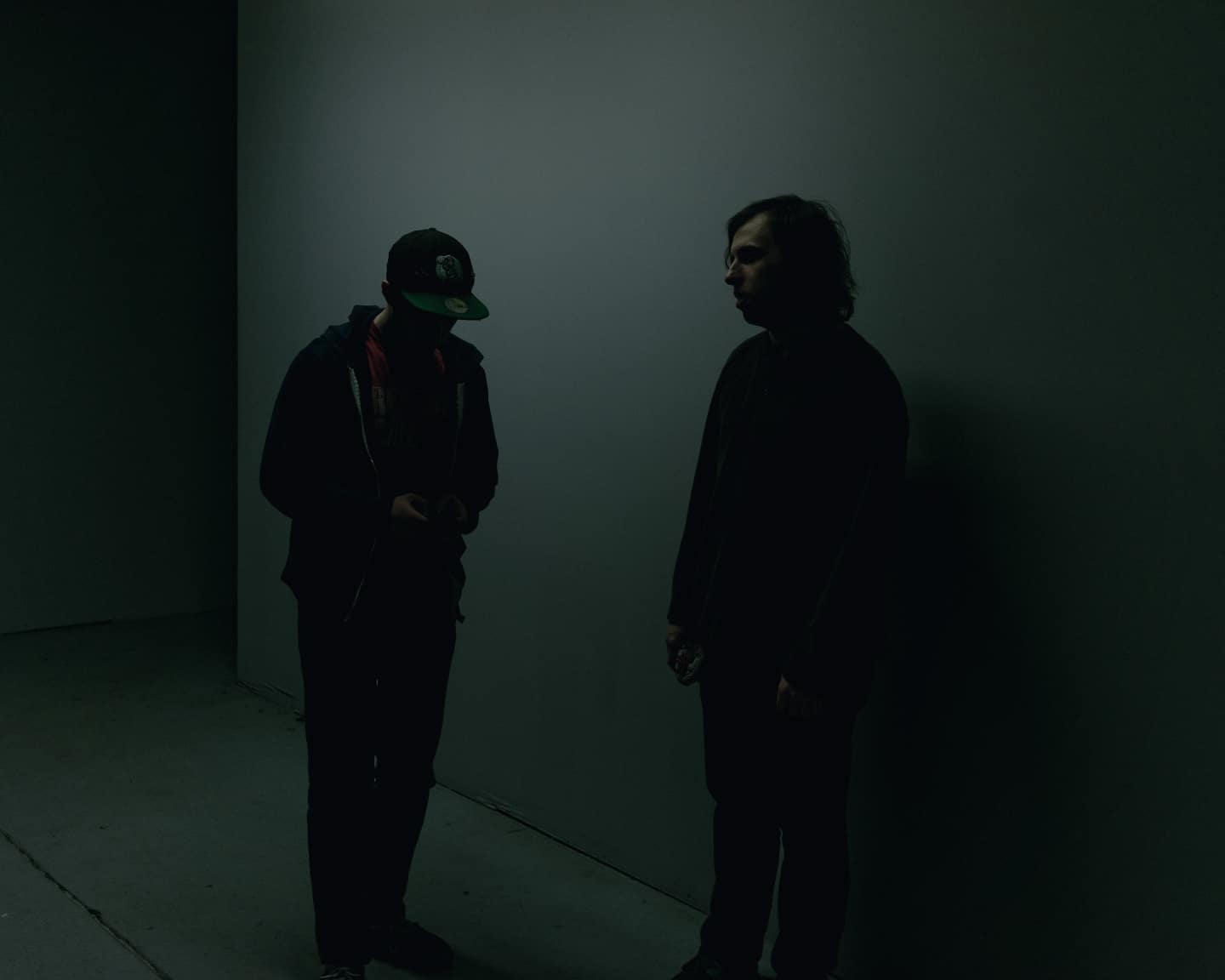 Early one morning, we go to visit Darl Ferm, a Wesleyan grad with perpetual chin scruff who works full-time at the Harvard Book Store warehouse. It's a big, dusty, oddly tranquil space filled to the brim with overstock. If he's excited when the rest of the band and I show up to visit, he doesn't show it either way. Everyone pokes around a little, and Dupuis kind of serendipitously stumbles on a hardcover book about the art of Jaime Hernandez, the illustrator behind the cult comic Love & Rockets. She flips until she finds the page she's looking for: a color spread with a drawing of a Latin man in brown trousers and a black cabana shirt. There's a girl next to him, with her hand on his chest. On the following page, a bold-faced header reads THE 'DEATH OF SPEEDY' ERA.
"There's a really tense issue that culminates in Speedy Ortiz's death," Dupuis says of her band's fictional namesake. "When I was writing the first demos for the band, I experienced a lot of loss in a very short period. My roommate had died really young of a heart attack in his sleep. My childhood best friend overdosed. All my grandparents died within, like, a month. Reading Love & Rockets, I was really interested in how these people were coping with this one minor character's death. It seemed like what I was trying to do myself at the time." There's definitely an undercurrent of loss embedded in the band's folklore: for one, the project first began after Dupuis' old band—and her romantic relationship with its drummer—simultaneously fell apart. But Dupuis' lyrics, which tend to feel empowering even at their most self-deprecating, suggest the real underlying theme of Speedy Ortiz is survival.
As of recently, Ferm is the only member of Speedy Ortiz with a day job. Not that being in a middle-tier indie band in 2015 is particularly lucrative: Dupuis LOL'd when I asked if they'd be staying in hotels on their upcoming spring tour, and I heard Falcone lamenting that he didn't have enough money for new sneakers. "It's pretty big luxury to be afforded the opportunity to make art your full-time job," Dupuis says. "But it also recontextualizes it; I feel like I'm squandering it if I'm not writing enough."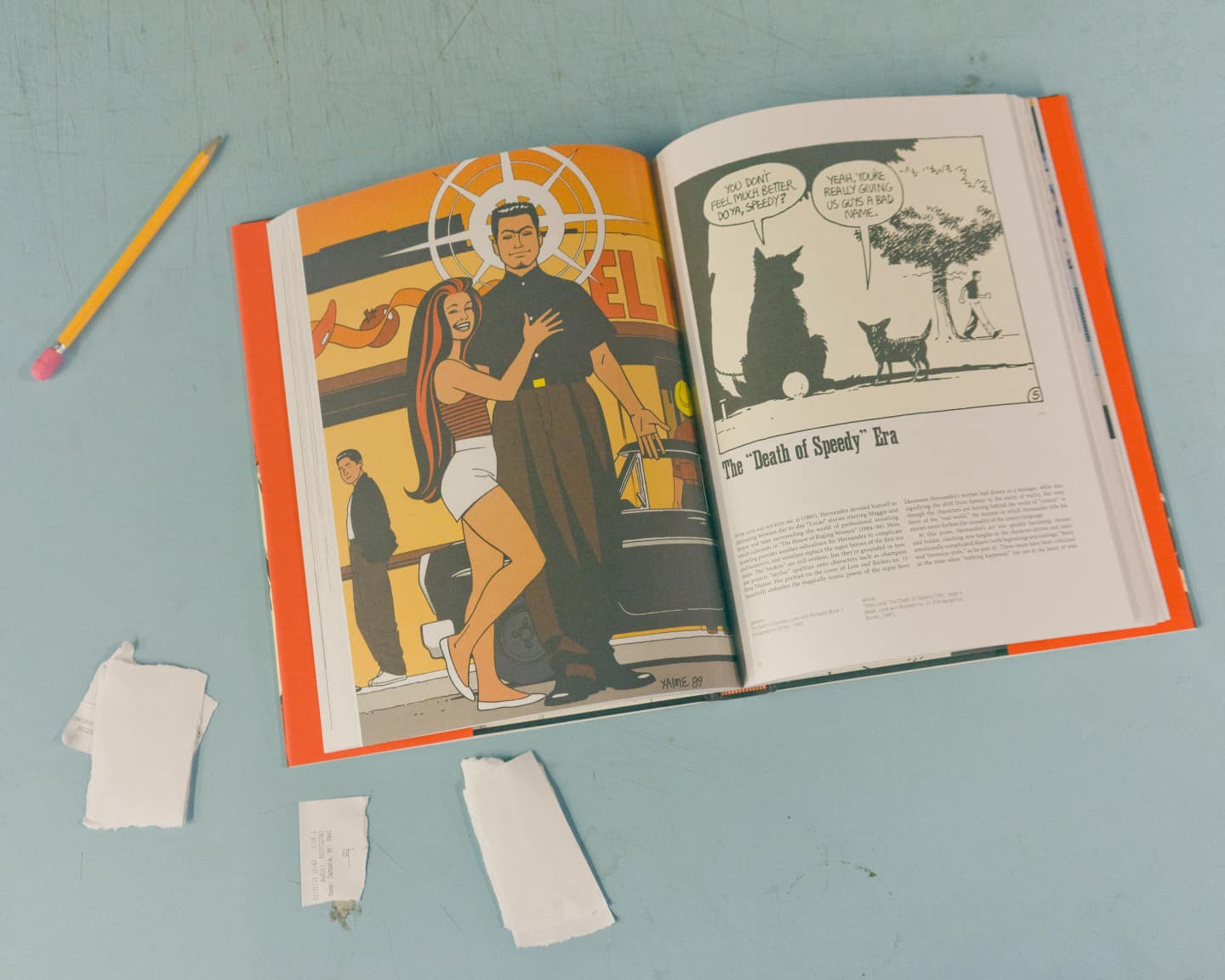 That afternoon, we grab lunch at Allston Diner, a vegan-friendly haunt with walls the color of the ocean. It's the place Dupuis brought singer-songwriter Alex G when he crashed at her house recently, and also where they filmed a scene for their as-yet-unreleased video for "The Graduates," and the friendly waitress remembers them. To an outsider, it might seem like they've already outgrown the scrappy Northeast DIY scene they came out of. For the band, though, success only counts if their friends are up there next to them. "It's cool when we get written about and stuff," Dupuis says, "but I'm always like, super psyched and texting my friends when I see that Pile gets a feature somewhere, or that Krill is on this festival lineup."
On their upcoming tour, the band is bringing along artists from their scene as supporting acts, including Palehound, Two-Inch Astronaut, and Krill. When their team was plotting their SXSW schedule, they refused to book anything that conflicted with the Exploding In Sound showcase, a sprawling day-long event that featured many of their friends' bands. "I'd feel like such an asshole if I couldn't play that show," McKnight says. "We were bulldog-ish about it," Sadie adds, picking at her lunch. "I listen to Dan Savage's podcast a lot, maybe obsessively, and he's always saying, 'Don't drag people into the closet with you.' The opposite has kind of been our goal—to drag Boston bands out of the closet with us."

Later the day, after McKnight splits for the airport to catch a flight to Maryland, the rest of the band and I walk over Store 54, a tucked-away boutique on Harvard Avenue. It's cold but sunny, and Boston's finally starting to thaw after one of more punishing winters in recent memory. Inside the store, there's a small selection of vintage clothes, some mid-century antique furniture, a decent collection of used vinyl, and an aging punk for a clerk. Like a lot of Allston, it's unflashy but cozy, hip but not too hip. Falcone meanders around. Ferm flips through a decades-old issue of LIFE magazine. Dupuis, unsurprisingly, heads straight for the local music section.