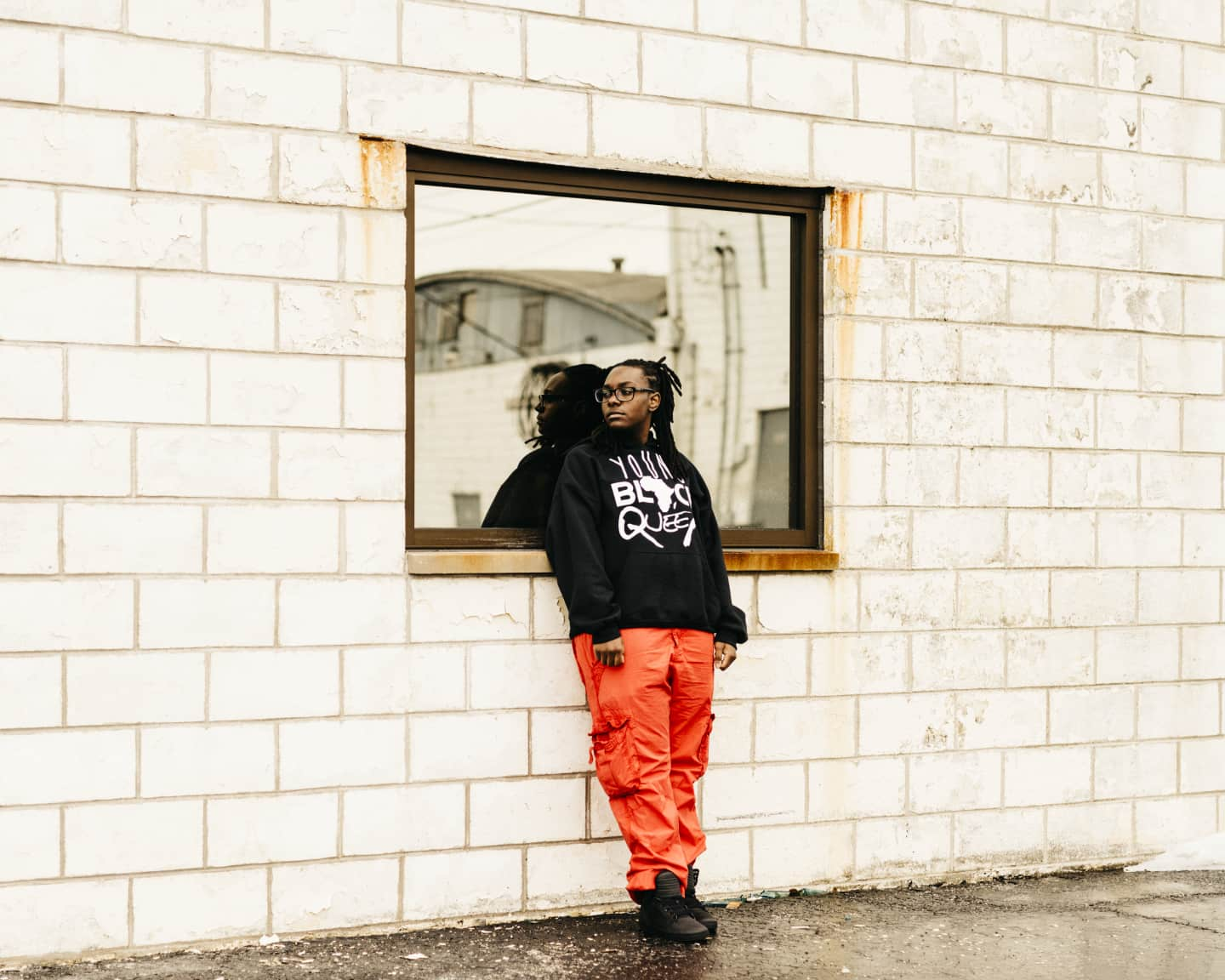 Meet Jlin, The Steel Worker Reinventing Footwork In Her Spare Time
In this week's GEN F, high frequency dance music to wake up your brain.
What sets Jlin apart from other footwork producers is her distance from its origin: she's never been a footwork dancer; in fact, she's never even attended a footwork night. It's something she sees as a positive: "I love the fact that the music and the dancing stand on their own now," she says over Skype from her hometown of Gary, Indiana, where there's few traces of Chicago house music's frenetic offspring. The closest the producer, born Jerrilynne Patton, gets to footwork's home is her day job at a nearby steel mill. Gary might only be 25 miles away from Chicago, but it afforded her the space to experiment. What she came up with was a friction-fueled, fractal-like sound that—instead of precariously pivoting on an old soul sample like many footwork tracks—looks inward for its strength.
Jlin
"Expand f. Holly Herndon"
"I tell people that my creativity lies in the belly of the beast," says Patton. "A lot of people misinterpret that and think it's a bad thing. I say it's not, because I can face myself; I use my apprehension, fear, and trauma—and put it in my music. You have to learn to redirect that energy." It's an instinct that was fostered from a shockingly young age: Patton was four years old when she first heard footwork. She was hanging out at a neighbor's house where her friend was playing a cassette she'd picked up at the mall. "I had never heard anything like it," she remembers. As a teenager, she'd download tracks off the now-defunct music sharing site Imeem and chat with producers like RP Boo and DJ Rashad online, but it wasn't until 2008 that she started making tracks of her own, when a friend sent her a copy of the popular music software program FL Studio. The real breakthrough came, however, when her mom questioned her use of samples: "She said, 'You know that's great you use other people's music and it sounds good, but what do you sound like?'" Patton hasn't used a music sample since.

In 2011, the UK label Planet Mu included two of Jlin's tracks on Bangs & Works Vol. 2, the follow up to 2010's landmark footwork compilation that helped bring visibility overseas to a music that had been quietly percolating in Chicago for more than two decades. She was the only woman on the compilation. A remix of one of those tracks, "Erotic Heat," was chosen by fashion designer Rick Owens to soundtrack his Fall 2014 runway show. "That moment of excitement died as fast as it came," she says. "I went into work mode. There's no point of Jlin if Jlin's not creating."
That epiphany was the catalyst for Dark Energy, her debut album on Planet Mu, recorded in-between arduous shifts at the mill. She set out to make a record "so intense that a person can't take it the first time, they have to go back and listen to it again," and she hit the mark. It's overwhelming, for sure, but it's also hugely invigorating, inviting the listener into an interior world that burns with the unpredictable heat of an electrical fire. Highlights include "Guantanamo" with its harrowing refrain of leave me alone—one of a handful of spoken word snippets sourced from films—and the contrarily claustrophobic "Expand," a collaboration with L.A. laptop composer Holly Herndon. According to Patton, the album's titular "darkness" is not a reference to a negative force like we are conditioned to believe. "It's all perception," she says. "If I told you every day that when you turn the lights off a monster's gonna come out, you're gonna be afraid of the dark. But if I told you when you go in the dark you'll find yourself, you're not gonna be afraid."

From The Collection:
GEN F