"You've reached the Empire Hotel," says the voice on the other end of the call. Given I'm calling to speak to one of the stars of Fox's wildly successful musical soap Empire, I think he must be pulling my leg. A few seconds later, I'm talking to Jussie Smollett, the 31-year-old Californian actor who plays break-out R&B superstar Jamal Lyon on Empire, and I'm like—seriously? Smollett laughs. He's not sure who in his team had the idea for him to stay at this particular hotel, but he insists it wasn't him. "Isn't that just gross?" he says. "Isn't that disgusting? Every time I walk in or out of here and people look at me, I feel like such a loser."
Empire, which has stage-kicked its way into the American consciousness this year, is the story of a fictionalized, megalomaniac version of Jay Z named Luscious Lyon (Terrence Howard), his fearsome ex-wife Cookie Lyon (Taraji P. Henson), and their three sons: Andre, Hakeem, and Smollett's character, Jamal. Between musical interludes produced by Timbaland and Jim Beans and an endless stream of fight scenes, sex scenes, and breaking-down-in-the-shower scenes, the basic plot is that the three sons and Cookie are each competing to inherit Lyon's empire—the aptly named Empire Records.
"How could you have a show that takes place currently and not acknowledge the things that are going on in the world? It would be fake."—Jussie Smollett
The fun thing about talking to Smollett about Empire is that it's like talking to pretty much any other mega fan about Empire. When enthusing to him about how awesome it is that each episode contains more drama than entire seasons of other shows, he excitedly jumps in: "Literally! You're like, how did that motherfucker get shot in his eye in the first episode?! Who saw that coming?" He talks about the whole phenomenon as if he's as much an observer as a participant, and as we get into the bigger picture, it's clear that that's how he sees it.
Perhaps that's because more than anyone else in the show, Smollett embodies his character in real life to an uncanny extent. Like Jamal Lyon, he grew up in a family of performers, surrounded by show business. With the support of his mom, who he compares to his on-screen momma, Cookie, he began acting in commercials at age five. By the time he was nine, he was starring in cult '90s movie The Mighty Ducks; not long afterwards, his sister Jurnee was guest-starring on ABC's family sitcom Full House when producers noticed Smollett and his four other cute siblings hanging around on set and invited the whole bunch to audition for a vehicle of their own. "We had a meeting with ABC," Smollett remembers, "and my mom had us perform 'Shut 'Em Down' by Public Enemy. Don't ask me why, these five little children went in this ABC office with all of these old white executives, and we did it. I was 11, and I was there like —" he raps with vigor into the phone—"I like Nike, but wait a minute, the neighborhood supports so put some money in it." The siblings got their sitcom, On Our Own, which ran for a year in 1994.
But for Smollett, as for Jamal Lyon, songwriting was always primary. As a young adult, he turned his back on acting in favor of regular jobs—bartending, training, waiting, retail—to support himself while he wrote and performed pop songs in the vein of his hero Michael Jackson. At one point, he was even took a clown job: "I can do balloons really well," he brags. Most recently, inspired by his mom who he calls an "activist," he worked at a non-profit, raising funds for children affected by HIV/AIDS in both the US and South Africa. Smollett says that there were times during his 20s that he was "dead-ass broke," conjuring to mind the image of his on-screen counterpoint Jamal kicking over a trash can while singing about his financial woes. After he left his 9-5 to focus on creative pursuits, he took bit parts in shows like The Mindy Project and Revenge, before hearing about the part of a young guy in an upcoming Fox show on the music industry—he instantly knew it had to be his. So much so, he slid into the DMs of the show's creator Lee Daniels on Instagram. Seven auditions later, the part was his.
Smollett is, he says, "in many ways going through the journey with Jamal at the same time." While Empire is his priority, with shooting for the second season beginning in June, he now also has a record deal of his own with Columbia—and a debut album on the way. Talking about contemporary influences, he name-checks Bruno Mars, Kendrick Lamar, Tink, Sam Smith, and even Taylor Swift as artists that he loves for their "candid, honest lyrics." But clues of what to expect from his own output can be found in the show itself; "I Wanna Love You" and "All Of The Above," which feature on Empire and its soundtrack, were songs of Smollett's own, dating from before he was cast. He also has a co-writing credit on the show's break-out—and coming out—theme, "You're So Beautiful," during a performance of which his character Jamal told the world he was gay.
Not long after that episode aired, Smollett appeared on Ellen to do some clarifying of his own. "There is no closet," he told her. "There's never been a closet that I've been in." It's not that he felt like he had a duty to do that, he tells me down the phone, but it was important to him that no one think he was being untruthful. "I believe you have a responsibility to not lie," he says, "but I don't think that it is everybody's responsibility to be open about anything. That's not what their job is. If I choose to take that on, cool. If you choose not to take it on, cool. There's no judgement."
On the promo tour the cast embarked on after the season ended, Smollett saw the impact of his truthfulness firsthand in the letters and messages he received from fans. "There was this one girl who came up to me and showed me her arms, she had cuts, and she said 'I was gonna commit suicide, and I saw you on Ellen, and I decided not to,'" he says. "And she was crying. And of course, I'm a Cancer, so I cried like a sucker. It's amazing to make an impact on people's lives simply by being who you are. That's the dopest part."
Jamal's presence on network television is something Smollett hopes will change representation of sexuality in our mainstream in the long run. The homophobia the character faces in the show—from his family, other artists, and generally the world at large—is ferocious and unrelenting, but Smollett believes it's necessary to show. "It's a realistic reflection of the world today," he says. "But I also feel like it's changing. I feel like it's definitely changing, but there is a long way to go. I guess that's why there are characters like Jamal being put on television—to start that conversation, so that a character like Jamal wouldn't be so extraordinary any more [in the future], maybe he's just ordinary."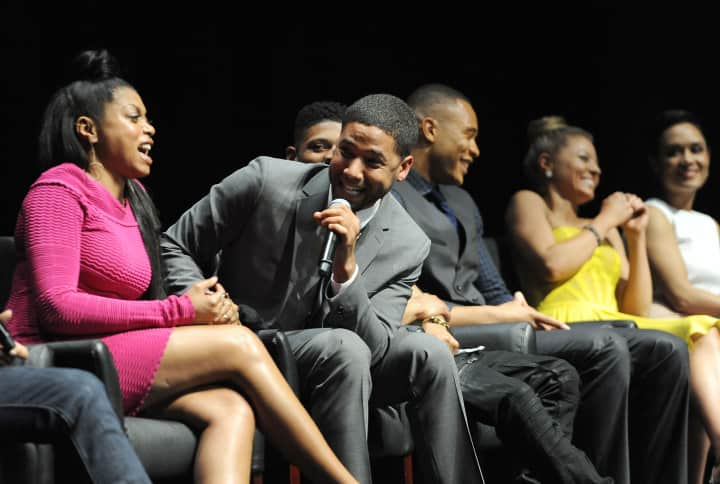 Homophobia in the music industry isn't the only issue that Empire has been unafraid to bring into the realm of primetime TV; there was also a significant shout-out to the #BlackLivesMatter movement in its final episode. The show's political truthfulness is important to Smollett. "How could you have a show that takes place currently, that draws on pop culture, and not acknowledge the things that are going on in the world?" he asks. "It would be fake. It would be as if the Lyon family lived in some sort of alternate universe where everything is exactly the same, except there aren't those issues."
For Smollett, who describes himself, like his mom, as an "activist," it goes way beyond the show. He's on the boards of Artists For A New South Africa and the Black AIDS Institute, and when touching on the issue of #BlackLivesMatter he is very vocal. "In this country, there is a systematic breakdown that somebody has to do something to fix," he says. "We're marching. We're yelling loud. We've got to continue. It can't be a social media fad, where you see everybody else's posts, so you repost. That's real cute, and I have nothing against that—but actually read about what we're talking about. Don't just repost because it's cute. Repost it, and really take time to find out what you can do. Empire is not the only thing that is here in the world."
"In this country, there is a systematic breakdown that somebody has to do something to fix. It can't be a social media fad. Read about what we're talking about. Take time to find out what you can do." —Jussie Smollett
During a recent signing with the Empire cast in St Louis, Smollett decided to make the trip across to Ferguson to see for himself the site of Michael Brown's murder, and the protests that followed it. "I saw a street where a young man was murdered and left to rot," he says soberly. "And I saw that almost a year later, the teddy bears and the flowers and all of those things are still there. They're still coming. But I also saw a community that needs to be uplifted...they saw somebody lying there, dead, for hours. Like his life mattered not at all. What does that say to an entire community of people? What does that say?"
While there, at the very spot where Brown died, Smollett was approached by eight "crazy, rowdy" boys aged between 12 and 15. They recognized him as Jamal, and ran over excitedly to chat about Empire. "I said, 'y'all, listen to me,'" Smollett remembers. "And the thing is, they listened. When I was telling them about education, somehow they were listening. And—if they're listening, shouldn't I be saying something that they should be hearing?" It's an attitude that defines his whole approach to this celebrity thing. "I would feel stupid, if I had a million followers, to say silly stuff all the time and never ever acknowledge the fucked up things that are happening in our world right now," says Smollett. "I would feel like a fool. So that's why I speak up, and I talk loud."
Smollett has lived a few lives already—Public Enemy-rapping child actor, independent artist, network TV star—and maybe that's why even now, as he's at the eye of a ratings storm, he's able to speak with a chill detachment about the whole thing. Empire is his break, and he knows it; but it's also not the most important thing in the world, and he knows that too. "At the end of the day," he says, "the only thing that's real is creativity and art and people. That's what's real. All of this is dope, don't get me wrong; but I know this is not necessarily all real."