On Tuesday night, Ciara attended a state dinner held in honor of the Japanese Prime Minister Shinzo Abe and his wife, Akie Abe. Take that in because that happened. Akie Abe wore a voluminous but modest black satin evening gown, and Michelle Obama rocked a comparatively daring floral-appliqued violet dress.
None of which mattered, because Ciara wore this.
She showed up with Russell Wilson, a quarterback for the Seattle Seahawks. Instead of asking relevant questions, like, "Do you think Akie Abe asked Ciara for suggestions on a good bronzing moisturizer?" or "Do you think Michelle Obama is stoked about the release of Jackie?" the internet instead chose to freak out about the nature of her and Wilson's relationship. Ciara and Wilson posed like prom king and queen and generally looked pretty chummy. You can even spy them holding hands in one photo, if you look close enough (not telling which!)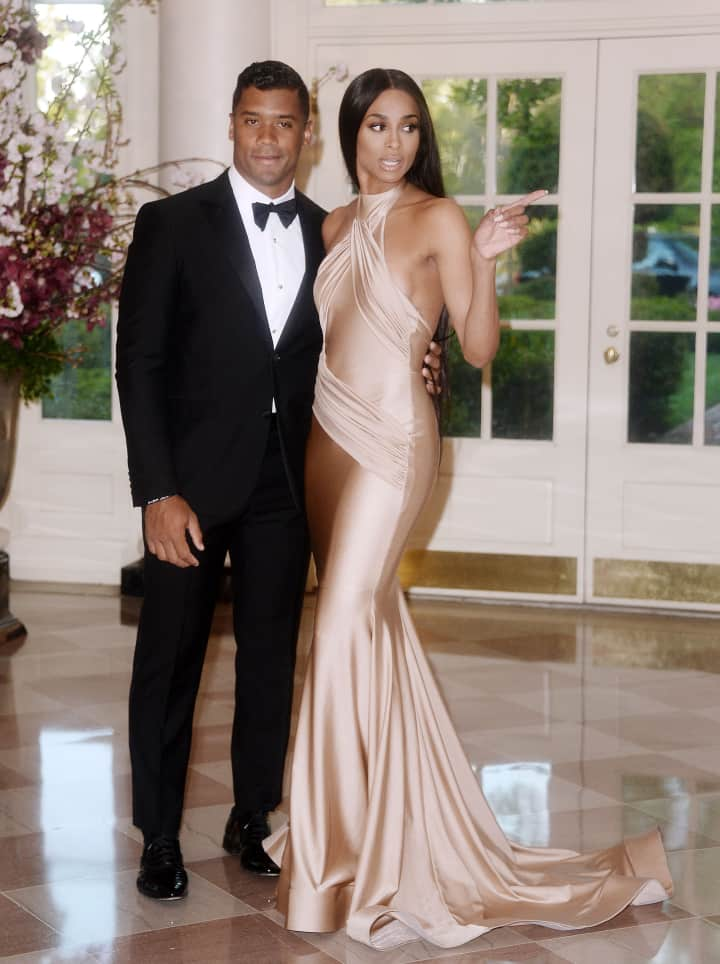 Based off this small handful of posed formal photographs, the internet almost immediately and collectively agreed that Ciara and Wilson are in fact most definitely dating. "WAIT OMG I remember seeing him at the wrap party for her NBC reality series I Can Do That!" InTouch screamed. This is when Ciara stans (or Future haters) decided to escalate things to the next level by flooding Future's Instagram comments with football emojis. Just to recap: Russell Wilson is a football player, the quarterback for the Seattle Seahawks.
Somewhere along the way, the highly unfortunate portmanteau #Ciarell was also created. The influx of football emojis was apparently so intense that Future actually felt compelled to comment, saying everything and nothing.
Lead Image: Olivier Douliery / Getty Images