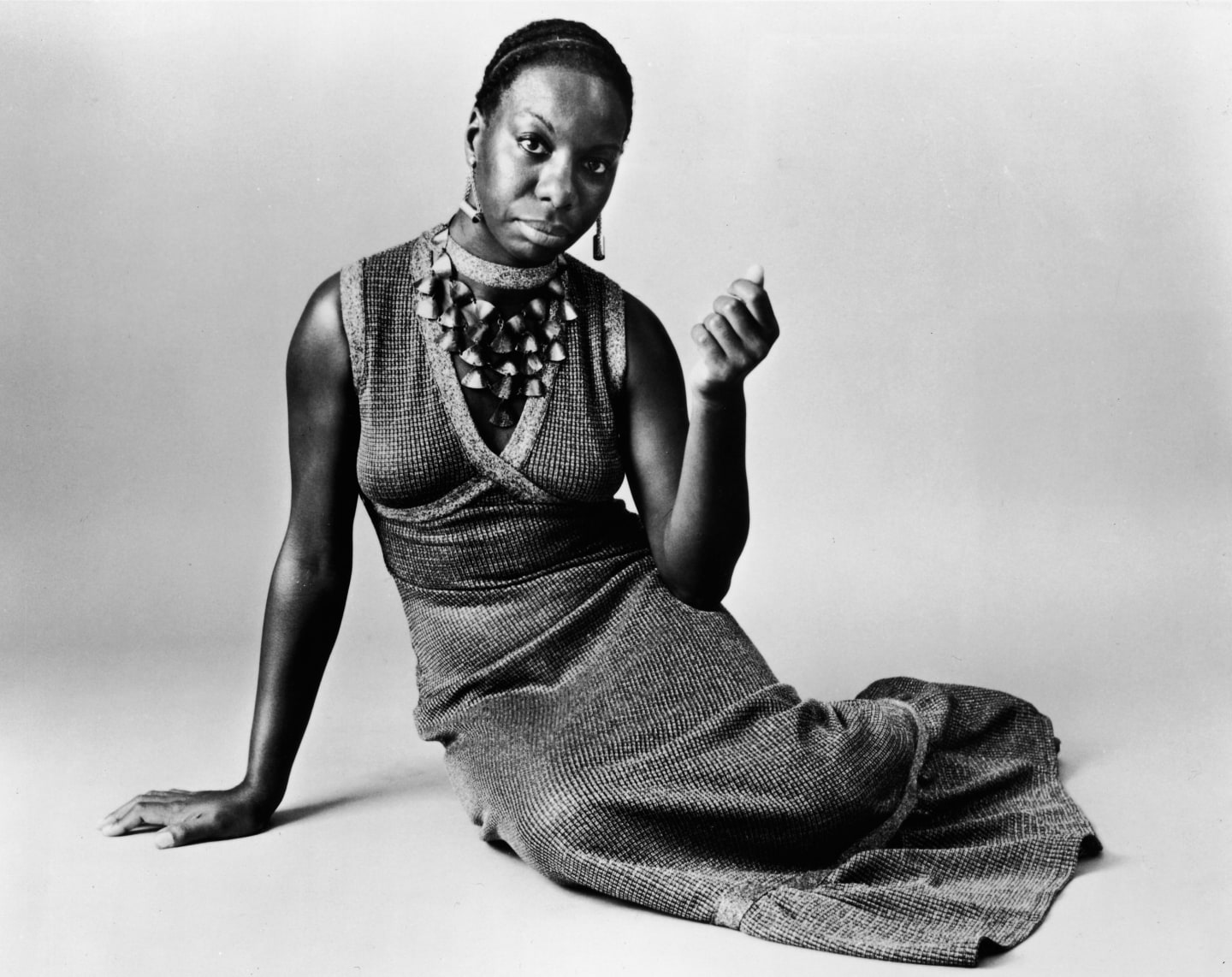 I spent most of Monday listening to "I Want (Skr Skr)," a silly, addictive rap song about all the things a young Atlanta artist named MADEINTYO wants: I want a ratchet li'l baby, I want my frames from the '80s, I wanna rock the Rick Owens, I want them racks to be blowin. Like much of the polarizing contemporary rap from his city, it's deftly singular, hypnotizingly repetitive, and casually vulgar, perfect for mindless nods behind a desk or brain-melting minutes spent waiting for the train.
But it was an odd way to walk into the premiere of the upcoming Netflix documentary What Happened, Miss Simone?, a red carpet event held at Harlem's historic Apollo Theater and attended by film society members, music royalty, and folks rocking some of the strongest church style I'd ever seen. It was a serious evening: a celebration of iconic, affecting jazz and a revolutionary era, held in one of the first theaters where the enigmatic singer ever performed. Director Liz Garbus read a quote from Simone, where the singer declared her first battle with the notoriously harsh Apollo crowd "a draw"—adding, before hitting play: "With all of you here tonight, I'd be happy for the draw."
Debuting on Netflix on June 26th, What Happened, Miss Simone? examines Simone's legacy as a free spirit in a rigid time. Drawing largely from archived interviews and footage, it chronicles her transition from classical pianist-in-training to seedy Philadelphia bar singer, and the decades of success and turmoil that would define her career thereafter. There arises a central tension in her narrative, one as relevant to the entertainment industry now as it was in Simone's time: the more vocally involved she became in the civil rights movement, particularly more militant sects, the more difficult it became for her to get booked and maintain her career.
"I am not non-violent," Simone once scribbled into a journal entry. Her ties to revolutionaries like Stokely Charmichael left her all but blackballed from the unchecked success that peers like Aretha Franklin and Gladys Knight enjoyed across their careers. During an interview from the late '80s, well after her commercial peak, someone asks her how far we have come, in terms of the civil rights movement. "There aren't any civil rights," she replies. "There is no reason to sing those songs. Nothing is happening, there's no civil rights movement. Everyone is gone."

My mind returned to the song I'd walked into the theater blasting. Should I have felt guilty for deeply enjoying agitating, explicit music that seemed directly at odds with the politically charged, uplifting songs Simone sacrificed her peace of mind to make? Rap is often categorized as the "bastard child" of both jazz and the civil rights movement: an offspring that couldn't have existed without its parents, but claims no significant ties to them, either. I was sure that many in the audience that evening, freshly inspired by Simone's fight songs, would wag a finger at what was on repeat in my headphones. But, I wondered, would Nina? Throughout the documentary, she's portrayed as fearless, tireless, sexual, and even violent; her ability to express those difficult but universal emotions in her music—much like rap does today—made her singular in a conservative era of mass uniformity. Her daughter described her husband/manager Andrew Stroud as the original "Puff Daddy" for his aggressive, disruptive navigation of the record industry, employing his own team of photographers and agents specifically for his client. Upon the song's 1964 release, radio stations sent "Mississippi, Goddam" back to Simone's label, not because its indictment of Jim Crow went against the racist status quo of its time, but for the profanity in its title.
It was disorienting yet fitting, then, when Lauryn Hill started rapping during her surprise performance post-screening. Up until then, Hill had been breathtaking: dressed in flowing white and backed by a live band, she raced through standards like "Ne Me Quitte Pas" and "Black Is The Color (Of My True Love's Hair)" with the same fearlessness we'd watched Simone muster in countless performances for the previous two hours. Hill sang through a raw, hoarse voice with knuckled abandon, shouted cues to the sound and lighting engineers between lyrics, and stopped and re-started one number four times. Before she did a new rendition of Simone's "Ain't Got No... I've Got Life," she gave a disclaimer—"We're gonna try to rap on this"—and launched into dense, intricate verses that, while among the best I'd heard from her in years, shook the audience out of the spell.
Simone's original song lists all the things she doesn't have and all the things she does through chanted, looping refrain. On this night, Hill's added rhymes were packed too tight and spit too fast, steeped in the early '90s East Coast lyricism in which the rapper came of age. But the performance broke back open when Hill hit Simone's hook, stepping out from behind the monitors and rocking to the crowd: I've got my hair on my head, my brains, my ears… my neck, my boobies… I've got life. These were self-obsessed mantras: words best served sparsely and repeatedly, a rallying cry. People got on their feet. Hands got thrown in the air. It felt like a rap show, and that felt right.
Of-the-moment relevance is the life-draining unit of celebrity measurement Simone tried to escape her entire career. But if What Happened, Miss Simone? triumphs in any one way, it's chronicling a woman who was ahead of her time, when times may have finally caught up to her. As America's racial fissures continue to send bodies to the floor and kids to the streets today, the music of the youth may be narrating a similar battle: one of individual expression and social ascension by any means necessary, with no regard for the odds stacked against you. Eunice Waymon practiced classic piano eight hours a day. Future toured for 56 nights. If not in purpose, then in sentiment, they might see things similarly: I want it, so I'ma go get it.