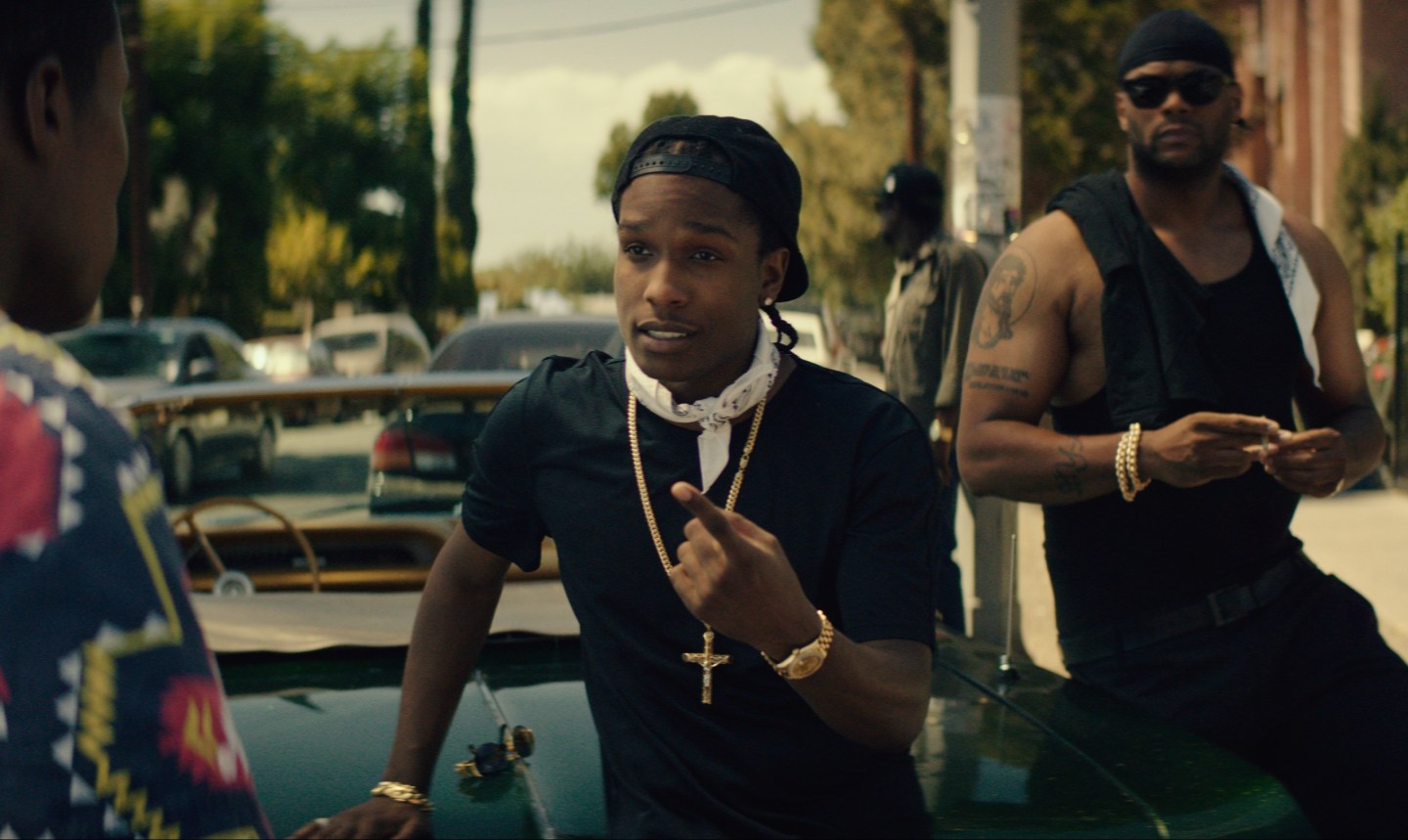 When I was young, my older brother passed along a casual piece of advice I haven't forgotten: "No matter what," he warned, "never go see a movie with more than two rappers in it." Dope, the Sundance breakout that's hitting major theaters this summer, has five rappers in it—A$AP Rocky, Tyga, Vince Staples, Kap G, and Casey Veggies—and one supermodel. But if you ask Jemal McNeil, the acting coach who guided much of the cast through weeks of 100-degree shoots for the film, he'll tell you that putting a bunch of untested rappers together in front of a camera doesn't have to be a recipe for a flop.
"I remember one of the first conversations me and Rocky had," McNeil recalls from his home in Los Angeles. "I told him, 'If this was during my generation, do you know how many cops would be up here? And how much weed you'd be smelling? And somebody would be fighting. These people were thrust into global stardom, but they weren't ready for it,'" he says of rap's first wave of silver screen stars—think Tupac in Juice and DMX in Belly. "All of a sudden, a rapper could go to Rodeo Drive, but it was more about proving something. Now, these kids are creating their own Rodeo Drive."
In a way, Dope registers a similar cultural shift: the rise of a new generation of inner-city youth with a DIY ethos and their own markers of success. The film's protagonist—Malcolm, played by Shameik Moore—isn't a rapper, but a tech-savvy high school senior who plays in a hybrid rap/rock band. He's terrorized by the local goons in his native Compton before he befriends Dom, a slick-mouthed drug dealer played convincingly by Rocky. Throughout the film, Malcolm is torn between completing his Harvard application and selling off a bunch of drugs to get a rival dealer off Dom's back. It's a coming-of-age story about a young person's misadventures trying to find himself in Los Angeles—Boyz n The Hood for the Spring Breakers generation, with an individualist agenda that director Rick Famuyiwa hopes will resonate with the IRL kids he's channeling on screen.
"The writer's purpose [with Dope] is a statement on society and showing who a black man is: a person, a man, with questions about life, with goals. Because rappers are writers and poets, they understood that." —Jemal McNeil
McNeil has over 15 years of experience as an actor and coach, and his credits include mentoring actors in Baby Boy, Empire, and Fruitvale, in which he also played a small role. He coached Octavia Spencer for her role in the 2011 period drama The Help that gained the actress her first Academy Award, which bolstered McNeil's profile in Hollywood circles. He says it's atypical for coaches to moonlight as actors themselves, but that doing so might have influenced his style, which relies heavily on method acting and sociological analysis of his subjects. None of the rappers in Dope had acted before, but with his own upbringing scattered across the hoods of New York City, McNeil felt equipped to pull the best out of them—if he could get them to start with the message of Famuyiwa's script, that is.
"The first thing you want to do is understand your writer," he offers as first-day advice. "I told them this piece is about really elevating the black man past 'We're just good for fucking and smoking weed' and all the other stereotypes. It's showing that you can be a nerd in the hood. The writer's purpose is a statement on society and showing who a black man is: a person, a man, with questions about life, with goals. Because rappers are writers and poets, they understood that."
Still, when it came time to perform the lines, McNeil had to steer them away from the beginner's impulse to memorize and recite. "When they couldn't get the lines, I explained to them what the writer's intent was," he says. "They were caught up in memorizing, and I told them, 'No, you're telling a story.' On the first day of shooting, there was a lot of nerves, so I was going back and forth improvising with them. They started relaxing, started making jokes, and they got into the scene."
For particularly demanding Dope scenes, including one where Lily, played by model Chanel Iman, does a bunch of molly, McNeil demanded his students live in their roles. "I always ask every actor, no matter how experienced, 'Do you think you could do this?'" he says. "'Could you be this girl on molly and disrespect yourself this way as a woman?' Chanel was like, 'No, I wasn't raised that way.' I asked her, 'What would it take?' She's a model, so I was like, 'Now, I'm sure you've saw some shit.' She started talking about that, and then she Googled some things of people on molly and what the effects were. My job was to create that effect. She was like, 'I've never had that—I don't do drugs.' I was like, 'Okay, but have you ever been passionately in love?' She was like, 'Yeah.' I said, 'That's the space where you're out of control.'"

Dope may initially draw attention for its star-studded cast, but there's a scrappy soul to the film that keeps it grounded: you still get the vibe that you're watching young kids figuring it out, both on-screen and off. Atlanta rapper Kap G's scene, where he plays a grimacing counterfeiter/hacker and delivers a long soliloquy, was one of the first they shot. Kap's monologue in the film is about identity and how we communicate it: while presenting two identical designer bags, he challenges Malcolm to determine which is real and which is counterfeit. "The only difference between these two bags," he delivers brilliantly, "is who you see carrying them."
The very quality that makes Kap G's music so unique—a Mexican cultural slant funneled through Atlanta trap—made his readings as a vato from L.A. a bit tough to swallow at the beginning. "If you close your eyes, you think you're listening to T.I., but this is a Latin guy—I wanted to make sure that wasn't BS, that Atlanta thing," McNeil says with a laugh. "So I was improvising to piss him off—either he'll go real hard and ghetto Atlanta, or some other thing is going to come out, and he'll start speaking Spanish."
McNeil remembers the moment when their first lesson together came to a valuable head: "When I got him really pissed off, he said, 'What the fuck you talkin' about?' and I was like 'Oh, okay, who's this guy? I wanna know who that motherfucker is.' He laughed and said, 'I was mad. If I could say this, I wanted to punch you in the face.' I said, 'Okay, good. Don't, but…' and he started laughing."
"That was his breakthrough," McNeil recalls. "When he realized he could just be himself."
Dope is in theaters June 19th.