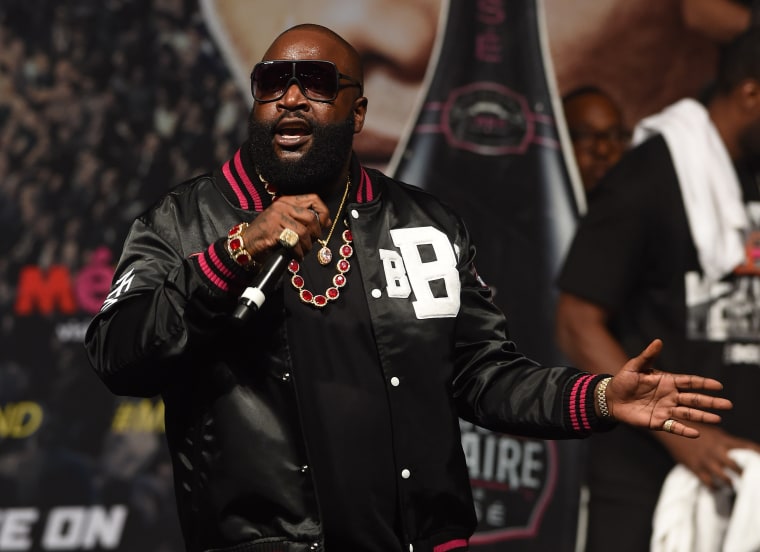 Update, 7/1/15, 11:33 PM: Rick Ross has been released from jail on a $2 million bond, as TMZ reports. How did Rick Ross get $2 million in a flash? He allegedly scored one million dollars in equity from a Georgia property formerly owned by boxer Evander Holyfield​, $500,000 from a bail bondsman and another $500,000 in cash.
Update, 6/24/2015, 1:25 PM: According to Billboard, Ross was denied bail after being taken into custody this morning by the police. The warrant for the rapper's arrest provides more details about his charges: "Subject did assault the victim, Jonathan Zamudio, (twice), with a handgun, specifically a Glock 17, 9mm, black in color, and in doing so caused two chipped teeth, jaw injury, neck injury, and multiple scratches and contusions. The victim lost the use of his jaw and is restricted to soft foods and liquid diet only as result of not being able to chew food." In addition, the warrant suggests Zamudio was "force[d], against his will... into the residence (guest house)... where he was taken down a hallway, into a bedroom, and forced to remain."
TMZ reports that the US Marshall Service arrested Rick Ross this morning in Georgia and charged the rapper with kidnapping, aggravated assault, and aggravated battery. Ross is suspected of attacking a man who was working on his house in some capacity, whipping him with a pistol, and using force to prevent the man from leaving. The rapper was taken into custody along with his bodyguard.
This is the MC's second recent run-in with the law—earlier this month, police arrested him for marijuana possession.