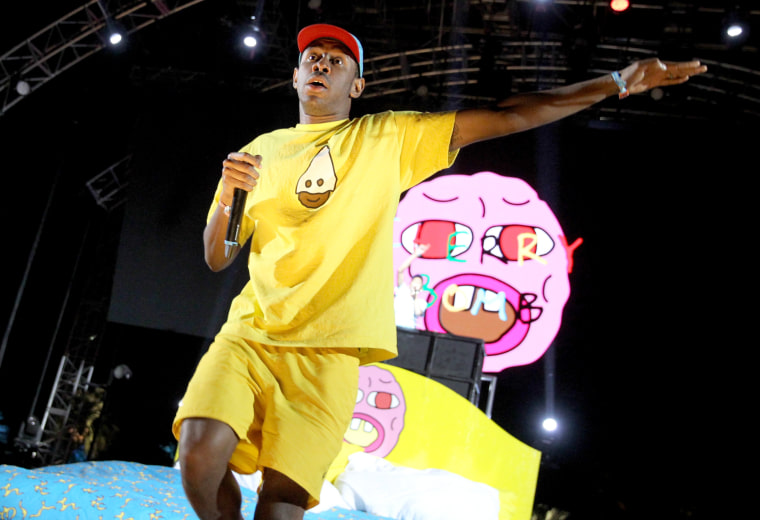 Tyler, the Creator has a contentious history with Australia that stretches back at least to 2013. At the time, a group called Collective Shout called for the rapper's visa to be taken away and his shows to be cancelled on the grounds that his lyrics incite hatred against women. Tyler's never one to back down from a confrontation, and he went after a member of Collective Shout at an Australian show, calling her a "fucking bitch" and a "fucking whore." She wrote a piece about it in The Guardian.
Earlier this year, Collective Shout organized another campaign to prevent Tyler from entering the country. They addressed a letter to the Minister for Immigration and Border Protection suggesting that the rapper is "a danger to a segment of the Australian community."
According to Tyler's Twitter, Collective Shout may have succeeded in their mission. He wrote "T is now banned from Australia, you won." Later he added, "Melbourne was my favorite place."
Tyler's former comrade in Odd Future, Earl Sweatshirt, got into an altercation with an Australian fan last night. Revisit Tyler's FADER cover story.
Update, 7/28/2015, 1:00 PM: The Australian Department of Immigration said they haven't decided whether or not to issue Tyler a visa.
According to Pigeons & Planes, the Australian government addressed the incident in a statement. "The department can confirm that [Tyler] has a current visa application with the department, and that no decision has yet been made." Frontier Touring, the company in charge of Tyler's tours, clarified the situation in a conversation with the Australian radio station Triple J. "The visa application...has not been refused and Frontier will update ticket holders as soon as more information comes to hand."