This weekend, Afropunk Fest will take over Commodore Barry Park in Brooklyn, marking the festival's 11th anniversary. Later this year, it'll touch down in Atlanta and Paris, with artists like D'Angelo and The Vanguard and Willow and Jaden Smith on the bill. But before it morphed into a massive global brand and festival series, it was a DIY community that rallied around James Spooner's Afro-punk, a documentary through which Spooner examined what it felt like to be the only black kid at a punk show. It was a strong scene, made up of people from around the world who identified with Spooner and the characters whose lives he traced in the film. In the decade-plus since, the internet has exploded much of the social context that made Afro-punk resonate so urgently in 2003, but its impact is still felt. We asked Spooner, now a vegan tattoo artist in Los Angeles, to tell us about the early days of Afropunk.
JAMES SPOONER: It was a time before there were any bands that had black people at the forefront that were relevant to the youth. People were still talking about Living Colour and bands that were 20 years dead. There were groups like Dead Prez that existed but the focus was on the bling era. I wasn't seeing myself represented at all in the subcultures I was attracted to and I really wanted to ask some question about why that was. By the time the film came out in 2003, [there] wasn't really a lot of room for black kids who wanted to do anything outside of pop bottles. Coupled with 2003-era digital media—Youtube and MySpace didn't exist yet—that meant there wasn't a lot of access to other things. I remember Googling "black punk" and there was one thing that came up, and it was an essay on prison rape. That was it. There were zero conversations happening around black punk rockers or black alternative anything.
I didn't really have any expectations that [Afro-punk] would go beyond a couple of screenings. The second film festival was the American Black Film Festival in Miami. I found myself for the first time thrust into this world of mainstream black people. I had no expectation that they would have any interest in my film but all three screenings sold out. All of these people came over afterwards and said that it was their story too, even though they didn't know anything about punk rock. It was, "I'm the only black guy on my floor at the job" or "I was the only black person in my fraternity." That's when I thought, fuck man, this thing actually has legs. This is bigger than the story I was originally trying to tell or the movie I wanted to make for 14-year-old me.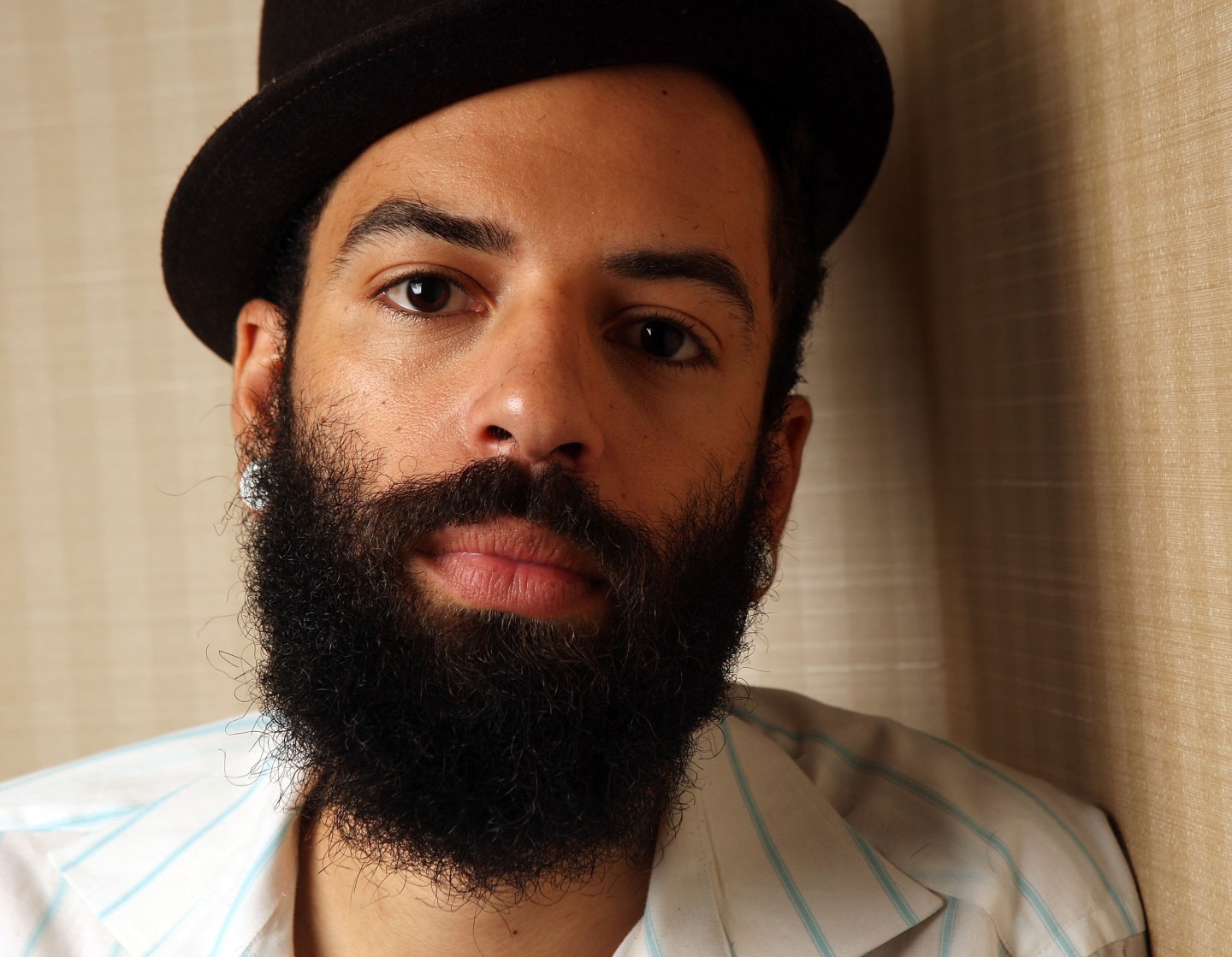 "Just like the punk scene that I grew up in, the people off the stage are just as important as the people on stage." —James Spooner
The popularity of the film was the perfect storm because of timing. There was no Youtube. When I was editing the film, I did the final sweetening at this location in Harlem and Kathleen Cleaver was there programming the Black Panther Film Festival. She kept walking by the editing suite and hearing what was happening in the film, and then she stopped and stood behind me and she was like, "Damn, are we still talking about this shit?" I'm like fuck, this is a woman who was talking about this shit on a major platform 40 years previous.
So I started to screen it more and get it into more film festivals. It got picked up for the Toronto International Film Festival. It was big and got 16 front-page newspaper articles over the course of that week. The first year, I did 100 screenings. I traveled with a band and we traveled through the midwest. I also started a website that was based around the film, but the last link was a messageboard. That year, it got a few thousand members. In those days, there was a band that was before Bloc Party, before TV On The Radio, before any black bands that were making waves or getting the spotlight. Before the Santogold project, Santi White was in a punk band called Stiffed. Stiffed was starting to get popular and I was like man, it would be great to get her band to play a concert after a screening.
I contacted her manager Matthew Morgan, who runs Afropunk currently. He had a 5th Avenue office and he was managing people who were mainstream successful. He asked me to come in and tell him about Afro-punk. I told him about it and he saw it as a vehicle to get Santi signed. At the time, no one was willing to sign a black female-fronted punk band. They didn't know the market for it. So he thought that this little thing that I had going could be the avenue to get her signed. We proved there as a market. It was after the 100th screening where we had that concert. It went well, it was cool and fun. He was like, "I would like to join up with you." Matthew and his partner had a lot of ideas, and I wanted to make art.
Then, we started this party called the Liberation Sessions. Our formula was to screen the film and have three bands, at The Delancey. We did quite a bit of them and they were going really well and were a lot of fun. Surprisingly, we were able to pay the bands decently. It was a good time. At the same time, there was a lot of conversation happening on the website and on the messageboard amongst about the prime members, who [wanted] to meet each other. These were people from all over the country and all over the world and they weren't getting the Liberation Sessions, they weren't getting the weekly screenings. They were living their own world online and connecting and making friendships, relationships.
I told Matthew about what was happening on the messageboard. I told him about all the bands' interest and between me, him, and the people at BAM, we walked out of a meeting with the first Afropunk festival. It was going to be three or four days of films at BAM and, if I remember right, the opening night we had a band upstairs at BAM and then we did a night at CBGB's and a night at the Delancey. People flew in from all over the country and a couple of people from Europe flew in too. The thing that I remember most about that was that on the fourth day, we didn't have any performances scheduled. All of the kids from the messageboard were like, "Let's have a picnic!" So there was an impromptu picnic at Fort Greene Park that was just, like. fucking majestic. It felt like, "this is why I'm doing this." For me, this film is my biography up to that point in my life. That film seemed like a manifesto for all of these people. [People] were calling and identifying themselves as afropunks. I remember "afropunk" being used as an adjective and being like "No, no, no, we we're doing the thing we were fighting against." Eventually, I just had to like succumb because it belonged to everybody. Clearly the people who were saying that needed to identify as or with. For the first three or four years, the film was all there was. There were parties, but it was the film that created a safe space for those parties to happen.
For me, it was really about creating a scene where I could be 100% authentically me. And, just like the punk scene that I grew up in, the people off the stage are just as important as the people on stage. I made a shirt that said, "Fans Are The Bands And Bands Are The Fans." That was how I wanted my world to be. I wanted to make art. At that point, I just wanted to be a filmmaker. So, I got this grant and I made another film. It took a couple of years and while I was editing it, I was withdrawing from doing the [Afropunk] events. Then like a bunch of shit and I just thought that I needed to move to Los Angeles. I think all the fucking attention was getting to my head. I was tired of being a ghetto celebrity. I loved that I could walk up to any black person or alternative black person and I either knew them or they knew me threw my film or whatever. But, sometimes you just want to take the subway.
Of course, I liked the attention and I liked being told that I am doing something important and the amount of emails I got from people around the world who told me how the film changed their life was amazing. It totally makes it worth it, but that's not why I did it. So, basically I kind of withdrew and decided to move to Los Angeles and Matthew understood and he just went full steam ahead on the festival. Back then,I only had two rules. One, you had to be good. And B, you had to have a black singer. I got into a shit-ton of fights about it. There was a band and the keyboard player was black. Like, no, you can't play. The keyboardist is welcomed to do a solo show. But no one is looking at the keyboard player, everyone is looking at the singer. So, those were my rules.
The fourth festival, I was involved in but I didn't really program it. I was just informed on what was happening basically. I remember going and some rap-reggae-rock band was performing and they did a cover of "Boom Bye Bye" and I was like this is not okay. I got onstage after they performed and reminded the audience that if it wasn't for the black queer community, this stuff wouldn't be happening. This shit wouldn't be happening because all the volunteers are queer. I know I really embarrassed the band but this was way out of what I wanted to do. So, whether it happened before or after, I told Matthew I didn't want to be involved anymore. At the end of the day I walked away from it because it was a teenager that wants to do its own thing. I can't control my baby anymore, so it had to go out into the world.