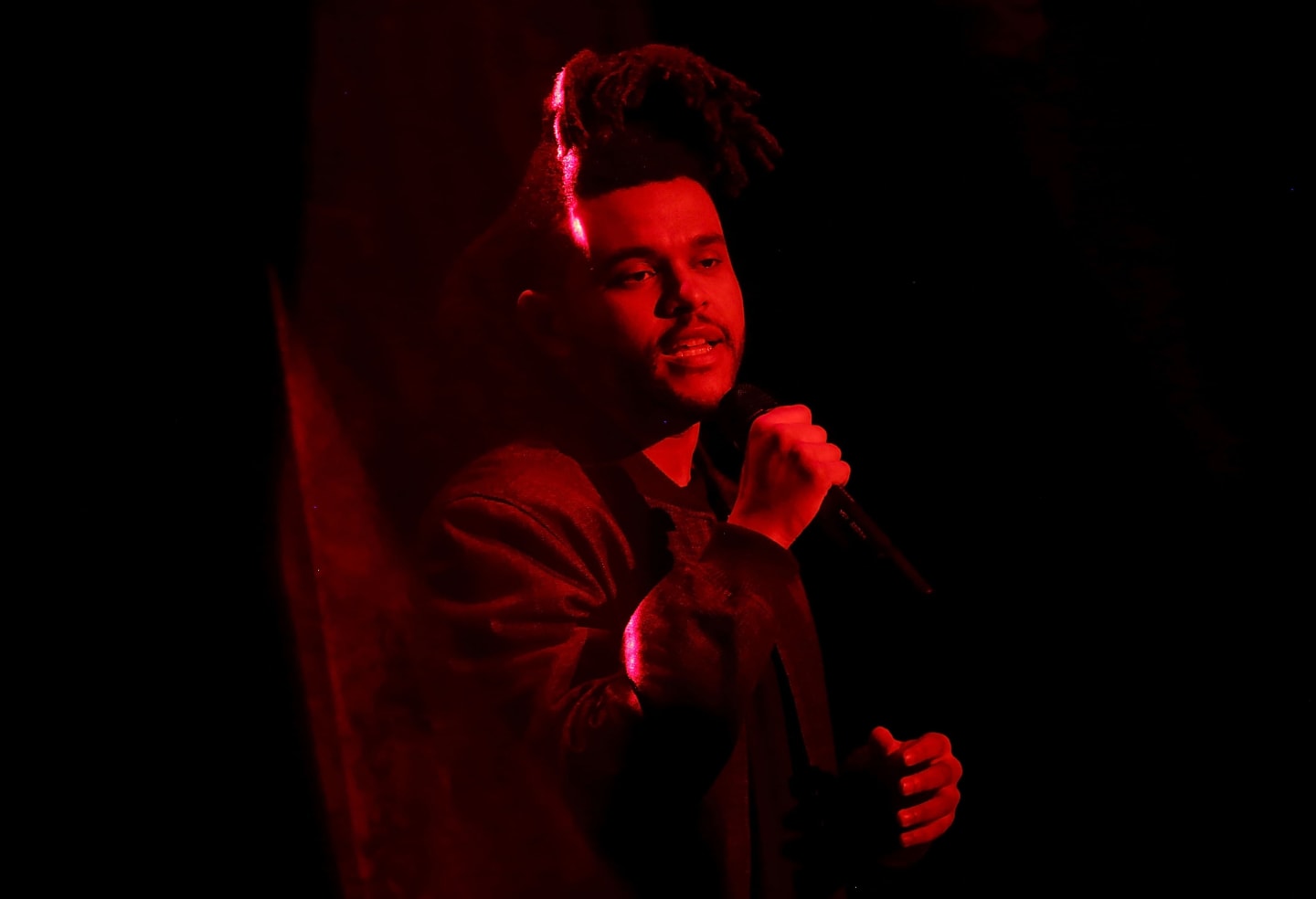 This Friday, the Weeknd will release Beauty Behind the Madness, the end result of Abel Tesfaye's unlikely metamorphosis from an icy—and often unnerving—internet favorite into a fully fledged pop star. Of course, the sex, drugs, and sadness are all still there—as he sings on "Tell Your Friends," I'm that nigga with the hair, singing 'bout popping pills, fucking bitches, living life so trill. But this time around, his unsavory tales come in the form of crisp, radio-ready and arena-sized arrangements, produced by his longtime collaborators and mega-producers like Max Martin.
Nate Albert, the senior vice president of A&R at Republic Records, deigns to take credit for this transformation, affirming that the vision has always and will always be Tesfaye's. Albert has, however, been privy been working alongside him to "magnify that [vision] and not mess it up" since he signed him in 2011. Over the phone from his office in New York last Friday (the day the album leaked online), he described Tesfaye's "development" and the making of Beauty Behind the Madness.
When you heard the Weeknd after House of Balloons, what drew you in first?
I think it was probably the same way everybody else did, when the House of Ballons mixtape went up and it was just everywhere. I heard his voice and it freaked me out–his phrasing is so amazing, but the samples of stuff that I had grown up with, like Siouxsie and the Banshees, and this crazy collision of alternative and dark-wave and urban elements, created this thing to me that was outside of any genre. And I flew up to Canada the next day.
Abel Tesfaye was still very anonymous at that point, how did you find him?
I forget how I figured out how to get to him, but we have our ways of finding people [laughs]. He was secretive, but they were open and they were meeting labels—I certainly wasn't the only person flying to Canada, people were really excited about him. The thing that was great for me was when I walked in the studio, Doc McKinney, who was one of the producers, was like, "Yo, you were in the Bosstones?" He was my age and he was like, "I was in a ska-punk band in Minneapolis and we opened up a show for you!" It took another year and a half to sign him, but Abel was warm and a little less hesitant because he knew I've kind of paid my dues.
He was also deliberately secretive—was that difficult to overcome?
For me, and I know Abel's thing wasn't necessarily punk rock, but it so much reminded me of the DIY spirit: "me and my friends are creating this new thing, it's called XO, and we're going to do it ourselves and we're going to make it work no matter what." That just reminded me so much of the punk rock bands that I grew up with, so his attitude was totally on point to me. You have to have a point of view and you have to just say, "This is what I'm doing and this is where I'm going."
His early material was often unsavory, and to many it was also upsetting. Was there any hesitancy about him, his music, or his marketability?
Monte Lipman, who runs the label here, encourages us to go when we find passion in the world. So there was not total understanding of what he was doing, but there was some understanding of the passion around it. So for me what Abel was doing was just so awesome. I think of David Bowie or Bob Marley, these artists that are above and beyond in my mind. It always felt like he had an emotionally universal voice, even if the stuff that he was doing was a little bit towards the darker end of the spectrum at the beginning. It felt like this could be a big thing.
What about the sexually graphic or drug stuff—
It was part of the conversation, but I think it was more about here is the art. He's definitely aware of all these different aspects. I think he'd refer to it as his id speaking. It's like, this is what I'm thinking, I'm just reporting it. Sometimes he wants to be more elegant about stuff, and sometimes he wants to be more brutalist about it. I think it's about emotional impact, that really feeling uncomfortable, the edge.
Your first move once you signed him was to re-release his mixtapes—House of Ballons, Thursday, and Echoes of Silence, plus three new songs—as Trilogy. Why?
I think we were aware that there was a fanbase and then there was the question of how do we get him more fans. How do we get him global? How can we get everybody working towards breaking Abel? The Trilogy was the tool to do that—the point of it was, for the whole world besides people who were super cool and downloaded the mixtape, here's an introduction. And for core fans, here it is all together.
And a year later there was Kissland—
I think he had a real vision for this dystopian kind of felling that he was having internally or dealing with the reality of being successful and what does that mean. There were some benchmarks of uber-success that he wanted to get at, but he wanted to do it in his way, so it was a struggle.
In a recent New York Times Magazine profile, longtime the Weeknd engineer DaHeala describes a moment when Tesfaye decided: ''Fine, I will apply myself, play ball." Did you experience that turning point? When?
After Kissland. He was doing arenas because of Kissland, like 20,000 people screaming every word of every song. It was like he had these hits that weren't on the other radio, just in another universe. At that point, we were trying to figure out how do we blow this up. As was he and his team—as a group, we were all like, how do we break this.
How did you "break it"?
There was an Ariana Grande song. Wendy Goldstein was overseeing Ariana's project as well. She hit me about it and was like, "Do you think Abel would do this?" At first I was like, "Yikes." But then I listened to the track and I was like, this song is amazing if you take out the context of how people perceived Ariana at that point. I sent it to Abel, and there was certainly hesitance in the beginning—he was like, "I'm not really backing where the lyrics are, can I bring myself to it more?" So he rewrote his lyrics.
And that spirit carried over to the album?
I almost think like, honestly he had this amazing thing going, he turned to the side, did this "Love Me Harder" song and then went back to what he was doing, but this thing just started. It was the Ariana thing and "Earned It"—having the massive success of those two songs as he's starting to make the record put this you-already-won-the-race-vibe over the record.
Was there any attempt to tone his sound or content down to make him more radio-friendly with this album?
I do think from Abel, there has been a strategy of wanting to express himself, and he's experienced a lot more things than he had when he was 20, 21 years old.
On first listen, this album feels a bit more upbeat—
Sometimes humans feel good and want to dance, and so does Abel. I was like, whatever is going on up there is incredible, this uptempo thing. Everyone has a spectrum of emotions. This is like a baroque painting—there are real bright and real dark paintings, the spectrum of the emotional experience, I think.
How was the process on this album different from his past projects?
Abel co-produced everything on this. His guys were involved in all of it. Abel was meticulous in mixing, and all of the construction of the record. We presented names to him, but the real effort is: if he wants to do something how do you give him the colors to paint it? He's definitely painting it. The "I want to work with Max Martin" or "I want to work with Stephan Moccio" come from Abel.
How and when did Kanye become involved?
Kanye and Abel have been friends for a while and he was going to Paris to do some stuff maybe for Kanye, and they had worked on some stuff together. I'm not sure how this track end up for Abel, but I know they're very close and a lot of it is timing—like, how do we get this done in time to deliver the record so the whole record will come out? Kanye has backing vocals on it, but hopefully in the future there will be one. [Laughs]
The biggest surprise on the tracklist was Ed Sheeran—
It was all purely from Abel. The Ed thing was somewhat recently, when he came to do the Much Music Awards in Canada. Abel had a party right after, and that rolled into them writing that song. He was playing the album back for me and was like, "This is the missing piece!" He loves movies so a lot of this is like, how does this have the arc of a film, and for him it kind of completed that.