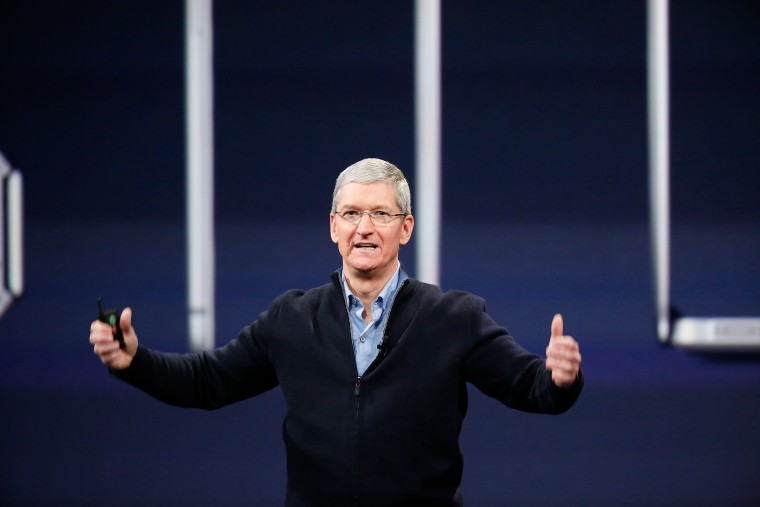 At today's Apple event, Tim Cook announced the release of a new iPad, two new iPhones, and a brand new line of Apple TV's. He wrapped up the exciting day by introducing his favorite band, OneRepublic. Yes, the same OneRepublic who broke onto the pop scene in 2007 with "Apologize," which featured Timbaland. The band's appearance was a shocking one for onlookers expecting to see a surprise Rihanna album drop. But Apple has always been well versed in dad rock—never forget the surprise U2 album you couldn't get rid of. Anyone who knows Tim Cook knows that the soft rock/pop band is his favorite band.
Here's a brief history of how close they are:
A Celebration:
OneRepublic played Apple's 30th anniversary picnic at their Cupertino campus in January. Ryan Tedder, the band's frontman, posted a picture of the event on Instagram and said "it was truly a pleasure."
The endorsement:
Listening to one of the world's best bands on Sunday afternoon. iTunes Session by OneRepublic https://t.co/n9SqC5vBEQ

— Tim Cook (@tim_cook) August 3, 2014
Tim Cook does not tweet very often—he's only tweeted 177 times in over two years. This tweet from August 3, 2014 is the only time he's ever talked about an album on Twitter. It's OneRepublic's exclusive performance for iTunes, obviously.
A Personal Moment:
In the same Bloomberg profile where he came out as a gay man, Cook came out as a One Republic fan. The piece's closing tidbit features Cook psyching himself up with the band's "I Lived:"
Backstage at the Flint Center before the Sept. 9 event, he could be found with his white earbuds on, psyching himself up by listening to the OneRepublic song "I Lived" on his iPhone. "Hope when you take that jump, you don't fear the fall … / Hope when the crowd screams out, they're screaming your name."

The Repeat:
Getting psyched backstage listening to I Lived by @OneRepublic.

— Tim Cook (@tim_cook) March 9, 2015
Cook tweeted in March of this year, before Apple announced the Apple Watch, that he was listening to "I Lived" to get pumped up. It seems that the song is a bit of a good luck charm.
The Selfie:
Tim Cook welcomed the band on stage at today's conference. During the band's performance of "Good Life," Tedder ran through the crowd to take a selfie with Cook. The vertical selfie has no filter, that's true friendship.