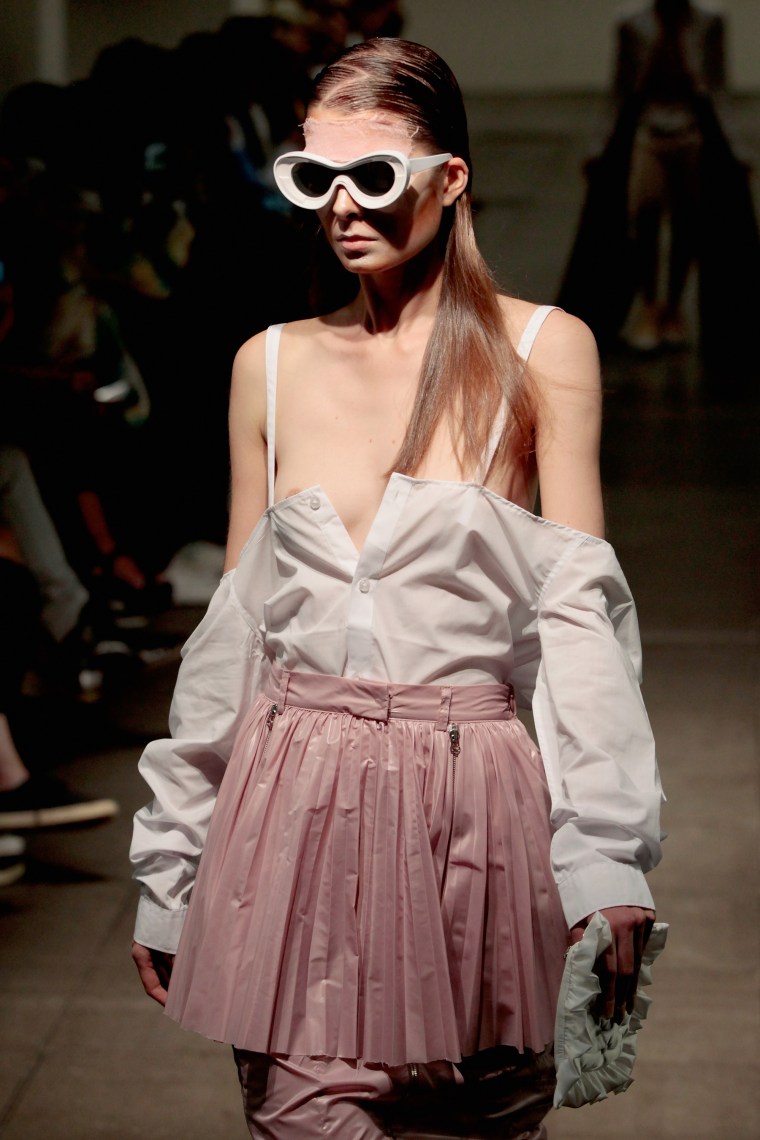 For Hood By Air's Spring/Summer '16 runway show, Shayne Oliver eschewed fashion's traditional row seating. A breathless crowd waited on line impatiently near Penn Station to file into a massive second-floor space, where rows of wooden benches faced each other, forming five narrow runways. The layout was reminiscent of a high school cafeteria, an impression enforced by the fluorescent lighting, the vivid blue exposed piping on the ceiling, and the show cards fashioned after attendance reports. The room was filled with the nervous chatter and neck-craning befitting a school dining hall, while the intimacy of the benches that lined the aisles mimicked the myopia of a real high school. Someone texted asking if Kanye West was there, and I realized I had no way of knowing: it's a big school, you can't be friends with everyone.

This time last year, HBA took us to church on a Sunday—models in perspex pillories were soundtracked by a gospel choir and a growling storm—and back in February, "Daddy" was a punishing parable on wealth in power set in the bowels of the New York Stock Exchange. Taking on the microcosms of a high school cafeteria seems less ambitious, but the world of "Galvanize" was no less committed or fully-realized. In an interview with Dazed and Confused, Shayne Oliver explained he was inspired by his own schooling: "It was all about my childhood in the Caribbean. We had such high education but we had nothing. Our uniforms were so formal in comparison to our lives. So we would tear it up and make them our own."
In fashion, back-to-school for fall is well-worn territory, but "Galvanize" makes good on Oliver's premise, deconstructing the traditional idea of a uniform and making it his own. The collection riffs on '70s gym uniforms and pleated schoolgirl skirts, and oxfords were sliced from hem-to-collar to be more revealing. The sophisticated construction tempered nods to rebellious DIY repurposing of school-sanctioned garments: off-the-shoulder tops hung in sculptural folds, a cocktail dress ensconced its wearer like a straight jacket, layered looks revealed a different part of themselves with each step.
HBA has made a name for itself putting on densely-layered presentations where the most meticulous details have symbolic payoff. But at "Galvanize," the clothes were so mesmerizingly good that those details—the Total Freedom and Venus X remixes of Smashing Pumpkins and The Fugees, the harshness of the models' unblended contour makeup, the arms constrained by HBA-branded bands or by the straps of a handbag—were muted. Similarly, HBA's aggressive commitment to gender fluidity on the runway felt normalized: the industry heavyweights crowding the front row barely blinked at ambiguously-gendered models sent out in high-cut dresses or towering HBA heels.
Shayne Oliver taking his adolescent deconstruction of his school uniform to the biggest stage at New York Fashion Week is an apt metaphor for Hood By Air's takeover of the high-fashion world. Oliver broke the fashion world's rigid rules (re: casting, re: makeup, re: nudity, re: gender) to better fit his own perspective, and they've stayed broken. HBA may still not have a Wikipedia page but the brand is over a decade old, and these days fashion's upper classmen line up to sit at Shayne Oliver's lunch table. Luckily, he's saved them a seat.