YG's been telling gleeful gangster stories about life in Los Angeles since he was in high school. Now that America has embraced him, real life drama is threatening to take center stage.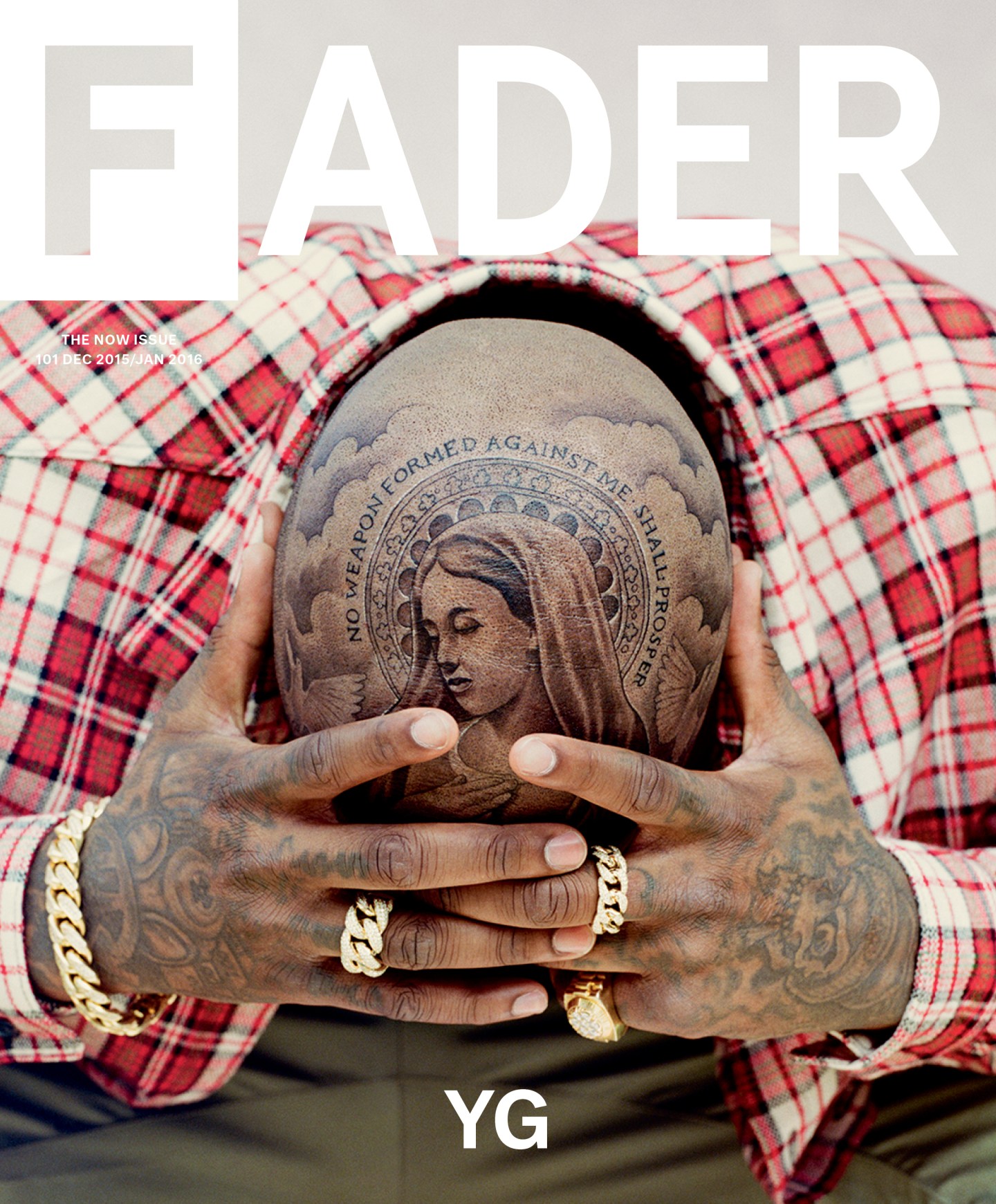 It's a Saturday in September, and YG is on the top floor of a split-level rooftop patio in Hollywood, holding court over a small spread of boneless wings and a chilled Dos Equis. A churning Jacuzzi buoys a large Bathing Ape floatie nearby, and a tableau of lush trees, luxury cars, and impossibly gorgeous real estate rolls across the surrounding hills and valleys. The home's owner, Sickamore, a former Def Jam A&R who is now VP of A&R at Epic, runs a game of Madden 16 downstairs with YG's day-to-day manager Nano and longtime friend Psych. The guys throw parties here sometimes, and neighbors rarely complain. Just last week, YG woke up on this very patio to impassioned fellatio from a houseguest, before nodding off for a few more hours.
"That's how I know I'm blessed," the 25-year-old Compton MC says. "That's why I'm trying to handle my situation in the right way."
Life certainly hasn't always been this sweet for YG. Like on that one sunny morning back in 2008 when a friend short on rent asked him to come along for a quick score in nearby Lakewood. "He hit me up to go flock," YG says between bites of wings, invoking the colorful local term for breaking and entering. "I'm one of the niggas that knew how to do the shit. It's 11 a.m., broad daylight. I'm like, 'Come get me.'"
YG is a funny dude and a compelling storyteller. He speaks in sharp bursts, at turns boastful and comedic and brimming with Cali slang, and he uses charisma and rhetorical flourishes (repetition here, a quick joke there) to pull listeners in and make them feel like co-conspirators along for the ride.
"I'm climbing in the window," he says. "Get halfway through the window, the police pull up. Boom." He punctuates the sentence with a pound of his fists. "'Freeze!'"
Of course, he did not freeze.
"We get on," he says, picking up the pace. "We running. It's a big-ass neighborhood. We hopping all through backyards. We hiding on top of roofs. You ever see the buildings that have the big-ass plastic—they put the tent over it when they spraying fumes? It's a house with a tent on it. I go hide under the tent. I'm trying to hold my breath. My nigga, the police is, like, right here. They move, I hear them. So I hop out the tent and start running. They start chasing me again."
The whole thing sounds like something out of a crime drama you've seen before: young black male running down some palm tree-lined street in broad daylight, LAPD hot on his tail.
"We hit another backyard," he says. "Come out the other side, police got the whole shit blocked off. Man, they had the helicopters and all that. Twenty police cars. So we run back in the backyard. It's some old pickup truck…
"I'm laying under the truck like, 'Fuck,'" he says. "We caught. It's all bad."
YG and his friends had done countless jobs like this before. Why did this one go wrong?
"It was my fault," he says, his tone shifting slightly from triumph to hushed reflection, a slice of sun cutting back and forth across his jaw. "I was being thirst. I'm trying to crack the window. It ain't sliding open. The homie's like, 'It's taking too long, let's go.' I'm like, 'I didn't come out here to just come and then just go. Y'all niggas called me, nigga, we about to get up in this motherfucker!'"
An old robber's adage says it's better to get away with nothing than get caught with everything. But youth emboldens all, and YG was nothing if not young.
"I busted the window with my hand," he says. "Bam. Unlocked it, slid it, climbed halfway in. Police pulled up. They had a silent alarm."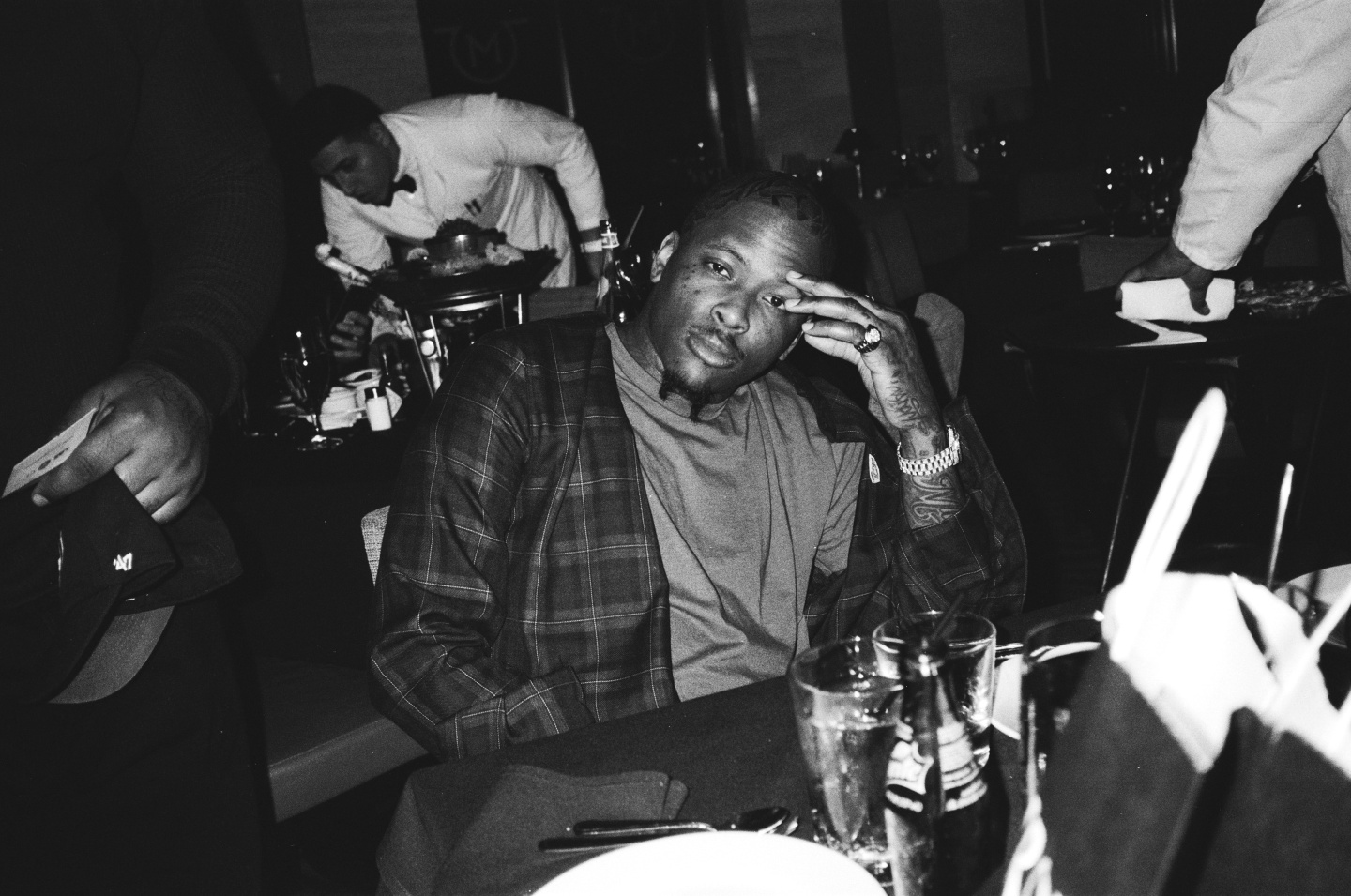 During what's already felt like a boundless era for young L.A. rappers, YG has charted an unpredictable course to fame that few outside the West Coast saw coming. Despite a string of acclaimed street singles and mixtapes dating back to 2008, for years he was largely known to national audiences by "Toot It and Boot It," a gummy no-brainer of a hit made with Ty Dolla $ign. That changed in March 2014 with YG's debut LP for Def Jam, My Krazy Life. Anchored by the slow-bubbling "My Nigga," an addictive single featuring Jeezy and Rich Homie Quan that interpolated C-Murder, Snoop, and Magic's No Limit-era street-sweeper "Down 4 My N's," My Krazy Life shot to No. 2 on the Billboard album chart upon release. "My Nigga" (repackaged as "My Hitta" for radio) cracked the Billboard Hot 100's Top 20, racked up over 1.8 million in sales, and got a remix with Nicki Minaj, Lil Wayne, and Meek Mill.
The majority of songs on My Krazy Life were produced by longtime YG collaborator DJ Mustard, and the album solidified their trademark Cali sound as radio programmer gold. But the success of My Krazy Life went beyond sales and spins. Arriving just months after Kendrick Lamar's good kid, m.A.A.d city breathed new life into concept rap albums with a somber narration of a day in Compton, My Krazy Life landed just as lucid and conceptual, but that much more visceral, championed for its block-level storytelling, thrill ride sequencing, and humorous skits. Where Lamar's "The Art of Peer Pressure" described a hesitant burglary in a cautionary tone, YG's winking "Meet the Flockers" evoked The Notorious B.I.G and The Pink Panther to let the listener play stakeout and celebrate a successful job. On the more serious "When I Was Gone," he hosted a roundtable of friends, giving them a chance to tell their own stories of people who'd left them behind while they did time in jail. Soon, fans who'd never stepped foot in Compton were mimicking YG's "Bicken Back Bein' Bool" lingo, swapping hard C sounds for B's in deference to his loyalty to the Tree Top Piru Bloods. The project was a huge, unexpected step forward for a rapper who'd largely cut his teeth on one-note, if not blissfully effective, club slappers. Many, including a dozen grade-schoolers who staged a "bicket line" protest in Hollywood earlier this year, felt it was snubbed for a Grammy nod.
"YG went through an incredible maturation process as an artist in the years between 'Toot It' and 'My Hitta,'" Def Jam CEO Steve Bartels says in an email. "The YG that emerged from that process was a fully formed album artist, with perspective and strong music. I can already tell that the new music will continue the pantheon of what has begun," he continues, nodding to YG's forthcoming sophomore record, Still Krazy. "The material is incredibly rich, layered, and musical, while retaining that unmistakable YG energy and bounce."
In July, YG whet appetites for his new album with "Twist My Fingaz," a sticky flip of George Clinton's "One Nation Under A Groove," that was produced by Terrace Martin, a regular at Lamar's TDE label and a Snoop Dogg protégé. The record is already a mainstay on L.A. radio and audaciously boasts: I really got something to say/ I'm the only one that made it out the West without Dre. Delivered in the same year as Dr. Dre's Compton comeback and Kendrick Lamar's To Pimp a Butterfly, the bar is revelatory. Los Angeles' rich, canonical rap history continually suggests gazing back: The Game and Kendrick Lamar were both ushered in by Dr. Dre, and songs throughout their catalogues evoke Eazy E and 2Pac in style and name. In contrast, YG's reference points sit squarely within the South Central of his day, providing the soundtrack to contemporary L.A. kids with little sense of nostalgia. His good days demand more cheer than Ice Cube's. He raps about money and women obsessively and gleefully, and would almost always prefer a party to a brawl—a constant joyfulness that's always overshadowed any more sinister narrative. If Lamar speaks about young gangsters in Compton, YG speaks for them.
"You seeing this shit as a little kid. It's scary. It's the shit your people don't want you to do." —YG
YG was born Keenon Daquan Ray Jackson, the son of Ulysses and Shone'e, who ran a daycare business in Paramount and Long Beach to provide for their six kids—three of their own, two children of siblings, and one from a previous marriage. Though his mom was from "the Crip side," as YG puts it, his father was determined to shield his kids from Compton's gang culture and pointed his son toward athletics instead. YG was tri-varsity by junior high, but after a tax fraud case brought down the family business and sent his father to jail, the young would-be G hit the streets. By the time YG was 16, he had joined the 400 set of the Tree Top Piru Bloods.
It's impossible to hang out with YG without noticing his affiliation. He trades knuckle-tangling handshakes with Nano and Psych, litters his sentences with pledges to things he believes in: "that's on the set," "that's on Blood," "that's on God." During the two days I spend with him in L.A., he sports a red bowler hat, red boxers, olive three-quarter khakis, and tall Vans socks tucked into gray Sk8-Hi's. His most eye-catching tattoo, besides the Virgin Mary that covers his scalp, is a large "Bompton All Stars" seal down his side in the style of Converse's five-point Chuck Taylor logo. Nano and Psych wear team colors as well: various jerseys and tees from YG's 4Hunnid merch collection, all emblazoned with "Bompton."
Still, the crew shares a fraternal vibe that's more juvenile than menacing. They spend their downtime roasting each other, bumming cigarettes, and blasting Future. It's like a permanent senior spring, except for kids kicked out of high school. "All my friends was gangbangers," YG explains. "We was breaking in houses before school. After school, we was partying. We going to Paramount High School. It was a lot of riots—Mexican and black riots, gang fights. They called us to the office one day like, 'Y'all gotta go. Y'all are the reason all this is going on, y'all the head honchos.' We in the 10th grade!"
YG's youth was not beholden to a strict "red vs. blue" binary, and he claimed close friends from opposing sets. "It's not how it was back in the day with Bloods and the Crips and all that shit," he says. "This shit been going on for so long, half a nigga's family be Crip members. Even today, some of the older homies don't be approving of that type of shit. They be like"—he adopts an exaggerated, quivering senior citizen's voice—"'Back in our day, we was beefing with them niggas! It wasn't no being cool, none of that!' But everybody understands. Times change, shit different."
When asked why, year after year, young men like him choose to risk their lives for little more than a lifestyle, he stresses that it isn't fun, but that it also isn't exactly voluntary. "Our culture is gangbang shit," he says. "So as a kid, this all we see. Mamas and them trying to keep us away from it—my mama was—but some homies' mamas was [banging]. They all from the same hood. So you seeing this shit as a little kid. It's scary. It's the shit your people don't want you to do."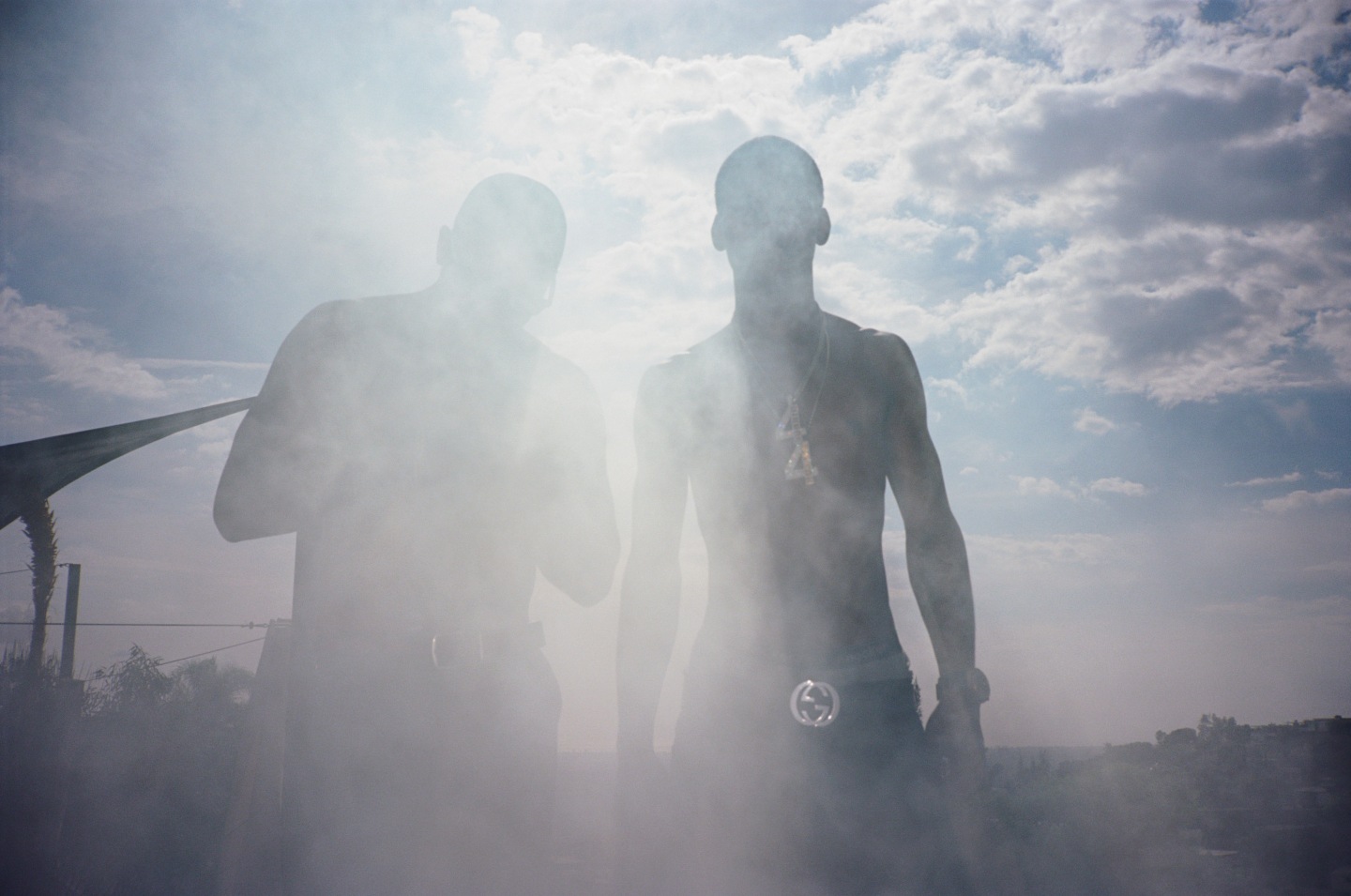 Listening to him talk candidly about his days on the 400 block, it's hard not to think that the confrontational, performative lifestyle must have trained a young YG for fame, even if just in high school hallways. He started rapping on a whim, self-recording house party anthems about chasing money and girls, largely inspired by his then-favorite rapper Lil Wayne. His tracks went viral on MySpace among neighboring kids in South Central, and soon he was playing parties for profit, enlisting young homies to sell tickets at schools across the city. In 2008, his buzz caught the attention of local party promoter Big B, who connected him with a budding producer named Ty Dolla $ign and a popping DJ named Mustard.
"That's when I caught my case," YG says, referencing the botched B&E that day in 2008. "Went to jail, [got out] on bail, and my rap shit started to pop off." Though initially sentenced to two years, YG walked after just six months thanks to a family friend who intervened on his behalf, convincing the courts that YG had more to offer society as a free man.
In 2009, YG and Ty released "Toot It and Boot It." According to E-Man, the music director of L.A.'s Power 106, the song's early success "was more word-of-mouth. All our mixshow DJs were like 'Yo, what's this record?' We started seeing it react and ran with it." "Toot It" stormed radio over the next year, proving YG and Ty's jubilant, homegrown sound had serious commercial potential. "From a radio standpoint, it jump-started YG, it jump-started Ty Dolla $ign, and it jump-started DJ Mustard," says E-Man. "It set off two other careers. It was all the jerking movement around then, and here YG came with this all new sound."
YG played his first show in Hollywood in 2009, shortly after "Toot It" took off. Def Jam A&R Max Gousse was in attendance, and signed YG to a major deal within days. "When I got signed, I spent all my money on a spot and moved all my people into a house in Inglewood and shit," YG says. "We all in the house. The house turned up. All the homies over there, bitches—we doing everything. My mama and them live there. Everybody here. It's popping. Shit was a movie."
Still, YG was shrewd enough to know the difference between a career-launching hit and an actual career. "Homies started acting weird," he says. "Niggas stop coming around because we were just doing the 'Toot It and Boot It' song." YG refused to let "Toot It" define him. "Mustard and I had a talk," he continues. "[We decided,] 'We gonna rock ourselves.'"
With Mustard fluent in the West Coast classics he'd play in the clubs every night, and YG on the pulse of emerging youth tastes, the two conspired to make a proper body of work. The resulting mixtape, 2011's Just Re'd Up, dips often into R&B and has lots of skits. "We were both experimenting," YG says. "[Mustard] didn't really know too much, and he used to ask Ty to help him start making beats. We were all learning at the same time. I would be helping like, 'Nah, nigga that sounds off, play it like this.' He'd be helping me with shit. We were going in for months."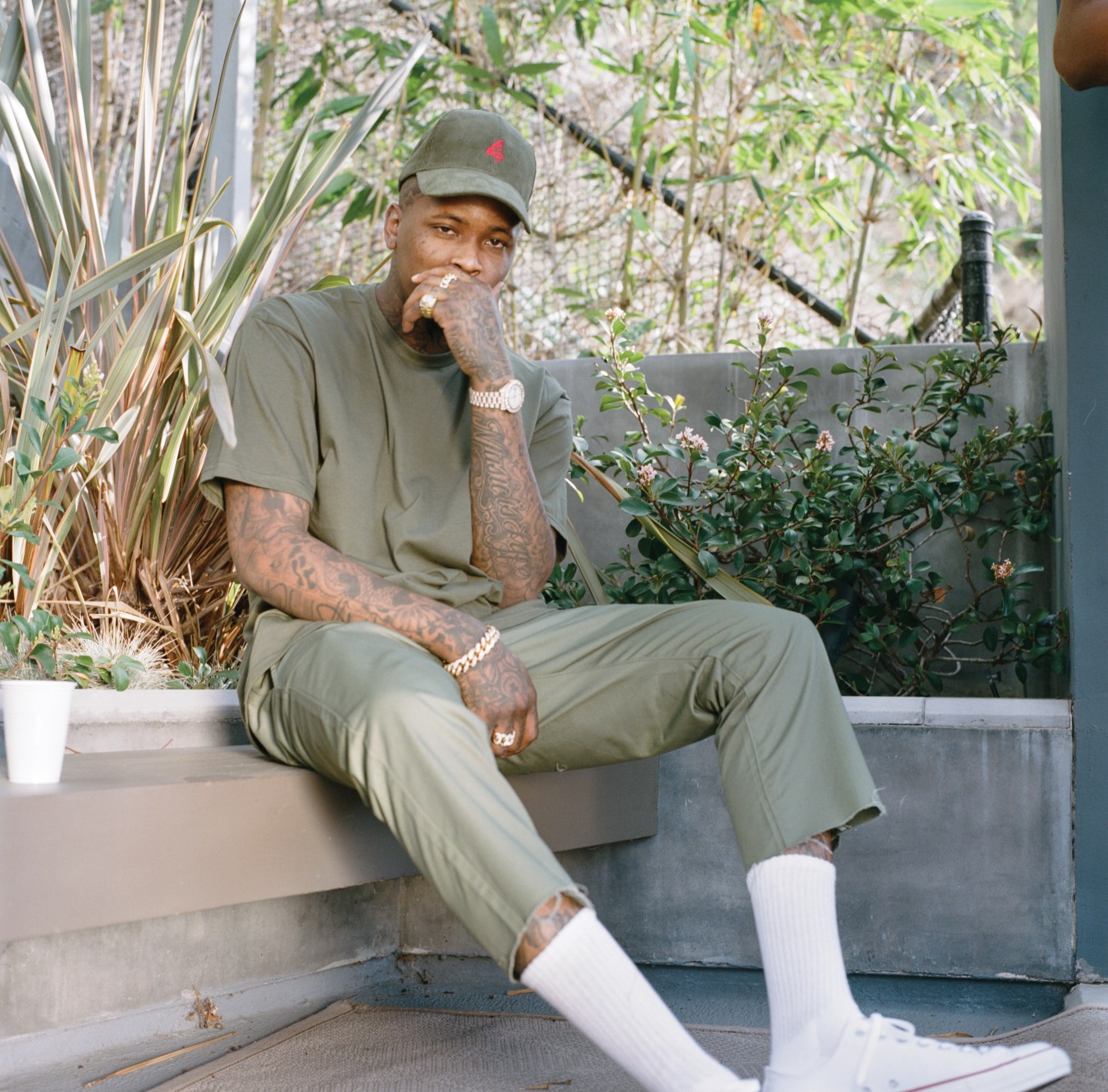 "This record is a little darker. It's more paranoid. It's a reflection of where he's at now."—Sickamore
In a small engineering room in Hollywood, Mike WiLL Made-It is blasting tracks off a laptop at an almost violent volume. His latest young signee, Eearz, who sounds like an otherwise unimaginable split between 2Pac and Waka Flocka Flame with a dozen different styles in between, sharply mimes along to the unreleased cuts he'll be dropping via Mike WiLL's Eardrummers imprint. The whole "ears" motif is fitting—as the rest of the room winces, Mike WiLL stands completely unaffected by every loud hit of a snare. It's easy to imagine he really does have ears of steel.
YG, who's arrived early for his own session, stands nearby nodding along as Mike WiLL wraps up, also immune to the knock. The chance encounter proves fruitful as YG snags three or four beats from the multi-platinum producer before they slip outside to check out the YG's new whip and build one-on-one. Out in the small parking lot, Nano and Psych debate the difference between being rich and being wealthy over a few Newports. Their conclusion? Spotless credit. Most modern rap albums are culled together entirely out of run-ins like these. A dap here, a folder of beats there, an email where a face-to-face exchange isn't convenient. But My Krazy Life benefitted from the focus and polish brought in by Sickamore, a New York-born rap obsessive who encouraged YG to study hip-hop classics like Ready to Die, Doggystyle, and Dr. Dre's 2001 for their sequencing and interludes as well as their timeless cuts. "Sickamore's the one that got me into the album process, period," YG says. "He got his own neat way of how to break shit down that's special. He told me what to pay attention to and how to listen to music. He was in the studio with me every day."
Sickamore and YG are back at it for Still Krazy, but DJ Mustard is noticeably less in the mix this time around. In January, a conflict between Mustard and YG over label payment spilled onto social media, giving rise to rumors of bad blood, but it wasn't long before they publicly reconciled. They spent a few weeks in the studio together over the summer and Sickamore hopes the pair will get more time in soon. Mustard declined to be interviewed for this story, but YG is quick to play down any hint of a lingering issue. "That's how it be sometimes when niggas is, like, homies and business," he says, speaking deliberately. "We solid. We A1."
Despite YG and Mustard's clear potency as a duo, the personnel shift has offered the rapper room to expand. The handful of tracks he's completed for Still Krazy between Atlanta and Los Angeles over the past year are even more ambitious than the breakouts on his debut. My Krazy Life stamped YG and Mustard's gangsta party sound on the mainstream—with followers from Tyga and 2 Chainz to Iggy Azalea and Jidenna. But Still Krazy has grown out of sessions with a slew of of-the-moment hitmakers from around the country, including Terrace Martin, London On Da Track, Hit-Boy, and Metro Boomin. The results are inspired. Dripping with classic G-funk synths, the records expand YG's party-driven sound to broader thematic edges that are at once more personal, infectious and eccentric. He's rapping more intricately, and tackling bigger subjects relevant to his personal life.
"This record is a little darker," says Sickamore. "It's more paranoid. It's a reflection of where he's at now."
There are songs about YG's infant daughter, Harmony, and the new sense of purpose she's given him. There's a screed on the police brutality that has made recent headlines—but instead of a plea or a spiritual, it's a war cry, calling for his comrades to stay armed in light of cops that get away with murder. One coy takedown of freeloaders revives an old Compton colloquialism he picked up from family, "Gimme got shot"—a quick retort for when someone asks for something rudely. There are anthems about staying bool, balm, and bollected, and a 50 Cent verse that's as good as 50's sounded in a decade, where he raps with youthful hunger alongside YG and Nipsey Hussle about wanting a Benz he's surely already owned twice. And, most revealing, there's a chilling song about the second day in YG's life that almost derailed everything he's worked for. It opens with a sample of a news report about a shooting that had aired just weeks before. Each time he queues up the album for rooms full of producers, engineers, label reps, or close friends and stragglers during the days I'm with him in L.A., it's the song he always plays first.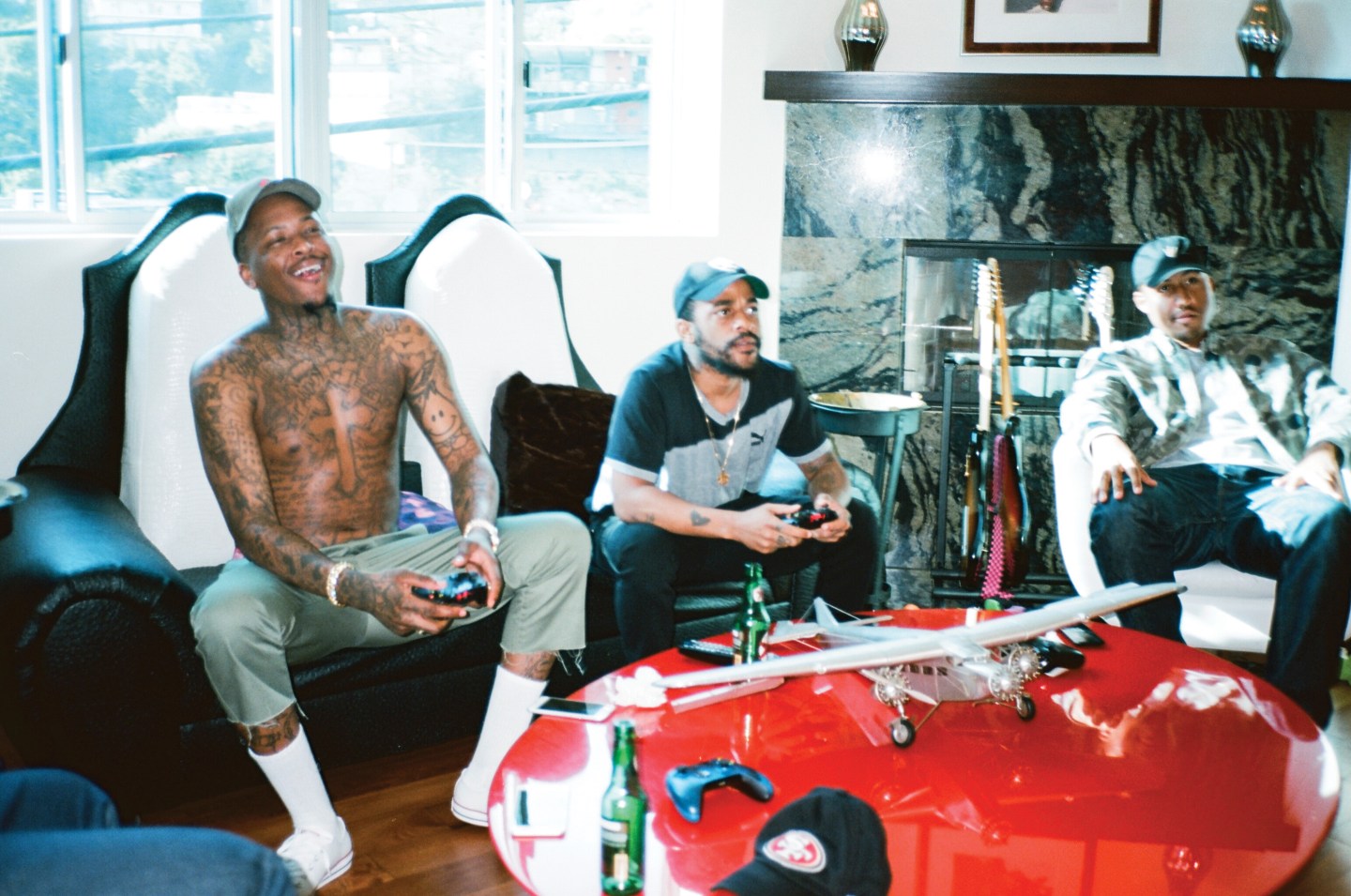 The sun is baking over a sprawling L.A. highway as YG, Nano, Psych, and I cruise between offices and studios in YG's brand new luxury sedan. The rapper's in the backseat, juggling two iPhones while attempting to coordinate a session for a young singer on his 4HUNNID imprint as I sneak in more interview time. But our conversation drifts to a silence as Nano unwittingly drives past the studio where, in the early hours of June 12, 2015, YG was shot at close range.
Psych looks closer, craning his neck from the passenger window. "Them tall buildings," he says, pointing. "If you make a right on that street, right there? Boom."
"Hunh! That's that shit!" YG says in a deep exhale. "You 'bout to see where I got popped at," he tells me without taking his eyes off the building. "Niggas knew we was up in there! Aye, I was up there having the time of my life!"
As the Studio City complex rolls by, the three friends revisit the still-open case for what feels like the first time. From the picture they paint, the first sign that something was off came early in the evening, when YG's hypeman and some stray agitators got into it on the street. But things cooled, and the session's party atmosphere regained steam. Then, hours later, a gunman slipped into the studio and fired, sending guests scrambling. A single bullet shot through YG's hip and groin, leaving three wounds. Friends stuffed him into a car and drove so frantically on the way to the hospital that they totaled the ride. They switched cars, and once they finally hit the emergency room, they pressed hospital attendants to give the rapper immediate care.
"That was some inside type, somebody-was-really-coming-to-get-me type shit," YG says with hazy disbelief. "It was like niggas knew where we was at, and they was coming to do what they was supposed to do."
YG was treated for his wounds and discharged on June 13. He recorded a song, tentatively titled "Who Shot Me," the very same day. Authorities reported that YG was "very uncooperative" when asked about the incident, but on "Who Shot Me" he works through his reaction to it with gripping transparency. Over a snaking sitar and keys drenched in church choir harmonies, he mulls over enemies and friends alike who may have had a hand in the attempted hit and how it's affected his family, his work, and his peace of mind. They knew the code to my gate, he raps. That was awkward.
Since the news of the shooting broke, it's become more difficult for YG to move around in L.A. Many studios have stopped returning his calls, and he's had to start taking additional precautions. A bodyguard named Gloves beats him to every destination and posts at the entrance to every room. To date, there have been no leads in the investigation of the shooting.
"It's a gang of motherfuckers out here on some 'Fuck YG' shit," YG says.
"We don't know them," Psych chirps in.

"It's a lot of motherfuckers that's mad because they see what I'm doing, and they want my spot so bad."—YG
"We ain't gon' speak on 'em, we ain't go give 'em no fame. I ain't gon' shed no light on they careers, or they life, or whatever the fuck they doing," YG continues. "I feel like this: Los Angeles County is sick right now. It's bad. Everybody mad out here right now. All the young motherfuckers, they getting money, they motivated. We had something to do with that because we came up. It brought opportunity for motherfuckers and shed more light on the West Coast. The music shit start popping again out here. We got strip clubs now, you feel me? It's a lot of motherfuckers doing music now. It's a lot of females becoming models and shit now. We got something to do with that. But at the same time, it's a lot of motherfuckers that's mad because they see what I'm doing, and they want my spot so bad."
Up close, YG's life is constantly cutting between A and B plots. He's a double-platinum, critically adored rapper with momentum and career milestones left to hit, and also a Tree Top Piru Blood from 400 block with fresh gunshot wounds and faceless enemies determined to disrupt what he's built. The scenes play out under a goldenrod sun, split across both sides of Interstate 10—Hollywood, a visual sedative of a city that exports the idealized America we've watched in theaters for decades, and Compton, the 10-mile stretch of turf in the midst of a 20-year gang epic that's as recognizable in the pop culture zeitgeist as the Italian mafia.
It's almost no surprise, then, that in 2014 YG penned a 20-minute short film, Blame It on the Streets, from the back of a tour bus on his iPhone. Spend time riding with him and it becomes clear that his is a life made for the big screen. During a late cruise on my last night in town, I ask YG what he thought of Compton, the N.W.A biopic that swept box offices this summer. "That shit is A1. On 10," he says, enthused. "I went to audition for the movie and shit. I'm walking out the audition, I see [Ice] Cube son walking in. Real shit. I was auditioning for MC Ren." He didn't land the role, but doesn't seem the least bit sour, whipping out his phone to show me the acting pitches he's now fielding from Tyger Williams, the screenwriter behind 1993's Menace II Society and this summer's The Perfect Guy. Just then, he gets an unexpected call.
"Hello? Wassup fool," he answers warmly, sending the call through his speakerphone.
"Damn, Blood! I be thinking I got the wrong number or something! Don't none of my rapper friends be answering my calls!" a jubilant voice taunts. It's Juice, a guy YG has known for a couple years through mutual high school friends, calling with a bit of advice for his boy. "You know what I been meaning to tell you, but I be forgetting because I be high, and my mind be places? You gotta do like Dre, like Ice Cube, and like T.I., and make a couple more albums, and then say fuck the rapping and get into acting, nigga! Cause everybody will put you in they movie as a gangsta. You do like Cube Vision and make your own movies! Make 400 Vision!"
"400 Vision?" YG beams. "Aye bro, I'm on the movie shit right now," he says, trying to reign in the conversation. But Juice is on a roll.
"The way you rocking right now?" He chirps on. "Come on, Blood. You the gangsta'est nigga on the West Coast! You see T.I. ain't done a song in how long? You seen motherfucking Ludacris ain't did a song in how long? All they do is Fast & Furious, and they be getting M's! You don't have to ever rap again. The door is open for you already because you already a superstar, you understand?"
"That's on the set, though," YG says. "That's on God."
Part of me thinks YG knows this would be too easy. The saga of the American gangster plays out over and over, on screen and in song, and we haven't looked away yet. And somehow, YG has found an all new way to tell a weathered tale. His stories about breaking into homes, sitting in jail, and getting shot are delivered with an exuberance that makes it sound like he was having a ball throughout. His music finds the joy of growing up in Compton and puts celebration before narration. His L.A. is decades removed from crack and Colors; it's getting brighter by the day, sparkling even in its darkest flaws. YG's a famous gangbanger and doesn't have to prove it—why would he want to play someone else's version of one?
He hangs up his phone and leans back in his seat still chuckling, barely acknowledging the coincidence. Crazier things have happened. "That nigga funny as shit," he says, his laugh flattening to a mutter. "That nigga funny than a motherfucker."