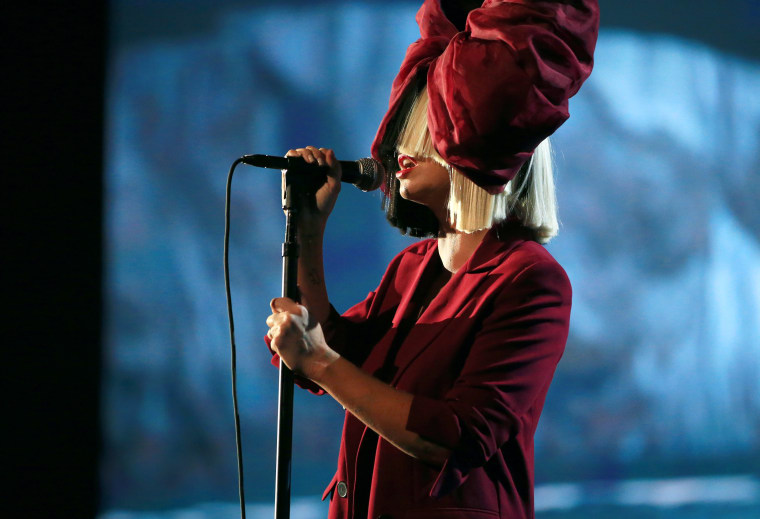 Sia's forthcoming album This Is Acting, due out on January 29, is made up entirely of songs she originally wrote for other people. With a big catalogue of hits for fellow artists behind her—including Beyoncé's "Pretty Hurts" and Rihanna's "Diamonds"—she's a seasoned professional in the industry of pop songwriting as well as being a performer in her own right. This week, she opened up to Rolling Stone about what it's really like shopping out your creative work, collaborating with huge personalities, and how to decide when a song is better off staying with you. Here's eight of her most honest quotes about the realities of being a songwriter-for-hire.
1. You have to write a lot.
"I probably get 20 or 30 tracks a week from my producer friends who are hoping that I'll write lyrics and melody on top of them...It's really just hit or miss, and I think the reason I'm pretty successful is actually because I'm really productive, not necessarily that I'm a great songwriter. I think I'm a good curator, so I know how to choose tracks that feel like they're anthemic, or that seem to have an uplifting quality in the chorus."
2. You have to know what connects with people.
"It really seems like the general public responds well to songs about salvation or overcoming something, or that everything's going to be OK, or that things are fun. So yeah, I think that my skill is more upbeat curating, as in choosing the right tracks and then sort of trying to understand the will or nature of popular culture."
Sia says she initially felt "cheesy" when putting this sentiment into songs like "Titanium" and "Wild Ones," but later had a change of heart: "[After] watching the PS22 choir sing "Titanium" and then listening to the children being interviewed afterwards saying that it actually really impacted them—some of the kids were being bullied—I felt like I was jaded and cynical...I thought, 'Why don't you loosen up, you prick!'"
3. Your co-writers often aren't in the room.
When asked what the writing sessions with Kanye West were like for the This Is Acting song "Reaper," on which he has a co-writing credit, Sia responded, "Well, he wasn't there!...They'll entice me into a session by saying, 'Rihanna will definitely be there' or 'Kanye will definitely be there,' but it's hilarious because I turn up and, almost always, they never come...There were notes from Kanye, and I can't even remember what they were. I remember I just raced in and raced out, and I thought there was something about the chorus that seemed fun about this song, but I never thought it would see the light of day. My manager pushed for this song to be on the record, but I don't care about it."
4. But when they are, you have to "check your ego."
On working with Adele, Sia says: "It was a very interesting process working with her because I felt insecure because I didn't want to dominate because it's clear to me that she's the dominant party. When I work with artists, I basically check my ego at the door and I become their bitch, and I'm completely comfortable in that role."
5. Songs are usually shopped to a bunch of artists.
"I had seller's remorse with [This Is Acting single] 'Bird Set Free' every time it went away and then came back. First it went to Rihanna and then it was returned. Then it went to Adele, and Adele cut it and sounded amazing on it. Then it was returned. The truth is that we wrote "Bird Set Free" for Pitch Perfect 2. They rejected it and took another song of ours called 'Flashlight.'"
6. You have to know who's in the market for a big single.
Sia explains: "Mostly we've been pitching on Rihanna for the last couple years because she's been looking for a couple years. Well, it feels like a couple years. It might be one year. They're always looking for that first single."
7. And you have to be picky with who you give songs away to.
"It sounds bad, and I'm trying to think of a nice way to say it, but an artist who gets high rotation on the radio is your target when you're a songwriter. That's the goal. You want someone who gets highly rotated. Then you get people who get slightly less rotation. Sometimes I'll give them songs, but sometimes I'll think a song is too valuable and that I can get higher rotation if I sing it myself."