Kodak Black Is America's Hardest Working Teenage Rapper
With visceral bars and famous fans, a high-school-aged storyteller busts out of Florida.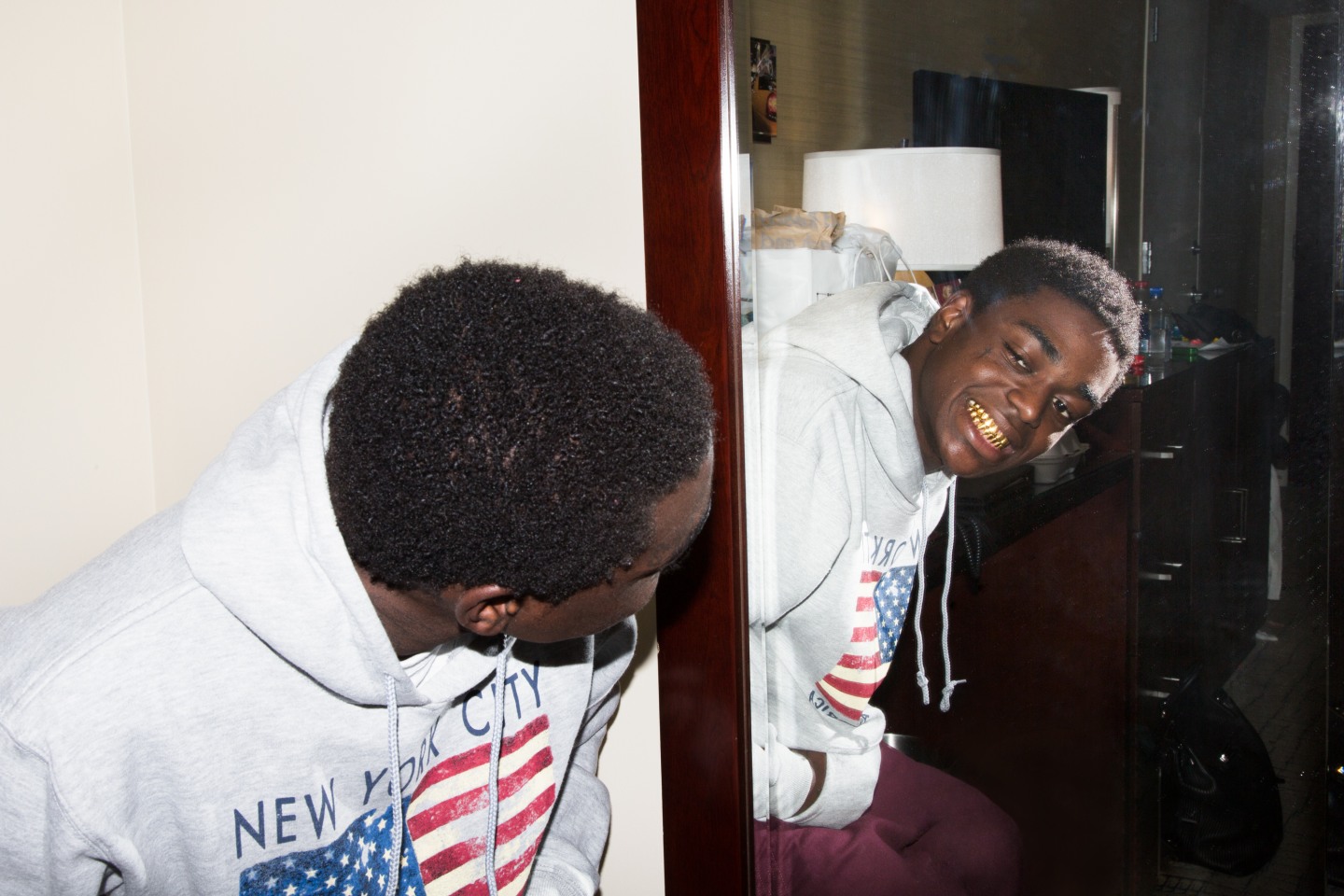 At 15 or 16, he can't remember which, Kodak Black collected some cash while working up and down the East Coast in a blue Toyota. He'd rather not elaborate on the specifics of the job, but he says he spent the earnings on a precious-metal dental job. "Some people said I was too young, but I went to the dentist, had my money, and sat in the chair," he tells me when we meet in Manhattan just before Christmas. "I had my routes," he says. As if to prove it, he shows me that the word "ROADRUNNER" is inked across his chest.
In the last year, Kodak Black's growling street hit "No Flockin" and the more melancholic "Skrt," both off his 2014 mixtape Heart of the Projects, provided the one-two punch the 18-year-old needed to break out of Broward County, Florida and win over some influential fans. Perhaps most notable among them is Drake, who dropped "Shoulda Woulda" on OVO Radio and listened to "Skrt" in his private jet. This sudden attention has given Kodak the confidence to keep going, but he maintains that he is a lot more than the sum of his co-signs. "Drake ain't make me," he says.

Kodak Black, born Dieuson Octave, started writing raps when he was just a pre-teen in Pompano Beach, a mid-sized Florida city 45 minutes north of Miami's neon glow. His outsized swagger earned him the affection of the older guys, plus entry to the local studio. "When I first started, I was rapping about killing and doing all that other shit, even though I wasn't killing and all that shit," he says. "When I was younger, that's where my head was at. I knew I was going to be slugged up, my whole mouth gold. I knew I was going to be eating good, that I was going to be outchea."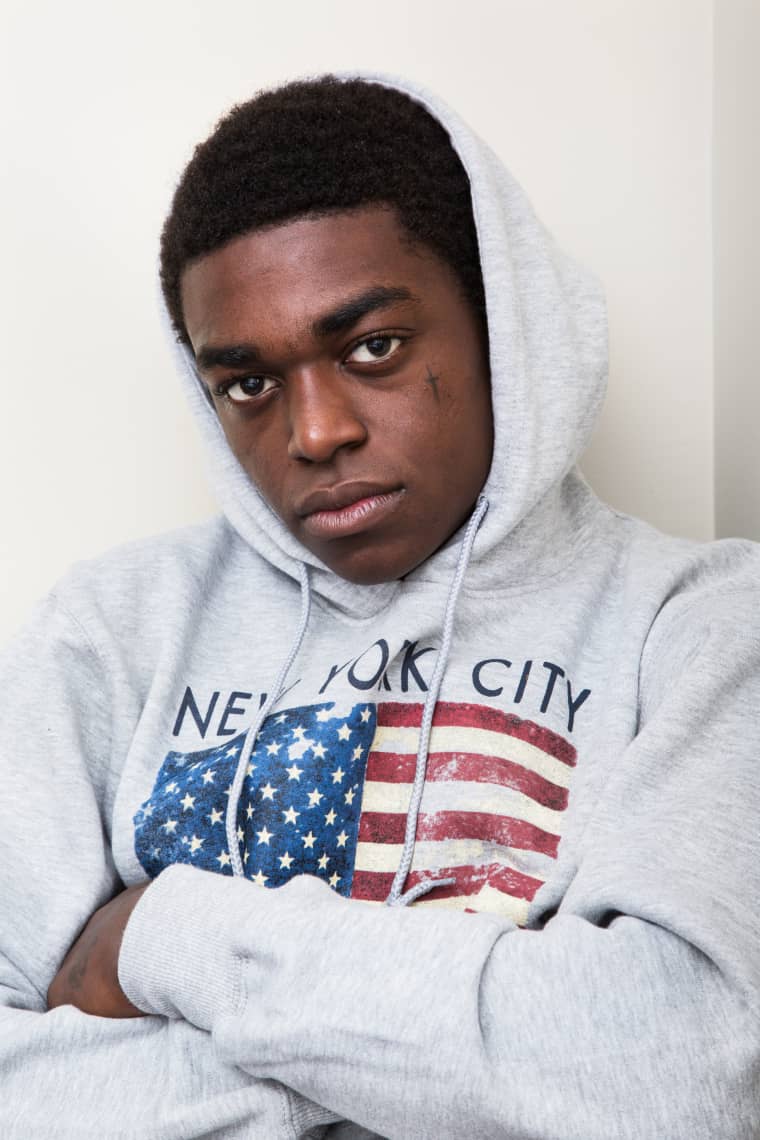 Although Kodak rapped about what he wanted for himself, he didn't always believe that his music would get him there. "I felt like, this is not going to work: look where I'm from, I don't know nobody, I'm too young," he says. "My dad wasn't in my life, he couldn't buy me shit. My mom, her money going was straight to the bills. So I was like, fuck it, I got to get my own money. At least if I had money in my pocket, I could get some food when I'm hungry."
Trouble seemed to find Kodak early on. In fifth grade he got kicked out of school for fighting. He caught his first punishable-by-life charge for carjacking when he was in middle school, and he spent much of his teen years bouncing in and out of juvenile detention centers. And last October, he was pulled over while on his way to New York for CMJ, and was arrested on a warrant that reportedly included charges of robbery, assault, and kidnapping (a representative for Kodak denied to comment on the current status of these charges). He spent his 18th birthday in jail, and while waiting to be released on bail, he read about himself in XXL magazine.
Kodak speaks candidly when I ask about his brushes with the law. "I kept a clean heart through everything, and my intentions wasn't bad," he says. "I didn't just freestyle it. At the end, it's about bread." He is wary, though, that future trouble might affect his present blessings, which include a new house for his mother that he bought using money from shows, and a rumored deal with Atlantic Records. The night before our chat, he played at intimate Brooklyn nightclub Good Room, and today he seems genuinely amused by the fact that he has fans in New York. "I just be taking all that in like—it get better than this shit, don't even dwell on it," he tells me. "I'm trying to go away to Switzerland."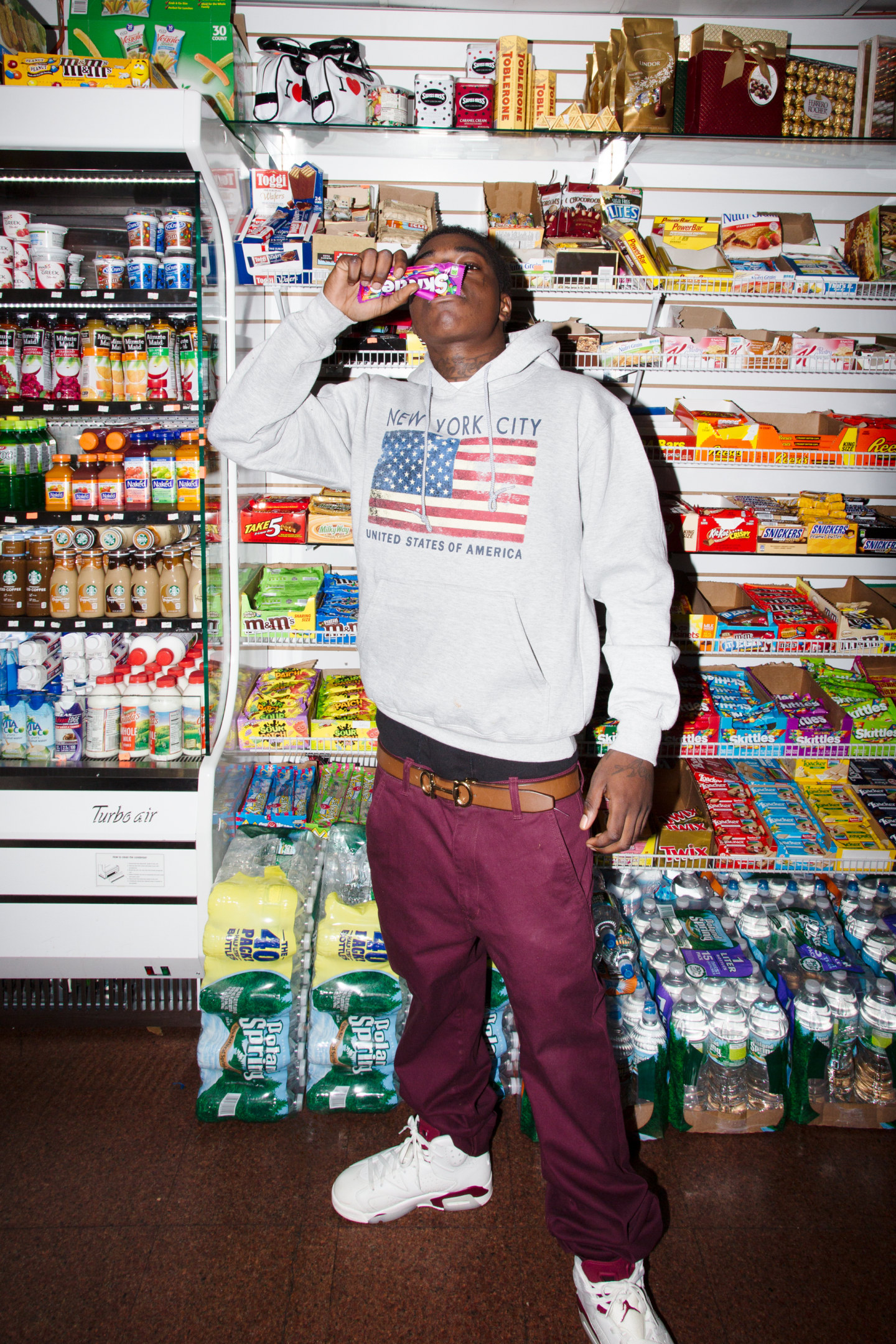 "Drake ain't make me." - Kodak Black
Though his taste in beats is pretty varied, when Kodak raps you know exactly who you are hearing. His voice is pinched but tuneful, sliding easily into sing-song. It's a manner that's more resonant of Lil' Boosie—who Kodak reveres, in part because Boosie was Youngest of The Camp too—than hip-hop's current class of crooners. "I got the type of voice where I can hit a tone if I want, but I ain't trying to be Fetty Wap or Future," he says.
On Christmas day, Kodak released Institution, his third tape in as many Decembers. It's a sturdy project that finds him ruminating on his past, money and fame, and long-distance love. It's 24 tracks, features exactly zero guests, and was made the same way he has always makes his music—with mostly Twitter-solicited beats. But that's not to say things aren't changing: Metro Boomin and Zaytoven have been "hollering," he says, and he recently made an as-yet-unreleased track with Mike WiLL Made-It and Rae Sremmurd called "Real Chill."

On "If You Ain't Ridin," a downtempo track off Institution, Kodak tells his life story as such: Went to school got expelled, jumped off the porch I was 12/ I ain't goin back to jail, no more thuggin, I swear. Spend some time with Kodak, and you'll start to believe that he means it. He's focused on music, but he's got a fallout plan, too. "If rap don't work, I'm going to go to the dentist and get all my golds taken out and go back to boxing," he says, peeling his lips past his gums into the biggest grin you've ever seen. Or maybe, Kodak says, he will pick up a trade like brick masonry, or get his commercial driver license so he can drive big rigs up and down the Eastern Corridor. He already knows the roads, anyways.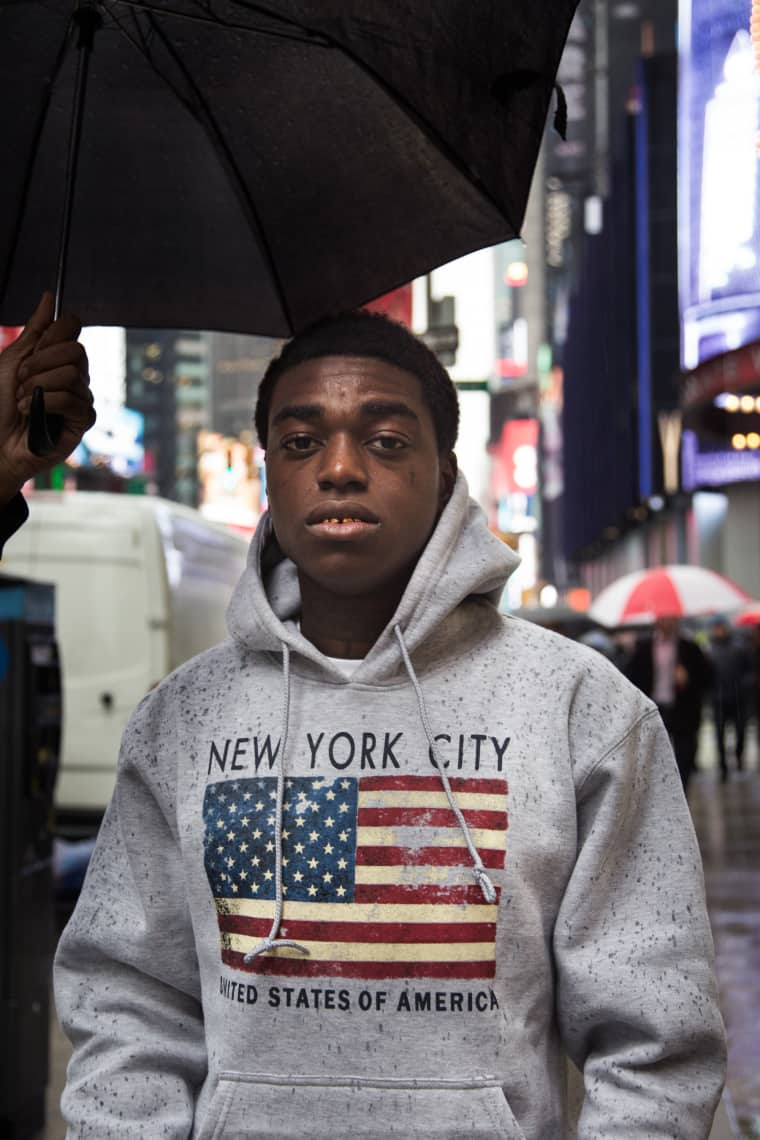 From The Collection:
GEN F