Performance art duo Monica Mirabile and Sigrid Lauren use their bodies to investigate the systems controlling us—and invite us to join in.
The two women who make up the performance art collective FlucT were the only non-music act on the line-up at techno summer camp Sustain-Release last September, yet they stole the show. Monica Mirabile and Sigrid Lauren were given an unexpected peak-time slot to debut Agape, their current dance piece: 3 a.m. in the purple-lit, wood-floored main room, just after a synth-heavy set from East Village Radio co-founder Veronica Vasicka. While Lauren and Mirabile are no strangers to the underground music scene—they've performed live with Brooklyn-based electronic artist Pictureplane and synth-pop star MNDR—it seemed the majority of the 300 or so people gathered to watch them at the low-key festival in upstate New York didn't quite know what to expect. Myself included.
We were motioned to form a circle around them, but it came out more like an oval; an egg ready to hatch. To a brooding backing track, FlucT made the most of the enclosed space. One moment, they were manically simulating sex—Lauren thrusting her hips against a bent over Mirabile—while furiously batting their eyelids and wearing doll-like grins; the next, they were on the floor shaking their whole bodies as if they were experiencing an exorcism. Lauren is taller and stronger than Mirabile and so she did most of the lifting, picking her partner up and helping maneuver their two bodies into unusual configurations with a matter-of-fact familiarity. At points, their hair—Lauren's white-blonde bangs and Mirabile's black-brown mane—tangled like their limbs. On all fours, they bounced with vigor, pushing their knee pads to the limit. Whatever they pushed their bodies to do, they held the awkward poses for longer than friends like to hold eye contact.
Captured in freeze-frame on smartphones, it's easy to admire the poetry of their movements, the lines of their bodies tracing thrilling shapes. But in motion, inches from my own passive body in the audience, it struck like lightning. Their confrontational performance of femininity drags the viewer through a hall of mirrors—one moment parodying "pretty," the next being crudely suggestive. The content might be PG-13 but it shocks because their exaggerated movements reveal an uncomfortable truth about modern desire and how it has been almost entirely permeated by the patriarchy. Interestingly, the more traditionally "shocking" elements of their performance—the twitching and flailing, the way they slam their bodies against the floor—provide relief. In letting go, they exert control. What's so invigorating about watching FlucT is witnessing them meet the male gaze then violently poke it in the eye.
A few months later, we're sitting in Otion Front, their white cube of a studio in Bushwick, reflecting on the late arrival of winter and last summer's impactful Sustain-Release performance. "There were men who had similar [intrigued] reactions to what you had," says Mirabile, "and there were some men who were like, 'Can I have your phone number?'"
At points, their hair—Sigrid Lauren's white-blonde bangs and Monica Mirabile's black-brown mane—tangled like their limbs. On all fours, they bounced with vigor, pushing their knee pads to the limit.
Mirabile grew up in the beachside town of Clearwater, Florida, and Lauren a thousand miles up the coast in the arts-minded city of Baltimore. It was in the latter that the two first met in 2010, while Mirabile was studying interdisciplinary sculpture at art school. Lauren had graduated a couple of years earlier—she attended college in Virginia on an athletics scholarship—and returned to Baltimore after a spell traveling in Australia. The pair met when they wound up as roommates in a 12-person live-work warehouse, where they bonded over a desire to "move freely," and over their parallel childhood experiences.
Those shared formative memories make up the emotional basis for their work as FlucT. Both had "intense familial relationships," Mirabile tells me. "I didn't have a lot of parental control," she continues. "I didn't ever have a curfew, I had no rules, they weren't around watching me all the time. I learned how to cook when I was like four years old, you know? I cooked hamburgers on a stove."
"We were both super loved but people are complicated," says Lauren. "I think the focus wasn't always necessarily on the child. It kind of allowed us to become observers."
As young teenagers, that observational nature led to their respective first understandings of the male gaze as it relates to dance. "When I was thirteen I would go to little underaged dance clubs because I really liked to dance, but it immediately became sexualized," Lauren remembers. "And I didn't like the attention."
"That happened to me too," says Mirabile.
After finding one another as adults, they quickly became each other's closest confidantes and began moving towards a creative partnership that solidified when they moved to New York together in late 2012. Their collaboration balances on a personal philosophy that draws largely from their own experiences growing up, but they also give nods to John Cage's writing about the role of chance in art, movement therapist Bonnie Bainbridge Cohen's teachings on the mind-body relationship, and the groundbreaking body of work of composer and choreographer Meredith Monk, who first rose to prominence in the late '60s.
Today, dance is the primary form that their work takes, but FlucT don't see themselves as dancers. "Ballet is based in a learned technique and we're dealing with psychology. I feel like we're psychoanalysts," says Mirabile. "Our name is FlucT because it's shorthand for fluctuation. We're both very okay with fluctuating in and out of emotions, in and out of definitions, and in and out of ideas about ourselves and the world around us."
"Ballet is based in a learned technique and we're dealing with psychology. I feel like we're psychoanalysts."—Monica Mirabile, FlucT
Looking and being looked at, and the ways in which these two distinct acts bind us to both ideas and one another, is what underscores FlucT's art. On one hand, their work examines the barrage of information that contemporary bodies in the hyper-capitalist world can't help but absorb—think about the way your daily routine has changed over the past few years, and how many "newsfeeds" and how much "content" your burning eyes dance over, hour after hour. On the other hand, the act of being looked at involves internalizing a whole heap of other information: we read one another's glances, see ourselves through each other's perspectives, and try to balance the result with our own senses of self. Whatever we do, we can't escape the information avalanche. FlucT's diagnosis? We need to process it in order to not get lost in it, and the best way of doing that is by focusing on a bodily action to give the mind a break.
"Processing is a subconscious action. When we're moving and can't really be doing anything else, that's the point," says Mirabile. "It's like sleep." Lauren agrees, nailing the sentiment. "Whenever I'm not thinking, I do the best thinking," she says.
In FlucT's world, processing happens through a form of rapid, stunted movement they call "glitching." By using their bodies to mimic the way technology processes an overload of information—their "freak out" movements that make them seem possessed—Mirabile and Lauren aim to turn a glitch into a redemptive moment, and in doing so, wrestle back control from the overwhelming nature of modern communications. Receiving information is a passive act; stepping away from our beloved screens to shake it out—be it through dance, exercise, or something more radical—is a visceral way of reminding yourself who is boss.
"I like to play, I like to experiment."—Sigrid Lauren, FlucT
"Glitching is the emotion when your body is telling you that it's freaking out," says Mirabile. "It's derived from the glitching of a system. When a program is glitching, it's a good thing because you realize that something is wrong and you need to fix it."
Perhaps the most radical of FlucT's ideas is their simplest: not just understanding that our bodies and brains are connected but actually living that connection. To be in your body, to feel intuitively as well as to dissect intellectually, is one way of cutting through the crap—through societal pressures, through decades of cultural conditioning—to decipher what you really think or want. It's what Lauren is getting at when she talks about "moving freely": to move freely is to think freely.
"[FlucT's work] really feels like a comment on the absurdity of all of our bodies," says Pictureplane's Travis Egedy over email. "[It] touches on deep ideas like, what does it even mean to be human?"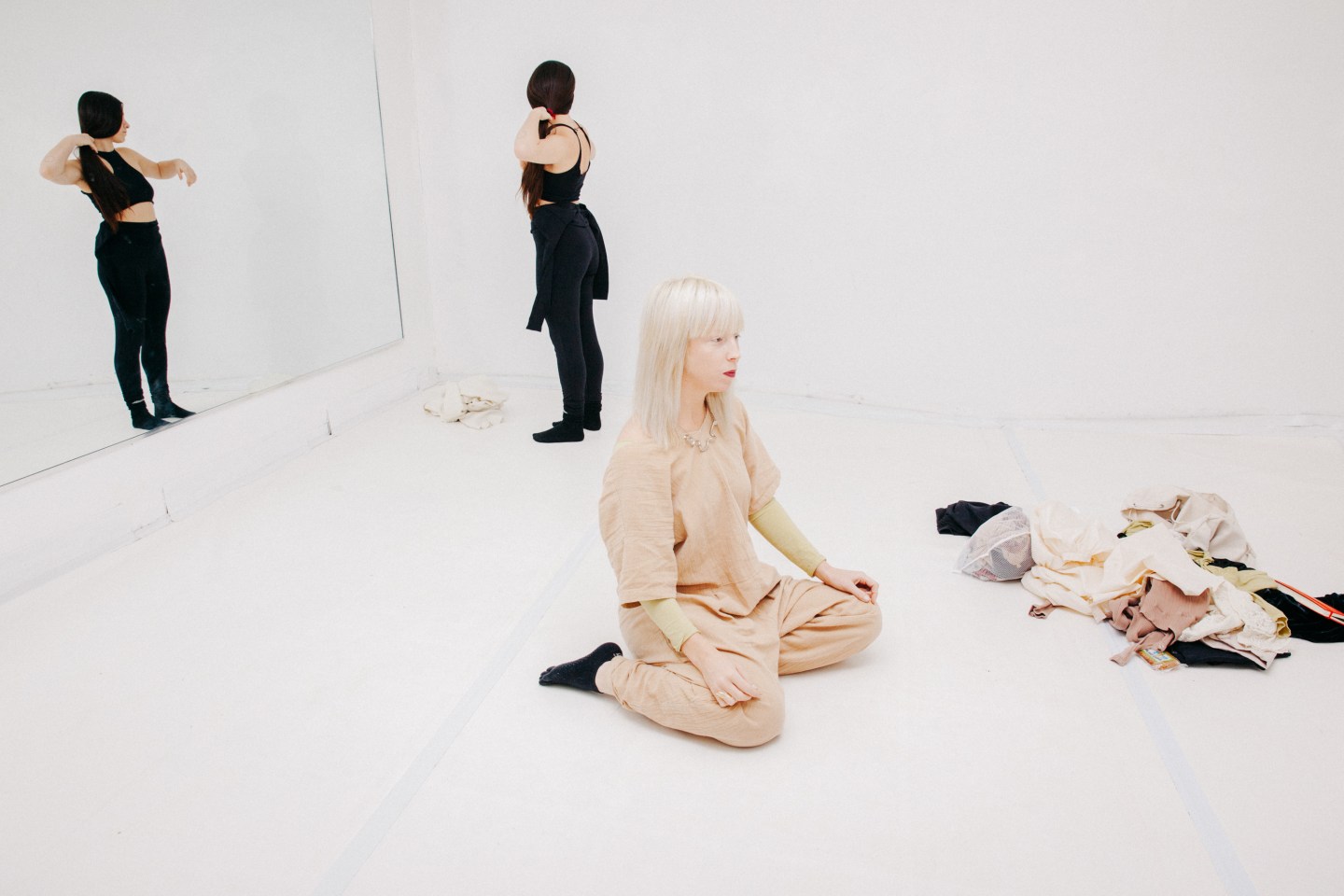 "Monica and Sigrid's work really captures something very primal about power dynamics, whether those dynamics are happening in a sexual relationship, or a social group, or between humans and technology."—Samantha Cornwell-Crabtree
How we relate to one another, our friends, family, and the wider community is at the heart of FlucT's practice. "A lot of it is conversation about what these movements and emotions mean to us, what they mean in our personal relationships," says Lauren, leaning back on the studio's padded floor. Filmmaker and writer Samantha Cornwell-Crabtree, who has participated in two of Mirabile's solo works and attended classes at their studio Otion Front, attests to the effectiveness of that approach. "Monica and Sigrid's work really captures something very primal about power dynamics," Cornwell-Crabtree tells me over email. "Whether those dynamics are happening in a sexual relationship, or a social group, or between humans and technology."
Back in October, FlucT encountered power dynamics of an unexpected sort. Paris-based fashion designer Rick Owens' SS16 show caused a ruckus online when fans of Mirabile and Lauren began tagging them in Instagrams and noting the similarities between Owens' "human backpack" models and FlucT's work. Owens went on to tell Dazed that they'd both "knocked off" Australian performance artist Leigh Bowery, who rose to prominence in the art and fashion worlds in the '80s. In fact, FlucT had never heard of Bowery. "I'm not an art student, I literally am a player—I like to play, I like to experiment," says Lauren. Owens' reading of the situation negated the narratives that FlucT write with their bodies—that the work the two of them create together is a potent critique of the societal systems we all find ourselves trapped within.
"I felt terrible about it then, but now I'm glad it happened," says Mirabile of the subsequent social media hate mail she received, much of which took the side of Owens, a man in a position of power. "I feel that I have been able to process it and be like, actually, I do feel strongly about what we're doing and that's why we're going to feel okay about backing it the fuck up."
The incident with Owens ran counter to their community-minded philosophy, which finds its physical hub in Otion Front, through which FlucT is committed to helping others process, too. Located on Myrtle Avenue in Bushwick, moments from the popular music venues Bossa Nova and Palisades, the space is accessed via a small network of corridors and stairs which lead to a standalone building in a ramshackle backyard. Outside, it's pretty unassuming; inside, it feels like being held in a kind embrace. Maybe that's because of the padded floor, or the light bouncing off the walls, or the delicate scent drifting from a diffuser; whatever, the vibe is good.
"I wanted to start a space where people could gather with a similar sort of idea of how they want to exist together," says Mirabile. The shared understanding she's referencing is that of knowing "how to exist in your body" in the face of today's consumer-focused and technology-saturated landscape. "The point isn't to demonize sitting on your computer because we do so much of that— running the space, doing FlucT, being business people," say Mirabile. Lauren nods, and finishes the sentence: "It's to process and release that."
Lauren admits she was initially nervous about the responsibility of running the space. "[Mirabile] had to drag me over her shoulder to get me to help," she laughs. Since they opened Otion Front in 2013, they've developed an artist in-residence program, helped create a series of workshops, and regularly rent the studio out as a rehearsal space to the local community. Both members of FlucT teach classes. Lauren's is called Ignorant Gravity and involves "a lot of cathartic exercises" to raise awareness of how bodily motion is connected to emotion. Mirabile's is called Spa and includes guided meditation and a facial; relaxation is another way of processing, after all.
However, until recently, the studio wasn't "sustainable financially because it's very popular as an idea, which is interesting, but not as popular as an action," admits Mirabile. For a year she paid the rent out of her bar job wages—both she and Lauren do shifts over the road at Happyfun Hideaway, which is affiliated with the not-for-profit cultural space Secret Robot Project—and it was a struggle to get by. But last year, they took on three additional partners; now all five women share in the responsibility of running and paying for the space. Neither Mirabile nor Lauren knew any of them before. "There are a lot of really good relationships that have come out of this place," says Mirabile, her voice thick with gratitude.
"It's a gift for all of us to create a space for ourselves and others together in this gritty grind."—Kathleen Dycaico, Otion Front
"Otion Front strikes a balance in being a place that produces challenging work that at the same time is incredibly inclusive and welcoming," Kathleen Dycaico, a local artist and choreographer and one of the space's new partners, tells me over email. "So many artists come to explore their processes through their bodies that would never go to a dance studio. It's a gift for all of us to create a space for ourselves and others together in this gritty grind."
In confronting and exploring their own physicality, FlucT's Monica Mirabile and Sigrid Lauren have created a wide open space for others to do so, too—and it's those people's testimonies that makes their work all the more worthwhile. "When you are practicing a new physicality amongst a group of people that you don't know too well, it creates an atmosphere that is very vulnerable but also very supportive, since you are all in the same boat," says Cornwell-Crabtree of her experience participating in one of Mirabile's pieces. "Before I did these performances I was in an introverted stage of life, and I feel like participating in the work has opened me up in my own art—and in [my] social life." Maybe it's time we all started moving differently.