Meet Sunflower Bean, The NYC Trio Making Retro Rock For Modern Life
In the city's ever-evolving music scene, three friends make classic-sounding songs about the weight of contemporary existence.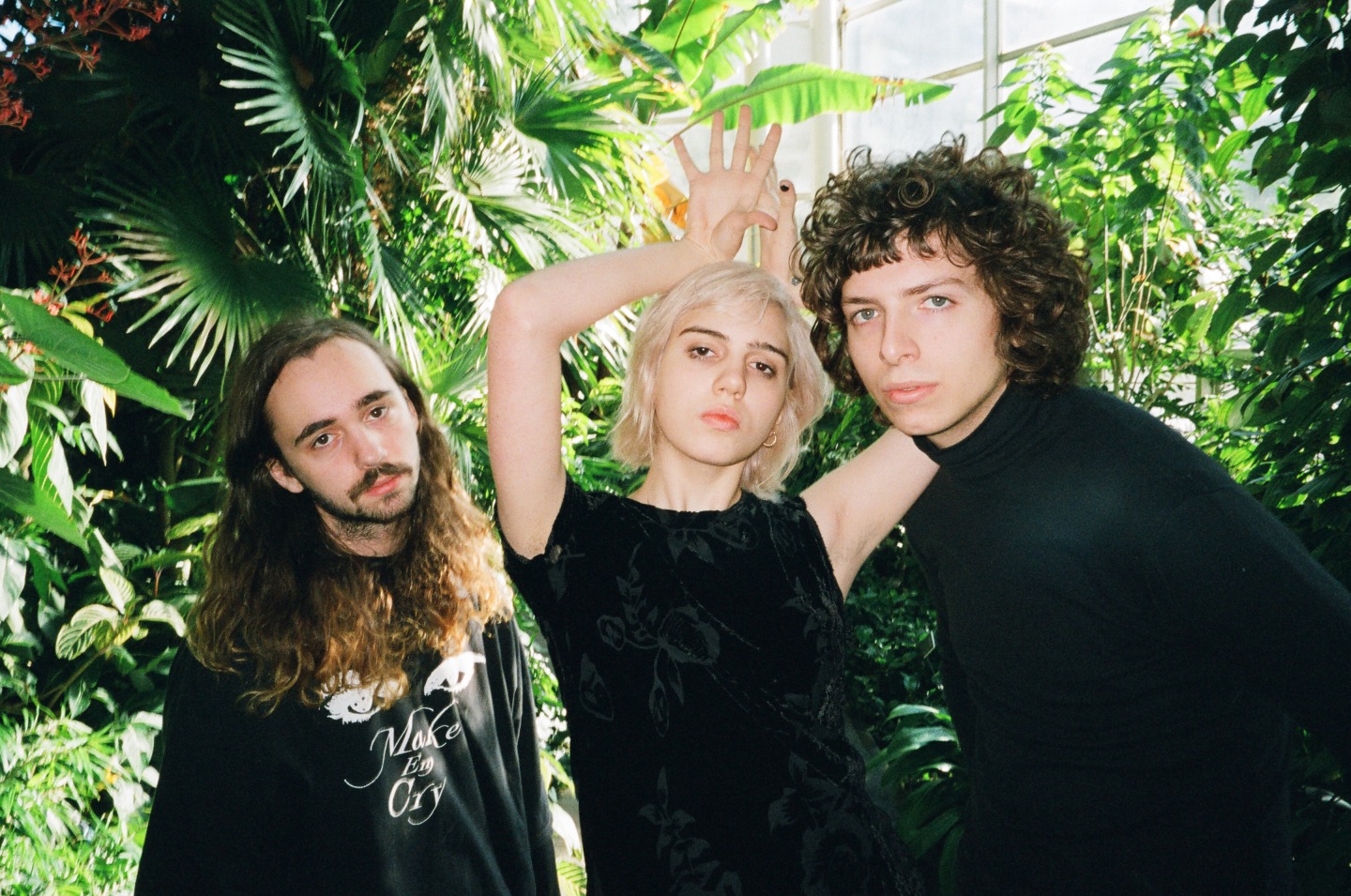 On the coldest day of 2016 so far, the members of Sunflower Bean don't know what to eat for lunch. Their record label is paying, the New York band tells me, so the meal has to be good. After bolting out of a Bushwick pub with an unbearably fussy menu—burgers are only served at certain hours, and never on Monday—the trio of 20-year-olds settle on an unpretentious Venezuelan joint known for its molasses lemonade and meat-stuffed arepas. They choose a table facing Irving Avenue, where a consistent stream of bundled-up pedestrians hurry past.
Sunflower Bean makes rock n' roll, and you could probably figure that out by looking at them. Julia Cumming—who sings, plays bass, and sometimes models for fashion brands like Saint Laurent—is wearing a black dress and a crimson blazer; a long fur coat is draped over her chair. Guitarist Nick Kivlen, who sings too, has a serious Blonde on Blonde-era Dylan vibe, while the group's long-haired drummer, Jacob Faber, whose eyes are darting up and down the two-page menu, looks halfway between a well-dressed metalhead and a late-90s cyberpunk.

Kivlen and Faber were both raised on Long Island and got into music early. Faber played saxophone in school, while Kivlen took guitar lessons from the drummer of legendary thrash band Agnostic Front. "I was super into every kind of metal, from Iron Maiden to Korn," Kivlen says. Cumming, who grew up in Manhattan and studied classical singing at a performing arts high school, smirks at this admission. "Every once in awhile he'll get back on a Slipknot kick," she says in a dreamy, soft tone. All three spent their teen years bumming around Brooklyn's transitory network of underground music venues, and 2013, the boys asked Cumming to join their new duo, Sunflower Bean, on bass. They played their first gig as a trio in Death by Audio, a Williamsburg rock club that's since been converted into amenity-filled offices for Vice Media. That was Kivlen and Faber's first summer out of high school; Cumming still had a year to go.
For the next couple years, Sunflower Bean played an almost unbelievable amount of shows, performing their energetic psych-rock to small crowds across New York. They released an EP at the top of 2015, and later that year, they recorded their first full-length, Human Ceremony, which Fat Possum released last week. It was made with help from some characters that ran in the now-vaguely-disjointed Brooklyn indie scene they circled as kids, like Matt Molnar, who played in the Samantha Urbani-fronted band Friends, and Jarvis Taverne from Woods. The resulting songs— full of clever, spacious melodies and transportive textures—wouldn't have been out of place amidst that turn-of-the-decade crop of woozy rock.
The production is thoughtful, particularly in terms of the vocals; reverb and delay bring Cumming's falsetto to mysterious places, and it meshes nicely with Kivlen's lower, grainier singing voice. Human Ceremony is definitely steeped in dusted-off rock sounds—stoner rock, proto-metal, first-wave indie pop—but they're fused in a way that could maybe only come from songwriters who don't remember a time before the internet, who have pretty much always had the ability to download full discographies in a single .zip file.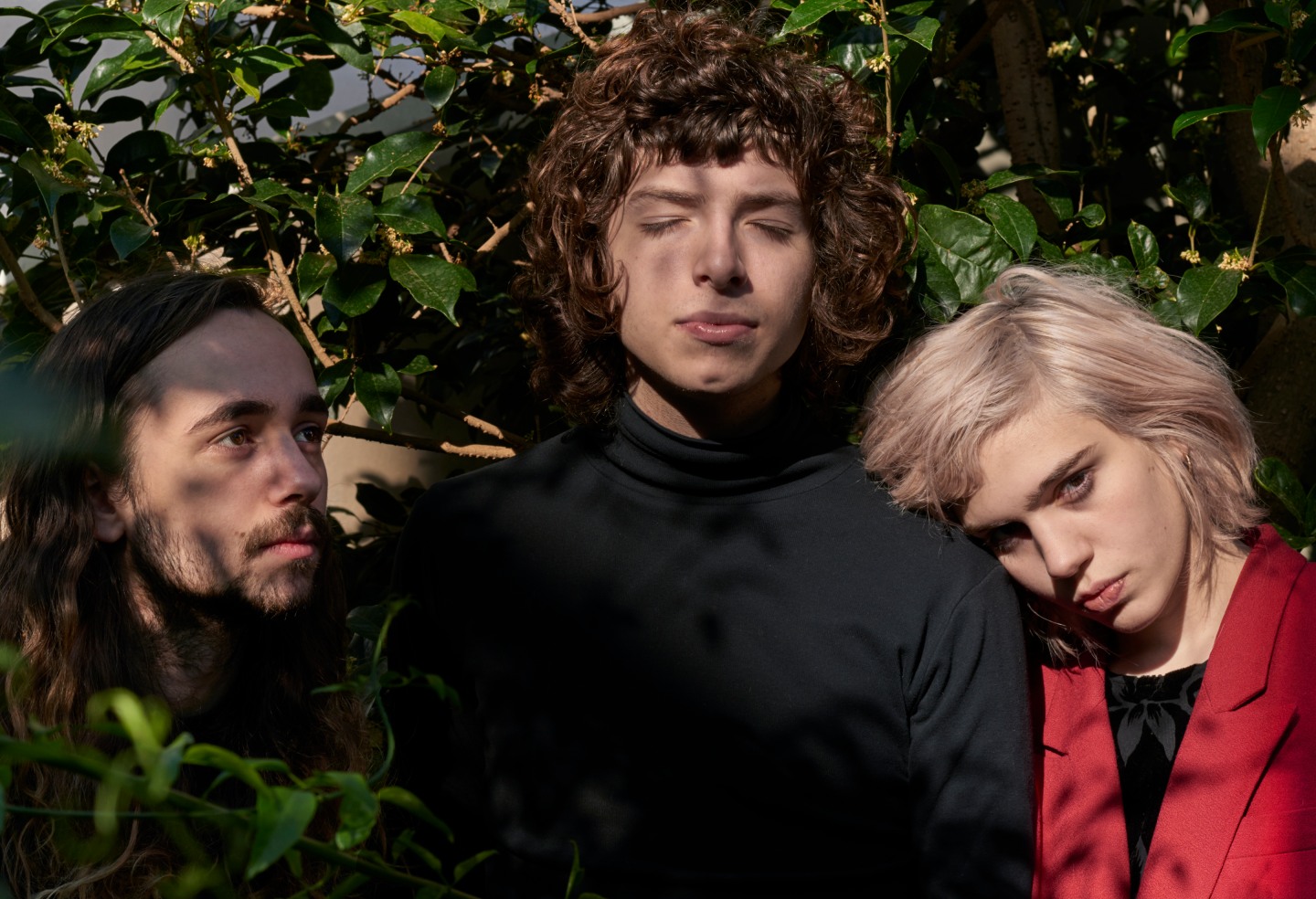 The sounds are retro, but the lyrics grapple with the loneliness of contemporary existence. "It's really reactionary to like time period we're living in right now," Kivlen says. "It's about the weight of being alive," Faber adds, grinning. "If there was an alien text book, there would be a picture and the alien-lanugage caption would just say, like, Human Ceremony,'" Kivlen adds. "I'm imagining the aliens from The Simpsons," Cumming interjects. "You know the two that always come down to earth?" Compared with their first recordings and the wound-up tension of their live show, there's a lot of mellow moments on the album, too. The existentially distressed "I Just Don't Know," for example, is short and sparse and very pretty: I just don't know my place in this world, it goes. Jesus has a place for me. "I think that's the most lonely, bizarre song on the record," Cumming says.
Throughout the meal, I notice that the three of them have a special sort of friendship, the sort that's pretty common when you're on the brink of adulthood, and suddenly who you surround yourself with has a lot more to do with the things you're into and what kind of person you are than, like, who's in your AP English class. They know each other's birthdays, their favorite fast-food restaurants, and what each other's parents do for work. "There's very little that we disagree on, and it's like a big point of conflict when we do," Kivlen says. "Like, I don't fuck with 1970s Pink Floyd," Faber says, "and that's one of Nick's favorites."
They understand each other's wildest dreams and bleakest fears, because they have the same ones. I ask what it's like to be in a new band in the year 2016, when mainstream sounds and internet-age aesthetics get more attention than analog rock, especially in New York. "I feel like this is the wrong place for rock band like us to start right now," Kivlen says. "But it's fine, because I don't ever wanna, like, be famous; I think that would be terrifying." All three of their plates are squeaky clean, and they've moved on to black coffee. "Plus you don't need that much money to make a really good record," Cumming says after a sip. "I just want to do something good."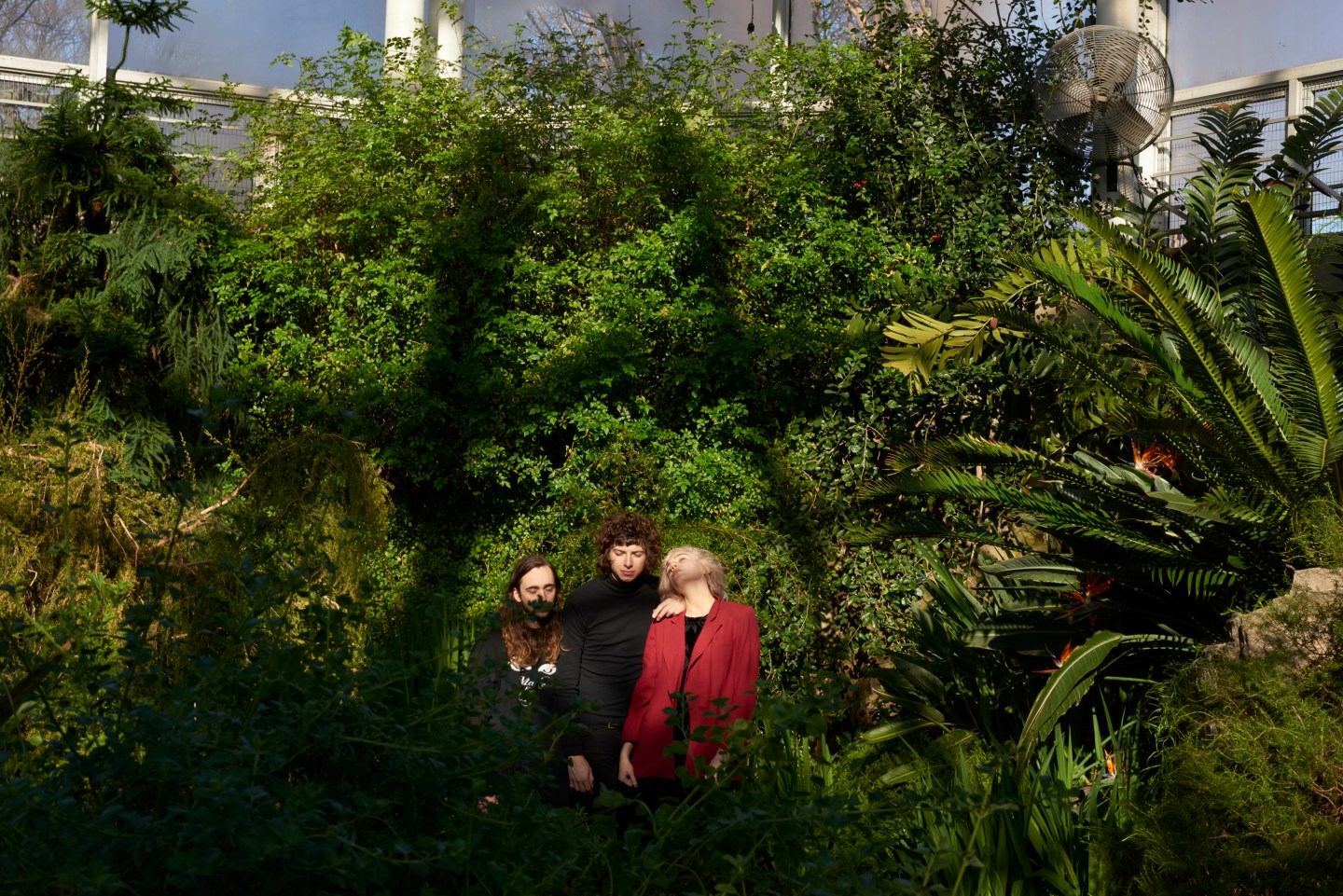 From The Collection:
GEN F