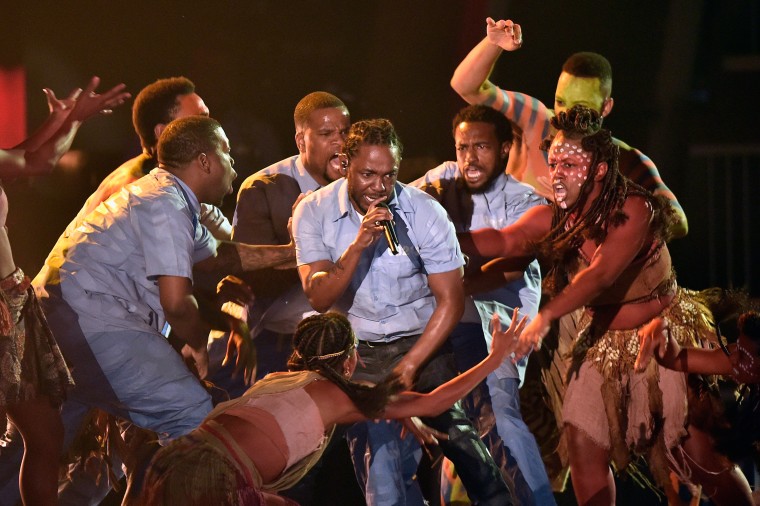 Kendrick Lamar's performance at Monday's Grammy Awards was widely acclaimed as the evening's most exciting. For the show, Lamar altered some of the song's most provocative—and utterly not profane—lyrics. After the performance, fans wondered if that was it an artistic decision, or if he was asked not to perform the song's most potentially controversial lines for the Grammys' television audience. (A rep for Kendrick Lamar did not immediately respond to a request for comment.)
At the beginning of his performance, Kendrick rapped a section of To Pimp A Butterfly track "The Blacker The Berry" while self-censoring the song's profanity. Later, when he transitioned into the four-time nominated "Alright," he changed lyrics from that song's hook, mainly: And we hate po-po/ Wanna kill us dead in the streets fo sho'/ Nigga, I'm at the preacher's door/ My knees gettin' weak, and my gun might blow/ But we gon' be alright. In the performance, that line became: I'm at the preacher's door/ Wanna kill us dead at the preacher's door/ We said give em so mo', this one time/ Do it for the show/ But we gon' be alright.
Later in the performance, CBS cut the audio during the song's un-altered line Diggin' in my pocket, ain't a profit big enough to feed you. A lot of people on Twitter incorrectly assumed that the censored section was the po-po section from the same song. As CBS explained in an email, "An instance of profanity was deleted during Kendrick Lamar's performance of 'Alright.'" When pressed for which line was cut out and why, a rep for CBS emailed one word back: "Fuck."
When asked at what point "fuck" was said, the rep said the line Kendrick said was Diggin in my pocket ain't a profit "fuck it" big enough to feed you.
The And we hate po-po lines were the subject of heated controversy after Lamar performed the song at the BET Awards while standing atop a cop car. The song's official video led Fox News to offer a serious of disapproving rebukes, which Kendrick eventually responded to. "How can you turn a song about hope and turn it into hatred?" the rapper asked. "The overall message is: 'We gonna be alright.' It's not the message of, 'I want to kill people.'"