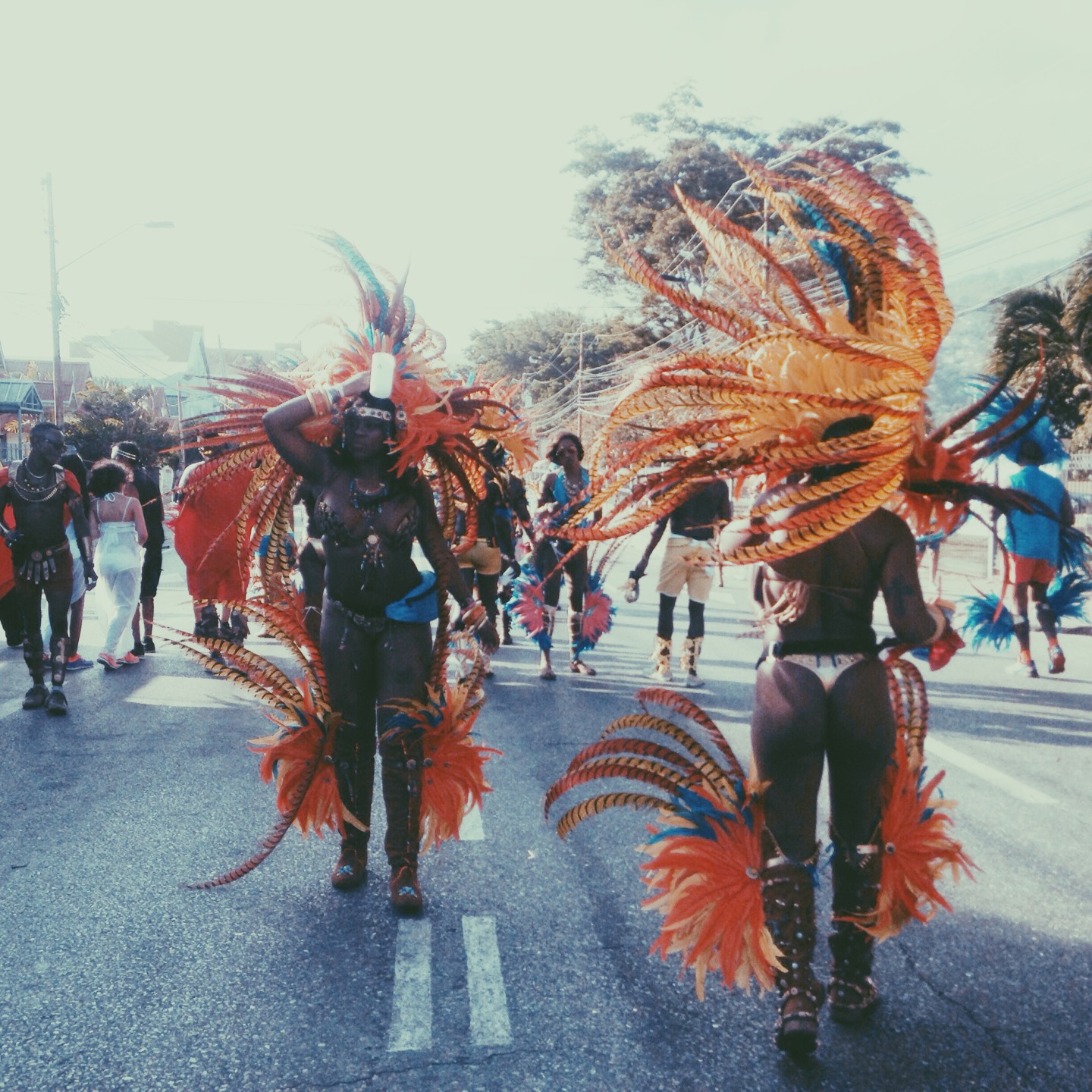 On a Friday night last February, a singer in a gold lamé suit and matching kufi stepped off a throne to pounding drums and a loud chanting of his name. As Olatunji performed his single "Ola," dancers in feathered headdresses and face paint interpreted its rhythms with movements like the etighi, a step popularized by Nigerian artist Iyanya's 2012 hit, "Kukere." Despite the West African signifiers, the performance took place in Port of Spain, Trinidad, where Olatunji is based, during one of the most climactic moments of 2015's International Soca Monarch competition.
The Monarch competition is a key event in the run-up to Trinidad and Tobago's annual carnival, and one of the most prestigious music showcases in the Caribbean. Olatunji's triumphant performance of "Ola," already one of the most popular songs of the 2015 carnival season, earned him the title of Groovy Soca Monarch, one of two prizes awarded at the competition. Perhaps more significantly, it also confirmed the arrival of a new subgenre that's come to be termed "afrosoca"—a blend of Caribbean and African rhythms that reflects both the outward expansion of Trinidad's signature sound and the growing influence of afrobeats on the island, and worldwide. It was Shakira Marshall, a New York-based choreographer of Guyanese descent, who coined the term afrosoca as a name for her Brooklyn-based dance class in 2012.
The emerging hybrid is the latest volley in a transatlantic conversation that began, like so many other cultural transfers, with the enslavement of millions of West Africans and their forced relocation to Caribbean colonies centuries ago. Trinidadians proved to be remarkably resilient and creative in preserving African traditions over the years, refashioning the spoken word commentary of the griot into calypso, defying colonial bans on drums by creating new percussion instruments from bamboo and turning discarded oil drums into the steelpan. Similar developments occurred across the Caribbean—notably in Jamaica, where the mento style of folk developed in parallel to calypso in the early 20th century, and where African drums later reasserted themselves in the form of Nyabinghi drumming, the rhythmic foundation of reggae.
By blending with afrobeats, a rhythmically similar but more nebulous category with less restrictions and more visibility, soca is broadening in a way that's true to its origins and identity.
Today, Jamaican reggae and dancehall are among the most popular music forms in many parts of Africa. Along with hip-hop, house, and African sounds like highlife and kwaito, reggae and dancehall represent a major thread in the expansive category of African dance rhythms that has come to be known as afrobeats, from the patois-inflected bashment pop of Nigeria's Burna Boy and Timaya, to the quasi-dancehall azonto beats used by Ghanaian artists like Sarkodie.
That kind of organic culture-mashing is how soca itself was born. The genre first developed in the mid-'70s through the music of calypsonian Lord Shorty (later known as Ras Shorty I), who sought to blend calypso with the chutney sounds of the polyglot island's substantial East Indian population, creating a Trinidadian sound he called "the soul of calypso." Abbreviated to soca, the genre crystallized in the '80s, with synthesizers and drum machines approximating the sounds of brass bands and rhythm sections. Spreading across the Caribbean, it took on different shapes on different islands, from the rugged bashment soca of Barbadian artists like Lil Rick, to the jab jab style associated with Grenada. About a dozen Caribbean nations and island territories, including Trinidad and Tobago, Antigua and Barbuda, Barbados, Grenada, St. Vincent and the Grenadines—just about every English-speaking country in the region, save Jamaica—count soca as their primary musical product.
But what drives and propels soca is precisely what limits it: it is music made expressly for the Caribbean's annual carnival celebrations. Carnival traditions have their own African roots, having originated as a means of resistance among Trinidadian slaves. Each year, a few dozen songs, mostly from Trinidad and Barbados, take hold region-wide and advance through the diaspora, where they soundtrack floats at celebrations from London to Brooklyn to Baltimore. A handful of songs—Kevin Lyttle's "Turn Me On" and Rupee's "Tempted to Touch"—have made it to Top 40 radio, though often in a form remixed to fit global tastes. Yet the genre remains inexorably tied to the parades, or road marches, that are the climax of every Caribbean Carnival.
To function on the road at Carnival, songs must effectively propel members of masquerade troupes—running on fumes after weeks of fêtes, exhaustive costume prep, and the paint-splattered, rum-soaked, pre-dawn ritual known as J'Ouvert—to vigorously and relentlessly "chip," jump, and wave their flags through the streets for hours. This requires an insanely insistent energy, one most often delivered by power soca, a sound in the 160-165 beats-per-minute range that ranks among the world's most aggressive dance rhythms.
Soca's co-dependence with Carnival means that it lays dormant for large parts of the year, before gushing forth again in a mad rush of releases timed to hit just before Carnival. This stop-and-start cycle inhibits the genre, critics say, but also creates an opportunity for annual reinvention. In the last five years, EDM has played a significant role in expanding soca's parameters, spurring a fusion that has both influenced and been influenced by Major Lazer. The Diplo-led outfit, whose Jillionaire hails from Trinidad, has collaborated with soca's two biggest icons, Machel Montano and Bunji Garlin, helping to bring the latter's "Differentology" to global attention with an official 2013 remix.
Garlin has been a force in soca since the early aughts, but Montano in particular has found inspiration outside of Trinidad for decades. Beginning in the 1990s, soca artists took on influence from pop, R&B, and other genres, creating a more melodious, mid-tempo school known as groovy soca. In contrast to the call-and-response chants of power soca, its lyrics paint the trappings of Carnival in more romantic, universal terms, celebrating revelry and wining—the circular rotation of waistlines central to contemporary Caribbean dance.
Now, it is Africa that is again influencing Caribbean music, at the considerably more mellow 120 beats-per-minute tempo of groovy soca. As afrobeats has fanned out of Lagos and Accra and into the global mainstream through diasporic hubs like London and Toronto, it is having a more intimate, familiar conversation with the islands. Artists from the two regions are building on their shared histories and extant similarities with collaborations and remixes that are blurring the boundaries between African and Caribbean sounds even further. Jamaica's Konshens recently released a remix of his "Gal Ting" featuring Nigeria's Patoranking, and Sean Paul has paired with both Fuse ODG and Timaya in the last two years. The video for "Bend Down Pause," a heavily dancehall-indebted single from Wizkid and Runtown, both Nigerian, features an intro from Jamaican-born Major Lazer MC Walshy Fire and Kingston-originated moves courtesy of Caribbean dancers like Crazy Hype and Betty Rox. Machel Montano recently released a remix of the song geared to the 2016 Trinidad Carnival season. And Busy Signal, dancehall's savviest genre experimenter, has been putting a Jamaican spin on popular African rhythms for years, notably with "Same Way" and "Professionally," flips of Sarkodie's "U Go Kill Me" and P-Square's "Personally," respectively.
Comb through the YouTube comments for many of these tracks and you'll find African and Caribbean listeners engaging in vigorous debate over the origins of sounds, dances, and, sometimes, the artists themselves. Many Nigerian commenters have attempted to claim Olatunji, whose Yoruba name is a common one in their country, to much Trini protest.
Nigeria's Timaya has perhaps brought the commonalities between soca and afrobeats—as well as dancehall—into sharpest focus. "Sanko" seamlessly straddles all three genres; its video features a mixture of dancehall movements and Nigerian steps, like the shoki. "My intention was to develop a unique sound, that when played across continents, the response and the vibe will be the same," Timaya says via email from Nigeria. "And I am very happy to say I achieved that."
Afrobeats tracks like "Sanko" have had a particularly palpable impact in Trinidad and Tobago, influencing not only emerging soca acts like Olatunji and Sekon Sta, but also the genre's leading voices. In March, Destra Garcia, the islands' "Queen of Bacchanal," released a remix of "Sanko." In November, Bunji Garlin launched Suit of Black, his pan-Caribbean supergroup with dancehall deejay Assassin and Jamaican-Canadian rapper Kardinal Offishall, with "She Bad," a propulsive afrobeats-inspired track with a sample of seeming West African origin. And Garlin's wife, two-time Soca Monarch winner Fay-Ann Lyons, effectively kicked off the 2016 Carnival season with "Block the Road," a collaboration with Ghana's Stonebwoy, built by St. Vincentian producer Stadic as a 50/50 hybrid between soca and afrobeats.
More than anyone, though, it is soca's marquee act, Machel Montano, who has brought African sounds and consciousness to the fore in Trinidad. He collaborated with South Africa's Ladysmith Black Mambazo on 2013's "Possessed," and was the first Caribbean artist to endorse Timaya, hopping on a remix of "Shake Your Bum Bum" and bringing him out to Trinidad for his annual pre-Carnival concert in 2014. Montano has also collaborated with Nigerian rapper 2face Idibia, and has releases with Uganda's Eddy Kenzo and Nigeria's Legendury Beatz in the works. Last year, he shot the video for "On My Way," a song inspired by the global reach of African drums, in Egypt.
"One day I was in London, looking at this African group perform, and they had these dance moves," Montano says from L.A., where he now lives part-time. "It reminded me of Jamaican moves like pon di river, pon di bank, mixed with wining from Trinidad. But something about it was royal, and something about it was funny. I thought, 'This is what I want to do with my soca music and our dance.' To raise it up in a regal, royal way."
Montano revitalized the genre in the '90s with tracks like the dancehall-inflected "Big Truck" and the Spanish guitar-driven Shaggy collaboration "Toro Toro," and he has been soca's leader in terms of both popularity and innovation ever since. Today, he sees in the fusion an opportunity to create a greater platform for a genre he's long worked to bring to wider acceptance. By blending with afrobeats, a rhythmically similar but more nebulous category with less restrictions and rising visibility, soca is broadening in a way that's true to its origins and identity, a welcome development for artists seeking to grow the genre's profile without losing sight of its core appeal. "This beat—being influenced by dancehall, being influenced by soca, being influenced by afrobeats—would play and please a wider cross section of people," Montano says. "You can have Jamaicans, Trinis, Africans, and even Europeans and Americans dancing to this one beat."
Though hardly ubiquitous, African themes and sounds are palpable in the offerings for this February's Trinidad Carnival, from Optimus Productions' Afro Soca riddim to Olatunji's "Oh Yay," a redux of his "Ola" that feels fresh and new nonetheless. "I see a lot of people adding more afro elements into their music now, which doesn't sound exactly like what we've done, but it's everybody's own interpretation of what soca and African music would sound like," says Kitwana "Kit" Israel of Advokit Productions, producer of Olatunji's "Ola." "I think it's working very well. It's bringing back a lot of joy into the music."
Montano may have introduced the idea of an afrobeats and soca fusion to Trinidad, but it is Olatunji who is most wholeheartedly embracing the concept, pushing the sound forward as a movement. His song "Oh Yay" is perhaps the first to mention the nascent genre by name.
"People used to make fun and fuss about 'crossing over' before. This is beyond crossing over, this is like interweaving."—Machel Montano
The son of calypsonian and pannist Eddie Yearwood and the Trinidadian actress and theater director Mairoon Ali, Olatunji grew up in a house filled with African art and fashions. "Ola" wasn't his first local hit in Trinidad, but it's where he found his voice, his soaring tenor blending seamlessly with the song's West African choral arrangement. "It's a major influence on me right now because it's really working for me," Olatunji says of the afrobeats influence. "In a major way. [Afro soca] is going to be my sound."
He continues to mine the sound on his upcoming debut LP, Awakening. Slated to be released via Fox Fuse, the album contains afrobeats-inspired tracks like "Having Fun," a collaboration with Isaac Blackman, son of the late Ras Shorty I. "The name [Olatunji] itself helped me a lot to create this music," Olatunji says. "It shows that the African heritage still lies very strongly in the Caribbean culture. The meaning of my name means 'honor restored again.' But the short meaning is 'awakening,' which is the name of the album."
Four decades after Lord Shorty re-dubbed himself Ras Shorty I and a surge in Black consciousness in Trinidad inspired Olatunji and Kitwana Israel's parents to give their kids African names, their children are rediscovering their roots in their own way. For Machel Montano, a soca star since age 9, his embrace of African sounds is also part of a broader personal growth. "I have been trying to get soca aligned with my spirituality and who I am," Montano says. "I am getting more spiritual, and I want these beats and this music to reflect that."
What is now organically occurring between soca, dancehall, and afrobeats, he says, is the realization of a goal he's had since he began traveling the U.S. and Europe as a youth, as the lone international representative of a genre everybody had heard but few outside the Caribbean diaspora could name. "People used to make fun and fuss about 'crossing over' before. This is beyond crossing over, this is like interweaving," he says. "You asked me if I think soca, afrobeats, and dancehall will become one genre? Well, that would be a great dream."