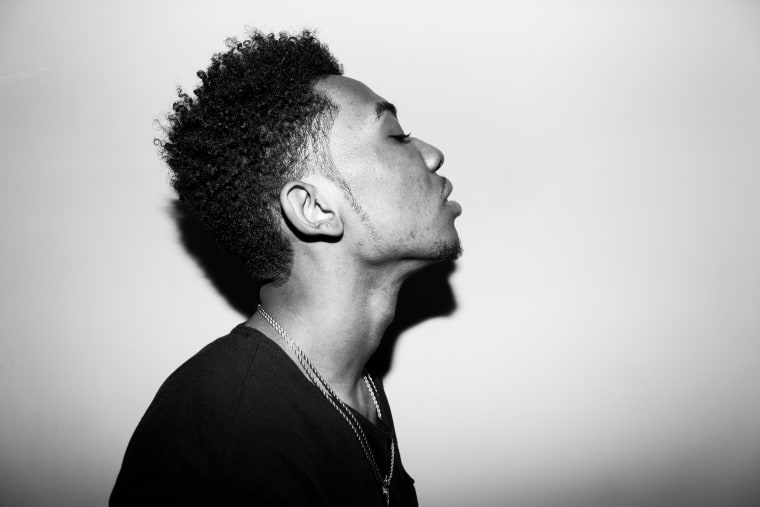 At the start of 2015, Sidney Selby III was an impossibly deep voiced 18-year-old from Bed Stuy with dreams of a career in music and a handful of features under his belt. Then his manager, Zana Ray, encouraged him to finish a track he had been sitting on since he had bought a booming beat from producer Menace for $200 a year or so earlier.
That track, "Panda," Desiigner's first, was only beginning to gain traction locally in Brooklyn when Plain Pat, an A&R on The Life of Pablo, played it for Kanye West. Soon thereafter, Desiigner was on a plane to L.A. because Kanye wanted to show him something. He met with Kanye in front of LAX in a car surrounded by paparazzi, and together they listened to what would become "Father Stretch My Hands Pt. 2," a TLOP track built on "Panda."
West took off for Paris after that, but Desiigner returned to his studio, where he recorded an as yet to be released song that he credits with getting him signed to G.O.O.D. Music/Def Jam. Kanye announced this signing during his fashion show-cum-album listening at Madison Square Garden, and now Desiigner has taken a leave from high school to focus full time on music.
During a recent visit to The FADER's offices, Desiigner spoke (in his cavernous timber) about that first meeting and the whirlwind month that followed, what comes next, and a possible Kanye West tour. Read on below.
What's a day in the life of Desiigner?
A day in the life of Desiigner: it's fun, it's a lot of excitement. It's a lot of focus also. I usually focus on my music and try to keep focused all day. But there be things you have to do, I learned, in between: interviews, pictures, autographs, support my fans, make sure I write to them. [Also,] I'm still in high school, but I can't go back to my school because I'm too much of a distraction right now. I'm tryna get a tutor now so they can be with me on tour so I can get my high school diploma. I gotta get out of high school, that's mandatory.
Made mandatory by G.O.O.D. Music or Def Jam?
That's mandatory by myself and what I believe in.
And so, does this mean you are planning a tour, with Kanye?
We got everything planned out, everything's going on plan. I'll let you know.
You couldn't have possibly imagined that you'd be doing what you're doing now a month ago. Did you think "Panda" would change your life the way it did?
I couldn't say I could have possibly imagined this, but I see myself going further. I always see myself at a greater platform. I can be here 'cause that was what my plan was. I didn't want a job, I knew I didn't want a job. [Even if I hadn't gotten signed, I would still be] delivering creativity and making all this happen. I'd make this happen one way or another. With all my music, I just make sure make it creative.
When you got the call from Kanye's camp, what went through your head?

I can't remember, there was so much going on after that—I be feeling shocked. Everything's still coming back to me now. Sometimes I wake up like, did that really happen the other day? But once I seen it, I just wanted to keep doing music.
Tell me about that first trip out to meet Kanye.
[When he first called,] he wanted to meet us but actually he had to do something, so we had to run to this destination and that destination. When we finally met him, he was on his way to Paris. I met him in front of LAX airport, we just sat in the car boppin' with TMZ outside. He played the record for me, then he flew off to Paris.
What did the record you heard that day sound like?
He played that song ["Father Stretch My Hands"] for me in the car. It was my hook, [and] he was singing on top, doing his thing. And after that we was vibing to it, and when we was vibing to and he was like "Yo, you fuck with that?" I didn't have to go in there, do more takes or nothing. He just took my song and was like, "I love it."

Did you think you were going to hear from him again after that?
Of course. I came back and we was still talking, it wasn't over. We kept in contact, and we keep in contact too now.

Did you guys get in the studio that day?

Not that day, but later on when he came back and I went back up to L.A.

What was it like to return from L.A. after that first trip?

I had stayed at the house because everyone was noticing me after that. I just wanted to make more music—that's what I'm here for, making more music. Now I'm at a platform that I'm with creative people also. Everybody's creative, you feel me, but I'm just ready to get on. I'm just ready to make music.

Tell me about Madison Square Garden. You were right up there in the mix, did you know what was going to go down that night?
It was like a movie. I didn't have no idea. I just walked in there and he was over there by the DJ bumping it doing his Kanye thing, throwing his vibe on for them. I was like yeah, that's how you do it. He had everybody standing. I was standing right beside him, I said, "Yo, that's crazy how you got everybody standing up there. I know they tired." And he was like, "Yeah, that's how you do it though!"

You knew in advance that Kanye was going to announce your signing that night, but how did it feel when it actually happened?

That was definitely a great opportunity for me, standing up in front of 25,000 people. That was nice right there. Every [show I had played] up to that point I said was the biggest. I'm just proud that everybody could be able to hear my voice like that, actually having a good time. That was when I can say it got real; that's when I can say it really opened doors. It's like when you get that feeling, you know it's real. I felt so warm. Like, this is it: this is what I need to do for the rest of my life.

And so, what happens now?
I'm working on the music video [for "Panda"], trying to push the record and make sure it gets to its highest potential. But everything's on hold right now because we're working on the video. So we're just trying to get that video on, a couple tours, get that on the road. Then from there, I'll work on the album.

Now that you're signed with G.O.O.D. and a more familiar name, do you feel you have some catching up to do? Is that a lot of pressure?

I don't know, like I told you, my mind state was always on a higher platform. I always looked at a higher platform, I didn't want a simple, average video. So now that I'm with them it's actually like my dream's out now. Now I can actually go get out my dreams, [G.O.O.D. and Def Jam can be the] muscle behind the movement.

So is DONDA helping you with the video?
Yeah, definitely. Everybody's helping me with the video.
Why do you feel that G.O.O.D. Music is a good fit for you?
It's definitely a lifestyle, you're a piece of art basically. You're here to deliver art. You're not a rapper, you're an artist, that's one thing that Kanye always said. And they love my music; they seen I can deliver a lot. If I'ma let this happen, why not take the creativity and take it to another level?

It's often said that you sound like Future. What do you say to that?
I actually laugh at it, there's nothing to get upset about. I complement the man about his creativity. I think he's a great artist and I do what I do; I just say we're both blessed in our ways. May god just keep it positive and keep me positive, keep me straight.