How Turkish Soap Operas Took Over The World
Viewers from Morocco to Mexico are hooked on Turkey's TV exports. But what is it about the genre that makes it so compelling?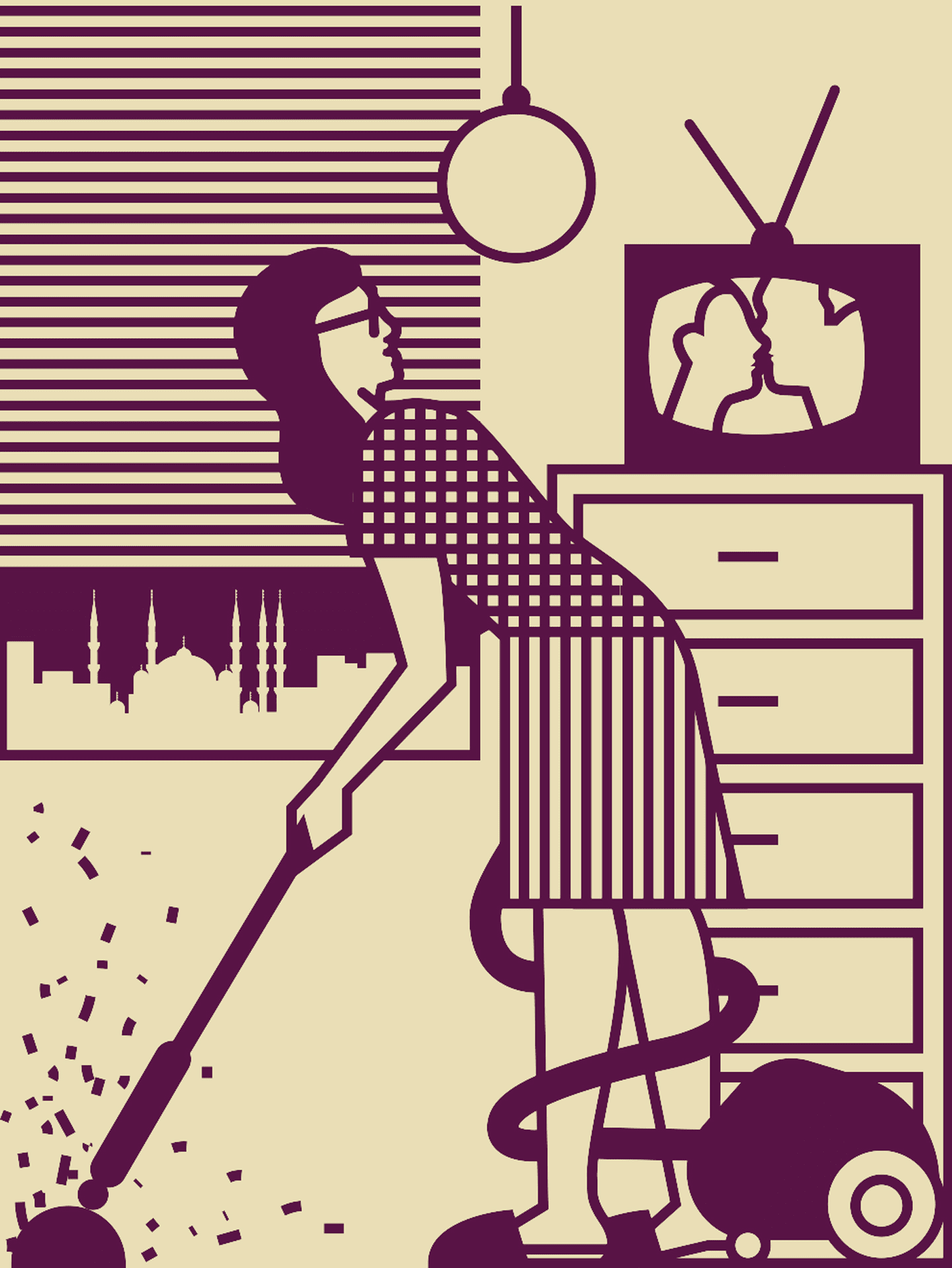 As a kid in Istanbul in the '90s, I spent my afternoons bingeing on Nickelodeon shows like Hey Arnold!, The Adventures of Pete & Pete, and Clarissa Explains It All. In between, I'd flick over to a Turkish show called Kaynanalar (The In-Laws), in which an Anatolian businessman and his family work to reconcile modern city life with their traditional rural roots. Whereas the American shows offered me a glimpse into an idyllic alternate universe, Kaynanalar felt closer to home.
Back then, Turkey was deeply embroiled in a violent struggle following a mounting Kurdish insurgency that began in 1984. The decades-long conflict has yet to be fully resolved. Growing up in the relative safety of Istanbul, I was lucky to lead a life largely insulated from political turmoil, but I still internalized the insecurity caused by news coverage of the conflict. I remember watching my family mourn the deaths of activists and journalists who were assassinated over ideas we valued at home. I started to feel like we didn't belong in our own country. But I found comfort in my favorite shows, and I lapped up the idealized vision of American life they projected. I wanted to be a paper girl in a stereotypical neighborhood in America, to build tree houses or whatever it was Clarissa and Pete and Arnold did.
I was reminded of that time, recently, when a Guardian article about Turkish soap operas included a quote from a 12-year-old girl named Diana Jbour. A Jordanian devotee of Turkish soaps, Jbour had just traveled to Istanbul with her family to see the villa where her favorite show, (Gümüş) Noor, had been filmed. "When I tell my friends that I saw where Noor lives, they will think it's amazing," she said.
"The international embrace of Turkish soaps is a fascinating byproduct of a shrinking world, not some stealthy way to impose Turkish traditions onto viewers."
Over 100 episodes, Noor tells the story of a poor girl who married into a rich family and, despite the pairing being an arranged marriage, wound up finding love and a semblance of happiness. It originally aired in Turkey from 2005 to 2007, but the show reached a wider audience in 2008, when the Middle East Broadcasting Center (MBC) began rebroadcasting it—and eventually other Turkish TV series—in Arabic. When the final Arabic episode of Noor aired in 2010, some 85 million people in the Middle East and North Africa tuned in to watch its dramatic conclusion, according to Mazen Hayek, MBC's director of marketing and PR. Around 50 million of those viewers, she says, were women.
Noor was one of the first Turkish soap operas broadcast in the Arab world, arriving for an audience that had been largely unexposed to TV portrayals of a secular lifestyle coexisting with Islamic values. In Noor, family members drink wine with dinner while also observing Ramadan, women don't necessarily wear the veil, and husbands openly support their wives' career ambitions—an idyllic, near-equal alternate universe for women almost anywhere in the world. It wasn't just the subtle escapism that made the show relatable: Noor was unique for being translated by voiced-over actors into a colloquial Arabic dialect, rather than the formal Quranic Arabic to which other foreign shows are usually translated. Following Noor's success, TV executives were prompted to import more Turkish dramas to countries as far apart as Egypt and Mexico, bringing about a wave that enveloped the world in the following years.
Turkish TV is big business. According to a report by Forbes Turkey, there are 85 privately owned production companies churning out episodes that cost between $200,000 and $700,000 to make. In 2014, the combined gross revenue of the ten biggest production companies was $152 million. According to NPR, Turkey is now second only to the U.S. when it comes to the production and global distribution of TV dramas. Magnificent Century, a period drama about the life of an Ottoman sultan and his powerful wife, aired in 47 countries; One Thousand and One Nights, a show about a widowed architect who sleeps with her multimillionaire boss to cover her son's medical expenses, aired in 46 countries; and What Is Fatmagül's Fault?, a show about a rape victim who takes her perpetrators to court, aired in 37. In much of the Middle East, popular Turkish shows are broadcast daily during Ramadan, with families gathering around televisions after breaking fast at sunset.
As these exports entertain, they're also having a lasting cultural impact in the Middle East and beyond. In the Gaza Strip, viewers on both sides of the ongoing conflict were so captivated by one recent Turkish series that the fighting would halt when it aired, Iranian-American diplomat Goli Ameri told NPR last July. In Latin America, where a Spanish-language version of One Thousand and One Nights has reached cult status, Argentinian and Chilean parents have been increasingly naming their babies after the show's protagonists, Onur and Sherezade. Turkish soaps have also contributed to the destigmatization of divorce in communities where it has long been taboo; in the United Arab Emirates, their ubiquity was linked to an increase in divorce rates. Speaking to Greek documentarian Nina-Maria Paschalidou in 2013, Samar Shaaban of the U.A.E. explained how watching What Is Fatmagül's Fault? helped her find the courage to divorce an abusive husband: "[Fatmagül] showed me that a woman can claim her rights. I watched her go to court and win, and [thought] 'Why can't I do the same?'"
Like any other cultural product, though, Turkish soaps mirror reality as much as they help shape it. While some shows normalize, and thus encourage, women's rights, they frequently do so while quietly reinforcing the status quo that keeps men in control. The character Noor, for instance, works toward establishing the fashion empire of her dreams, but only with the permission of her husband. In One Thousand and One Nights, Sherezade juggles her professional ambitions and her family life, but ultimately looks to a man to bail her out in her hour of need. "[Turkish soaps] present these rebellious women who take their lives into their own hands, but they do have stereotypes, in the sense that for a woman to be rebellious, she still has to get the permission of the husband or the father," Paschalidou told me over Skype. "But it's still impressive for Turkish society and some of the Arab societies to see a man who stands for his daughter or wife's rights."
Interestingly, the most popular Turkish series, soaps like Kara Para Aşk (Black Money Love), Karadayı, Noor, Magnificent Century, and What Is Fatmagül's Fault?, are all written by female scriptwriters, but the production companies that fund them are still predominantly owned by men. In that way, Turkish soaps can provide a hint of the fantasy I innocently craved from Nickelodeon, but not so much so that they present a threat to the broader social order.
"Whether through Turkish soaps, or American kids' shows, people from different cultures can identify shared values and common experiences. What's more human than that?"
Despite being popular with large swathes of global populations, Turkish soaps have also faced a degree of backlash. In Saudi Arabia, the religious establishment accused the shows of infiltrating "Western values" into local society. In Iran, Paschalidou reported, some husbands resorted to ripping out their TV antennas to prevent wives and daughters from being "corrupted" by soaps. In Greece, the soaps were seized on by an anti-immigrant, neo-fascist political party on the grounds that they amount to a vehicle for Turkish cultural and political propaganda.
When things like TV and music spread beyond their place of origin, they're often perceived as carrying with them the politics of the culture they come from. Sometimes it's harmless, but sometimes it's seen as flexing dominance, a soft form of power through which to disseminate ideas and ideals to societies where social and cultural values might be different. Though a few people in Saudi Arabia and Iran and Greece might not agree, the international embrace of Turkish soaps is a fascinating byproduct of a shrinking world, not some stealthy way to impose Turkish traditions onto viewers elsewhere. The shows' themes go beyond women's rights, with plots exploring globally understood concerns like sibling rivalry, intergenerational conflict, and financial aspiration. Whether through Turkish soaps about Ottoman sultans, or American kids' shows about the surreal adventures of two brothers named Pete, people from different cultures can identify shared values and common experiences. What's more human than that?