How N.A.A.F.I Is Changing Party Culture By Ignoring All The Rules
Meet the Mexico City crew behind some of the globe's wildest post-club dance music.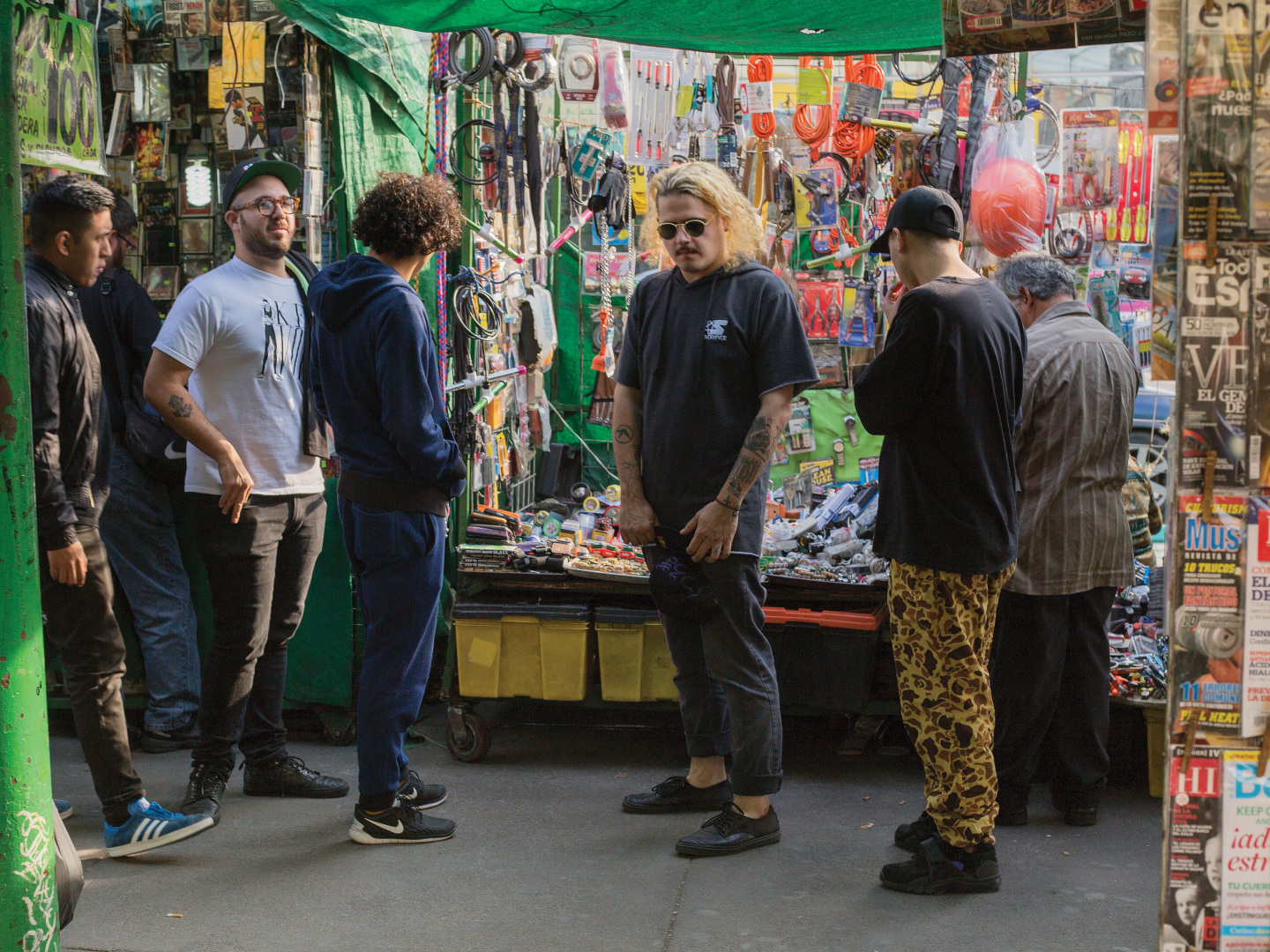 Two weeks before Christmas, N.A.A.F.I co-founders Tomás Davó and Alberto Bustamante are at their Mexico City headquarters, making final arrangements for an event they're throwing at a contemporary art museum the following day. The apartment-turned-office is small but feels roomy, mostly thanks to an open-air courtyard full of healthy plants. Friends—a producer from Australia, a photographer from California—drift from sunlit room to sunlit room.
The museum event is supposed to consist of a roundtable discussion followed by an early-evening performance by three producers, all affiliated with N.A.A.F.I's experimental electronic label. But there are still some hiccups. For one, special guest DJ Nigga Fox—an Angolan-born, Lisbon-based musician who's never been to North America—has been prohibited from boarding his plane because of a credit card mishap. There's also been trouble locking down a venue for the afterparty, a crucial component for a collective known for its inclusive all-night ragers. Still, no one seems panicked.
Both of N.A.A.F.I's founders come from Oaxaca, a state in the south of the country, but they didn't meet until 2006 at university in Mexico City. N.A.A.F.I—which stands for No Ambition And Fuck-all Interest—was born in 2010 as a bi-monthly club night to showcase underrepresented sounds from Mexico and beyond. From the start, they realized what they were building didn't fit in with local club culture.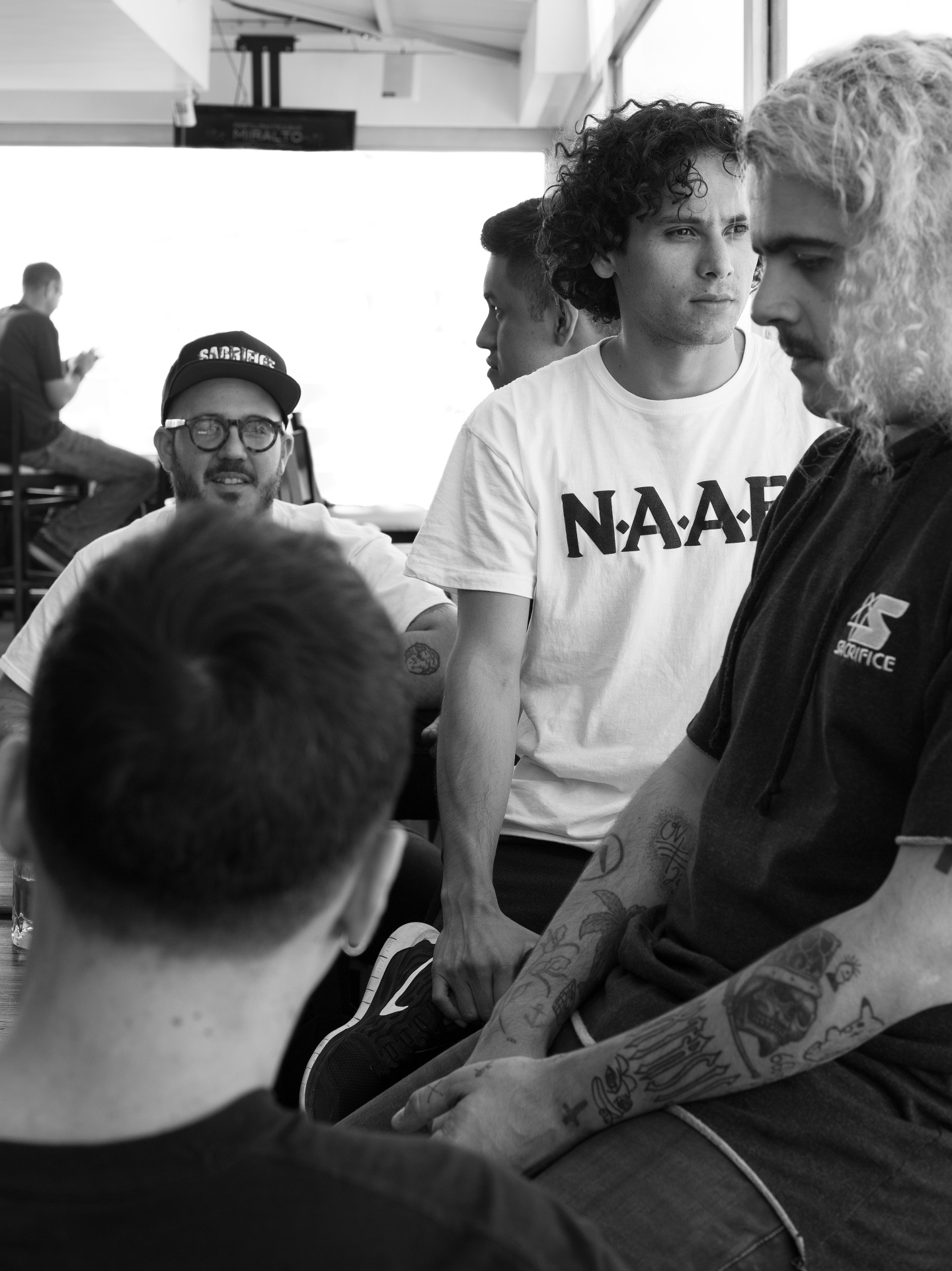 "When we started doing parties, everyone paid the same cover and we didn't care what you looked like. If you can afford it, you can come in. And if not, maybe you can come in anyway."—Tomás Davó
"A lot of the clubs here have so many rules," says Davó, who is 28 with a scruffy beard and round glasses. "No hats, no sneakers, no shorts. You can only come if you have a girl with you. When we started doing parties, everyone paid the same cover and we didn't care what you looked like it. If you can afford it, you can come in. And if not, maybe you can come in anyway."
N.A.A.F.I throws parties all around the city, in downtown cantinas, art galleries, and on rooftops. "Everyone uses the word 'club' as a way to describe music, but it's important to think about what that really stands for," says Bustamante, a petite, curly-haired 30-year-old who sometimes DJs as Mexican Jihad. He's bubbly and earnest—the yang to Davó's mellow and sarcastic yin. "We needed places that would allow us to do whatever we wanted. That's our principle struggle in real life—finding a place."
If the music at N.A.A.F.I's events is eclectic, there have also always been remarkable throughlines: harsh textures, unscrupulous rhythms, and an interest in blending folkloric, pre-hispanic sounds with throbbing synths and brain-breaking beats. After a few years, Davó and Bustamante expanded the brand into a proper record label, complete with an air-tight visual identity and meticulously designed merch: slip-on sandals, hand-woven tote bags, and tiny plastic bags, presumably made for holding small quantities of drugs.
In 2014, N.A.A.F.I put together a three-disc compilation celebrating tribal guarachero, an often neglected Mexican microgenre that blew up in the late-aughts thanks to teenage producer Erick Rincon and his chart-topping trio, 3BallMTY. They've also released dizzying sound collages by Chilean producer Paul Marmota and the Mexico-born Lauro Robles, aka Lao, both longtime friends of the label who performed at the first string of events. This past July, N.A.A.F.I organized a compilation called Pirata 2 that featured expertly fused mash-ups of pop songs and wild production by contemporaries from the U.S. and Europe, like UNiiQU3, Rabit, and Lotic.
While N.A.A.F.I is a close-knit community, each artist on the label maintains their own projects, with their own goals. "Everyone's digging through different archives and exploring different cultures and rhythms," Bustamante explains. Some of them surely are interested in self-discovery, working carefully with broken melodies and ancestral tones to highlight the malleability of personal identity. But there's also an emphasis placed on friendship and "the group"—a collective agreement on things like the role of a club space, the power of history, and the essentialness of human-to-human connections.
"People use N.A.A.F.I as an adjective now, and that's like really weird, because we're trying to define N.A.A.F.I is a thing you can't put a name on," Davó explains. Bustamante says it stands for anyone with "a way of living their own lives," whether through avant-garde clothes, atypical sexuality, or their left-of-center music taste. Davó agrees, but reiterates it's not so easy to explain: "You really understand when you come to one of our parties."
The following night, the whole crew turns up to the afterparty's last-minute location, a basement warehouse with low ceilings and a top-notch sound system. Even DJ Nigga Fox is there, beaming after his flight was re-booked just in time. The crowd is small but ecstatic, the music is confrontationally loud, and the vibes are endlessly positive. Erick Rincon shows up for an unannounced set. Later, Lao drops a crushing remix of Jennifer Lopez's turn-of-the-century hit "Waiting for Tonight," and everyone loses their minds. The N.A.A.F.I spirit might be hard to pin down, but it's certainly easy to recognize.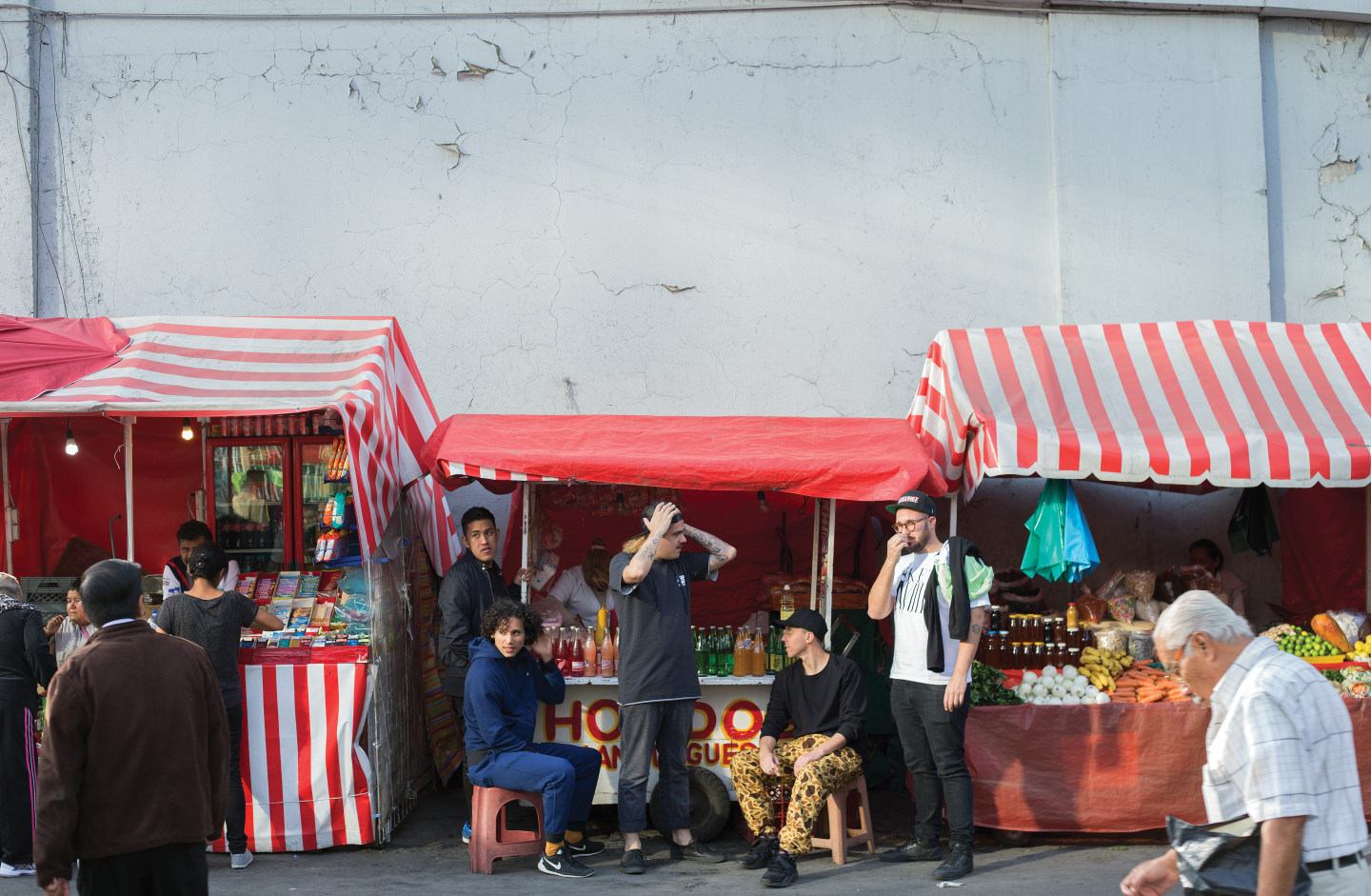 From The Collection:
GEN F