Meet Låpsley, The Teen Ex-Raver Who Found Her Chill
This captivating U.K. singer and producer's new album is out now on XL Recordings.
Two years ago, Holly Lapsley Fletcher received an unexpected invitation from Drake's tour manager to come down to the show in the northern British city of Liverpool. The tour manager had fallen for Fletcher's eerie electronic soul music on SoundCloud, which she makes under the moniker Låpsley, and planned to link the then-17 year old singer and producer with the Toronto rapper. Drake was all over atmospheric British songwriter Sampha at the time, and the idea that he might be drawn to Fletcher's twisted anti-anthems didn't seem like a reach.
So Fletcher travelled from her home of Southport, a medium-sized town in the northwest of England, to see the OVO rapper play. For her plus one, she brought her aunt. Backstage before the gig, she was awestruck when Drake swept past her and made polite small talk with support act The Weeknd. Then, a few moments later, she was informed by Drake's team that she'd been picked as the audience member to be serenaded during "Hold On, We're Going Home."
But the fairytale ended as quickly as it started. "My auntie thought they were picking me to shag one of the band members at the back, so she was like, 'Get your hands off my niece!'" cackles Fletcher, gleefully recounting the story on a dark and icy January evening in London. "I missed out [on being on stage with Drake] because my auntie thought I was being pimped out."

Maybe it was for the best. Fletcher's flair is for crafting songs that define her own narrative, rather than being their mute subject of adoration. When we meet in an east London rehearsal studio, she's just spent the day at the piano, refreshing her memory of the intricately-arranged songs which make up her debut album for XL Recordings, Long Way Home. Today, she's blasé about a chest infection that's been bugging her since Christmas and which she's trying to shake ahead of a short run of U.S. dates. Confidently, she strides across the grey-carpeted room in Dr. Martens shoes and ripped black jeans, laughing as she holds a suspicious-looking, jug-shaped ceramic vocal steamer—a device to moisten the vocal chords—in her hands. "It looks like a bong!" she gasps in her broad Liverpudlian accent, as she parks herself down on a black leather sofa.
Fletcher's productions work with late-night beats to explore a sonic womb, with the bulk of Long Way Home's close-to-the knuckle lyrics detailing the trials of a teen relationship with a partner who has obsessive compulsive disorder. She's also imbued the album with a graceful androgyny, in 12 songs which manage seamlessly to embody both the masculine and the feminine, thanks to Fletcher's use of pitch-shifted vocals to create distinct, different voices. "I prefer the male voice," she explains, matter-of-factly. "It's so much more a thing you can grab onto. If you start experimenting with different tones and pitches, people aren't quite sure who you are, and I quite like that ambiguity." The idea came from going out and listening to deep house tracks and their repeating, dropped vocals. "I just really loved it, so I started experimenting."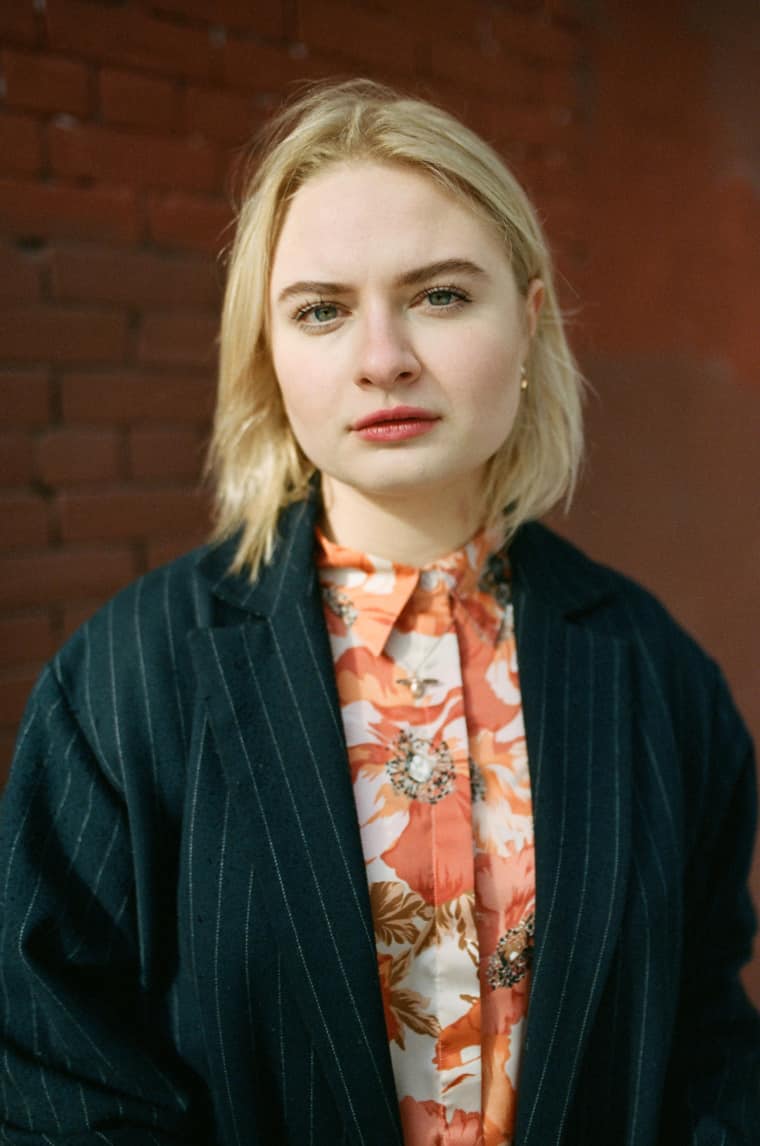 When she was 15 and attending an all-girls school, Fletcher started regularly leaving her childhood home of Southport and catching a 45-minute train into Liverpool. She told her parents she was sleeping over at a friend's house but, in fact, she was attending covert warehouse raves in the city's docks. There, she satisfied her increasing appetite for electronic beats and the drugs which went along with them. She fell in with an older crowd—she recalls that she could easily pass for 18 so didn't even need a fake ID—who introduced her taking ketamine and dancing all night to sets from the likes of London bass producer Joy Orbision, house artist Boddika, and dubstep pioneer Benga. "The long path of sin," she half-jokes of the experiences which would go on to inspire her own music, "that's where it started!"
At 16 she joined a band that squared with her new musical passions. Named Dhrone, after the droning sounds prevalent in ambient music, Fletcher was the only female member and would write, produce, and provide vocals. Yet it was a hobby at most. "There was no intention of going anywhere, it was just so we could sit in someone's garage and make music and smoke weed and whatever," she recalls. "It was so different to my family and my friends and my whole life that I was just drawn to it." But she found it difficult to get her voice heard in the weed-fugged haze, so left the group and began crafting her own material.
She had plenty of tools at her disposal. As a kid, she'd had a passion for learning musical instruments, playing oboe in Liverpool's Sefton Youth Orchestra. She also picked up piano, classical guitar, and drums in her spare time, though she admits to only picking up new ones because she was easily bored. Now, Fletcher's traditional training began to melt into the leftfield sounds she was fast becoming obsessed with, and soon she was making her own downbeat electronic tracks. She taught herself how to use the GarageBand via YouTube, and set up in her bedroom with a Juno Gi—the cheapest, best synth she could find. "The music I was listening to, sonically and in terms of BPM, was much more extreme, but then the music I played was classical. My music met somewhere in the middle."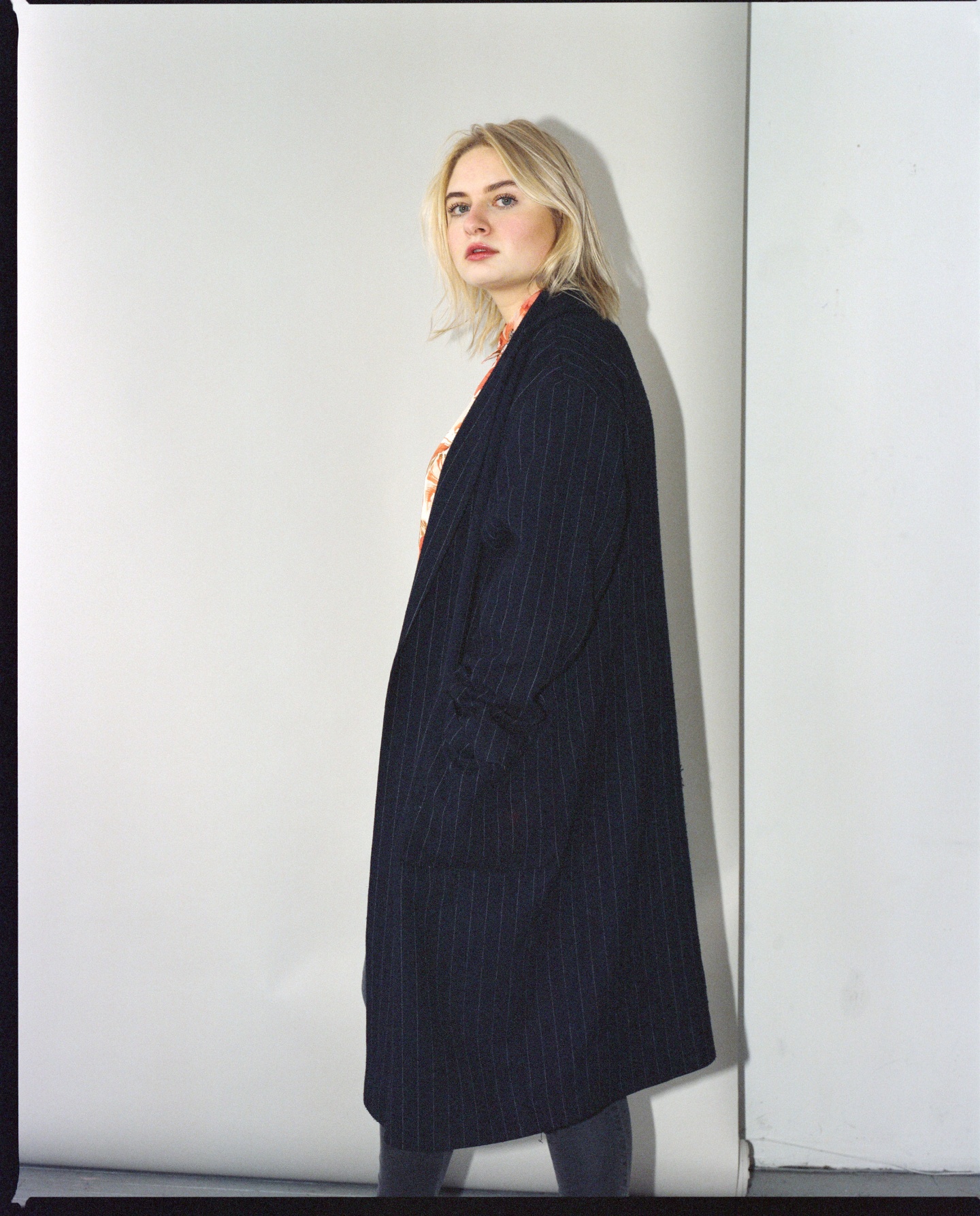 "If I was a boy, people wouldn't call me a singer-songwriter, they'd call me an electronic artist/slash producer, but because I'm a girl I get put in a category."
Fletcher often pulled all-nighters to work on her tracks, with early inspirations that included the washed-out electronics of James Blake and classically grounded dance music of Arthur Russell, but thought of it more as a passion project than a serious career proposition. In fact, she only put her songs on SoundCloud so relatives who lived abroad could listen to it. The music industry, however, felt otherwise. The smattering of songs online—including the delicate xylophone twinkle of early ballad "Painter," and the meditative "Station"—caught the ear of a number of A&R reps and management companies, but Fletcher wasn't interested at first. "It was like 'do you want to be signed?'" and I was like, 'no!'" she says. "I was a very academic person, I had plans to go to Bristol or Cambridge University. Coming from a family of doctors and lawyers and engineers and shit, [music] was a world that was a no-go because of the lack of security."
Eventually though, Fletcher was won over by the praise, and began to seriously warm to the idea of a career in music. After a few meetings with prospective labels and managers, she eventually decided on signing to XL Recordings, and after finishing her A-Level exams at 18 years old, moved to London alone to begin work on her debut album. Renting a one bedroom apartment in west London's affluent neighborhood of Notting Hill was expensive, but its proximity to the label's own studio allowed her to spend as much time there as possible. Her first move was to further educate herself on the tools of production with the help of XL producer and The xx collaborator Rodaidh McDonald, who would go on to co-produce six of the tracks on Long Way Home. "She was passionate and single minded in what she was trying to achieve, but open-minded and eager for input and collaboration," McDonald says via email. "It's already impressive what she had achieved on her own before we worked together."
"With production comes so much more creativity," reflects Fletcher today. "You can write a song, but the production determines the style of the song, and that's your own personal stamp." While her commitment to self-producing is strikingly evident, Fletcher remains frustrated with how she's perceived. Much of the press she's received so far has painted her as a "singer-songwriter" and made lazy comparisons to labelmate Adele. "If Adele and James Blake had a baby who grew into a fiercely independent teenager, she might sound like this," wrote the Evening Standard last month. "If I was a boy, people wouldn't call me a singer-songwriter, they'd call me an electronic artist/producer, but because I'm a girl I get put in a category," she says with frustration. "And because I had some help from Rodaidh, they assume he's done the whole thing…I'm annoyed when I've stepped out of the norm, that I'm not getting credited for that. That's not being vain, it's just about getting the credit that the men would have."
While working on the album, XL Recordings encouraged Fletcher to try out collaborative studio sessions with a clutch of writers and producers. They all turned out to be male, and weren't always respectful of her abilities. "I didn't like how they treated me or how they saw me," explains Fletcher. "I didn't like how they just assumed things before I went in; that I couldn't do anything, that I couldn't write, or that they had a pre-prepared track.'" However, in amongst the misogynistic attitudes of some individuals, she remembers particularly positive experiences with soundtrack producer and industry stalwart Paul O'Duffy, and U.K. producer Mura Masa. She's especially proud of her teamwork with the latter on the emotive, slow-burning album closer "Seven Months": "I don't feel like it was letting someone else take control."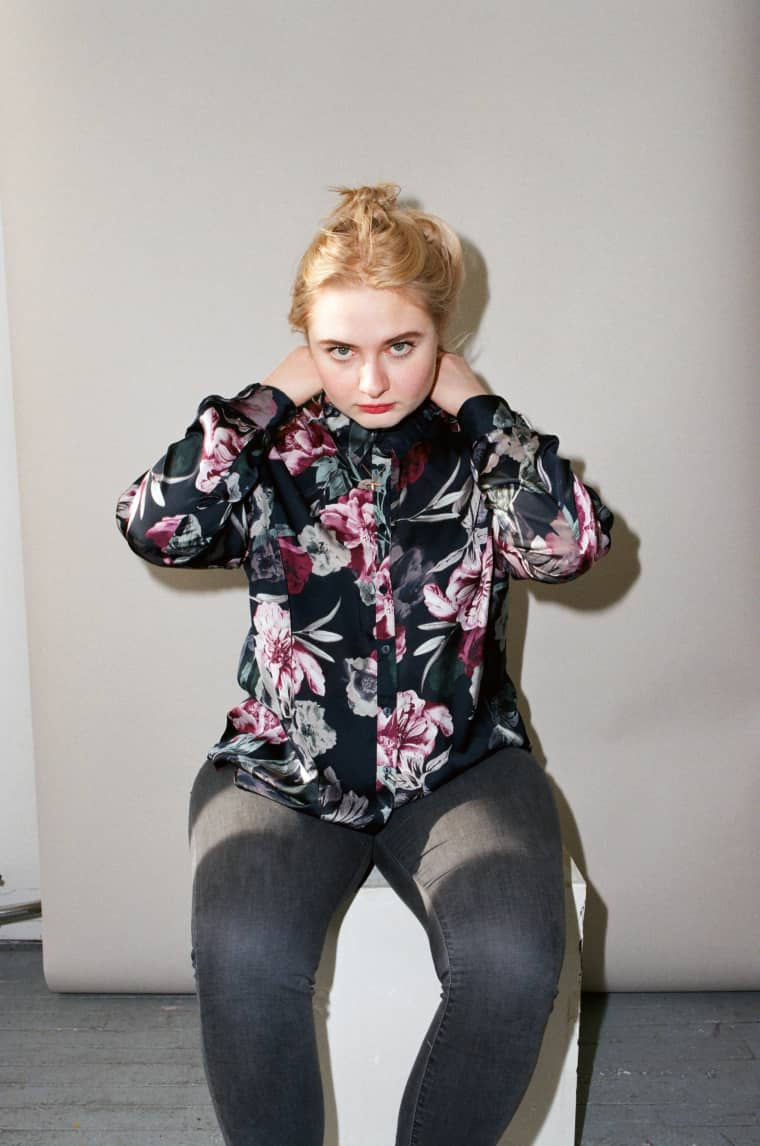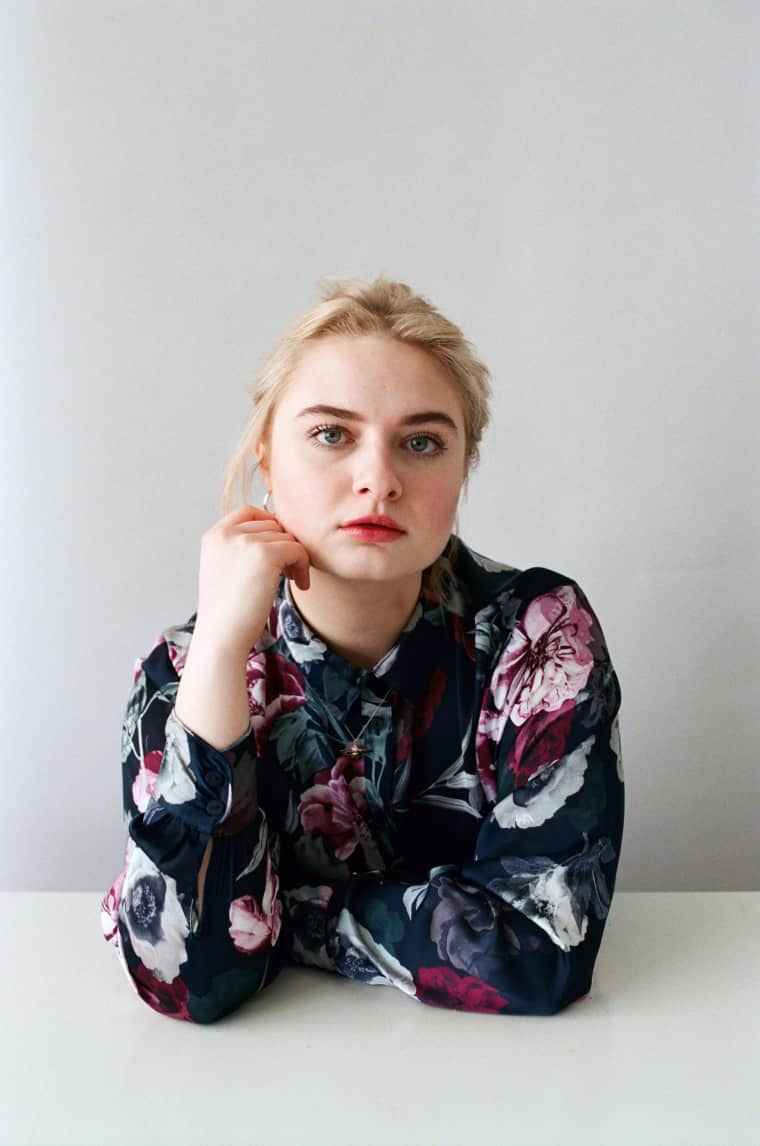 A month later in the bustling café next to her rehearsal studio in north London, Fletcher eagerly recounts tales from her trip to the States she'd been preparing for last time we met. She grins awkwardly as she talks about her first U.S. television appearance, singing "Falling Short" on The Late Show with Stephen Colbert. "It was terrifying!" she recalls. "Compared to my live show it was pretty grim. I walked off like, 'shit shit shit shit shit'—I was a bit out of tune in places." Her way of coping was to quickly plunder YouTube for footage of fellow artists' live TV debuts. "It made me feel better looking at other people's first TV performances and seeing so much shit going wrong," she laughs.
Right now, however, she has more exciting things to think about: in her hands is a 12" copy of her debut album. It's the first time she's seen the finished product, and she's beaming from ear to ear. She flips it over and pulls out the sleeve, which is decorated with Polaroid pictures shot by Fletcher and her friends over the course of the last 12 months. For an artist whose sound was inspired by music discovered through wild, wasted nights out with her friends, the personal touch seems apt.
Since we last saw each other, Fletcher's also added a further creative string to her bow, spending the past week storyboarding and devising the concept for her latest video, "Love Is Blind." Working with director Cherise Payne, Fletcher also selected an all-female crew for the shoot. "It just happened that the best people for it happened to be women," she says. "It was a really nice atmosphere." For her next move, Fletcher is taking steps to become ever more self-reliant, as the latest part of a trajectory that started when she taught herself how to work with GarageBand not so many years ago. So this summer, she'll take a couple of weeks off to train as a studio engineer at New York's new XL Studio. "I'm going to make time to do it," she says firmly. It's hard to doubt her for a second.