Inside Frings, The Drake-Approved Toronto Eatery
How the Bent-Lee brothers want to reshape the city's dining culture.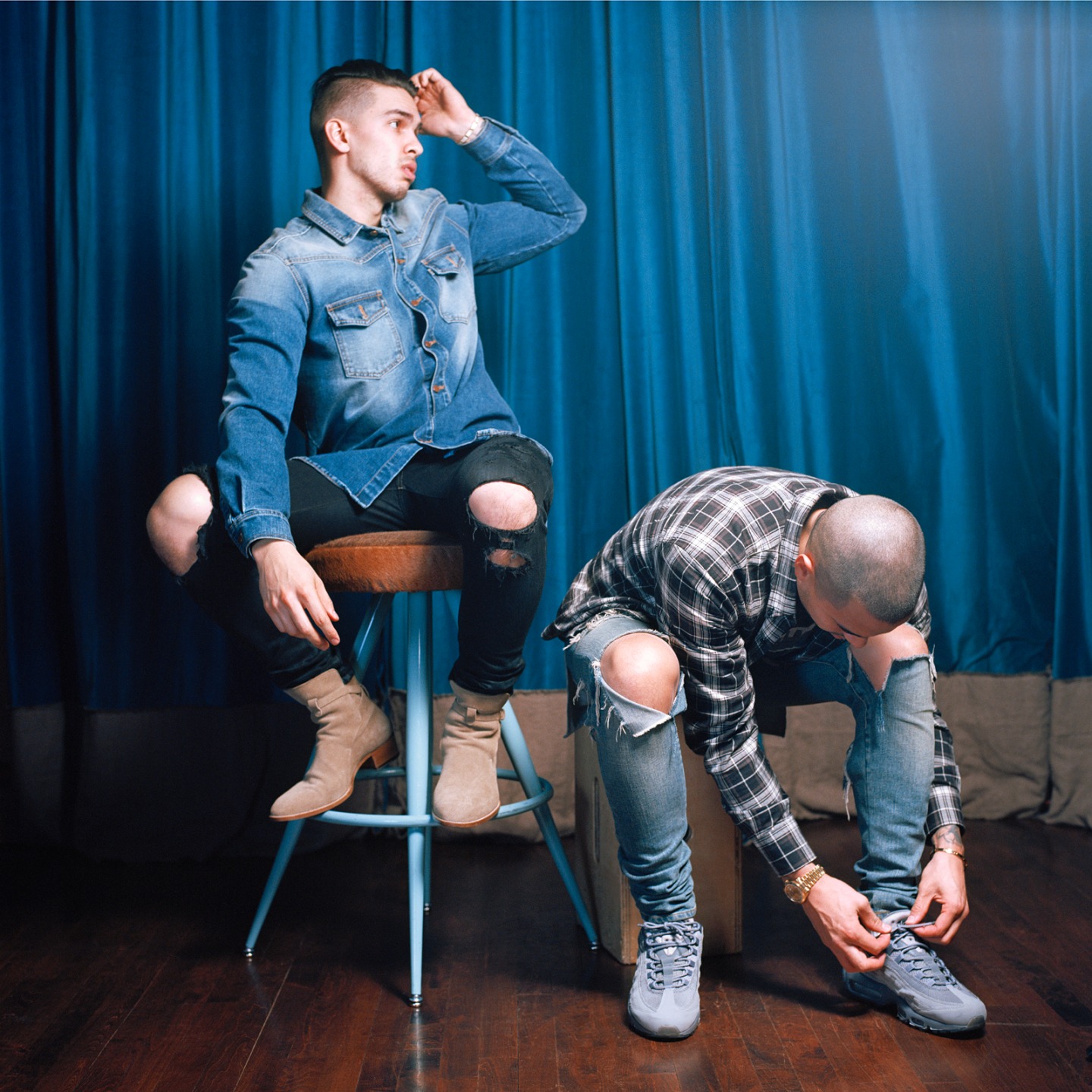 There is a question about scallops that I need to ask Levi and Kai Bent-Lee, the co-owners of Toronto restaurant Frings. Why on last year's "30 For 30 Freestyle" does Drake rap about eating "well-done seared scallops"? Scallops are tough when overcooked, I suggest. "Everyone has their own preference," counters Levi, 26, when I ask him and Kai, 24, about the lyric. It's a few hours before dinner service at Frings and we're sitting in an emerald green booth as staff preps around us. The 5,200-square foot, two-floor eatery sits near the corner of King Street West and Spadina Avenue in downtown Toronto, on the city's Restaurant Row. Lee, a Chinese-French fusion spot opened in 2004 by their father—the famed chef and restaurateur Susur Lee—is down the block. The brothers are also behind the boutiquey kitchen Bent on Dundas West, just a five-minute walk from the OVO shop.
"I don't think you're supposed to eat steak well done but people do, you know?" suggests Kai, adding that he doesn't even like seafood so his opinion might be moot.
"Oh, I think I know what it is," Levi interrupts. "Our head chef at Lee, Jonas Mangao, once did him these scallops and he came back, like, every day for the rest of the week."
It finally clicks for Kai: "I just realized that maybe he's complimenting them? Like, you know, they're done well?"
Last September, about a week after Hollywood tore through the Toronto International Film Festival, Drake staged his own photo op, calling in friends, family, Serena Williams, Jada Pinkett-Smith, and her son Jaden, for a pre-opening party at Frings. It was rumored to be a financial and creative partnership with the Bent-Lee brothers and Angelo Ferraro, a former waiter at the elegant Italian restaurant Sotto Sotto. That Drake was endorsing the establishment wasn't entirely a surprise; Chef Lee cooked for him at Bent on his 28th birthday in 2014.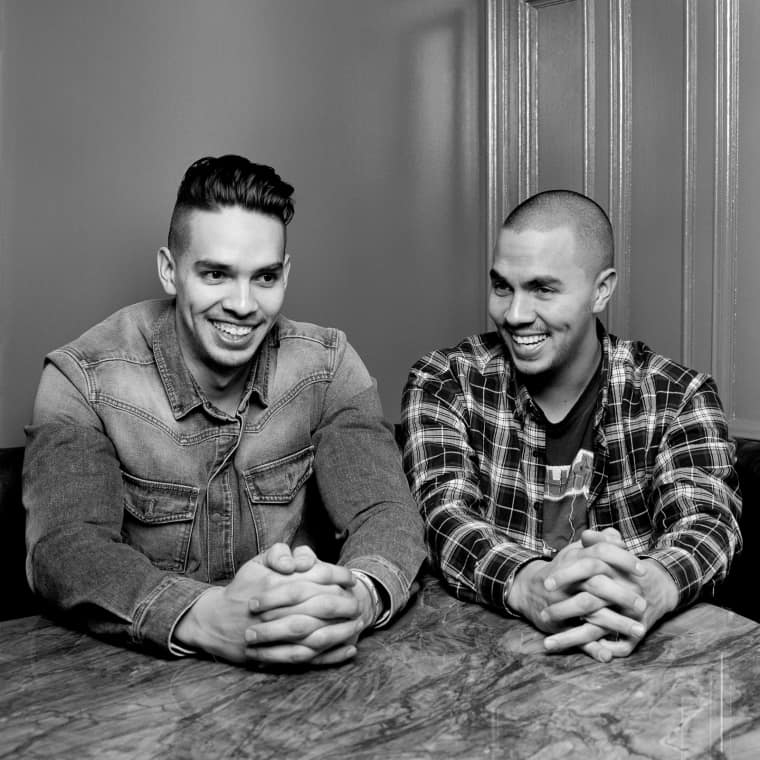 It's not difficult to find good food in the Greater Toronto Area. The suburbs—Brampton, Mississauga, Scarborough, Markham—are home to new and settled immigrant communities where multicultural cuisine reigns supreme: you can get the best doubles, dosa, lechon, jollof, hot pot, dim sum, dolmeh, and more, if you get out of the city's core. Downtown you might find the same but at a higher price point (and sometimes with a good cocktail list), plus lots of other trend-driven, chef-led, locavoric hotspots. In the city proper, mid-range eateries feed and entertain the growing ranks of yuppies. (A 2011 census found 20- to 44-year-olds make up over 35% of Toronto's population, with many occupying the staggering number of condominiums that have sprouted up in the last decade). In a story on Toronto's food scene, Vogue suggests the recent rise of celebrity restaurants—Momofuku, Cafe Boulud, Jamie's Italian—is indicative of a sort of mainstreaming of dining culture here.
Frings opened in a market that's eager to invest in food, and food culture, but the climate is competitive. The family currently owns and operates five restaurants in the city. Hong Kong-born Chef Lee, who started working in kitchens at 14, helped popularize modern Chinese cuisine and Asian fusion in Toronto in the late 1980s. A veritable celebrity chef, he tied Bobby Flay on Iron Chef America and Marcus Samuelsson on Top Chef: Masters, and is a judge on Masterchef Asia. And he's opened and closed four other businesses over his career in Toronto, New York, and D.C.
"The life expectancy for the average Toronto restaurant is under a year," says Levi. "We were expecting Frings to be busy, but nowhere to the level that it has been. We're booked solid for the next three months and we've only been open since November. That's unheard of in Toronto." Kai acknowledges that the Drake connection has helped—the restaurant was an unofficial, unbranded celebrity hub over February's All Star Weekend. (As for Drake's formal involvement, all they'll allow is that "he's a friend who is a supporter"). He might help fill tables, but the food and service rides on the family name—something the brothers acknowledge they benefit from. "Our dad is there with his expertise to help us, and his reputation," says Kai. "If he opens a restaurant it's getting press tomorrow, and being able to be a part of that is great."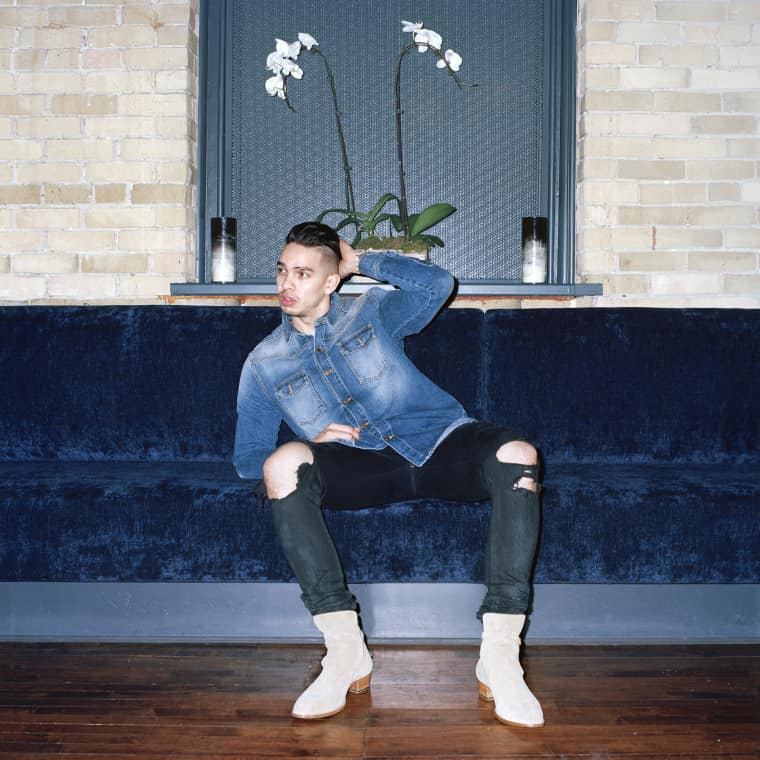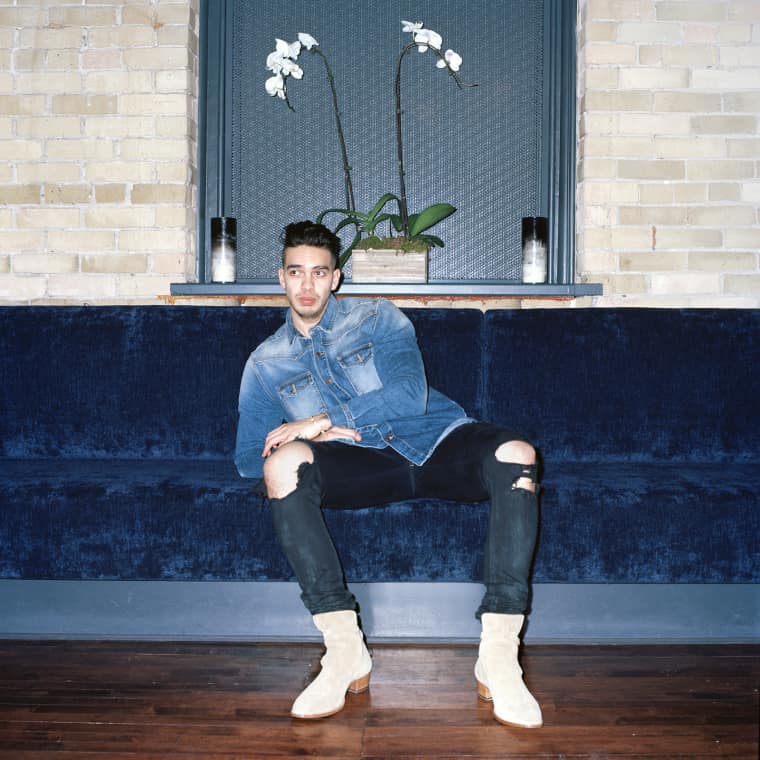 "Restaurants are also theater. It's easy to forget that, and these guys nail it."—Chris Nuttall-Smith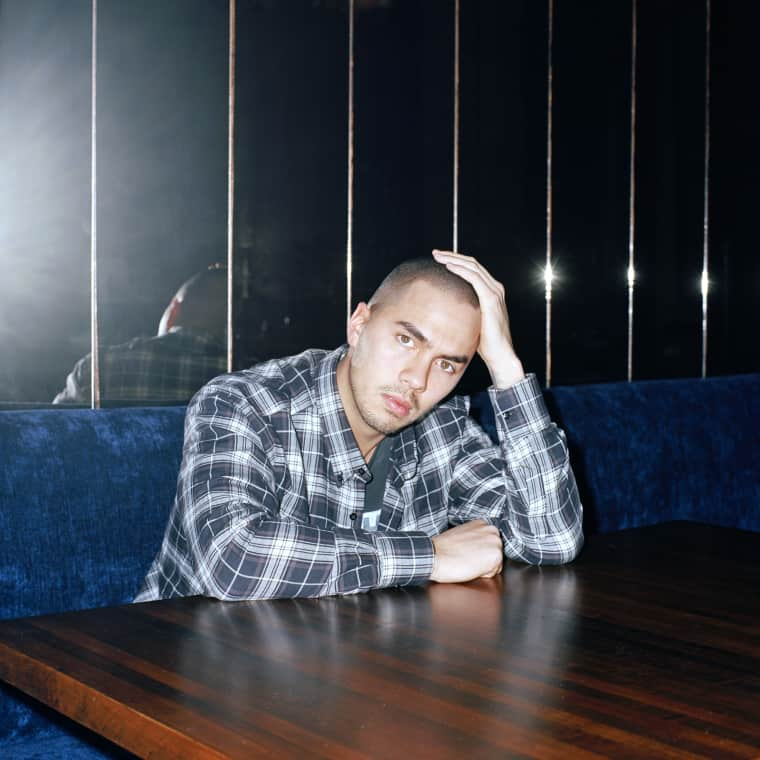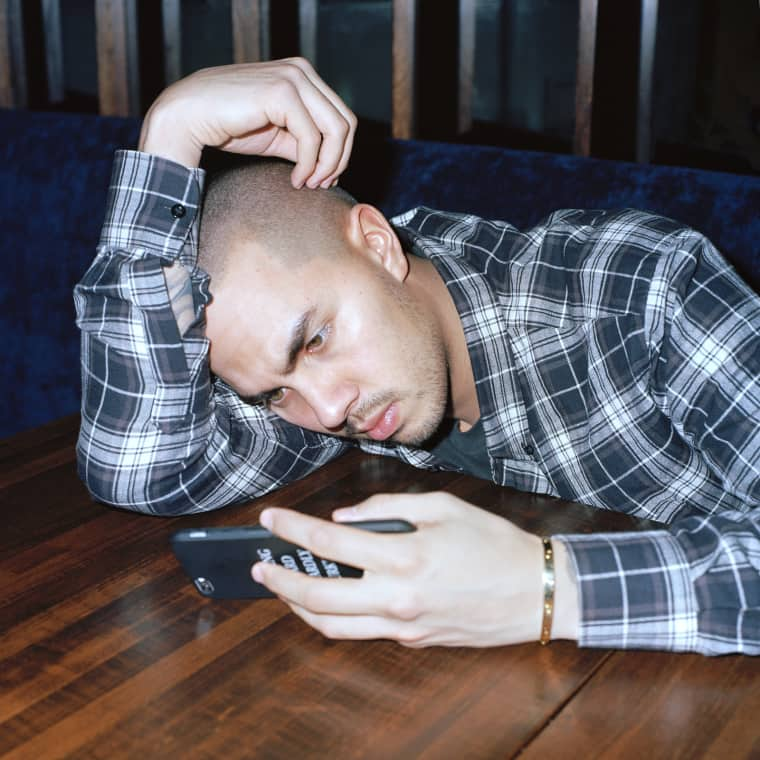 Chris Nuttall-Smith, The Globe & Mail's dining critic, says it's important to keep the family name—and Drake's—in mind when considering the recent success of Frings. "In all honesty, I didn't expect to enjoy it. I thought it would be sceney with hideous food and indifferent service, but it wasn't that. It's a fun little ecosystem that Toronto doesn't have enough of. Every city needs that. Restaurants are also theater. It's easy to forget that, and these guys nail it."
Frings isn't just a luxe, marble-topped, velvet-banquetted, Diptyque candle-lit playhouse for the Bent-Lee kids and their famous friends, though. (They did, however, sell out a run of black and highlighter-yellow Frings-branded long-sleeves earlier this year). On prior visits I've spotted Kai running food during a busy dinner service. Servers wear pressed shirts and are attentive, even slightly formal and old school in demeanor. Patrons range from party kids and giddy Drake fans in their early 20s to older couples, suited business types, and families with adult children. The cocktails are baroque and pricy, with slangy Patois names like "Sweeterman" (prosecco, gin, and cucumber) and "Proper Ting" (tart, stiffened up with vodka and egg whites). An aux cord only comes out after the house band, re.verse, finishes playing covers of Aaliyah, Bryson Tiller, and, of course, Drake. You'll pass a neon sign—maybe you've seen it on Instagram—on the way to the bathroom: conceived by Kai and Levi's friend Aaron, it's an emoji-sentence of the phrase, "6 On A Wave." And, in addition to comforting dishes like lamb chops, fried chicken, papardelle, and a no-frills burger served on buns from the family's favorite Chinese bakery, there is also a pillowy, pistachio-studded take on avocado toast.
In short: it's presented as a high-end restaurant without a lot of the associated pretension. Frings is an entry point for younger consumers into cuisine and destination-dining, while maintaining the aesthetic and culinary standards associated with the Lee name. "We want to shine as a restaurant first; we're not trying to be a celebrity restaurant," Kai says. Levi says the location is key: "Some people might see it as a negative if other great restaurants are across the street, or next to you, but I think that's a positive—it complements the area." Kai hears this and adds, "I like the idea that we are introducing a different demographic to King Street."

Drake isn't the first musician to align, co-sign, or even fund a restaurant: Jay Z has the 40/40 Club, Diddy had Justin's, Justin Timberlake co-owns Southern Hospitality—even Rick Ross owns nine Wingstops. But though the rapper has captioned Instagrams with 'Champagne Bent-Lee,' it's a family business above all, and the next iteration of the Lee empire on Toronto's food industry. Though Nuttall-Smith thinks Frings has something experiential going for it, he's not sure how that will play out in the long run: "Nobody has gone to a restaurant because Levi and Kai run it. They're more nightclub impresarios than restaurateurs."
As the photographer for this story dismantles the dining room by pulling a row of tables and fluffy Mongolian lamb armchairs aside, Chef Lee—his hair in that long ponytail, as ever—comes out of the kitchen to watch. He quietly stands there until he's noticed and the noisy dragging and rearranging stalls, says hello, then wanders off. Later, while Kai and Levi are shooting, their mom strolls in wearing Yeezy Boost 350s and leggings, and carrying an armload of stuff. Brenda Bent and her business partner Karen Gable conceptualized Frings' interior, which includes an arrangement of textures—wood, mirror, stone, animal hair, fur, and hides—plus three oblong coat hanger chandeliers by Spacecraft that float above the bar. She chats with staff, and trims errant fronds from potted orchids on a side table. "I'm in and out all the time," she tells me, while pouring water into stone-filled vases. "It's been very interesting to watch how quickly this restaurant has picked up, especially among young people."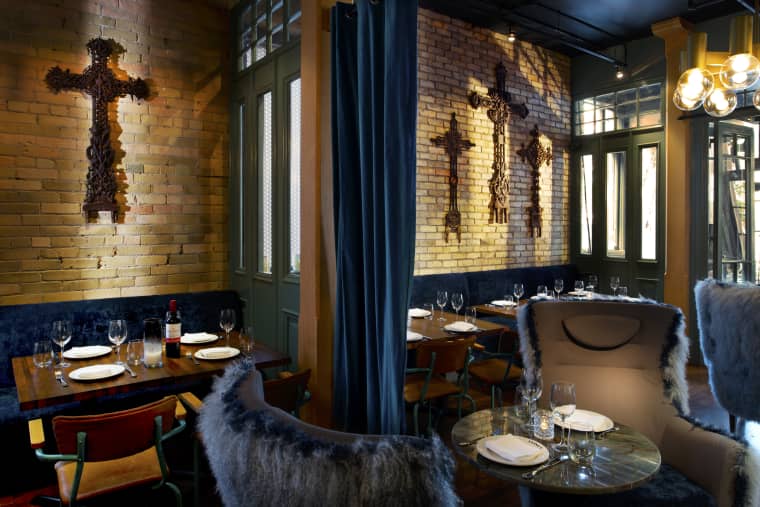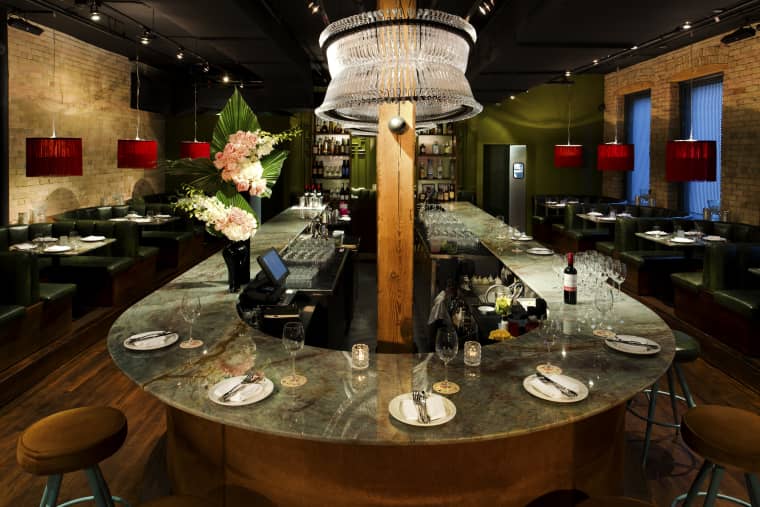 "No one wants to listen to [classical] in a quiet room for three hours; it's boring."—Kai Bent-Lee
Kai, Levi, and their younger brother, Jet, were raised in Toronto's Little Italy neighborhood. At home they ate big, family-style dinners made by mom—her recipe for sweet and sour meatballs was just added to Frings' menu. Growing up, the elder Bent-Lee sons were both competitive tennis players, and Levi even briefly attended the University of Toledo on scholarship "It was terrible for food," he remembers. "I ate at this one Japanese place that was kind of like Benihana's literally every night."
Before formally joining their father's business, bussing and bartending at first, the brothers spent summers manning a Lee-branded food truck. "This was around 2008, when food trucks in Toronto were still only doing hot dogs and hamburgers," says Kai, linking their early interest in the mobile kitchens to what was happening in L.A. at the time. Kai, Levi, and their friends sold snacky Lee signatures like Cheeseburger Spring Rolls and Singapore Slaw at events around the city. The idea came from their friends—the sons of well-known Toronto chef Jamie Kennedy—who were running a french fry stand (J.K. Frites are on the Frings menu).
"We were at the Brickworks Farmer's Market at, like, 8 a.m. every Saturday morning," Kai recalls. "I was 16. This was when I was still partying so it was brutal—and I was working with my friends too. The hours were crazy, and it's a pain because you have to bring everything with you in one van, and it gets so busy so quick. There's only one shot to make your money. It's kind of like a carny business." It was also a basis for learning how not to manage a dining establishment, he points out. "I was so young so I didn't know how to talk to people. I'd say things like, 'Are you stupid?!' but it was my friends. I just had no idea."
Levi, who once worked as a busser at the popular Italian restaurant Terroni, attributes much of he and his brother's current business savvy to years spent observing their father. "It's easy to look at a blank space and say, 'Okay, let's put a bar here, and tables there,' but it has to make sense because the most important thing for operations is the flow," he says. "That's everything from how you pick up at expo, to the way you enter and exit a kitchen, or where the ice well goes. That's the hardest thing, and my dad has that mind. Compared to him we're babies, we're still learning."
If all goes well, Levi and Kai want to expand into the U.S. like their father, maybe branding Frings "anywhere that's warm." It's scary, Levi adds, but big goals are part of being a restaurateur. Still, Toronto has been good to the family. "People don't realize how many great restaurants are here. The food scene is incredible and I think a lot of people take it for granted," says Kai. "Our favorite Italian, Chinese, Vietnamese, whatever—it's mainly from Toronto." He frequents a fluorescent-lit pho spot called Pho Tien Thanh. Levi likes to keep an eye on emerging young chefs, and is partial to an Italian restaurant called Buca. It's no longer just about the food, Kai says, but the new, casual vibe that young diners prefer. It's the biggest shift in dining culture, and something that's very apparent at Frings. "There's no fine dining restaurants anymore. No one wants to listen to [classical] in a quiet room for three hours; it's boring," Kai says, reaching for the aux cord.