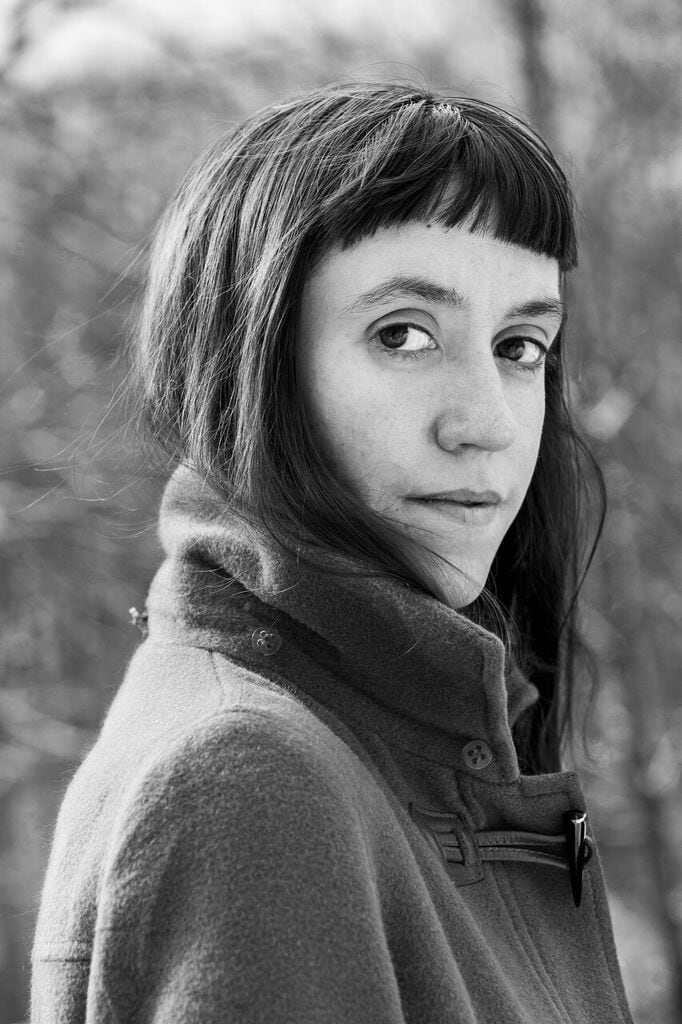 It's a sun-drenched March afternoon, the kind that creeps up between snow days. Gabrielle Smith, the self-proclaimed "poetic bedroom pop" artist and honest voice behind Brooklyn-based project Eskimeaux, leans forward in a crowded downtown Manhattan cafe to talk about her new EP. She speaks of Year of the Rabbit, out today via Double Double Whammy, with an ease and confidence that overpowers the nearby coffee machine despite her soft tone. Her 2015 debut album O.K. "felt like this giant, nice lush piece of music," she says. "Year of the Rabbit is not that… it's a much more raw version of Eskimeaux."
With O.K., a re-mastered collection of demos from over the years, Smith solidified her reputation as a songwriter attuned to the sentimental wonders of mundane and gritty truths alike. Since its release, she has toured with beloved indie acts such as Mitski and Elvis Depressedly, showcasing the comprehensive orchestrations that define the album's spirit. Year of the Rabbit, though, is a stripped down translation of Smith's songwriting. "Power," for example, demonstrates that with punch-packing lines like, Gotta keep in mind it's not always your fault/ The million tiny ways you make me feel small. The pithy EP—which she describes as "all hits, no fillers"—was recorded live by Emily Sprague and Felix Walworth, fellow musicians in the New York DIY art collective The Epoch, founded circa 2008.
Though Eskimeaux began as a quiet solo project seven years ago, Smith has also been simultaneously touring as a member of other Epoch bands like Frankie Cosmos, Bellows, and Told Slant since its creation. When asked about Epoch's origins, Smith shrugs: "We didn't come together from a common sound or common idea even, except we just want to stay friends with each other." But what separates this "ragtag group of friends" from the rest is their fluidity between projects and genres; Eskimeaux itself has grown from an experimental noise solo project to a four-piece live band featuring other Epoch members. Smith also seems to constantly revisit and restructure her former and future self—a process evident in Year of the Rabbit's dance between its stories of her relationship in 2011 and her reflections on it today. It's this unique, organic ebb of elements that makes Smith's music so intimate and alive.
Perhaps this openness to evolution can be explained by how Smith's identity—not only as an artist, but as an individual with Tlingit origins—is changing before our eyes like the seasons. Here she discusses Year of the Rabbit, touring with Frankie Cosmos, and the controversy she's experienced over her band name.
Your debut album O.K. was re-recordings of demos you already had online that you guys re-recorded and mastered. Was the process the same for Year of the Rabbit?
Eskimeaux: No. Year of the Rabbit was these songs that I had written during the recording process of O.K. We were just like, we'll just make a mini album and it will be all hits, no filler. For the recording process we also wanted to make it more true to the live band, especially since we had been playing those songs a little bit with the band. The live band has become such a huge part of the project, which it wasn't before. So now it's like, let's make something that's the four of us.
Each song is just the basic song with the five tracks, and then the "money" is the fancy riff that gets put over it to make it really earwormy. That thing where you're like, "Holy shit, that's so interesting," or that makes it so different from other pop music. The money.

The actual Year of the Rabbit was in 2011—we're in the Year of the Monkey right now. What is it about 2011 that you're thinking back to?
January 2011 is when my partner and I started dating. I feel like the song ["WTF"] is about noticing that the same problems that I'm experiencing now are the ones that I was experiencing at the very beginning of the relationship and kind of being like... We've moved so far forward, why are we still having these same exact problems? What is that? And kind of just wondering if that's what a relationship is, where it's just like the problems from the beginning are the problems forever. But if that is the case then that's fine, those are pretty chill problems all things considered.
Are you looking back to find answers to problems you still have now, or is it more nostalgic?
It's definitely the former. It's more being like, this is how I feel, this is the problem that I'm running into now, and then trying to see if history is just repeating itself or if this is a new problem.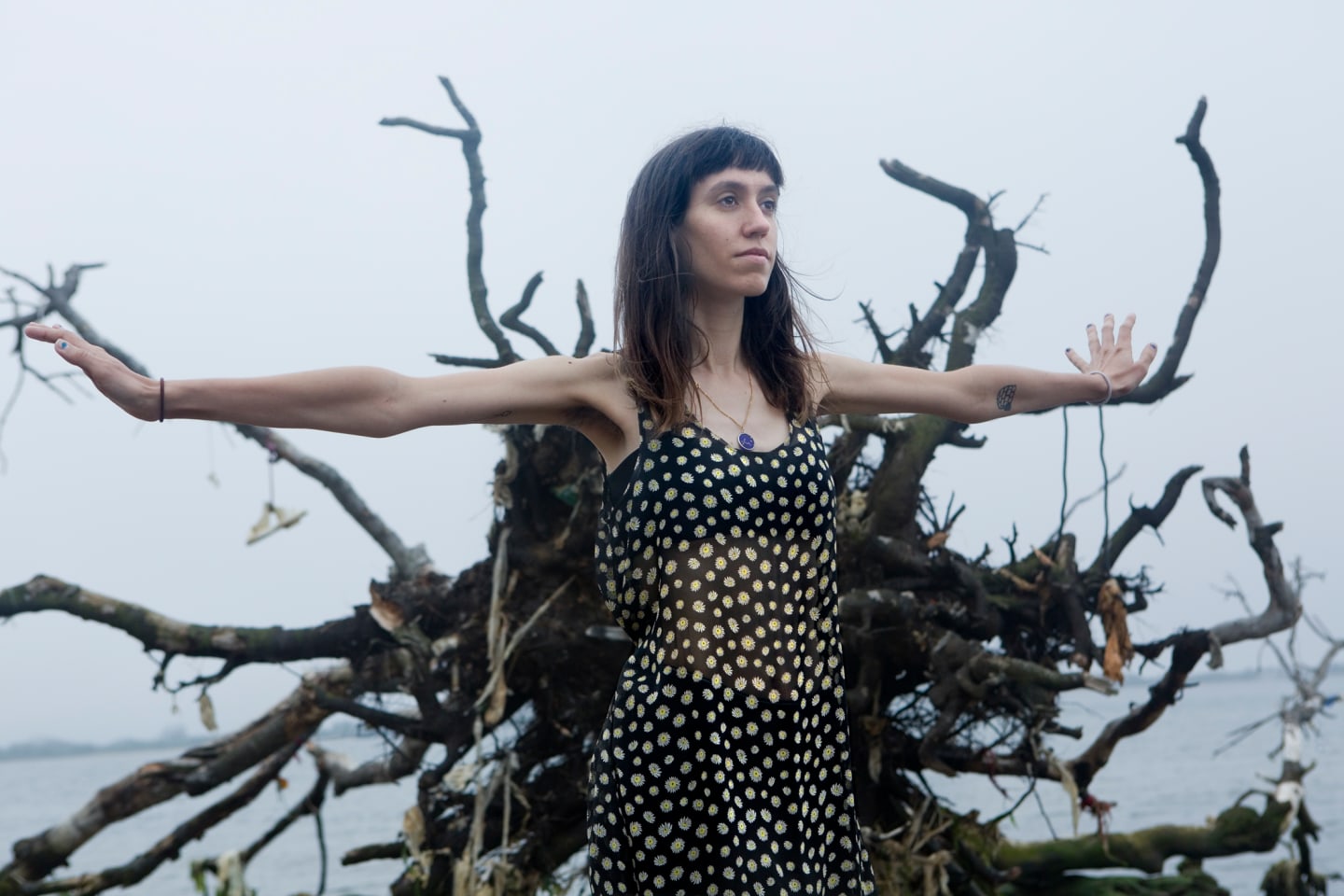 "Year of the Rabbit has much more of a coming-out-of-a-thaw vibe. B't it's not quite the dope weather"yet."—Eskimeaux
You've addressed some controversy over your name choice "Eskimeaux." What was it like to respond to this criticism as an adopted woman of Tlingit descent?
It's really complicated. I think that it's not an intentionally confrontational band. I started the band when I was 18. My parents had been in touch with the adoption lawyer that dealt with my adoption for my entire life, and I've always been referred to with the word "Eskimo" in that regard. So I never even knew it was a problematic term when I was growing up, and when I chose the name it never even crossed my mind because I just wasn't educated on it.
And over time, definitely as I grew up, found out, and researched the term; I feel like I have access to it. And that's basically everyone's question when they come across it and are not sure—it's people wondering from an authenticity standpoint whether or not I, as a white-passing person, have access to it. So it's been really complicated in that regard. At the same time, I am thus far not changing the band name so I accept the responsibility to field the question.
Do you feel a responsibility that your name presents this question and educating people on this issue?
Totally. I can only educate people as far as my own experience. I don't want to be a voice for a generation or a voice for a community or anything like that. As I said, I started the band for myself and intend to continue making it that way. If people are into it, that's so sick, and in the same regard if people are interested in what I have to say about it, that's so sick.
With the new EP release, do you have a tour coming up soon?
Early April, for the entirety of April with Frankie Cosmos and Ana McClellan, and Yowler. They're all just sick musicians. Also, it's my last tour with Frankie Cosmos, which is really scary and sad but also exciting and hopeful. It's like become this choice that I've had to make between all of my other bands, which include the members of my band which is really complicated. Being in Frankie Cosmos, which is amazing, is also a full-time job. As Eskimeaux has become a full-time job I can't do it anymore, it's really sad.
If O.K. was your summer banger power album, what is Year of the Rabbit?
I feel like Year of the Rabbit is my spring album. The songs were, as I said, being written while I was recording O.K., so it was definitely informed by the vibe. But the songs are also a lot more consistent in their feelings behind them and I think a little bit more pissed off than sad or yearning or psyched or whatever. It's much more coming-out-of-a-thaw vibe. But it's not quite the dope weather yet.
Year of the Rabbit is out now via Double Double Whammy (buy it here).
Tour Dates
April 12 – Santa Fe, NM @ Meow Wolf
April 13 – Phoenix, AZ @ The Rebel Lounge
April 14 – Los Angeles, CA @ The Echo
April 15 – San Diego, CA @ Che Café
April 16 – San Francisco, CA @ Swedish American Hall
April 18 – Portland, OR @ Analog Theater
April 20 – Seattle, WA @ Vera Project
April 22 – Salt Lake City, UT @ Diabolical Records
April 23 – Denver, CO @ Lost Lake
April 25 – Minneapolis, MN @ 7th St Entry
April 26 – Madison, WI @ High Noon
April 27 – Chicago, IL @ Lincoln Hall
April 28 – Cleveland, OH @ Mahall's
April 29 – Pittsburgh, PA @ Mr. Roboto Project
April 30 – Philadelphia, PA @ First Unitarian Church
May 1 – New York, NY @ Market Hotel
May 6 – Kingston, NY @ BSP Lounge
May 12 – Somerville, MA @ ONCE Ballroom
May 13 – Providence, RI @ Aurora